Pressure builds on Obama to address "Don't Ask" in State of the Union
President Obama is facing increased pressure from opponents of "Don't Ask, Don't Tell" to address how he'll tackle his pledge to overturn the law in his upcoming State of the Union speech.
Those seeking end the 1993 law banning gays from serving openly in the U.S. military are looking to Obama to discuss on Wednesday his plans for overturning the ban this year.
Alex Nicholson, executive director of Servicemembers United, said he's received "strong indications" that Obama will address "Don't Ask, Don't Tell" in his speech, but said he doesn't believe the president "will go as far as some in our community would like."
"There is some strategic risk involved in mentioning 'Don't Ask, Don't Tell' in the State of the Union address, but its inclusion will send a strong message that the White House is still serious about taking on the issue this year," Nicholson said.
The Human Rights Campaign declined to comment on whether the inclusion of "Don't Ask, Don't Tell" in the State of the Union address prior to Obama's speech.
On Wednesday, two prominent opponents of "Don't Ask, Don't Tell" — Sen. Kirsten Gillibrand (D-N.Y.) and former Chairman of the Joint Chiefs of Staff Gen. John Shalikashvili — issued a joint statement through the senator's office reiterating their belief that now is the time for overturning the law.
Shalikashvili said a country "built on the principle of equality" should embrace "change that will build a stronger, more cohesive military."
"It is time to repeal 'Don't Ask, Don't Tell' and allow our military leaders to create policy that holds our service members to a single standard of conduct and discipline," he said.
Gillibrand was similarly critical of the ban and called it "an unjust, outdated and harmful rule that violates the civil rights of some of our bravest, most heroic men and women."
"I've been working with my colleagues in Congress and other leaders to overturn this wasteful and destructive policy," she said. "I am hopeful that President Obama will make this a top priority."
Whether or not President Obama will address "Don't Ask, Don't Tell" during his State of the Union speech remains uncertain, although there are signs he will include it in his address.
On Monday, Senate Armed Services Committee Chairman Carl Levin (D-Mich.) told reporters he had postponed a hearing on the issue initially set for this month because he was told Obama may talk about the ban in his State of the Union address.
And White House Press Secretary Robert Gibbs said during a press conference on Tuesday that discussions are underway about including plans for "Don't Ask, Don't Tell" in the speech.
The Palm Center, a think-tank for gays in the military at the University of California, Santa Barbara, on Tuesday issued an analysis on several ways that Obama could discuss "Don't Ask, Don't Tell" during the State of the Union address.
Christopher Neff, deputy executive director for the Palm Center, said in a statement the speech presents Obama with "the opportunity to announce the end of one of the most notorious policies of federal discrimination left standing in the United States."
In one option outlined by the Palm Center, Obama could offer a legislative strategy to repeal "Don't Ask, Don't Tell." The president could endorse standalone legislation that would overturn the law or announce he'll include such language in the defense spending request he'll send to Congress next month.
"This position would represent significant, but likely incremental, change," the Palm Center states. "Repeal legislation faces hurdles to passage in 2010, but the President will have taken a major step forward with the base bill inclusion."
Obama could also announce plans to change the execution of "Don't Ask, Don't Tell" administratively without an act from Congress, which would likely involve giving Defense Secretary Robert Gates additional discretion in implementing the policy in a way that would reduce discharges, according to the Palm Center.
"Under this calculus, there will not be any votes in the House or Senate on repeal in 2010," the Palm Center states. "The judgment is that it is too difficult for many moderates and this likely means that repeal will not be included in the Defense Authorization base bill from the Pentagon."
The third option for Obama in addressing "Don't Ask, Don't Tell," according to the Palm Center, would be mentioning the law in passing or announcing support from military leaders without putting forward an affirmative strategy.
"This would represent the least embraced of the three potential options," the Palm Center states.
Neff also suggested in the statement that how Obama addresses "Don't Ask, Don't Tell" during his State of the Union speech will set for tone for how Congress would handle hearings for the defense budget after the president's request is made public.
Gates and Chairman of the Joint Chiefs of Staff Adm. Michael Mullen are set to give testimony on the fiscal year 2011 defense budget request on Tuesday in the Senate Armed Services Committee.
Bryan Thomas, spokesperson for the committee, said the hearing on the budget request isn't in lieu of the "Don't Ask, Don't Tell" hearing initially set for January, but said it's possible senators "will choose to ask" Mullen and Gates about the law.
Also bolstering pressure on Obama to announce his plans for "Don't Ask, Don't Tell" is a new report from the Williams Institute, a think-tank on sexual orientation at the University of California. The brief details the number of gays in the military and the cost of replacing them after they've been discharged under the ban.
Gary Gates, senior research fellow at the Williams Institute and study author, said in a statement that statistical information from the U.S. government shows gay, lesbian and bisexual Americans have a presence in the military.
"Despite official policy requiring that lesbians, gay men, and bisexuals remain silent about their sexual orientation, data from the U.S. Census Bureau suggest that an estimated 66,000 LGB men and women are serving in the U.S. military," he said.
These 66,000 service members account for about 2.2 percent of military personnel, according to the Williams Institute. Of these troops, about 13,000 serve on active duty, constituting 0.9 percent of all active duty personnel, and nearly 53,000 serve in the National Guard and reserve forces, the study found.
The Williams Institute also found "Don't Ask, Don't Tell" has cost the federal government between $290 million and more than a half a billion dollars since its inception and that replacing discharged service members under the ban costs between $22,000 to $43,000 for each person.
Gates said ending "Don't Ask, Don't Tell" will "save a substantial amount of taxpayer dollars since estimates suggest that the policy has cost more than half a billion dollars."
Rachel Levine in 'rewarding' visit speaks with trans youth at D.C. health clinic
Hospital an oasis of support amid attacks from states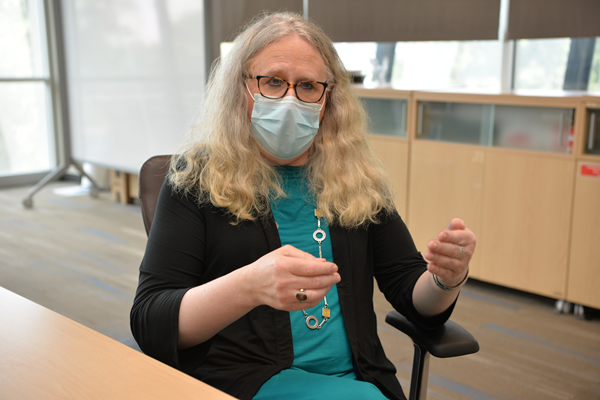 It's not unusual for Rachel Levine as assistant secretary of health to visit medical facilities on behalf of the Department of Health & Human Services. But her visit last week to the LGBTQ youth clinic at the Children's National Medical Center was special because she was able to meet with transgender youth as an openly transgender presidential appointee.
The visit on Thursday by Levine at the D.C.-based hospital comes not long after the U.S. Senate approved her appointment, making her the first openly transgender presidential appointee to win a Senate-confirmed position. As such, her visit to the LGBTQ youth clinic, where transgender kids come for transition-related care and health services, held particular significance for the patients.
Levine, speaking with the Washington Blade at the end of her visit, said having the opportunity to speak with both transgender youth and medical professionals testing them was "tremendously, tremendously rewarding"
"It's tremendously gratifying to be able to speak to the medical professionals and the clinic personnel at beds, particularly to the youth and their families from my experience," Levine added. "So I have two aspects of that. One is that I'm a pediatrician and adolescent medicine specialist. So I've been teaching to children and their families my entire career, but the other is coming from my lived experience as an openly transgender woman, and so I find it tremendously rewarding."
The warm environment of the hospital for children is readily apparent upon entering the main atrium of the building. Lights dressed up as hot air balloons fill the tall ceiling while a nearby TV shows music videos consisting of squares of kids' faces singing, followed by easy-listening country music and Asian K-pop. Children and their parents await their appointments seated in comfy plush red chairs before white blocks meant for use as tables.
Key to Levine's visit was taking part in a discussion at the hospital auditorium with three transgender youth and their families who obtain services at the clinic. During the question-and-answer period, Levine shared her experience as a transgender person who underwent transition later in life and went on to tremendous success as a high-ranking presidential appointee.
For the transgender youth, Levine's presence at the hospital — at a time when state legislatures are busy enacting bills to restrict their access to medical care and school activities — serves as a reminder that barriers based on gender identity are breaking down and the sky's the limit for their future.
After the question-and-answer session, Levine told the Blade she "learned a lot" about the Children's National Medical Center, which she called "a world-renowned children's hospital and academic medical center."
"I've known about it before," Levine added. "I'm a pediatrician, adolescent medicine specialist, but I learned more about what they're doing. And I learned specifically about their gender clinic, where they take care of transgender and gender non-conforming youth and got to meet some of the staff as well as the kids and their families."
The Youth Pride Clinic, which opened in 2015, is one of the few clinics in the nation to provide primary care and mental health services to LGBTQ youth from ages 12 to 22. Among the services offered are hormone replacement therapy, STP/STI treatment and PrEP services as well as individual and family therapy for transgender youth.
Among the transgender youth patients at the clinic who spoke to the Washington Blade was Amir, a Georgia native whose last name as a minor is being withheld for confidentiality purposes.
"I started out in fifth grade coming out as lesbian," Amir said. "I didn't even really know, but when I came out to my grandma in Georgia, where I'm from, I still didn't feel like myself. So then, later on, me and my friend researched, and next thing you know we came across the term transgender, and I was like, 'This is who I am. This is me.'"
Amir said he began taking shots as part of care regimen in January. Being able to receive care from the Youth Pride Clinic, Amir said, means a lot because he has an opportunity not available to other transgender youths, who face challenges and even hostility as they make the journey to transition. The staffers at the Youth Pride Clinic, Amir said, are "like a second family" who work hard to provide the services they offer.
Sonia Murphy, Amir's aunt who became his legal guardian, said when she began reaching out for medical help for Amir she found a two- or three-year wait list to get access to treatment, which she said makes her "saddened" such care isn't widely available.
"There's a population of kids and parents out there who need the services and just can't access it because there's not enough bandwidth, not enough manpower," Murphy said.
Amir said he's getting other avenues of support from his two cousins, one who is older at age 18 and one who is younger at age 12. "They're like sisters to me, so I call them my sisters," Amir said. Amir also identified two other male cousins as well as his uncles and his aunt.
"They're all very supportive of me," Amir said. "My auntie Tonya, for example, Pride month came up, first day, she sent me a paragraph, saying, 'I'm glad you're yourself and you're open to who you are and things like that," and that I'm not afraid to be who I am around anybody. It's just things like that. And for my birthday, I had tons of Pride shirts, and I got a rainbow shirt with the fist in the middle for Black Lives Matter, and it was a ton of different things."
Lawrence D'Angelo, director of the Youth Pride Clinic and an occupational health adolescent medicine specialist, told the Blade being able to start the facility in 2015 in and of itself was one of the key victories for the initiative, although he said the Children's National Medical Center has been providing transition-related care since 1998.
"When we started it…we thought that we were going to be running a PrEP clinic, that we were going to be providing preventive services to LGBTQ kids," D'Angelo said. "The first day, the first patient actually came in and asked for PrEP, and the other six patients that were scheduled that day all wanted transgender services. So, suddenly, it became obvious what we were going to be spending 90 percent of our time doing, which is exactly what we think we should be doing, because that's where the need is the greatest."
Despite the advantages of having access to the Youth Pride Clinic, transgender youth have clear challenges and face hostility based simply on their gender identity, especially in a year when state legislatures have in an unprecedented manner enacted legislation against them. The Youth Pride Clinic, in many ways, is an oasis of support.
Arkansas, for example, enacted a measure that would make criminal the kind of services provided at the clinic. Other states have enacted measures prohibiting "biological boys" from participating in sports, which essentially bars transgender girls from participating in sporting events.
While anti-trans measures aren't being enacted in D.C. or any nearby states, the advancement of anti-trans legislation in states has had a negative effect on transgender patients at the Youth Pride Clinic.
D'Angelo, based on conversations he's had with the patients, said they're aware of the wave of legislation, which he said has led to fear, anger and being "unable to understand what is happening and why it's happening."
Amir said watching states enact legislation against transgender youth "makes me feel some type of weight," pointing specifically to the anti-trans sports measures because he said he'd welcome the opportunity to participate in athletics.
"I'm athletic," Amir said. "I do all types of sports. I play basketball, soccer, I'm going to do boxing…With sports and stuff, I just feel like I want to be able to do everything, just as a regular cisgender person will be able to do,"
Amir, despite the enactment of anti-trans laws, has an optimistic outlook and said the enactment of state measures against transgender youth demonstrates they're now "on the radar" of the social conservative movement.
"I feel like if everybody who's a part of LGBTQ and trans together, we can stand up and we can overcome this because the thing is, there are so many people out there who don't understand what we do, and the thing is that they're noticing us, so that's a start to something big."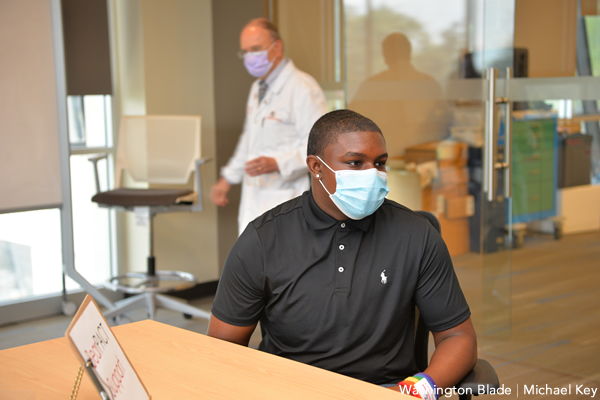 With many states hostile to transgender youth, others are looking to the federal government for support under the Biden administration. On his first day in office, Biden signed an executive order directing federal agencies to implement the U.S. Supreme Court's decision against anti-LGBTQ discrimination to the fullest extent possible.
Levine cited an announcement from HHS that resulted from this order on implementing regulations prohibiting anti-LGBTQ discrimination in medical care, reversing a policy under the Trump administration that green lighted discrimination, as one of the ways it has answered that call and helped families like the Youth Pride Clinic.
"So the Affordable Care Act says that you cannot discriminate based upon sex," Levine said. "The Department Health & Human Services and the Office of Civil Rights has interpreted sex to include sexual and gender minorities, to include sexual orientation and gender identity, which means LGBTQ individuals under that. So we need to look at all aspects of the Affordable Care Act, and to work to implement that interpretation of the statute. That was only done a month or so ago, so we're going to be working on that now."
Is there anything more the federal government can do to support the clinic? D'Angelo cited a number of key things already secured, including the hospital being able to offer insurance to patients and the affirmation from HHS against anti-LGBTQ discrimination. More research dollars and greater focus from the National Institutes of Health on gender diverse and sexual minority individuals, D'Angelo said, would also be welcome.
"There are things out there that the federal government can do, but I think…there are limitations of what they can do," D'Angelo said. "They can't, unfortunately, effect what's going on in individual states, which is, in some cases draconian. That's an awful thought if we were practicing medicine in Arkansas, we could be in jail."
Meanwhile, Levine said the Biden administration, including Secretary of Health & Human Services Xavier Becerra, is working on both internal and external policies to facilities like the Youth Pride Clinic to help them secure their place in the health system and reach transgender youth.
"The secretary and I will be doing everything we can to advocate for the LGBTQ community," Levine said. "So I think we're going to be working externally, in terms of advocacy, and then we're going to be working internally in terms of policy."
North Dakota lawmakers okay regulation banning Conversion Therapy
This rule change will stop the vast majority of mental health providers in North Dakota from subjecting LGBTQ youth to conversion therapy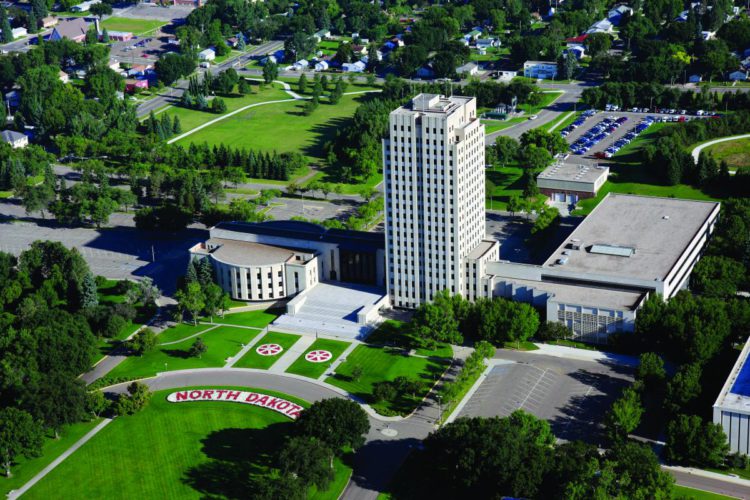 BISMARCK, ND. – The North Dakota House Administrative Rules Committee voted 8-7 on Tuesday, June 8, to authorize the rule proposed by the North Dakota Board of Social Work Examiners, implementing new regulations prohibiting licensed social workers from subjecting LGBTQ youth to the widely discredited practice of conversion therapy.
The North Dakota Board of Social Work Examiners, which oversees licensing for social workers in the state, created the new rule which states that "it is an ethical violation for a social worker licensed by the board to engage in any practices or treatments that attempt to change or repair the sexual orientation or gender identity of lesbian, gay, bisexual, transgender, and questioning individuals."
The West Hollywood based Trevor Project, the world's largest suicide prevention and crisis intervention organization for lesbian, gay, bisexual, transgender, queer & questioning (LGBTQ) young people, had worked with Democratic House Minority Leader Rep. Josh Boschee, the National Association of Social Workers ND Chapter, the North Dakota Human Rights Coalition, and local advocates like Elizabeth Loos to advance these critical protections for LGBTQ youth.
"This rule change will stop the vast majority of mental health providers in North Dakota from subjecting LGBTQ youth to the dangerous and discredited practice of conversion therapy. This practice is not therapy at all— it's abusive and fraudulent," said Troy Stevenson, Senior Advocacy Campaign Manager for The Trevor Project. "There is still more work to be done in North Dakota, but this bold action will help save young lives. The Trevor Project is committed to an every state strategy to protect LGBTQ youth from conversion therapy and North Dakota has proven that progress is possible anywhere."
"Thank you to the North Dakota Board of Social Work Examiners for restricting licensed social workers in North Dakota from being able to practice conversion therapy! LGBT North Dakotans, especially youth, are safer now as you hold licensees responsible to the NASW Code of Ethics," said Minority Leader Boschee.
The proposed ban on therapist-administered conversion therapy in North Dakota was met with opposition by several of the committee's most socially conservative members, the Grand Forks Herald reported.
Rep. Dan Ruby, R-Minot, told the paper that he worries the new prohibition is limiting because it would prevent people seeking "some kind of treatment" from getting help. Bell said the rule is written so clients who are LGBT or questioning their sexual orientation or gender identity are not inhibited from seeking care.
Rep. Bernie Satrom, R-Jamestown, said he's concerned the rule would interfere with religious counseling, adding "there are some cases where people want to change."
"There are licensed counselors that are also Christians, and basically my concern in all of this is that we're telling the Christian counselors 'you can be a licensed counselor, but you can't practice your Christianity,'" Satrom said.
Satrom and West Fargo Republican Rep. Kim Koppelman said approving the social workers' ban on conversion therapy is outside of the committee's scope and ought to be scrutinized by the full Legislature.
Boschee, the North Dakota Legislature's only openly gay member, told the Grand Forks Herald that he was disappointed in some of his colleagues for standing behind the "harmful" practice of conversion therapy and trying to muddy the conversation over what is a simple self-imposed rule for social workers. The Fargo Democrat said he was ultimately pleased that seven lawmakers joined him in upholding the proposed ban.
Research:
According to The Trevor Project's 2021 National Survey on LGBTQ Youth Mental Health, 13% of LGBTQ youth reported being subjected to conversion therapy, with 83% reporting it occurred when they were under age 18. LGBTQ youth who were subjected to conversion therapy reported more than twice the rate of attempting suicide in the past year compared to those who were not.
According to a peer-reviewed study by The Trevor Project published in the American Journal of Public Health, LGBTQ youth who underwent conversion therapy were more than twice as likely to report having attempted suicide and more than 2.5 times as likely to report multiple suicide attempts in the past year.
'We're still very much in the healing phase'
Saturday marks five years since Pulse nightclub massacre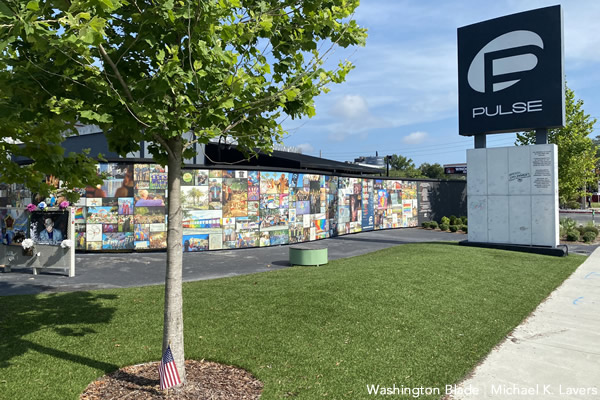 Saturday marks five years since a gunman killed 49 people inside the Pulse nightclub in Orlando, Fla.
A remembrance ceremony will take place at the site, which is now an interim memorial. A number of other events to honor the victims will take place in Orlando and throughout Central Florida over the coming days.
"We're still very much in the healing phase and trying to find our way," Pulse owner Barbara Poma told the Washington Blade on Tuesday during a telephone interview.
The massacre at the time was the deadliest mass shooting in modern U.S. history.
Nearly half of the victims were LGBTQ Puerto Ricans. The massacre also sparked renewed calls for gun control.
Poma told the Blade that she expects construction will begin on a "Survivor's Walk" at the site by the end of the year. A museum — which she described as an "education center" that will "talk about the history of the LGBT community and its struggles and stripes for the last century or so … about why safe spaces were important to this community" and what happened at Pulse and the global response to it — will be built a third of a mile away.
"We really feel it is important to never forget what happened at Pulse and to tell the story of that," said Poma.
Poma noted the onePULSE Foundation of which she is the executive director met with representatives of the 9/11 Tribute Museum and the Oklahoma City National Memorial and Museum to discuss the memorial. Poma when she spoke with the Blade acknowledged the plans have been criticized.
"This kind of opposition is not unique to these kind of projects," she said.
"It's just important to know that really what we're trying to do is make sure what happened is never forgotten and those lives were never forgotten," added Poma.
Poma on Tuesday declined to comment on the lawsuits that have been filed against her, her husband and the onePULSE Foundation in the wake of the massacre.
DeSantis' anti-LGBTQ policies overshadow anniversary
The Blade this week spoke with Equality Florida CEO Nadine Smith, state Rep. Carlos Guillermo Smith (D-Orlando) and other activists and elected officials in Florida and Puerto Rico who were part of the immediate response to the massacre.
Equality Florida raised millions of dollars for survivors and victims' families. CEO Nadine Smith on Tuesday told the Blade during a telephone interview that Equality Florida in the massacre's immediate aftermath pledged to honor the victims "with action by uprooting hatred at its source and from that time we have invested deeply in safe and healthy schools."
"Schools are a shared cultural experience where the attitudes of ignorance and fear and animosity and violence towards others either get challenged or encouraged," said Smith. "Five years later I look at how far this work has come and at the same time, I'm very aware of the backlash that we are facing, particularly in our schools with laws targeting trans youth specifically."
Republican Florida Gov. Ron DeSantis on June 1 signed a bill that bans transgender athletes from participating in high school and college sports teams that correspond with their gender identity. The governor the following day vetoed funding that activists say would have funded programs for Pulse survivors and homeless LGBTQ youth.
Carlos Guillermo Smith, a gay man who represents portions of Orlando, on Tuesday described DeSantis as "callous."
"The governor's actions are a reminder that five years after the attack at Pulse nightclub, we have a lot of work to do to push back against homophobia and transphobia," said Carlos Guillermo Smith. "The Orlando community is very supporting and accepting of the LGBTQ community, but when you see what's happening at the Governor's Mansion in Tallahassee, you realize that there's a lot of work to be done."
Pedro Julio Serrano, associate director of Waves Ahead, an LGBTQ service organization in Puerto Rico, described the massacre's impact in the U.S. commonwealth as "permanent in our collective memory." Serrano also noted violence against trans Puerto Ricans remains rampant.
"We are now the epicenter of anti-trans violence in the U.S. and its territories," said Serrano. "After five years, we still confront this hatred that doesn't seem to stop. We will continue to fight until all of us are safe."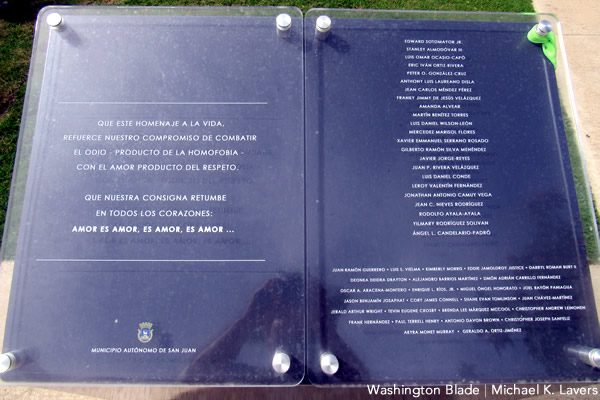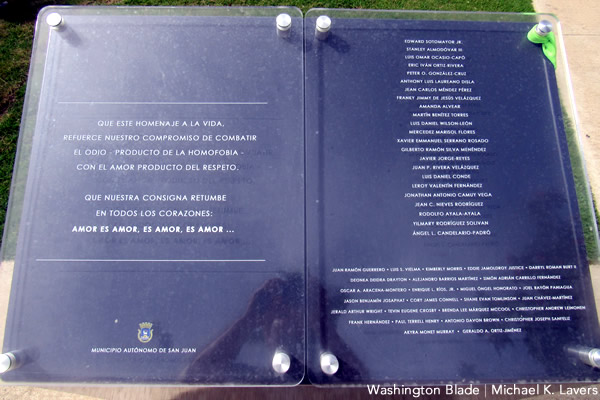 Tony Lima, a long-time Florida-based activist who is currently CEO of Arianna's Center, an organization that serves trans women of color in Florida, the South and Puerto Rico, helped organize vigils and blood drives in the days after the massacre.
"We knew how important it was to aid our family in Orlando in this immediate crisis," Lima told the Blade on Monday. "Orlando and South Florida are intrinsically connected. We often share resources in nightlife, events, advocacy and a lot of the same people … so I think there was a natural synergy there."
Lima, like Nadine Smith and Carlos Guillermo Smith, sharply criticized DeSantis for signing the anti-trans bill and for vetoing funds for Pulse survivors and homeless LGBTQ youth. Lima also lamented the lack of progress on gun control.
A gunman on Feb. 14, 2018, killed 17 people at Marjory Stoneman Douglas High School in Parkland, Fla. Lima told the Blade there have been two deadly mass shootings in South Florida in recent days.
"We have a huge problem when it comes to gun control in this country, and sadly five years later we haven't made a whole lot of progress," he said.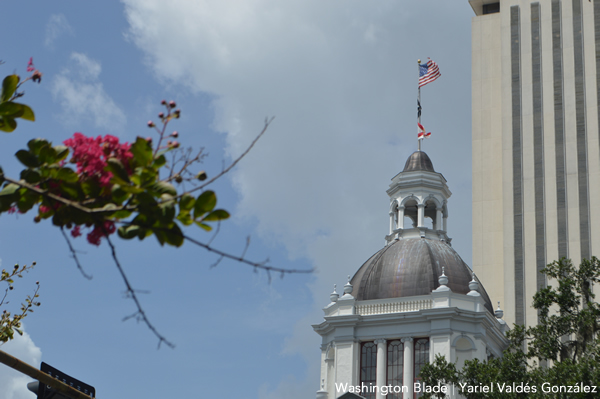 Orlando's support of LGBTQ rights part of 'bigger call to action'
Felipe Sousa-Lazaballet is the senior specialist for inclusion, diversity and equity for the city of Orlando's Office of Multicultural Affairs. He is also Mayor Buddy Dyer's LGBTQ liaison.
Orlando City Hall on June 1 raised the Pride flag in commemoration of Pride month.
Sousa-Lazaballet noted the fountain in Lake Eola Park in downtown Orlando was the colors of the trans Pride flag in commemoration of the International Transgender Day of Visibility. Orlando in 2019 became the first city in Florida to include National LGBT Chamber of Commerce-certified businesses in its municipal contracting and procurement programs.
"All of that is part of that bigger call to action, which is we want to honor the 49," said Sousa-Lazaballet. "But we also want to with action by making the city an even more welcoming place for all."
Sousa-Lazaballet, Carlos Guillermo Smith and Nadine Smith all told the Blade the way that Orlando, Central Florida, the country and the world responded to the massacre remains a source of pride.
"I think about how many messages there were in the aftermath that called on the worst instincts in people to be fearful of each other, to hate people as a group, to cower and to hide and I will never forget and have been changed by the Orlando community, how the nation and in fact globally people responded to the absolute opposite," said Nadine Smith. "That is a light that I hold on to."
Poma echoed Nadine Smith.
"We hope that our goal is to create that beacon of light that can come out of such darkness," said Poma. "Darkness is a really dangerous place to get stuck in and so while we all wish what happened on June 12 never happened, it did and it's now our moral and social responsibility to do something with that and that for me is creating light and change from what we all endured."