60 members of Congress call for LGBT inclusion in immigration reform
A group of 60 U.S. House members have signed a letter urging congressional leaders and President Obama to include bi-national LGBT couples this year in comprehensive immigration reform.
Current law prevents LGBT Americans from sponsoring their foreign partners for residency in the United States, impacting an estimated 36,000 same-sex couples and keeping many apart. Signers of the letter say the system in place is "unacceptable" and immigration reform legislation "must include a strong family reunification component inclusive of LGBT families."
"In truth, no immigration reform bill can be called 'comprehensive' unless it includes all Americans, including those who are LGBT," the letter states.
The group of lawmakers is led by lesbian Rep. Tammy Baldwin (D-Wis.). Other signers include gay Reps. Barney Frank (D-Mass.) and Jared Polis (D-Colo.) as well as Rep. Jerrold Nadler (D-N.Y.), who sponsors standalone legislation that would address the situation known as the Uniting American Families Act. Still another signer is Rep. Mike Honda (D-Calif.), who included similar language in his Reuniting Families Act last year.
Rachel Tiven, executive director of Immigration Equality, said the lawmakers' letter "signals that our champions in Congress, and the LGBT community, are ready to work for passage of reform that includes all families, including LGBT families."
"Passage of immigration reform will require every family standing with their neighbors and loved ones to work for change," she said. "There are more than 36,000 lesbian and gay binational families counting on us to get this work done."
During his State of the Union address, President Obama identified immigration reform as an item for the congressional agenda this year. Sen. Chuck Schumer (D-N.Y.) and Rep. Zoe Lofgren (D-Calif.) are developing the legislation for their respective chambers in Congress.
National Gay & Lesbian Chamber of Commerce Certifies Brown, Naff, Pitts Omnimedia, Inc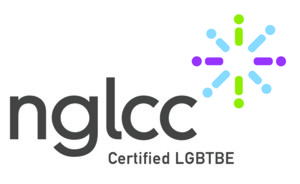 Washington, D.C. — Brown, Naff, Pitts Omnimedia, Inc, the parent company of the Washington Blade and Azer Creative, announced today it has been certified by the National Gay and Lesbian Chamber of Commerce (NGLCC) as an LGBT Business Enterprise. The NGLCC supports and advocates for diversity and inclusion for LGBT-owned businesses. With this certification the Blade's parent company joins more than 510 business and 134 corporate partners of the NGLCC.
Brown, Naff, Pitts Omnimedia, Inc. owns and operates the Washington Blade, the oldest and most acclaimed LGBT newspaper in the country. In 2012, the company launched Azer Creative, a full-service design firm. The company employs more than a dozen full-time LGBT staff.
"We are excited to become one of the 500 LGBT businesses across the country certified by NGLCC," said Lynne Brown, the Blade's publisher and a co-owner of the company. "The LGBT community has been part of our company from the beginning and we look forward to continue that for many years to come."
The Washington Blade was founded in 1969 and is known as the "newspaper of record" for the LGBT community both locally and nationally. Visit washingtonblade.com for more information. Azer Creative is a full-service graphic design firm based in Washington, D.C. Visit azercreative.com for more information. 
Vote now for the 2013 Best of Gay DC!
Choose in dozens of categories among hundreds of nominees, and make your voice heard!
Nominate the 'Best of Gay D.C.' now!
Dozens of categories cover all the best for LGBT Washington. Who deserves the prize this year?