Schumer recommends nomination of first openly gay male federal judge
Sen. Chuck Schumer (D-N.Y.) is recommending to President Obama that he nominate for the first time ever an openly gay male to serve on the federal bench, according to the senator's office.
The senator has designated Daniel Alter to serve as judge for the U.S. District Court for the Southern District of New York. His appointment is subject to Senate confirmation.
For judicial nominations, presidents traditionally abide by the recommendations made by the senior senator from the state where there's a vacancy, which in the case of New York is Schumer.
In a statement, Schumer said he recommended Alter because he's "a brilliant attorney who possesses the knowledge, balanced views and temperament required of a federal judge."
"His outstanding leadership skills, his commitment to justice, and his extensive experience make him an exceptional choice for a position on the federal bench," Schumer said. "I'm proud to nominate Daniel Alter. Period. But I am equally proud to nominate him because he is a history-maker who will be the first openly gay male judge in American history."
A graduate of Columbia College and Yale Law School, Alter clerked for several judges on the U.S. Court of Appeals for the Second Circuit.
For six years, Alter was an assistant U.S. attorney for the Southern District of New York, where he specialized in first amendment matters and became an expert on terrorism issues. He worked on al Qaeda cases and was on the prosecution team for the trials for the African embassy bombings of 1998.
Alter has also been an advocate for civil rights. As national director of the civil rights division of the Anti-Defamation League, Alter handled work on hate crimes both within the United States and abroad.
Schumer called Alter "a lawyer whose views have been tempered by a broad range of experiences" and "a candidate who would enhance the diversity of the federal bench."
"I have often said that I strive to appoint those with three qualities: excellence, moderation and diversity, and Mr. Alter fits that prescription to a 'T,'" Schumer said.
Denis Dison, spokesperson for the Gay & Lesbian Victory Fund, praised Schumer for recommending Alter to serve on the federal court.
"We're entering an era where qualified people are no longer excluded from leadership positions because of their sexual orientation or gender identity," Dison said. "Senator Schumer deserves applause for nominating Daniel Alter for a seat on the federal bench."
Seats on the U.S. District Court for the Southern District of New York have often been a springboard for judges to move onto higher positions. Before she was confirmed last year to serve on the U.S. Supreme Court, Associate Justice Sonia Sotomayor held a federal judgship in the Southern District from 1992 to 1998.
While Alter would be the first openly gay male to serve on the federal bench, he wouldn't be the first openly LGBT person. In 1994, President Clinton nominated Deborah Batts, an out lesbian, to serve as federal judge for the U.S. District Court of the Southern District of New York, where she currently sits.
The San Francisco Chronicle reported this week that Judge Vaughn Walker of the U.S. District Court for Northern District of California is gay, although Walker wouldn't comment on the allegations. Walker is presiding over Perry v. Schwarzenegger, a federal case that will determine the constitutionality of the ban on same-sex marriage in California.
National Gay & Lesbian Chamber of Commerce Certifies Brown, Naff, Pitts Omnimedia, Inc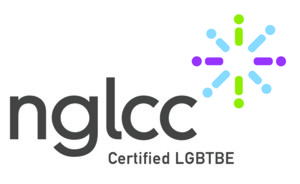 Washington, D.C. — Brown, Naff, Pitts Omnimedia, Inc, the parent company of the Washington Blade and Azer Creative, announced today it has been certified by the National Gay and Lesbian Chamber of Commerce (NGLCC) as an LGBT Business Enterprise. The NGLCC supports and advocates for diversity and inclusion for LGBT-owned businesses. With this certification the Blade's parent company joins more than 510 business and 134 corporate partners of the NGLCC.
Brown, Naff, Pitts Omnimedia, Inc. owns and operates the Washington Blade, the oldest and most acclaimed LGBT newspaper in the country. In 2012, the company launched Azer Creative, a full-service design firm. The company employs more than a dozen full-time LGBT staff.
"We are excited to become one of the 500 LGBT businesses across the country certified by NGLCC," said Lynne Brown, the Blade's publisher and a co-owner of the company. "The LGBT community has been part of our company from the beginning and we look forward to continue that for many years to come."
The Washington Blade was founded in 1969 and is known as the "newspaper of record" for the LGBT community both locally and nationally. Visit washingtonblade.com for more information. Azer Creative is a full-service graphic design firm based in Washington, D.C. Visit azercreative.com for more information. 
Vote now for the 2013 Best of Gay DC!
Choose in dozens of categories among hundreds of nominees, and make your voice heard!
Nominate the 'Best of Gay D.C.' now!
Dozens of categories cover all the best for LGBT Washington. Who deserves the prize this year?