Wedding receptions with style
You've popped the question, walked the aisle and now it's time to pop the Champagne. But where to hold your reception on the big day in D.C.?
If you're looking for a hotel ballroom, the city offers plenty of options, from traditional to trendy. There are a few things to keep in mind when considering hotel reception spaces.
Find out how many events your location of choice holds so you can be sure you won't be hurried out once your allotted time is over. Map out the spaces for your special moments like the first dance, the wedding cake cutting, seating, etc., and make sure there is enough space to accommodate your guests. If you are using the in-house caterer make sure the kitchen is equipped for any special menu items you may have planned. Some hotels have decor restrictions, so make sure you ask about furniture rearranging and ask to see photos of prior wedding receptions to inspire a few ideas.
Below are just a handful of area hotels ready to host same-sex wedding receptions when gay nuptials become legal, which is expected to happen in early March.
The Four Seasons Hotel, 2800 Pennsylvania Ave. N.W., has wedding planning down to a science. From invitations and wedding cakes to spa and beauty services, the Four Seasons can help ease the stress of planning a wedding. With original wedding packages or a package of your own design, the wedding consultants offer their expert assistance so you can enjoy your day with confidence. The Four Seasons features a sunlit, sophisticated space that occupies more than 13,400 square feet, including a terrace overlooking the C&O Canal.
The Madison, a Loews Hotel, 1177 15th St., N.W., is ready to help make memories that last a lifetime. The Madison recently added 1,500 square feet of new banquet space, which has created a total space of 12,000 square feet that will accommodate most any guest list. The expert event planners will help create the wedding of your dreams, along with amenities such as a fitness center and spa services to cater to your every need.
W Hotel, 515 15th St., N.W., "where historic Italian Renaissance meets modern cool" offers 12,000 square feet of event space that will make your wedding nothing less than spectacular. The Altitude, the rooftop ballroom at the W, would be a perfect location with its gorgeous floor-to-ceiling windows that offer a backdrop of the nation's most important landmarks. The expert event planners will work magic so your wedding day wishes come true in style.
Founded in 1981, the Kimpton Hotels & Restaurants are a collection of boutique hotels and chef-driven restaurants that are acknowledged as an industry pioneer and leaders in the boutique hotel concept. The Kimpton Hotel Group occupies five locations in the Dupont and Logan Circle areas plus two additional locations within sight of the National Mall and the U.S. Capital. For a truly memorable wedding experience consider Kimpton's Hotel Palomar, 2121 P St., N.W. The Hotel Palomar is urban art gallery meets chic boutique hotel that will amaze your guests. The hotel offers more than 10,000 square feet of reception space, including the ultra stylish Phillips Room, named for the nearby Phillips Collection. The Phillips Room can accommodate up to 300 guests.
Other national hotel chains are also catering to same-sex couples in Washington. The Marriott and Renaissance Hotel chains offer 10 properties in the area, including the historic Mayflower. For a list of Marriott's area hotels and information on booking a reception, visit dcmarriottweddings.com.
Other friendly options to consider when looking for reception space:
The Fairmont
2401 M St., N.W.
202-429-2400
fairmont.com/washington
The Fairfax at Embassy Row
2100 Massachusetts Ave., N.W.
202-293-2100
starwoodhotels.com
Disco Funk Brunch at Crazy Aunt Helen's
Tara Hoot and DJ Phil Reese perform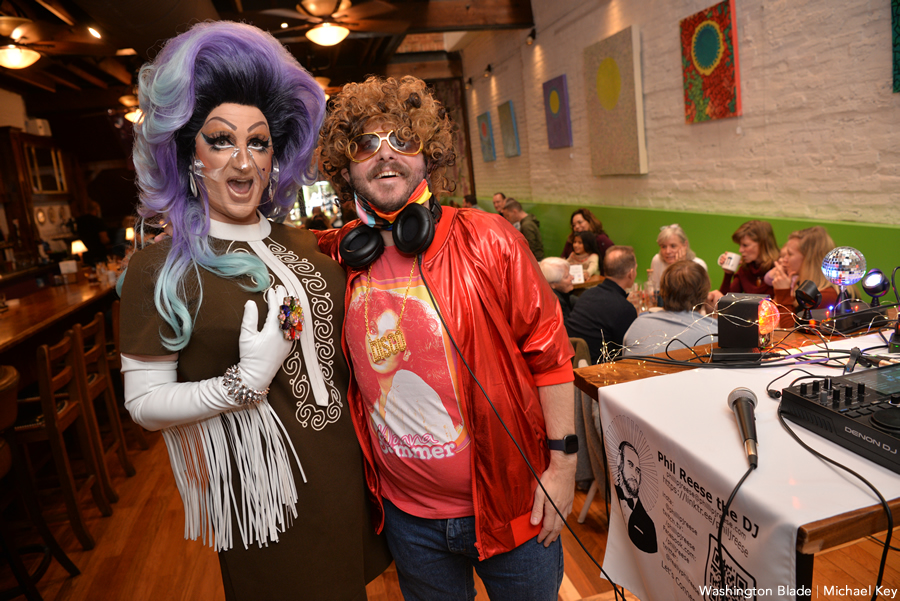 Drag queen Tara Hoot and DJ Phil Reese perform at the biweekly Disco Funk Brunch at the LGBT-owned Crazy Aunt Helen's on Sunday. For future showtimes, go to crazyaunthelens.com. (Blade photo by Michael Key)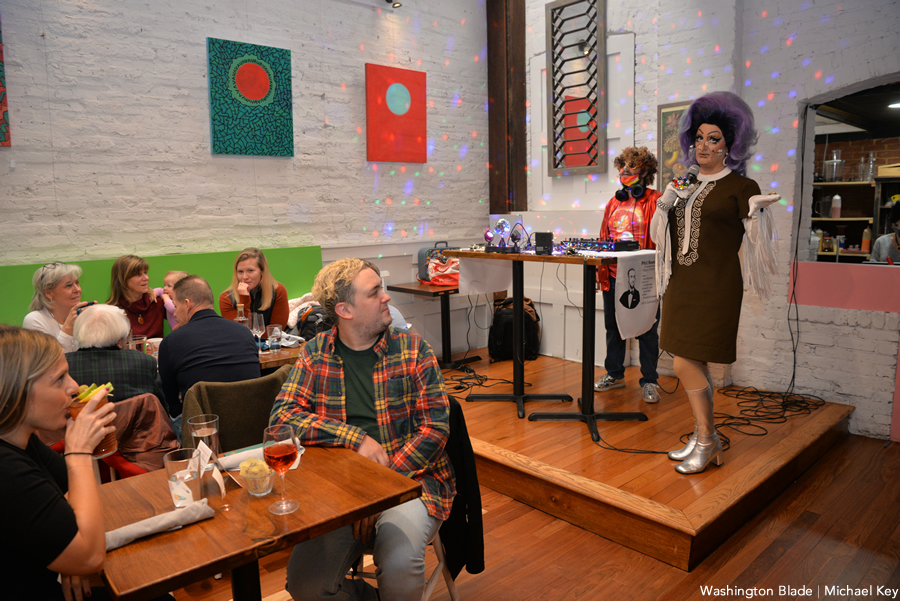 Blade's summer closing party set for Sept. 17 in Rehoboth
Benefits journalism scholarship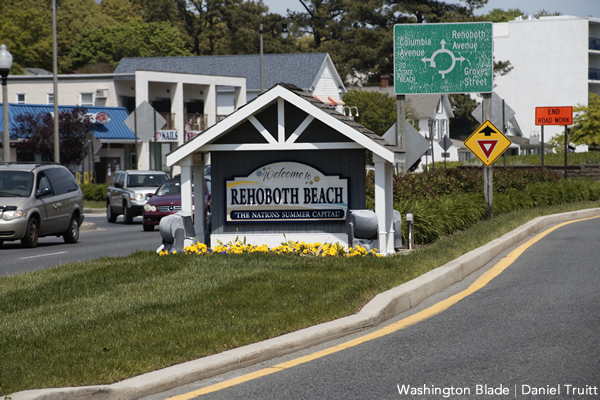 The Washington Blade's 15-year tradition of hosting a summer kickoff party in Rehoboth Beach was disrupted due to COVID restrictions. In lieu of that May event, the Blade is hosting a summer closing party on Friday, Sept. 17 at 6 p.m. at The Pines (56 Baltimore Ave., Rehoboth Beach, Del.).
Tickets are $20, which includes two drinks and appetizers. The event benefits the Blade Foundation's Steve Elkins Memorial Journalism Fellowship, a 12-week program in which an LGBTQ student journalist covers stories of interest to Delaware's queer community each summer.
All COVID safety protocols will be followed, including a requirement that attendees furnish proof of vaccination to gain entry.
If you are unable to attend you can make a donation to the Blade Foundation at BladeFoundation.org. Sponsors of the event include Delmarva Power and The Pines.
Rehoboth to close out summer with SunFest
Series of events to replace long-running Sundance due to pandemic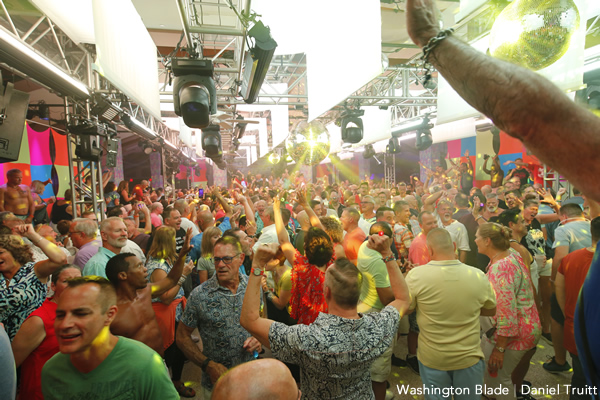 SunFest will feature a week of live performances, dances, and a live auction, sponsored by non-profit LGBTQ+ center CAMP Rehoboth.
The weeklong festival runs from Aug. 29 to Sept. 5 and is a change from the annual SunDance that CAMP Rehoboth has sponsored since 1988. This transformation began last year when the event was forced to go digital due to the coronavirus and the in-person events scheduled this year are important, according to development director and co-coordinator of SunFest Anita Broccolino.
"We love that community feel and the in-person makes all the difference in the world for us. Not being able to do it last year just reminded everyone how important we all are to one another," Broccolino said. "I think that bringing back these events this year is just huge for us and it will be extra celebratory as a result."
The festival begins with a 5k race and online auction opening on Sunday. Monday night features a give-back event at Iron Hill Brewery while Tuesday's agenda is still to be determined, said Broccolino. Diego's will host a Studio 54 give-back dance party on Wednesday and Thursday is the Port 251 women's give-back.
Live performances featuring the Skivvies, Randy Harrison and Diane Huey are scheduled for Friday night and Jennifer Holiday will follow with a performance on Saturday night, both at the Rehoboth Beach Convention Center. The festival closes out Sunday with auction pick-ups and Fun in the Sand and Sun, according to the CAMP Rehoboth website.
This event is also important to the organization's contributions to the community, said Broccolino.
"The essential services we provide for free to the community, which is a huge amount of health and wellness activities, as well as arts programming, a lot of youth programming and the community counts on us for those things. We never stopped during COVID, we made as much as we could virtual, but we took quite a hit not being able to raise those funds and awareness of the programs," Broccolino said. "We invite the entire community to come celebrate with us and make it to Rehoboth Beach, and let's make it joyful, and wonderful and make sure we're living up to the standards of all the people who helped found CAMP Rehoboth and live up to their legacy and beyond."