Boxer introduces COBRA bill for domestic partners
Sen. Barbara Boxer (D-Calif.) introduced legislation on Thursday that would allow same-sex domestic partners to have the same access to COBRA benefits as married couples in some circumstances.
The bill, known as the Equal Access to COBRA Act, would allow LGBT people to continue to receive coverage for their same-sex partners under COBRA if they lose their job and their former employer offered health benefits to domestic partners.
In a statement, Boxer called the issue the legislation would address "a question of fairness."
"Every family deserves access to health insurance, especially in this tough economy," she said. "This bill ensures that domestic partners and their families will have equal access to health coverage after a job loss."
According to Boxer's statement, more than half of Fortune 500 companies cover domestic partners under their health plans.
Under COBRA, or the Consolidated Omnibus Budget Reconciliation Act, employers must continue to offer health care coverage to departing workers and their beneficiaries for up to 36 months.
Joe Solmonese, president of the Human Rights Campaign, said in a statement the introduction of Boxer's legislation is important because same-sex couples "are equally affected by economic hardships and should have equal access to important benefits like COBRA continuation coverage."
"In these troubled economic times, when many Americans are concerned about the security of their jobs and health insurance, LGBT people should not also have to worry whether the COBRA safety net will be there to help protect the health of their families," he said.
National Gay & Lesbian Chamber of Commerce Certifies Brown, Naff, Pitts Omnimedia, Inc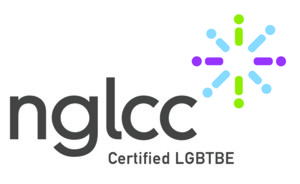 Washington, D.C. — Brown, Naff, Pitts Omnimedia, Inc, the parent company of the Washington Blade and Azer Creative, announced today it has been certified by the National Gay and Lesbian Chamber of Commerce (NGLCC) as an LGBT Business Enterprise. The NGLCC supports and advocates for diversity and inclusion for LGBT-owned businesses. With this certification the Blade's parent company joins more than 510 business and 134 corporate partners of the NGLCC.
Brown, Naff, Pitts Omnimedia, Inc. owns and operates the Washington Blade, the oldest and most acclaimed LGBT newspaper in the country. In 2012, the company launched Azer Creative, a full-service design firm. The company employs more than a dozen full-time LGBT staff.
"We are excited to become one of the 500 LGBT businesses across the country certified by NGLCC," said Lynne Brown, the Blade's publisher and a co-owner of the company. "The LGBT community has been part of our company from the beginning and we look forward to continue that for many years to come."
The Washington Blade was founded in 1969 and is known as the "newspaper of record" for the LGBT community both locally and nationally. Visit washingtonblade.com for more information. Azer Creative is a full-service graphic design firm based in Washington, D.C. Visit azercreative.com for more information. 
Vote now for the 2013 Best of Gay DC!
Choose in dozens of categories among hundreds of nominees, and make your voice heard!
Nominate the 'Best of Gay D.C.' now!
Dozens of categories cover all the best for LGBT Washington. Who deserves the prize this year?