Advocates push for LGBT inclusion in U.S. Census
Advocates are pressing the importance of LGBT participation in the U.S. Census as they call for greater outreach and the opportunity for more informed responses from LGBT people.
During a congressional briefing Thursday for the LGBT Equality Caucus, panelists emphasized that getting LGBT people counted in the 2010 Census will reveal useful information about the LGBT community.
Gary Gates, a research fellow at the Williams Institute, a think tank at the University of California, Los Angeles, noted that 2010 will be the first time that married same-sex couples will be counted as such in the Census.
Still, Gates said the count wouldn't necessarily reveal the number of legally married same-sex couples in the United States.
"Same-sex couples, have, as we all know, many, many legal ways in which they can be recognized, and it's not clear that in options that include either husband and wife or unmarried partner capture all those different ways," he said. "We certainly know that there are many more couples who see their relationships as one where the person is spouse and legally married."
Gates said earlier data — particularly from the larger American Community Survey issued by the U.S. Census Bureau — provided the basis for finding important information about LGBT people, such as how an estimated 565,000 same-sex couples live in United States and 150,000 same-sex couples identify as married.
This data, Gates said, also led to findings that around 66,000 gay service members serve in the military under "Don't Ask, Don't Tell" and 36,000 bi-national couples would benefit from the Uniting American Families Act.
Brian Moulton, chief legislative counsel for the Human Rights Campaign, said having this data is helpful in convincing members of Congress to support pro-LGBT legislation.
Moulton said Census data "informs Congress about what the needs of the community really are" and "has been really helpful in making that case on 'Don't Ask, Don't Tell' and ENDA."
To bolster efforts to collect information about LGBT people, the Census Bureau is undertaking initiatives that weren't used in previous counts.
Che Ruddell-Tabisola, the LGBT National Partnership Manager for the Census Bureau, said the approach includes ad buys in LGBT media and newspaper as well as the use of LGBT-specific talking points and tool kits for Census workers.
"It's the first census that has paid organizers on the ground – two dozen of us around the country – whose job it is is to talk to LGBT community leaders, activists and organizers to get out some very basic messages," he said.
Ruddell-Tabisola said the 2010 Census will be the first to have LGBT public service announcements. He said he plans to unveil 19 of them at an event in New York City on Monday.
Even while stressing the importance of the Census as a means to collect data about LGBT people, panelists expressed concerns about the count not gathering sufficient information or having inadequate outreach.
Glenn Magpantay, staff attorney for Asian American Legal Defense and Education Fund, expressed concerns about having enough diversity among census takers so minority groups — including LGBT people — would be receptive.
"So when the door-knockers come, and if I come from a two female household, and the census taker doesn't look really receptive to my family household and structure, basically will I be harassed by census taker?" he said. "Will they have the diversity and the ability to enumerate a diverse America?"
Panelists also discussed the possibility of asking responders to identify their sexual orientation and gender identity in subsequent censuses.
Mara Keisling, executive director of the National Center for Transgender Equality, said transgender people have been discussing having a question asking to identity their gender identity on the survey becaues of the lack of information about the transgender community.
"We know very little about transgender people," she said. "There are almost no studies about transgender people. We really know almost nothing. We don't know how many of us there are. We don't know what our economic situation is."
Keisling said many transgender people are urging others to mark their gender as "transgender" on the Census form, although she said many are resisting that idea because the majority of transgender people identify as either male or female.
Others have suggested including questions asking responders if they identify as transgender, but Keisling said there are problems with this approach as well.
Following the briefing, Ruddell-Tabisola told DC Agenda the Census Bureau is considering a number of ways to update forms in the future, but is being cautious about making any changes.
"The Census is different it's a survey of households, not individuals," he said. "So by design, one person fills out the Census for everybody else. So what happens if you have roommates and one person has to identify the sexual orientation and gender identity in the house. What if he doesn't know? Is he going to ask? Are we going to tell him to ask?"
Ruddell-Tabisola said there's also an ethical and privacy concerns about asking people about whether they identify as LGBT.
"It's a big deal if you constitutionally mandate people to identify their sexual orientation and gender identity," he said. "It's not like a poll where you can hang up the phone if you don't want to answer the question. The Census is mandated by the Constitution, and so all the questions on there are really serious questions."
National Gay & Lesbian Chamber of Commerce Certifies Brown, Naff, Pitts Omnimedia, Inc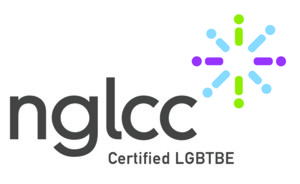 Washington, D.C. — Brown, Naff, Pitts Omnimedia, Inc, the parent company of the Washington Blade and Azer Creative, announced today it has been certified by the National Gay and Lesbian Chamber of Commerce (NGLCC) as an LGBT Business Enterprise. The NGLCC supports and advocates for diversity and inclusion for LGBT-owned businesses. With this certification the Blade's parent company joins more than 510 business and 134 corporate partners of the NGLCC.
Brown, Naff, Pitts Omnimedia, Inc. owns and operates the Washington Blade, the oldest and most acclaimed LGBT newspaper in the country. In 2012, the company launched Azer Creative, a full-service design firm. The company employs more than a dozen full-time LGBT staff.
"We are excited to become one of the 500 LGBT businesses across the country certified by NGLCC," said Lynne Brown, the Blade's publisher and a co-owner of the company. "The LGBT community has been part of our company from the beginning and we look forward to continue that for many years to come."
The Washington Blade was founded in 1969 and is known as the "newspaper of record" for the LGBT community both locally and nationally. Visit washingtonblade.com for more information. Azer Creative is a full-service graphic design firm based in Washington, D.C. Visit azercreative.com for more information. 
Vote now for the 2013 Best of Gay DC!
Choose in dozens of categories among hundreds of nominees, and make your voice heard!
Nominate the 'Best of Gay D.C.' now!
Dozens of categories cover all the best for LGBT Washington. Who deserves the prize this year?