General sorry for remarks on gays in Dutch military
A retired general who supports "Don't Ask, Don't Tell" recently apologized for remarks blaming gays in the Dutch military for a Bosnian massacre — although one blogger is questioning whether the officer is in fact taking back his words.
In a March 29 letter obtained by DC Agenda and other media outlets, retired Marine Corps Gen. John Sheehan says he's sorry for testifying before the Senate that open service in the Dutch military contributed to Srebrenica massacre in 1995.
During testimony earlier this month, Sheehan said he heard from Dutch chief-of-staff General Henk van den Breemen of the Royal Dutch Marine Corps that allowing gays to serve openly in the Dutch military — which he called part of the liberalization of the country's armed forces — contributed to the inability of the Netherlands to prevent the execution of more than 8,000 Muslim men and boys during the massacre.
But in the letter to van den Breeman, Sheehan acknowledges he mistated before the committee the Dutch official's understanding of the situation and apologizes.
"I am sorry that my recent public recollection of those discussions of 15 years ago inaccurately reflected your thinking on some specific social issues in the military," Sheehan writes. "It is also regrettable that I allowed you to be pulled into a public debate."
Sheehan also writes he doesn't believe Srebrenica was "the fault of the individual soldiers" serving in the Dutch military at the time.
"Unfortunately, the rules of engagement were developed by a political system with conflicting priorities and an ambivalent understanding of how to use the military," he said. "As we know, the consequences of those compromises were devastating."
A number of media outlets reported the letter means Sheehan has apologized for his testimony, but Jim Burroway, editor of Box Turtle Bulletin, questioned whether the general is in fact retracting his statement.
This is a climbdown from Sheehan's placing blame on individual gay soldiers in Srebrenica, but it is not a complete disavowal of Sheehan's position. In this letter, he now shifts his blame to "a political system with conflicting priorities and an ambivalent understanding of how to use the military." This echoes accusations hurled by opponents to DADT that allowing soldiers to serve with honesty and integrity — two core values of all branches of the armed services — somehow represents a political meddling in the conduct of military affairs. (I would also hasten to add that civilian control of the military is also a core value insisted upon by our founding fathers and enshrined in the U.S. Constitution.) So while media outlets and DADT repeal advocates may celebrate over this climb-down, I have a feeling that Sheehan's position hasn't changed one bit.
National Gay & Lesbian Chamber of Commerce Certifies Brown, Naff, Pitts Omnimedia, Inc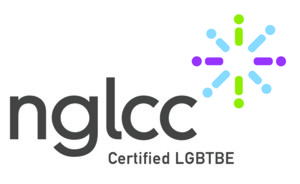 Washington, D.C. — Brown, Naff, Pitts Omnimedia, Inc, the parent company of the Washington Blade and Azer Creative, announced today it has been certified by the National Gay and Lesbian Chamber of Commerce (NGLCC) as an LGBT Business Enterprise. The NGLCC supports and advocates for diversity and inclusion for LGBT-owned businesses. With this certification the Blade's parent company joins more than 510 business and 134 corporate partners of the NGLCC.
Brown, Naff, Pitts Omnimedia, Inc. owns and operates the Washington Blade, the oldest and most acclaimed LGBT newspaper in the country. In 2012, the company launched Azer Creative, a full-service design firm. The company employs more than a dozen full-time LGBT staff.
"We are excited to become one of the 500 LGBT businesses across the country certified by NGLCC," said Lynne Brown, the Blade's publisher and a co-owner of the company. "The LGBT community has been part of our company from the beginning and we look forward to continue that for many years to come."
The Washington Blade was founded in 1969 and is known as the "newspaper of record" for the LGBT community both locally and nationally. Visit washingtonblade.com for more information. Azer Creative is a full-service graphic design firm based in Washington, D.C. Visit azercreative.com for more information. 
Vote now for the 2013 Best of Gay DC!
Choose in dozens of categories among hundreds of nominees, and make your voice heard!
Nominate the 'Best of Gay D.C.' now!
Dozens of categories cover all the best for LGBT Washington. Who deserves the prize this year?