Pro-gay life insurance bill becomes law in Va.
Companies can now offer benefits to same-sex partners of employees
A bill enabling Virginia companies to offer life insurance benefits to the same-sex partners of employees became law earlier this month after Virginia Gov. Bob McDonnell (R) signed the measure.
The new law, approved by both chambers of the Virginia General Assembly with unanimous votes, was enacted after McDonnell signed it April 7.
Stacey Johnson, a McDonnell spokesperson, said the governor signed the bill into law because it passed with broad bipartisan support in the House and Senate.
"In addition, it will have no fiscal impact on Virginia's taxpayers," she said. "The governor believes a decision about who an employer can extend life insurance coverage to should be made by the group policy holder and the insurer."
Previously, state law permitted Virginia residents to take out group life insurance coverage only for a legal spouse or a child under age 25. But the new statute, which takes effect July 1, broadens that group of people to include anyone with whom a Virginia resident has a substantial and economic interest, including a same-sex partner.
Del. Adam Ebbin (D-Alexandria), chief co-patron of the legislation and the only openly gay member of the Virginia General Assembly, said he was pleased the bill finally passed after it was first introduced three years ago.
"It's exciting that after three years of work, GLBT people will be able to make their partners their beneficiaries," Ebbin said. "It's long overdue, but it's a step forward nonetheless."
Jon Blair, CEO of Equality Virginia, said he wasn't surprised that McDonnell signed the bill when it came to his desk.
"This is pretty much no-brainer stuff," he said. "Really, the only surprise is that it didn't pass earlier."
David Lampo, vice president of the Virginia Log Cabin Republicans, attributed the success of the bill this year to its Republican chief patron, Del. Tom Rust (R-Fairfax).
"Having a Republican patron made a very big difference, but we all owe Del. Adam Ebbin a debt for first proposing this bill," Lampo said.
Ebbin first introduced the bill in the Virginia House in 2008. The legislation failed to pass that year and again in 2009 before it became law this year.
Ebbin said he believes the bill succeeded this year because the insurance lobby worked hard to support it and the Virginia Family Foundation didn't obstruct its passage. He noted that a technical change in wording that didn't substantively change the legislation also contributed to the bill's success.
Previous versions of the bill allowed Virginia residents to designate someone from "any other class of persons" they wanted as a life insurance beneficiary, while the enacted version changes this language to "any other person" with whom the insured group member has an insurable interest.
The legislation notably failed in the two previous sessions when there were a greater number of Democratic lawmakers in the General Assembly and a Democratic governor. It passed during the administration of a Republican governor who's not considered gay friendly.
Upon taking office, McDonnell renewed an executive order protecting certain classes of people from discrimination in the public workforce, although he left out sexual orientation as one such class. He later issued a directive saying the state shouldn't discriminate against LGBT people, although this action doesn't have the same teeth as an executive order.
Ebbin said he believes McDonnell allowed the bill to become law because he didn't want to oppose legislation that provides for wider life insurance and because no controversy surrounded the bill as it progressed to the governor's desk.
"So, I suspect that there wasn't consideration for him to oppose a bill that passed nearly unanimously," Ebbin said. "There's the potential for the bill to be overridden and I'm sure he didn't want any more controversy — considering the other controversies that he's had in his first legislative session."
Kelly Young, an Arlington, Va., resident who married his spouse Bill Reinsmith in Vermont earlier this month, encouraged Ebbin to introduce the legislation in 2008 so that he could provide life insurance to his partner through his company.
Although the issue is now moot for Young and Reinsmith because Young is self-employed and Reinsmith's company offer doesn't life insurance benefits, Young said the passage of the legislation moves Virginia forward.
"It is still important, both economically and morally," Young said. "It's a small step forward for LGBT equality in a state that doesn't offer LGBT residents much in the way of equality and lately has sent some weird signals on LGBT issues."
Trans people lost to drug overdose remembered at D.C. tribute
Citywide 'Celebration of Life' held at Metropolitan Community Church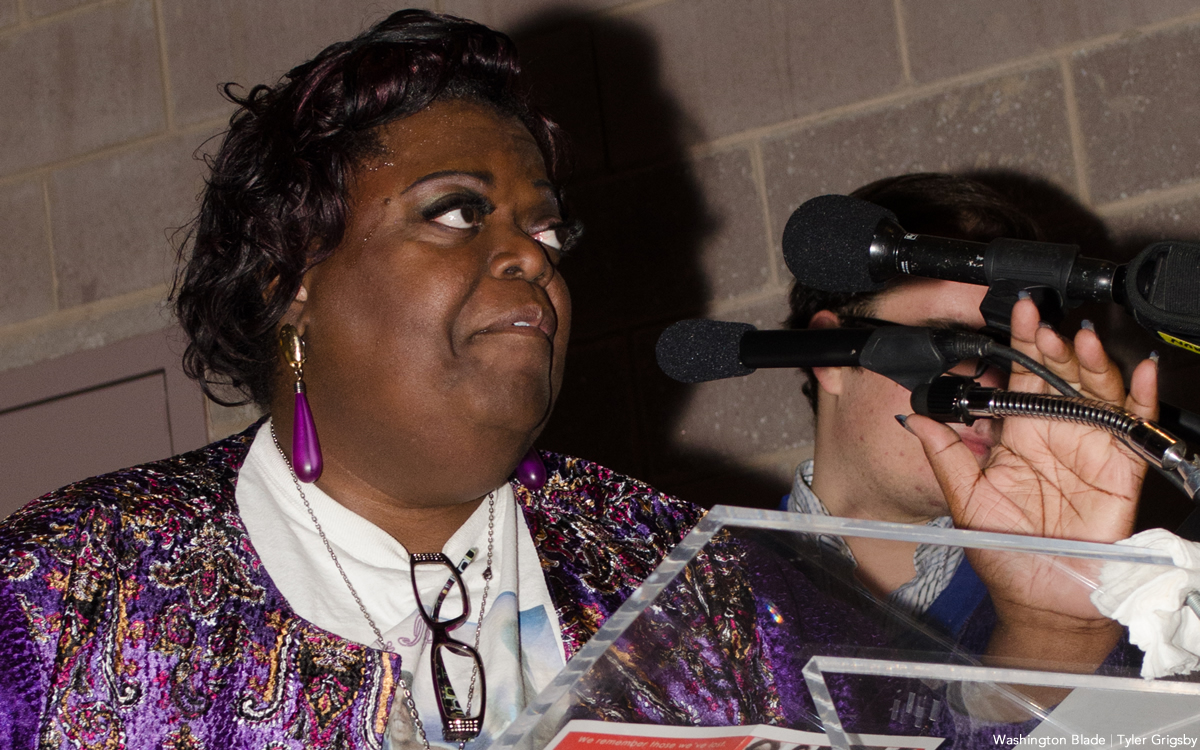 About 50 people turned out on Saturday, March 18, at D.C.'s Metropolitan Community Church for a Citywide Memorial Celebration of Life for at least seven local transgender people who lost their lives from a drug overdose within the past two months.
"We lifted up the lives of those who recently and before passed amongst the transgender community," said longtime D.C. transgender advocate Earline Budd, the lead organizer of the event.
"The goal was to send a clear message to D.C. officials that we will not sit by silently while members of the LGBTQ community are dying as a result of the OVERDOSE epidemic here in D.C. and around the country," Budd said in a Facebook post.
Budd told the Washington Blade this week that she and others involved in organizing the memorial celebration are planning a series of conversations with city officials and LGBTQ community stakeholders to push for strengthening the city's overdose prevention and response programs targeting LGBTQ people at risk for a drug overdose.
Among those participating in the March 18 celebration of life event were Rev. Elder Akosua McCray of Unity Fellowship Church of D.C.; Rev. D. Amina B. Butts of New Hope Baptist United Church of Christ of D.C.; and Rev. Cathy Alexander of D.C.'s Metropolitan Community Church.
Among those who spoke at the event was Tyler Edge, the associate director of D.C. Mayor Muriel Bowser's Office of LGBTQ Affairs.
The trans people who recently lost their lives to a drug overdose and whose names were listed in the program book handed out at the memorial tribute include Diva Chole Mason, Kenneth Isaac "Candy," Terri Holland, Lourica Potts, Cee Cee Creek, Tyneisha Phillips, and Danielle Pinkney.
Budd said among the plans by her and community supporters to address the overdose problem faced by some in the LGBTQ community include arranging for a more targeted approach to distribute and make accessible the lifesaving medication Narcan, which reverses an opioid overdose if administered quickly through a nasal spray device.
She said the plan also calls for pushing for a wider distribution of test kits for determining whether the deadly substance fentanyl, the cause of most drug overdose deaths, is present in recreational drugs such as cocaine, MDMA, and crystal meth.
"That's what our goal is, and we may end up saving some lives," Budd said.
D.C. government to hold 'LGBTQIA+ Emergency Training' event
Leaders, staff of nonprofits invited to learn how to assess threats of violence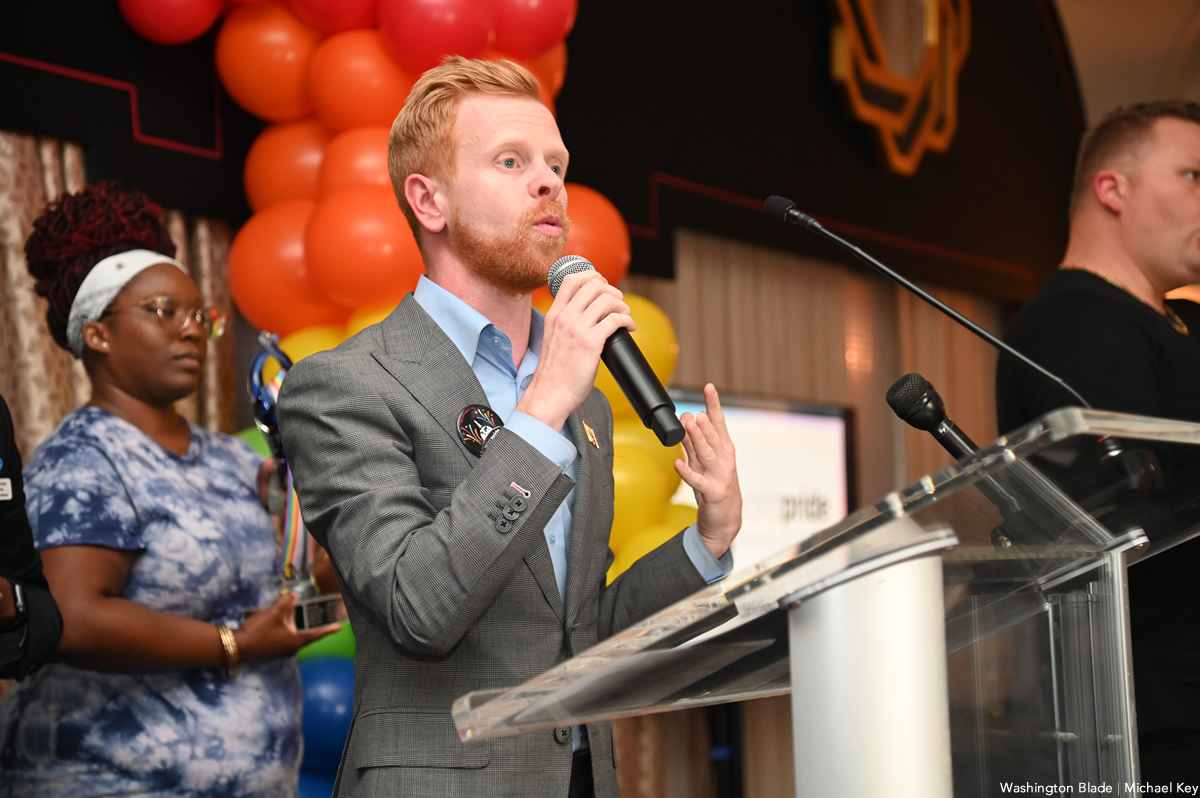 D.C. Mayor Muriel Bowser's Office of LGBTQ Affairs and the city's Homeland Security and Emergency Management Agency are inviting "all LGBTQIA+ non-profit leaders, management and event production staff" to attend a first-of-its-kind LGBTQ community Emergency Preparedness Event scheduled for April 5.
The event, officially called an LGBTQIA+ Emergency Preparedness Training, will be held at the headquarters of the D.C. Homeland Security and Emergency Management Agency at 1015 Half St., S.E.
"Non-profit partners will receive a special briefing on potential crime trends and threats," an announcement of the event issued by the mayor's office says. "The Preparedness Training will teach partners how to assess behavioral threats, manage risk factors such as warning signs of violence," the announcement continues.
"Partners will also hear more information about how to apply for non-profit security grant programs to support physical security enhancements," according to the announcement.
Japer Bowles, director of the Mayor's Office of LGBTQ Affairs, sent an email invitation on Tuesday, March 21, to various LGBTQ community leaders to attend the event. In his email message Bowles told of why an emergency preparedness training may be needed.
"We are a strong and diverse LGBTQIA+ community, even though we are increasingly under threat of violence for being who we are, for loving who we love, and for creating spaces for our community to do the same," Bowles wrote. "I commend you all; we must continue to support each other and share resources!"
The training session announced by Bowles and the mayor's office was scheduled to take place about four months after D.C. police announced they were stepping up police patrols around LGBTQ events and establishments, including gay bars, following the Nov. 19 shooting incident at a Colorado Springs gay nightclub called Club Q.
A 22-year-old lone gunman later identified as Anderson Lee Aldrich is charged with firing a rifle inside the club, killing five people, and injuring at least 25 others. One of the patrons of the club is credited with tackling Anderson and grabbing the barrel of the rifle and removing it from Aldrich's grip as horrified patrons attempted to flee from the club.
The incident, which prosecutors have listed as a hate crime, raised concern among LGBTQ clubs across the country and prompted some, including nightlife businesses in D.C., both gay and straight, to arrange for security and active shooter training sessions for their managers and employees.
"Nightlife hospitality establishments understand the importance of being constantly vigilant about, and prepared for, any and all incidents that could occur whenever people are gathered," said Mark Lee, the former coordinator of the D.C. Nightlife Council, a group representing bars, restaurants, nightclubs, and entertainment establishments.
Bowser's highest-level adviser resigns after sexual harassment allegation
Female staffer accuses John Falcicchio of longstanding abuse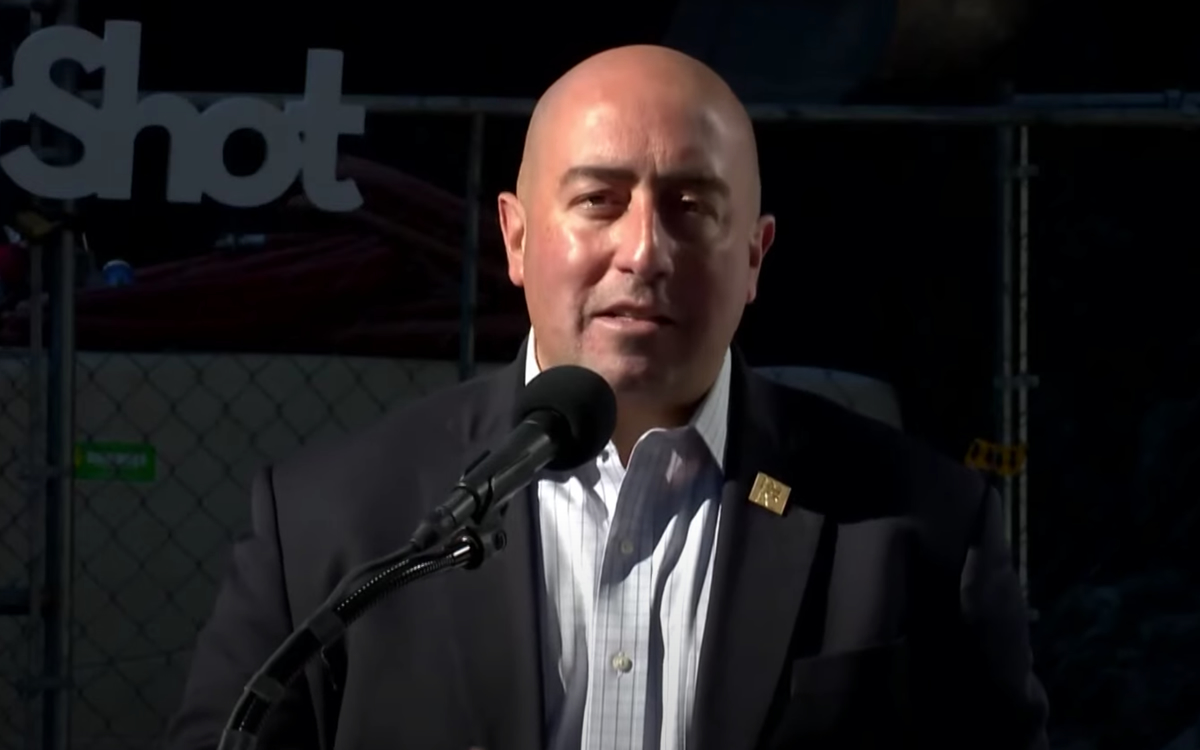 Lawyers representing a D.C. government employee shook up the city's political establishment on Monday when they announced that the employee filed a sexual harassment complaint against John Falcicchio, the now former D.C. Deputy Mayor for Planning and Economic Development and Mayor Muriel Bowser's longtime chief of staff.
The attorneys, Debra Katz and Kayla Morin, did not identify the city employee.
The announcement by Katz and Morin in a press release came shortly after Mayor Bowser issued her own announcement at a news conference on the same day. The mayor confirmed that Falcicchio's sudden resignation last Friday, March 17, followed her decision to launch an investigation into allegations against Falcicchio.
But Bowser said issues surrounding her longtime adviser's departure amounted to "a sensitive matter that includes privacy concerns" that prevented her from disclosing why she initiated the investigation and why Falcicchio abruptly resigned.
She said the investigation was being conducted by the city's Office of Legal Counsel, which is "following established policies and procedures" and that all relevant D.C. government staff members were fully cooperating with the investigation.
"I can also tell you that this investigation does not involve any allegations of improprieties related to business transactions," Bowser told reporters attending the news conference, which was initially called to celebrate the completion of the city's 9th Street, N.W. protected bike lane project and to discuss updates on the Capital Bikeshare program.
"I have every confidence in my new chief of staff, Lindsey Parker, and in our new Interim Deputy Mayor for Planning and Economic Development, Keith Anderson," Bowser said at the news conference. "And I have immense confidence in the 37,000 employees of the D.C. government who will keep us moving forward," she said.
Parker has served as the city's chief technology officer since 2019 and as assistant city administrator since 2022. Anderson has served as director of the D.C. Department of General Services, which oversees the city's buildings and properties.
"We represent an employee of the District of Columbia who came forward to report serious allegations of sexual harassment by former Chief of Staff and Deputy Mayor for Planning and Economic Development John Falcicchio," the statement released by attorneys Katz and Morin says.
"It is our understanding that this behavior is longstanding, and our client is cooperating fully with the investigation, which Mayor Bowser initiated immediately," the statement continues. "Our client is courageous. She came forward to ensure accountability and protect other women," it says. "Given the gravity of our client's allegations – which involve unwelcome advances and sexual contact – we ask the media to respect her privacy," the statement says.
It concludes by encouraging "everyone affected" to contact Maia Ellis, the Associate Director of the Mayor's Office of Legal Counsel, who's leading the investigation, at [email protected].
Katz is a founding partner and Morin is an associate of the D.C. law firm Katz Banks Kumin, which specializes in sexual harassment law, whistleblower law, and employment law, according to a write-up on its website.