Gutierrez endorses UAFA in comprehensive immigration reform
An influential pro-immigrant U.S. House member has endorsed including protections for LGBT bi-national couples as part of comprehensive immigration reform legislation.
In a statement Thursday, Rep. Luiz Gutierrez (D-Ill.) said inclusion of language allowing LGBT Americans to sponsor foreign partners for residency in the United States is an important part of a broader reform bill.
"Our efforts to fix our broken immigration system and protect basic civil rights are not truly comprehensive if we exclude same-sex couples," he said.
Standalone legislation that would enable an estimated 36,000 bi-national same-sex couples to stay together in the United States is known as the Uniting American Families Act. Proponents of the legislation have been seeking inclusion of UAFA as part of upcoming comprehensive immigration reform legislation in Congress.
Gutierrez is schueduled to announce officially his support for inclusion of UAFA on Monday at a press conference in Chicago, Ill. Joining him at the conference will be Rep. Mike Quigley (D-Ill.) and gay Rep. Jared Polis (D-Colo.), who also support inclusion of LGBT couples in immigration reform.
Late last year, Gutierrez introduced his own version of comprehensive immigration reform legislation that was seen an alternative to the working bill expected later. However, even though Gutierrez is a co-sponsor of UAFA, the legislation didn't include UAFA-like language.
According to the statement from Gutierrez' office, the lawmaker's recent announcement means he's "recommitting himself" to inclusion of specific UAFA-like language as part of comprehensive reform.
Support from Gutierrez — a favorite among Latino and pro-immigration groups — can only bolster the efforts of LGBT rights supporters seeking to include UAFA as part of larger reform. In the Senate, Sen. Chuck Schumer (D-N.Y.) is poised to lead legislative efforts this year on the issue, although when his bill will be introduced remains in question.
Steve Ralls, spokesperson for Immigration Equality, called Gutierrez a "key ally" in including UAFA in comprehensive reform because of "his leadership on immigration issues, his membership of the Congressional Hispanic Caucus."
"He's someone who carries a huge amount of influence and credibility on immigration reform generally," he said.
White House sends Sean Patrick Maloney's OECD nomination to the Senate
Former N.Y. congressman narrowly lost re-election in 2022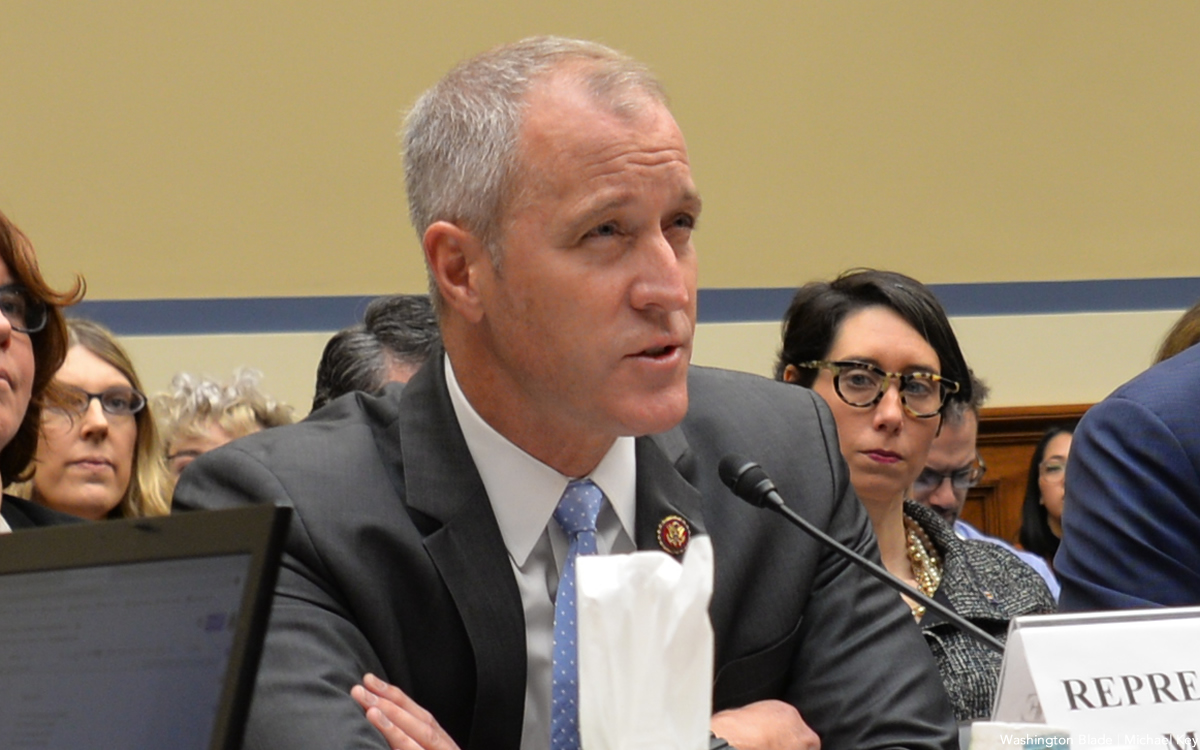 The White House on Thursday officially announced the nomination of former Democratic Congressman Sean Patrick Maloney of New York to serve as the Organization for Economic Cooperation and Development's U.S. representative with the rank of ambassador.
Since February 2022, former Delaware Gov. Jack Markell has represented the U.S. before the OECD, an intergovernmental body with 38 member countries founded to promote economic progress and stimulate world trade.
Along with Maloney's nomination to replace him, Markell's nomination last month to serve as ambassador to Italy is now pending before the Senate.
New York's first openly gay member of Congress, Maloney finished his fifth term as chair of the Democratic Congressional Campaign Committee, the Democratic Party's sixth highest-ranking position in the House, before narrowly losing his bid for reelection in 2022.
Maloney was credited with helping to secure the Democrats' better-than-expected performance in the midterm elections but lost his own race by just 1,800 votes after New York's 17th Congressional District was redrawn.
African advocacy groups condemn Uganda's Anti-Homosexuality Act
South African organizations criticize government's silence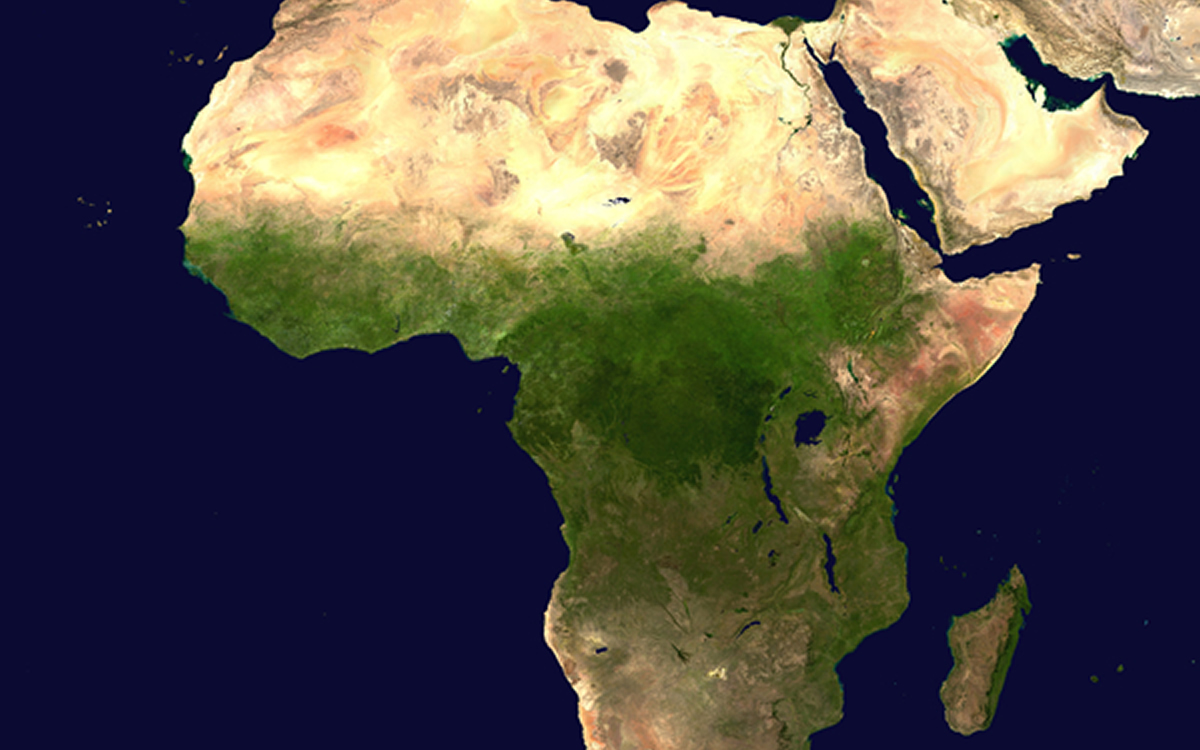 LGBTQ and intersex rights groups across Africa have condemned the signing of Uganda's Anti-Homosexuality Act that calls for the death penalty for "aggravated homosexuality."
Mpho Buntse, a spokesperson for Access Chapter 2, a South African LGBTQ and intersex advocacy organization, said it was very worrisome the South African government did not condemn the law, even though the country is the only one on the continent that fully upholds LGBTQ and intersex rights.
"It has really been apparent that South Africa would rather protect its diplomatic relations rather than impose on the sovereignty of a country like Uganda. However, we are not dealing with an issue of economic or financial diplomacy, but we are dealing with a human rights crisis. We are dealing with a situation where we could see potential violence being subjected to the LGBTQ+ community in Uganda, but not only to the LGBTQ+ community but the rest of the Ugandan population stands to be affected by this law because even if you don't identify as LGBTQ+ you will be compelled to report to the state those that you know that identify as LGBTQ+," said Buntse. "So we find it really problematic that we choose to be just spectators when we could or potentially have played an active role from the start of this."
Buntse noted Ugandan President Yoweri Museveni, who signed the Anti-Homosexuality Act on Monday, was in South Africa in late February.
"We didn't seize the opportunity to play an active role, so South Africa is always on a missed opportunity where we are now seeing a country to be a spectator instead of being an ally of the LGBTQ+ community," added Buntse.
Bruce Walker of Pretoria Pride, another South African advocacy group, said he was not surprised by the government's stance.
"They are showing their true colors," said Walker. "The governing party is full of homophobes. It's written in the constitution, the rights for the LGBTQI+ community, but they never support the LGBTQI+ community. They flatly ignore it. You either support and respect our constitution or not but as it stands they do not. They are far too scared to take a stand." 
Gays And Lesbians of Zimbabwe also condemned the law, saying it violates human rights.
"This law blatantly violates the human rights of LGBTQ individuals in Uganda including the right to privacy, freedom from discrimination and the right to equal protection under the law We stand shoulder to shoulder with the Ugandan LGBTQ community through this difficult time," said GALZ in a statement. "We call on the Ugandan leadership to engage in constructive dialogue, and to work towards solutions that are inclusive and respectful to all individuals."
Lesbians, Gays and Bisexuals of Botswana, like GALZ, also condemned the law and expressed solidarity with LGBTQ and intersex Ugandans.
"It's a great disappointed to have the president assent the Anti-Homosexuality Bill," said LEGABIBO. "To all LGBTIQ+ identifying persons in Uganda, we stand in solidarity with you."
East Africa Trans Health and Advocacy Network also castigated the law. EATHAN, like LEGABIBO and GALZ, said it will continue to stand up for LGBTQ and intersex rights in Uganda.
"Sad day for LGBTIQ Ugandans. We stand with our trans, intersex and nonbinary Ugandans and the entire LGBTIQ community. We must keep fighting and have the law declared unconstitutional," said EATHAN.
We Are All Ghana, a Ghanaian LGBTQ and intersex rights group, in its reaction said the community in Uganda and across Africa should not be silenced.
"As we stand in solidarity with the Ugandan queer community, let us remind ourselves as the Ghanaian LGBTQ+ community and Africans as a whole that we must not allow ourselves to be bullied into silence. our rights are as human as anyone else's," said We Are All Ghana.
Shemerirwe Agnes, executive director of Africa Queer Network, a Uganda-based advocacy group, said there was nothing anyone or any particular organization could have done to dissuade Museveni from signing the bill.
"We are being attacked and killed since that bill was passed because the society and the police thought that just because that bill was passed it was now law so one would think that just because it's now law then it's now going to be implemented," said Agnes. "It was implemented even before it was signed into law there is nothing we can do now because President Museveni doesn't listen to anyone."
U.S. President Joe Biden is among those who have also condemned the Anti-Homosexuality Act.
The White House has announced it will "evaluate" the law's implications and how it may impact U.S. aid to Uganda. Advocacy groups, meanwhile, have challenged the Anti-Homosexuality Act in the Ugandan Constitutional Court.
Daniel Itai is the Washington Blade's Africa Correspondent.
Bowser: No credible threats to D.C. Pride events
Mayor spoke with the Blade after flag-raising ceremony at the Wilson Building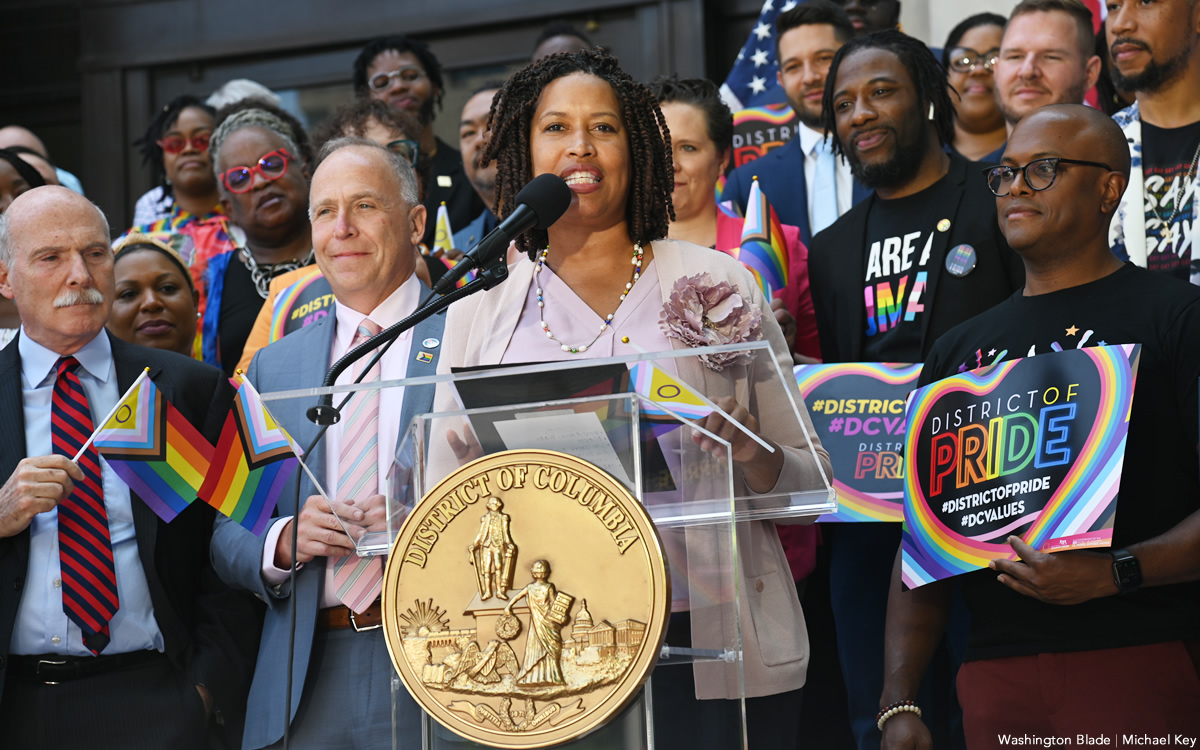 D.C. Mayor Muriel Bowser on Thursday said authorities have not received any credible threats to upcoming Pride events.
"We don't have any to report," she told the Washington Blade.
"MPD is constantly working with all of our agencies to make sure we have safe special events and we're going to keep going with our planning, like we do every year," added Bowser. "There's always a scan for any threats to the District."
Bowser spoke with the Blade after she joined D.C. Council Chair Phil Mendelson, Council members Anita Bonds, Charles Allen, Kenyon McDuffie and Zachary Parker, D.C. Attorney General Brian Schwalb, D.C. Mayor's LGBTQ Affairs Office Director Japer Bowles and other officials and activists in raising the Progress Pride flag in front of the Wilson Building.
The Blade last month reported D.C. police are investigating a bomb threat a Twitter user made against the annual District Pride concert that will take place at the Lincoln Theater on June 29. Bowles in a May 19 statement said his office reported the tweet, but further stressed that "no credible threat at this time has been made."