Franken introduces bill to help LGBT students
Sen. Al Franken (D-Minn.) on Thursday introduced legislation in the Senate aimed at protecting LGBT students throughout the country from facing discrimination in schools.
The bill, known as the Student Non-Discrimination Act, would prohibit schools from discriminating against LGBT students or ignoring harassing behavior against them. Potential penalties for discrimination could include a loss of federal funding or a legal cause of action for victims.
In a statement, Franken told the Blade the legislation is necessary because "kids need to feel safe in their schools in order to learn."
"Our nation's civil rights laws protect our children from bullying due to race, sex, religion, disability and national origin," Franken said. "My proposal corrects a glaring injustice and extends these protections to our gay and lesbian students who need them just as badly."
Eliza Byard, executive director of the Gay, Lesbian & Straight Education Network, praised Franken for introducing the bill in a statement Thursday and said the legislation is needed to ensure LGBT students "can learn without the fear of being discriminated against simply for who they are."
"SNDA will send a clear message to schools that they must address the hostile environment many LGBT students face in schools," she said.
In the House, gay Rep. Jared Polis (D-Colo.) is sponsor of companion legislation. Supporters of the measure have said they're considering including the bill as part of upcoming Elementary & Secondary Education Act authorization legislation in Congress.
The Senate legislation had 22 original co-sponsors. Even with Franken as the sponsor of the bill, one notable exception to this group was the senior senator from Minnesota, Amy Klobuchar (D-Minn.).
According to the Minnesota Star-Tribune, Klobuchar signed on as a co-sponsor later Thursday following a public plea from the Family Equality Council calling on her to sign on in support.
HRC ad campaign slams 'extremist' House GOP's role in looming government shutdown
Funding deadline is Oct. 1.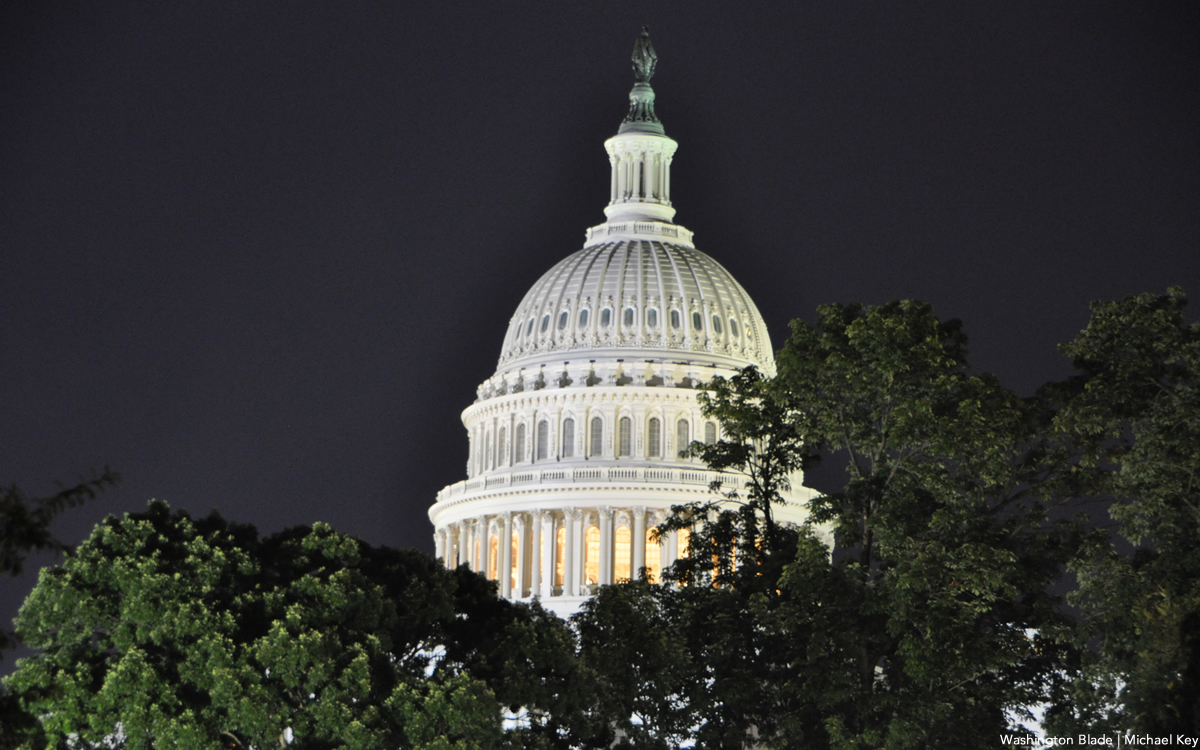 The Human Rights Campaign launched an ad campaign on Monday slamming House Republicans for advancing anti-LGBTQ and other "out of touch demands" rather than working to clear must-pass spending bills before the month's end to avoid a government shutdown.
In the weeks since Congress returned from the summer recess, opportunities to forestall this outcome narrowed with each passing day as small groups of the GOP conference's most conservative members obstructed votes, led an open rebellion against House Speaker Kevin McCarthy (R-Calif.), and added anti-LGBTQ and other far-right amendments to all 12 appropriations bills, effectively dooming the prospects of their passage by the Senate.
HRC's announcement of plans to run the six-figure blitz "across major national outlets, cable networks and digital streaming services" included a 30-second ad titled "Grind to a Halt," which accuses House Republicans of "trying to limit the health care you and your family can access, ban books and flags, and block enforcement of civil rights laws."
In a statement, HRC President Kelley Robinson said the conservative lawmakers had "hijacked the appropriations process to attack LGBTQ+ communities rather than doing their jobs," noting that a shutdown would "interrupt critical government services, hurt working families and endanger our national security."
Barbara Lee: PEPFAR is 'more in peril' than ever before
Congress has yet to reauthorize funding for Bush-era HIV/AIDS program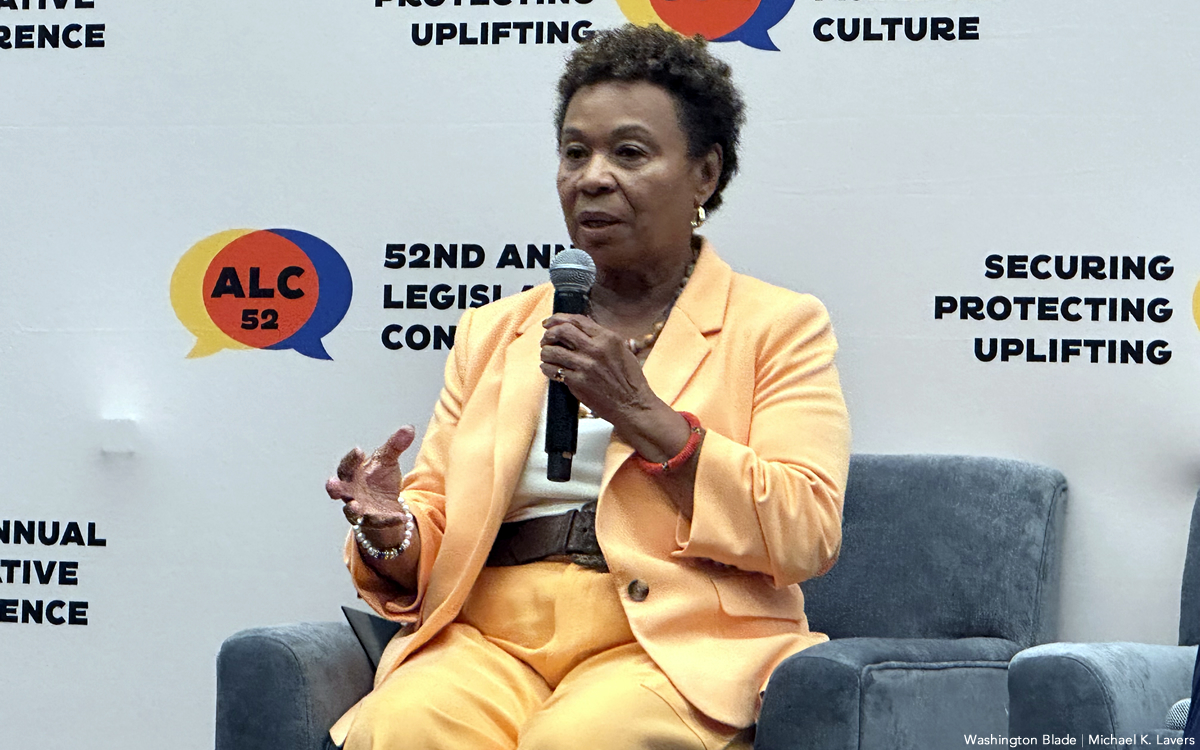 California Congresswoman Barbara Lee on Sept. 22 said the President's Emergency Plan for AIDS Relief is "more in peril" now than at any point since its launch two decades ago.
"This program is reauthorized every five years, but it's always on a bipartisan basis," said Lee during a panel at the Congressional Black Caucus Foundation's Annual Legislative Conference that took place at the Walter E. Washington Convention Center in D.C. "As we approach the benchmark of an AIDS-free generation by 2023, it is unfortunately more in peril now than ever before."
Then-President George W. Bush in 2003 signed legislation that created PEPFAR.
Lee noted PEPFAR as of 2020 has provided nearly $100 billion in "cumulative funding for HIV and AIDS treatment, prevention and research." She said PEPFAR is the largest global funding program for a single disease outside of COVID-19.
New PEPFAR strategy includes 'targeted programming' for marginalized groups
The panel took place amid the continued push for Congress to reauthorize PEPFAR for another five years. The federal government will shut down on Oct. 1 if Congress does not pass an appropriations bill.
Secretary of State Antony Blinken last December at a World AIDS Day event in D.C. acknowledged HIV/AIDS continues to disproportionately impact LGBTQ and intersex people and other marginalized groups. A new PEPFAR strategy the Biden-Harris administration announced that seeks to "fill those gaps" over the next five years includes the following points:
• Targeted programming to help reduce inequalities among LGBTQ and intersex people, women and girls and other marginalized groups
• Partnerships with local organizations to help reach "hard-to-reach" communities.
• Economic development and increased access to financial markets to allow countries to manufacture their own antiretroviral drugs, tests and personal protective gear to give them "the capacity to meet their own challenges so that they're not dependent on anyone else."
The Family Research Council Action in an email to supporters urged them to tell Congress to "stop Biden from hijacking PEPFAR to promote its radical social policies overseas." Family Watch International has said PEPFAR "has been hijacked to advance a radical sexual agenda."
"Please sign the petition to tell the U.S. Congress to ensure that no U.S. funds go to organizations that promote abortion, LGBT ideology, or 'comprehensive sexuality education,'" said the group in an email to its supporters.
A group of lawmakers and religious leaders from Kenya and other African countries in a letter they wrote to members of Congress in June said PEPFAR, in their view, no longer serves its original purposes of fighting HIV/AIDS because it champions homosexuality and abortion.
"We wrote that letter to the U.S. Congress not to stop PEPFAR funding to Kenya, but to demand the initiative to revert to its original mission without conditioning it to also supporting LGBTQ as human rights," it reads.
Biden in 2021 signed a memo that committed the U.S. to promoting LGBTQ and intersex rights abroad as part of his administration's overall foreign policy.
American officials earlier this year postponed a meeting on PEPFAR's work in Uganda in order to assess the potential impact the country's Anti-Homosexuality Act will have on it. The law, which Ugandan President Yoweri Museveni signed on May 29, contains a death penalty provision for "aggravated homosexuality."
Biden in his U.N. General Assembly speech last week noted LGBTQ and intersex rights and highlighted PEPFAR. Family Watch International in its email to supporters included a link to the letter from the African lawmakers and religious leaders.  
The Southern Poverty Law Center has designated both the FRC and Family Watch International as anti-LGBTQ hate groups.
"[PEPFAR is] not about abortions," said Lee.
U.S. Agency for International Development Administrator Samantha Power during the panel referenced Bush's recent op-ed in the Washington Post that urged lawmakers to reauthorize PEPFAR.
"The way he put it is no program is more pro-life [than] one that has saved more than 25 million lives," said Power.
Power referenced the "manufactured controversy that is making it difficult to get this reauthorization." U.S. Global AIDS Coordinator Dr. John Knengasong said a failure to reauthorize PEPFAR would weaken "our own foreign policy and diplomacy."
"Once again the United States will be missing in action," stressed Lee.
Assistant Health and Human Services Secretary for Legislation Melanie Egorin and Kenny Kamson, a Nigerian HIV/AIDS activist, also spoke on the panel that MSNBC host Jonathan Capehart moderated.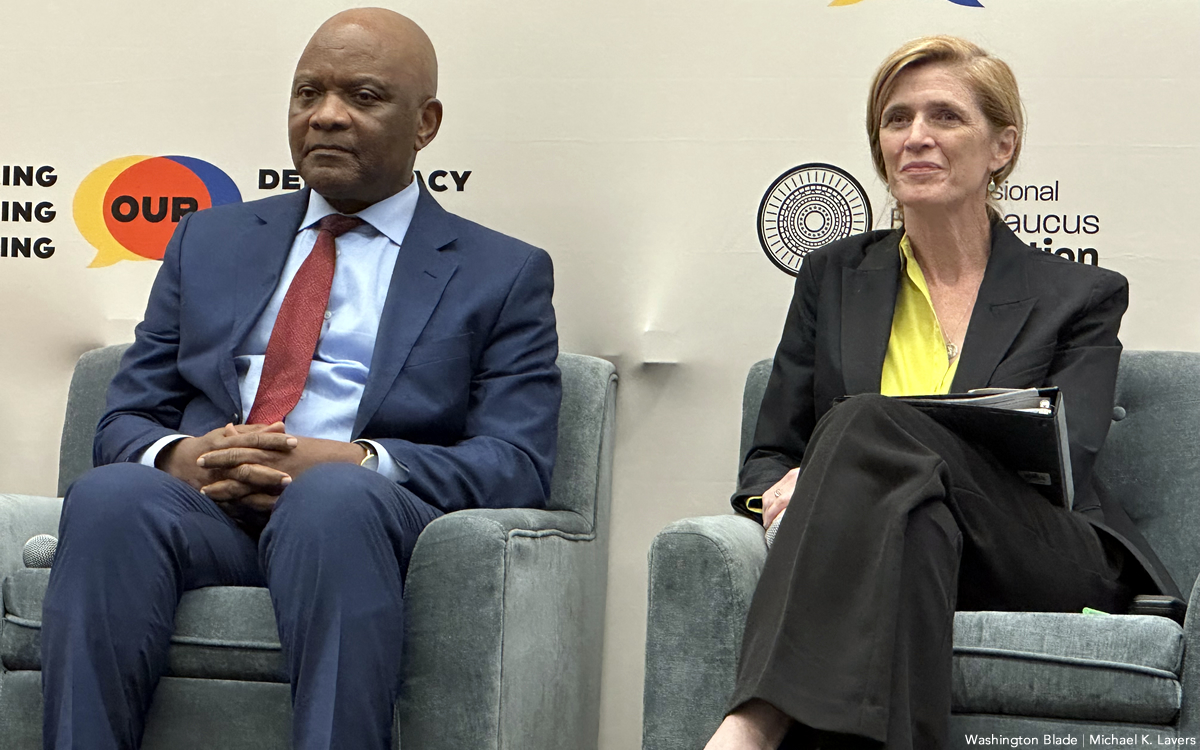 Dignity Washington holds Catholic mass in honor of woman priest
LGBTQ group celebrates its support for ordination of women priests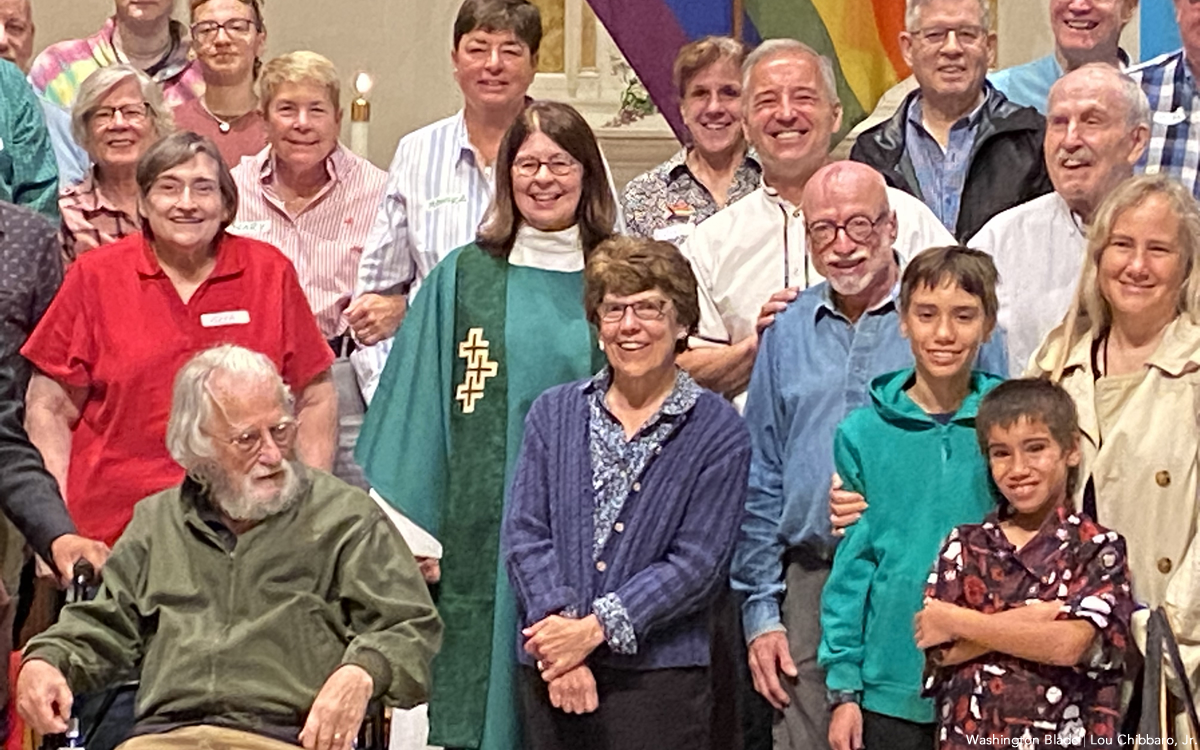 The D.C. LGBTQ Catholic group Dignity Washington says it dedicated its weekly Catholic mass on Sunday, Sept. 24, to honor a woman priest who has served as one of its priests since 2017 in a gesture of support for the women's priest movement.
"This Mass commemorates the ordination of Ann Penick as a Roman Catholic Woman Priest and celebrates the invaluable contributions of women who have served the church in various capacities," the group said in a statement.
"Rev. Ann Penick's ordination as a Catholic priest, and the ordination of female priests like her, represents a step forward in the Catholic Church's ongoing journey towards greater inclusivity and recognition of diverse vocations within its ranks," the statement says. "Dignity Washington is deeply honored to support her ministry and those of other women priests," it says.
The fact that the Dignity mass in honor of Rev. Penick, who presided over the mass, and all of its weekly Sunday masses are held at St. Margaret's Episcopal Church near Dupont Circle highlights the fact that the official Catholic church recognizes neither Dignity nor women priests.
Dignity, a nationwide LGBTQ Catholic group with chapters across the country, is banned from holding any of its masses in Catholic Churches.
Penick told the Washington Blade in an interview the week prior to her saying the Dignity Mass on Sept. 24 that she was ordained as a priest in June 2011 by a woman bishop associated with a breakaway Catholic organization, the Association of Roman Catholic Womenpriests. The organization was formed shortly after three male Roman Catholic Bishops ordained the first known women priests on a ship sailing along the Danube River in Europe in June 2002.
Two of the bishops who publicly disclosed their decision to ordain the women were excommunicated by Catholic Church officials at the Vatican in Rome. The third bishop acted anonymously and is believed to be continuing to serve as a bishop.
One of these bishops subsequently ordained female bishops who, in turn, began ordaining other women Catholic priests in Europe and in the U.S.
Information posted on the Association of Roman Catholic Womenpriests website says it and others associated with the women priest movement believe the ordination of women bishops and priests is valid under the biblical concept of 'apostolic succession."
Under that concept, the spiritual authority that Jesus bestowed on his original apostles has been handed down to subsequent generations of clergy, and the ordained women bishops and priests can pass that spiritual authority on to other female clergy.
A spokesperson for the Catholic Archdiocese of Washington, which oversees Catholic churches in D.C. and parts of Maryland, did not respond to a request by the Blade for comment on the women' priest movement.
Penick, who is married and has two stepchildren with her husband, points out that the women's priest movement has also broken with the official church over the longstanding church requirement that priests practice celibacy and cannot marry.
"The Roman Catholic women's priest movement sees celibacy as a personal calling," Penick told the Blade. "If a woman is personally called to celibacy, she follows that call," Penick said. "But a woman can also be married and have children, and that's always been a vision of the Roman Catholic Women's priest movement."
Penick notes that it was not until the early 1100s that the church put in place a celibacy requirement for its priests.
She has been active in the Catholic Church for most of her life in several states where she has lived and worked. She received a certification in lay ministry from the Diocese of Birmingham, Ala. in 1993, a master's in counseling degree from the University of Birmingham in 1995, and a master's in Pastoral Ministry from Boston College in 2008.
She and her family currently live in Alexandria, Va., and she currently works as a mental health counselor at the Counseling and Psychological Services department at George Mason University in Fairfax, Va. Penick said while living in Maryland she served as a priest for Living Water Inclusive Catholic Community in Catonsville, and currently serves as a priest for the D.C. Living Family Mass Community in D.C. as well as serving as one of Dignity Washington's rotating priests.
"We are so lucky to have her," said Dignity Washington former president Daniel Barutta, who noted that Penick and her husband are Dignity members. "She's just a shining star for women," he said. "And we really hope that Dignity Washington is leading the church, showing the church which direction to go in terms of empowering women and having them as our spiritual leaders."
Barutta said Penick has joined the Dignity Washington contingent in D.C.'s LGBTQ Pride parade and the city's St. Patrick's Day Parade and has led Dignity prayer services on various occasions.
Peter Edwards, Dignity Washington's vice president, said following its Sunday mass that the organization "certainly does affirm that women can serve as priests in our community." Edwards added, "We had a wonderful congregation tonight for a mass in celebration of Rev. Ann."
Sister Jeannine Gramick, co-founder of the Mount Rainier, Md., based LGBTQ Catholic advocacy organization New Ways Ministry, said she believes the fully approved ordination of women priests in the Catholic Church will someday happen.
"There is no theological reason, only cultural ones, why women have not been ordained priests," she said in referring to the official church. "I believe that a Catholic organization that ordains women priests is living out their sincere and deep-seated beliefs and preparing the wider community for what will eventually come to pass,' she said.
"Not all arrive at the destination at the same time, and I admire those with the courage of their convictions who lead the way," she added.