Growing number of gays on ballot in Maryland
Clippinger, Washington hope to join 4 out lawmakers in Annapolis
Several candidates for the Maryland House of Delegates are hoping to become the state's newest openly LGBT elected officials.
Luke Clippinger, an assistant state's attorney in Anne Arundel County, and Mary Washington, a real estate agent and elder at First & Franklin Street Presbyterian Church in Baltimore, are among the state's growing number of LGBT politicians seeking election or re-election to office this fall. In addition, Dana Beyer is running for delegate from District 18 in Montgomery County.
Four out gays and lesbians currently serve in the state legislature: Dels. Anne Kaiser (D-Montgomery County), Maggie McIntosh (D-Baltimore) and Heather Mizeur (D-Montgomery County) and Sen. Richard Madaleno (D-Montgomery County).
"The prospect of having an unprecedented number of openly LGBT folks in the legislature demonstrates just how far we have come," said Morgan Meneses-Sheets, executive director of Equality Maryland.
"To be a truly representative body, our state legislature needs to be as fantastically diverse as our state. That means that our community should be there helping to shape the future of Maryland not because we are LGBT but because we are qualified, because we have something to give."
And Clippinger, who's knocked on 7,200 doors in District 46 since November for his campaign, is playing up his qualifications to join the General Assembly in Annapolis.
"I'm a native Baltimorean who wants to bring my experience as a prosecutor to Annapolis and help build safer neighborhoods in south and southeast Baltimore," Clippinger said.
At least two state delegates are supporting Clippinger's campaign. Del. Peter Hammen (D-Baltimore) described Clippinger as someone who is "smart, works hard, energetic, and he cares."
Del. Brian McHale (D-Baltimore) agreed. He said Clippinger "brings volunteers, knowledge and experience to our team and will do so in Annapolis."
Clippinger, who aims to succeed retiring Del. Carolyn Krysiak (D-Baltimore), is campaigning to reform the juvenile justice system and pursue polluters. He received his law degree from the University of Louisville.
Although he doesn't mention LGBT matters on his web site or campaign literature, Clippinger said he'd be "a strong, forceful advocate for issues that impact LGBT Marylanders, including marriage equality and transgender protections, in Annapolis."
The Gay & Lesbian Victory Fund has endorsed Clippinger, who said he's benefitting from gay supporters.
"I have identified LGBT supporters across the district who are helping my campaign every day by holding meet and greets, going door to door, and raising money for my candidacy," Clippinger said.
Also securing a Victory Fund endorsement is Washington, who is campaigning in District 43. If elected, she would become the second openly lesbian black state lawmaker in the country.
"I am running for the Maryland House of Delegates because I believe the district needs more vigorous, more progressive leadership," she said, "and the community needs elected officials who can inspire public trust, serve as a catalyst for positive change and work effectively to expand social and economic justice."
A native of Philadelphia who earned a doctorate in sociology from Johns Hopkins University, Washington said she's troubled that divisions along lines of race, class and sexual orientation continue to plague the district.
"I'm afraid the city just hasn't had the kind of representation we need, the kind of leadership we need to bring our communities together."
Washington said throughout her career, she's "worked with all kinds of people — rich and poor, black and white, gay and straight — to create social change," and wants to continue that work in the state House.
Washington said her record on LGBT issues — including her advocacy for same-sex marriage and support of pro-gay judges — have demonstrated her insistence "to advocate for those issues in a strong and public way and seek to persuade others to see that what we ask for in marriage equality is a simple matter of justice."
"As an African-American woman who is actively engaged in a range of issues of concern to people in Baltimore and throughout the state," she said, "I am well-positioned to build bridges between the LGBT community and supporters of other progressive causes as well as with the broader community."
Anacostia group honors LGBTQ advocate Pannell for 30 years of service
Oct. 5 celebration set for Ward 8 Sycamore & Oak retail village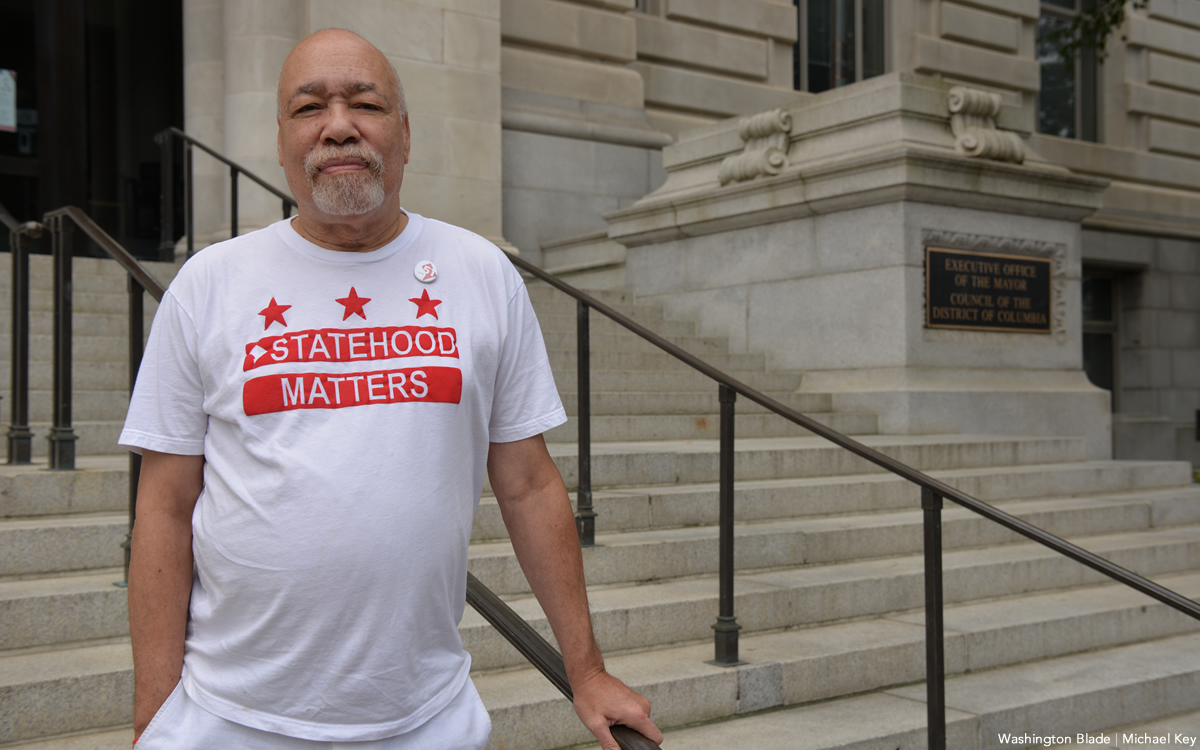 The Anacostia Coordinating Council (ACC), an advocacy organization for D.C.'s Anacostia neighborhood and surrounding areas east of the Anacostia River, is holding a celebration honoring LGBTQ rights and Anacostia community activist Phillip Pannell for his 30 years of service with the ACC.
The event was scheduled to take place from 6-8 p.m. on Thursday, Oct. 5, at the recently opened Sycamore & Oak retail village mall on the St. Elizabeth's East Campus in Southeast D.C.
Pannell, 73, serves as the ACC executive director, a position he has held since 1995. He has been a member of the Anacostia-based nonprofit organization's staff since 1993.
A longtime advocate for LGBTQ rights, Pannell has been credited with persuading many of D.C.'s LGBTQ organizations to reach out to LGBTQ residents who live in Wards 7 and 8 east of the Anacostia River.
He has also been credited with persuading African-American organizations, including organizers of the annual Martin Luther King Jr. memorial celebrations, to include and welcome LGBTQ people to their events.
"Join us for an evening of food, fun, and surprises," an announcement of the event released by the ACC says.
ACC spokesperson Lamont Mitchell told the Washington Blade several community leaders and public officials who have known Pannell during his many years of D.C. community involvement were expected to speak at the Oct. 5 celebration. Among the expected speakers, Mitchell said, was former D.C. Mayor Sharon Pratt.
According to the announcement, the event is free and open to the public, but organizers requested that people register in advance at tinyurl.com/Pannell35.
The ACC event honoring Pannell was to take place about a month after the D.C. newspaper Washington Informer published a detailed article profiling Pannell's career as a community activist and advocate for several important local causes and issues, including D.C. statehood.
"D.C. statehood is not just a political issue, it is also a civil and human rights issue because if D.C. were a state, we would be a state with the highest percentage of African Americans, basically a majority, minority state," the Informer quoted Pannell as saying. "That's one of the reasons a lot of right-wing Republicans don't want to see D.C. become a state because we are going to elect progressive, Black Democratic senators," Pannell told the Informer.
A statement on the ACC's website says Pannell has received more than 100 awards during his nearly four decades of work in D.C., including the 2011 U.S. President's Call to Service Award and the 2012 D.C. Federation of Civic Associations award for Outstanding President of a Member Association.
Elected officials turn out for annual Equality NoVa Ice Cream Social
Northern Virginia LGBTQ group stresses 'political awareness, education'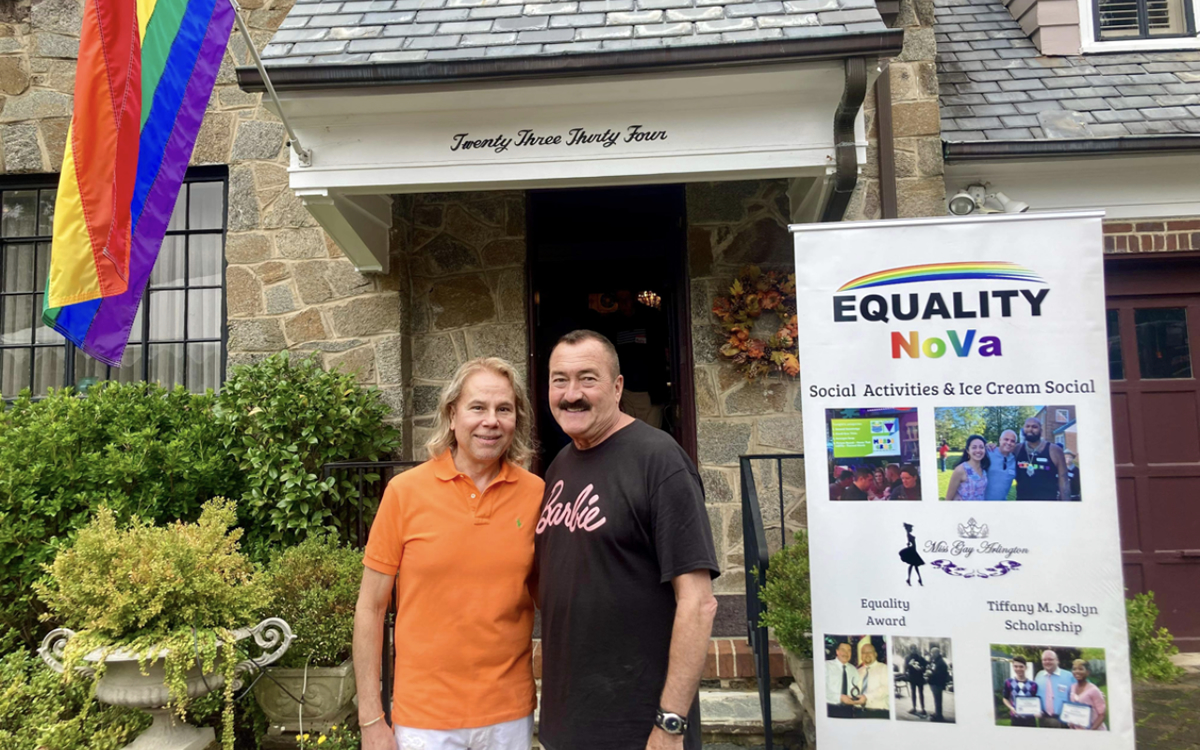 Four LGBTQ supportive members of the Virginia General Assembly and two candidates running for seats on the Arlington County Board were among more than 100 people who turned out on Sunday, Sept. 24, for the LGBTQ organization Equality NoVa's annual Ice Cream Social.
The event was held at the Arlington, Va. home of Freddie Lutz, owner of the Arlington gay bar and restaurant Freddie's Beach Bar, and Lutz's husband, Johnny Cervantes.
Daniel Hays, president of Equality NoVa, told those attending the event in introductory remarks that Equality NoVa, which recently changed its name from the Arlington Gay and Lesbian Alliance (AGLA), was founded in 1981 and is the oldest continuously operating LGBTQ organization in Virginia.
In an announcement in April the group said the name change came after it had taken on for some time the activities and representation of the now-defunct LGBTQ groups in Alexandria and Fairfax counties and had expanded its operations to cover most if not all the regions known as Northern Virginia.
Hays noted that the group is a nonpartisan organization that doesn't endorse candidates for public office but organizes educational and political awareness events and awareness campaigns on issues impacting LGBTQ people related to statewide and local government agencies and officials.
The elected officials attending the event were Virginia House of Delegates members Charniele Herring (D-Alexandria & Fairfax), Elizabeth Bennett-Parker (D-Alexandria & Arlington), and Vivian Watts (D-Fairfax).
Also attending was Virginia State Sen. Barbara Favola, a Democrat whose district includes parts of Arlington, Fairfax, and Loudoun Counties.
Joining the state lawmakers attending the Equality NoVa social were Arlington County Board candidates Maureen Coffey and Susan Cunningham and Arlington County School Board candidate Miranda Turner.
Many of those attending the event said they were rooting for the re-election of Herring, Bennett-Parker, Watts, and Favola in the upcoming Virginia elections in November. All members and candidates for the General Assembly will be on the ballot in an election that political observers say could decide which party controls both houses of the state legislature.
Currently, Democrats control the 40-member Virginia Senate by a margin of 22-18 seats. Republicans currently control the House of Delegates by a margin of 51 to 46 seats, with three vacancies in the 100-member House.
With Virginia Gov. Glenn Youngkin (R) putting in place through executive action public school policies that LGBTQ activists consider hostile and discriminatory for transgender students, LGBTQ activists are hopeful that a Democratic takeover of the House of Delegates would result in a reversal of Youngkin's school policy.
Some of the activists attending the Equality NoVa event said they were fearful that a Republican takeover of the state Senate and if Republicans retain control of the House of Delegates could result in the General Assembly approving the type of anti-LGBTQ legislation passed in Florida and other states.
Anti-transgender heckler interrupts Danica Roem during debate
Trans lawmaker is running for the Va. state Senate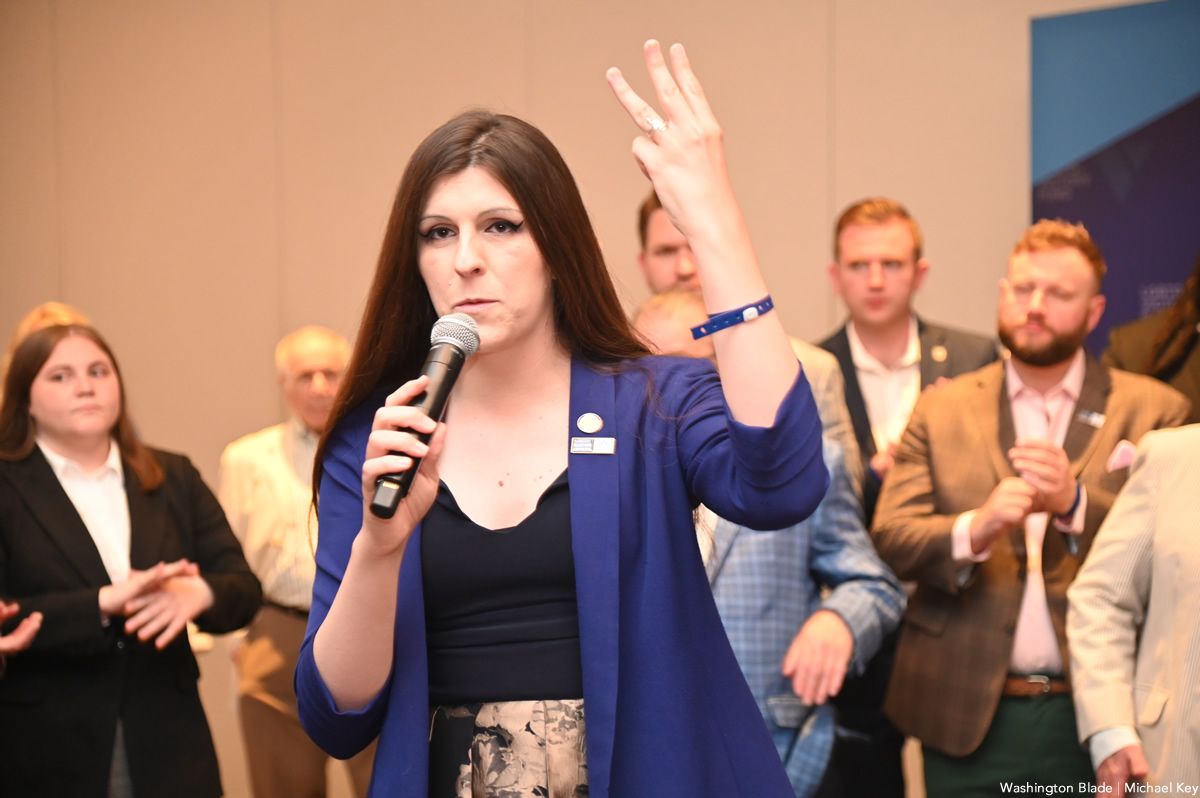 An anti-transgender heckler interrupted Virginia state Del. Danica Roem (D-Manassas) on Sept. 28 during a debate with her Republican opponent for the state Senate.
The woman heckled Roem during the Prince William Committee of 100-organized debate between her and Bill Woolf that took place at Metz Middle School in Manassas. 
"Thank you for reminding me why I won three elections in this district in Prince William County, which is the most diverse county in all of Virginia and the 10th most nationally where we welcome everyone because of who they are, not despite it, no matter what you look like, where you come from how you worship, if you do, or who you love because you should be able to thrive here because of who you are, never despite it," said Roem.
Audience members applauded Roem after she responded to the heckler who was eventually removed from the auditorium.
Roem in 2017 defeated then-state Del. Bob Marshall, a vocal LGBTQ rights opponent who co-wrote Virginia's constitutional amendment defining marriage as between a man and a woman that voters approved 11 years earlier. Roem subsequently became the first openly transgender person seated in a state legislature in the U.S.
Roem in 2019 became the first out trans state legislator to win re-election. Roem in May 2022 announced she is running to represent the newly redistricted Senate District 30, which includes western Prince William County and the cities of Manassas and Manassas Park.
Woolf during the Sept. 28 debate did not say whether he would support the repeal of the marriage amendment. Woolf also reiterated his support of a bill that would require school personnel to out trans students to their parents.