House members say AIDS drug program in crisis
Frank, Baldwin sign petition to Obama warning of AIDS deaths

U.S. Reps. Barney Frank (D-Mass.) and Tammy Baldwin (D-Wis.) have joined 76 of their House colleagues to sign a petition to President Obama calling for $126 million in emergency funds for the federal AIDS Drug Assistance Program.
The petition, dated May 19, says the emergency supplemental funds are needed to reverse a growing trend among states to put in place waiting lists for the mostly uninsured patients that rely on ADAP to provide their life-saving AIDS drugs.
"It's abundantly clear that without emergency action, the ability for ADAP programs to provide a safety net for low income and underinsured Americans with HIV/AIDS will be seriously damaged," says the petition.
Carl Schmid, deputy executive director of the AIDS Institute, a national AIDS advocacy group, said a coalition of AIDS groups has urged the White House and Congress to boost the federal funding allocation for ADAP for more than a year.
"The ADAP problem is getting worse and worse," he said. "We're very concerned that the administration and Democratic leaders in Congress are not responding."
Schmid and officials with other AIDS groups have said the health care reform legislation that Congress approved earlier this year is expected to lessen the need for ADAP. The reform measure will provide health insurance coverage for millions of Americans, including people with HIV and AIDS, who currently can't afford it.
The new insurance system will include prescription drug plans that cover the expensive anti-retroviral drugs that have been credited with preventing people with HIV from progressing to full blown AIDS.
But AIDS group officials note that the new program won't go into full effect until 2014, and more than 1,000 people with HIV who can't afford the drugs are on ADAP waiting lists in at least 11 states.
That number is expected to increase significantly if Congress doesn't approve an emergency supplemental funding of $126 million for ADAP this year and another increase of $370 million for fiscal year 2011, according to officials with state AIDS offices.
Congress created ADAP in 1987 as part of the sweeping Ryan White AIDS Care Act. It was intended to provide free or low-cost drugs to people with HIV who have limited financial resources and lack health insurance.
The program is structured so that each state and U.S. territory operates an independent ADAP, with the option of supplementing the program with state funds. Most states have added differing amounts of their own funds to the program.
According to the National Alliance of State & Territorial AIDS Directors, Congress appropriated 72 percent of the total ADAP expenditures in 2000. But by 2009, the federal share of ADAP funding dropped to 51 percent, with state budgets and discounts offered by drug companies picking up the balance.
NASTAD said the decline in the federal share of the funding did not occur due to a reduction in federal funds; federal funds for the program continued to rise at a modest pace. The percentage of federal funds declined because the number of new people enrolling in state ADAP programs increased dramatically over the past decade, in part because the effectiveness of the drugs has kept more people with HIV alive.
Additionally, in recent years, the economic recession has resulted in the loss of jobs along with the loss of health insurance coverage for large numbers of Americans with HIV, AIDS group officials have said.
At the same time, the recession has resulted in a dramatic drop in tax revenue for states, forcing most states to put in place large budget cuts. The cuts have hit state health departments, including state funding for ADAP.
The federal government's failure to increase its share of ADAP funding to cover the large increase in people with HIV enrolling in the program at the same time that states have slashed their ADAP budgets has been the catalyst for a spike in ADAP waiting lists in a growing number of states.
In one case, AIDS activists have said South Carolina sharply cut its ADAP budget, threatening to prevent hundreds of people with HIV in need of AIDS drugs from receiving them. The cuts could lead to the death of people with HIV who might otherwise remain healthy if they had access to the medication.
Earlier this year, a heated dispute surfaced between NASTAD and the AIDS Healthcare Foundation, a national AIDS advocacy group based in Los Angeles, over whether calls for Congress to appropriate more money for ADAP should be linked to demands that pharmaceutical companies provide greater discounts to ADAP for the purchase of expensive AIDS drugs.
Both groups favor an increase in federal funds for ADAP, and both have said they support efforts to negotiate greater price discounts from drug companies for state programs.
But unlike the AIDS Healthcare Foundation, NASTAD and its allies favor lobbying Congress for increased ADAP funds on a separate track from efforts to secure greater price reductions from the drug companies.
Julie Scofield, NASTAD's executive director, has argued that a coalition of state programs and various AIDS advocacy groups have succeeded in securing significant drug discounts from major pharmaceutical companies.
In a statement sent by e-mail in March to more than 1,000 groups and activists, AIDS Healthcare Foundation officials said federal intervention alone is not sufficient to curtail the ever-accelerating cost of ADAP spending on drugs.
"The undeniable driver of costs in ADAPs is the costs of the medications that are purchased," says the statement.
It noted California's ADAP, in which spending for AIDS drugs increased by 165 percent since 2000, while the number of patients served increased by 49 percent.
"This is equivalent to a 77 percent increase in per patient cost of AIDS drugs," says the statement. "Even with 'price freezes' and rebates, the costs of the pharmaceuticals will continue to rise to a level that will bankrupt states, and force major programmatic concessions in eligibility and formulary."
Among other things, AIDS Healthcare Foundation proposed that for every dollar of federal funds allocated for ADAP, pharmaceutical firms should be required to "contribute two dollars in additional rebate or price cuts."
As of earlier this week, neither Congress nor the White House had moved forward any of the proposals for supplementing the ADAP budget through a special, emergency funding allocation for fiscal year 2010.
Sens. Tom Coburn (R-Okla.) and Richard Burr (R-N.C.), however, introduced a bill last month calling for extracting the $126 million advocacy groups say is needed for ADAP this year from federal stimulus money approved under President Obama's economic stimulus legislation.
The White House and Democratic leaders in Congress have yet to officially take a position on the Coburn-Burr bill, but Capitol Hill observers say they don't expect the president or most Democrats in the House or Senate to support the measure.
The AIDS Healthcare Foundation has endorsed the bill.
As monkeypox spreads, Delaware looks to expand vaccine access
Those exposed to virus prioritized in limited distribution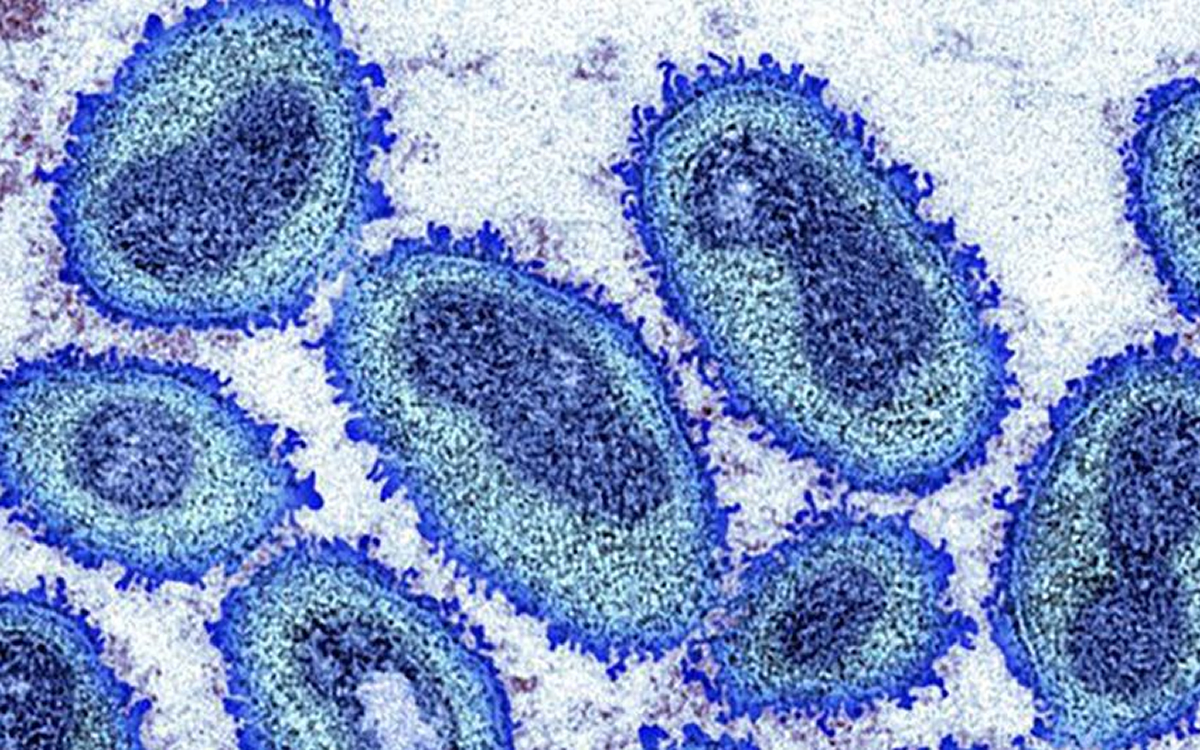 The Delaware Division of Public Health on Aug. 4 confirmed the fourth, fifth, and sixth cases of monkeypox in the First State. Less than a month after the state announced its first case of the virus, the spread of monkeypox in Delaware mirrors trends across the country in what the U.S. Department of Health and Human Services has now declared a public health emergency.
Three Delawarean men ages 42, 24, and 19 were diagnosed with the most recent cases of the virus — none of whom reported close contact with an individual diagnosed with monkeypox, and all of whom are now self-isolating.
In an Aug. 4 press release, DPH noted that it intends to expand vaccine distribution, offering vaccines to high-risk groups with or without exposure to the virus.
Currently, the state only offers post-exposure prophylaxis, vaccines implemented after an individual comes into contact with a virus. Those who have had direct contact with individuals with confirmed cases of monkeypox are currently prioritized in the state's limited post-exposure vaccination.
Groups that might be prioritized upon increased vaccine access include individuals who have had intimate contact with someone diagnosed with monkeypox within two weeks, individuals with multiple sexual partners within three weeks, individuals who have had intimate contact through dating apps, parties or clubs, and individuals who are HIV-positive or are currently receiving pre-exposure prophylaxis for HIV, according to the news release.
Some researchers suggest current monkeypox cases are underrepresented in public health statistics nationwide. Although monkeypox has been declared a national health emergency, Delaware has yet to make a similar declaration on the state level. DPH noted that health officials will continue to monitor public health conditions.
DPH encouraged Delaware residents and visitors to avoid close contact with those who have symptoms related to monkeypox, limiting their number of sexual partners, and cleaning their hands with soap and water or hand sanitizer regularly. DPH also urged those experiencing symptoms associated with monkeypox to contact their health care provider immediately, make a list of intimate contacts in the last three weeks and self-isolate until symptoms subside.
For more information, individuals can contact the DPH hotline for monkeypox-related questions and concerns on weekdays from 8:30 p.m. to 4:30 p.m. at 866-408-1899, or email  [email protected]. Information concerning monkeypox prevention programs and resources can be found at de.gov/monkeypox.
Biden names White House National Monkeypox Response Coordinators
Governors of New York, Illinois, California declare 'States of Emergency'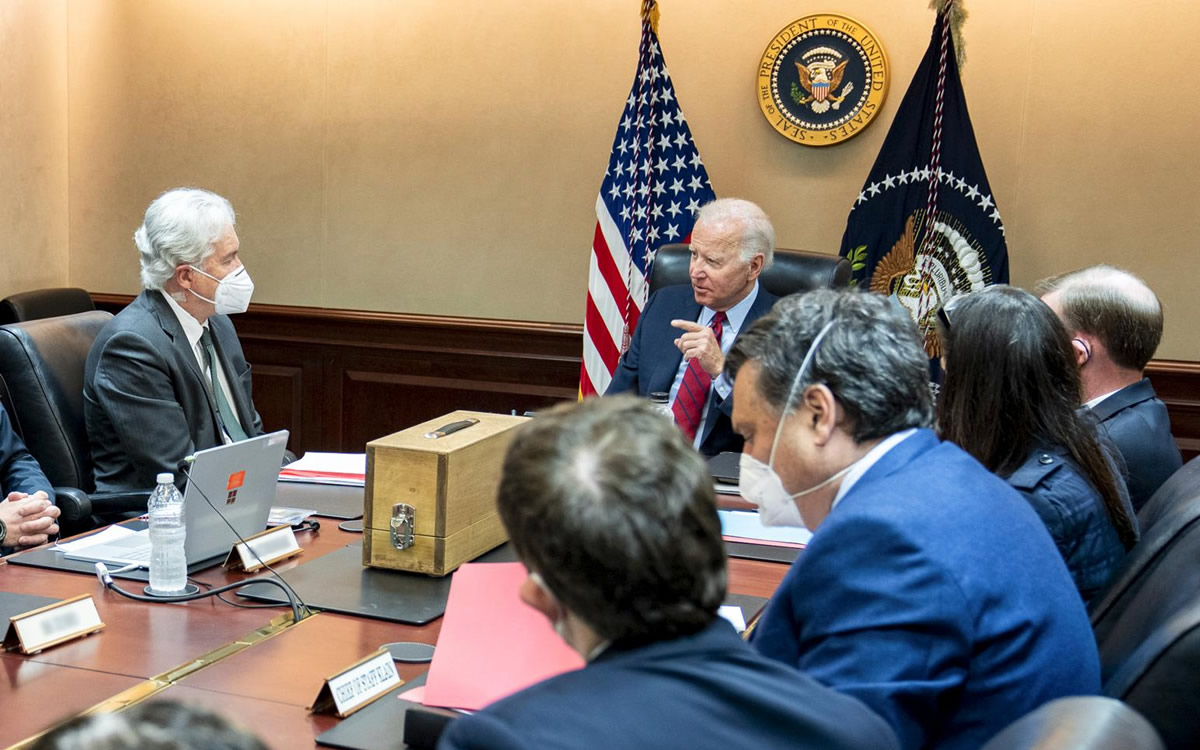 The White House announced Tuesday that President Biden has named FEMA's Robert Fenton as the White House National Monkeypox Response Coordinator and Dr. Demetre Daskalakis as the White House National Monkeypox Response Deputy Coordinator.
The president's actions come as the governors of New York, Illinois and California have declared 'States of Emergency' as the case numbers of global cases of infection also caused World Health Organization's Director-General Dr. Tedros Adhanom Ghebreyesus to declare the escalating global monkeypox outbreak a Public Health Emergency of International Concern.
The White House notes that Fenton and Daskalakis will lead the Administration's strategy and operations to combat the current monkeypox outbreak, including equitably increasing the availability of tests, vaccinations and treatments.
Both men have extensive experience in infection disease outbreaks and response. The White House statement laid out their qualifications:
Fenton and Daskalakis combined have over four decades of experience in Federal emergency response and public health leadership, including overseeing the operations and implementation of key components of the Biden Administration's response to the COVID-19 pandemic, and leading local and Federal public health emergency efforts such as infectious disease control and HIV prevention.
Both played critical roles in making COVID vaccines more accessible for underserved communities and closing the equity gap in adult vaccination rates, through the implementation and execution of FEMA mass vaccination sites in some of the country's most underserved communities, and working with trusted members of local communities to build vaccine confidence.
Robert Fenton currently serves as Regional Administrator for FEMA Region 9 in the American West, with nearly 50 million people in his area of responsibility. One of the Nation's most experienced and effective emergency management leaders, Robert Fenton has twice served as Acting Administrator of FEMA and led multiple challenging prevention, response and recovery operations throughout his long and distinguished career, including for natural disasters, disease outbreaks, and complex humanitarian operations.
Demetre Daskalakis, a leading public health expert, is currently Director of the CDC Division of HIV Prevention. Widely known as a national expert on health issues affecting the LGBGQIA+ communities, his clinical practice has focused on providing care for the underserved LGBTQIA+ communities. He previously oversaw management of infectious diseases for the New York City Department of Health and Mental Hygiene, one of the largest departments in the nation – including in serving as incident commander for the City's COVID-19 response.
Both the U.S. Secretary of Health and Human Services and the President's chief medical advisor issued statements applauding Biden's actions.
"We look forward to partnering with Bob Fenton and Demetre Dasklalakis as we work to end the monkeypox outbreak in America," said HHS Secretary Xavier Becerra. "Bob's experience in federal and regional response coordination, and Demetre's vast knowledge of our public health systems' strengths and limits will be instrumental as we work to stay ahead of the virus and advance a whole-of-government response."
"Bob Fenton and Dr. Daskalakis are proven, effective leaders that will lead a whole of government effort to implement President Biden's comprehensive monkeypox response strategy with the urgency that this outbreak warrants," said Dr. Anthony Fauci, Chief Medical Advisor to the President. "From Bob's work at FEMA leading COVID-19 mass vaccination efforts and getting vaccines to underserved communities to Demetre's extensive experience and leadership on health equity and STD and HIV prevention, this team will allow the Biden Administration to further accelerate and strengthen its monkeypox response."
The Centers for Disease Control and Prevention as of Monday reported that there were 5,811 confirmed cases of the monkeypox virus in the United States.
Statement from GLAAD President and CEO Sarah Kate Ellis:
"The White House appointments today reflect the seriousness of the monkeypox (MPV) outbreak and should be a call for all appropriate federal and state officials to urgently commit necessary resources to educate the public and counter MPV. We must get more vaccines to vulnerable people, especially sexually active gay and bi men, and accelerate all efforts to inform the public to track, test, treat and contain this virus as quickly as possible. Bob Fenton's experience shows this can be done. Dr. Demetre Daskalakis is a longtime LGBTQ and HIV health advocate whose work will be critical to ensure the federal government responds to the needs of the medical community and the LGBTQ community in equitable ways."
With time, the Monkeypox vaccine provides good protection
In clinical trials, recipients who were HIV negative had an 83 percent immune response 28 days after one dose compared to 98 percent with two doses at 42 days.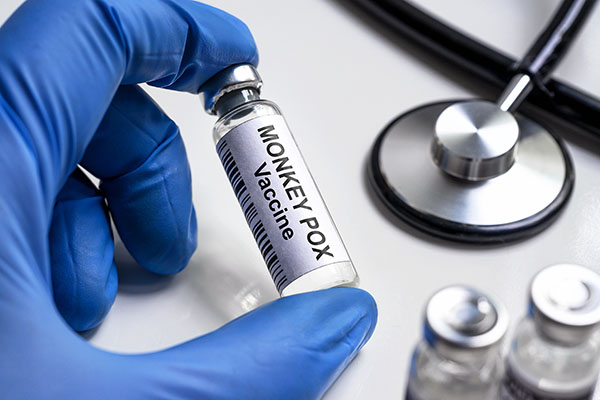 A review of academic literature published in the Journal of Internet Medical Research last year determined, when it comes to information about health topics, social media is not the place to turn. (Unless you follow me, of course!) One study found 87 percent of health-related posts contain misinformation. More than 40 percent of posts about vaccines contain incorrect information.
These findings are, perhaps, not surprising. But they are important to keep in mind as we doom-scroll for information about monkeypox.
I've already seen a number of posts on Twitter claiming to have monkeypox breakthrough infections after vaccination. One author said they developed a monkeypox rash two weeks after vaccination. While this person's experience was not likely a breakthrough case, the post brings up important questions. How much protection does a person have after being vaccinated and when? And, as some cities move to a one-dose regimen due to vaccine supply, what does research say about the number of doses needed to protect a person?
Monkeypox rashes and lesions can take up to three weeks to develop after exposure to the virus, which means it is possible the Twitter user mentioned above was exposed before vaccination or shortly after. The time following vaccination and when you are exposed to the virus matters in terms of the amount of protection you have.
Simply put: vaccines do not offer protection immediately after being administered. Remember what we learned when getting our COVID-19 vaccines: no matter which vaccine you received, you were not fully protected until two weeks after the final dose. For the monkeypox vaccine the time to protection is actually longer. Clinical trials indicated it takes up to four weeks for patients to develop strong protection. In fact, two weeks after the first dose, the immune response was just 29 percent! Take extra care during this period to prevent spread.
Now, what about one dose versus two? With limited monkeypox vaccine supply, cities and states should consider limiting doses to one per person to protect more people.
The U.S. Food and Drug Administration (FDA) approved a vaccine, Jynneos, developed by the U.S. government and Bavarian Nordic in 2019 to protect against both monkeypox and smallpox. The FDA recommended a two dose regimen, four weeks apart. This regimen outperformed an older smallpox vaccine (ACAM2000) for producing an immunological response. The Jynneos vaccine also has fewer side effects and is much safer.
Unfortunately, the Jynneos vaccine is in very short supply. Bavarian Nordic, the only manufacturer of the vaccine worldwide, says it can produce 30 million doses of Jynneos annually, meaning with a full regimen less than 15 million patients worldwide will have full protection. That's why cities like Washington, D.C. and New York have chosen to move to a single-dose regimen. The United Kingdom and some countries in Europe have done the same.
This approach is the right one.
In clinical trials, recipients who were HIV negative had an 83 percent immune response 28 days after one dose compared to 98 percent with two doses at 42 days. HIV positive recipients had a 67 percent immune response 28 days after one dose. It was 96 percent 42 days after two doses.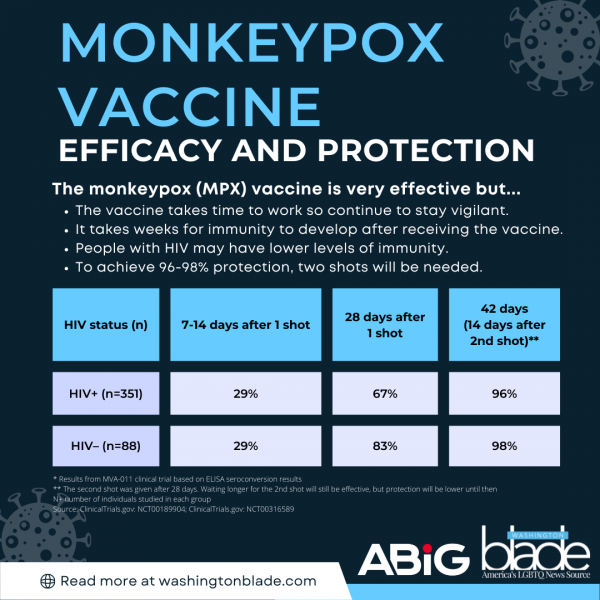 While that data indicates a two-dose regimen is best, with supplies limited, a one-dose regimen for most people is a reasonable approach. That strategy allows double the group of individuals to be immunized — even though there is slightly lower efficacy. A recent article in Science highlighted this important point. Jynneos' CEO, an immunologist, said one dose of the vaccine conferred a "robust immune response."
There is one caveat, however. Based on the clinical trial data, we might need to stick with the original two-dose regimen for people who are immunocompromised or live with HIV (irrespective of immune status).
In the face of what appears to be a public health system in disarray, Americans need to be partners in fighting the virus' spread. Get vaccinated when available. Individuals who are most at risk should sign up now to receive a vaccine. Second, understand it takes time after receiving the vaccine to develop immunity whether you are HIV positive or not. Understand monkeypox symptoms, the timing of symptoms and how to reduce your risk. And, of course, take care when it comes to social media. Spread truth.
Dr. N. Adam Brown is a practicing emergency medicine physician, founder of a healthcare strategy advisory group ABIG Health, and a professor of practice at the University of North Carolina's Kenan-Flagler Business School. Previously he served as President of Emergency Medicine and Chief Impact Officer for a leading national medical group. Follow him on Twitter @ERDocBrown.