World news in brief
Millions of gays demand rights during Brazil march & more

Millions of gays demand rights during Brazil march
SAO PAULO — Millions of gays and lesbians jammed several of Sao Paulo's main avenues Sunday for the 14th annual Gay Pride parade in South America's largest city.
The Associated Press reported that as they danced to music blasting from sound trucks, event attendees condemned homophobia and demanded equal rights for LGBT people. They also said they would push candidates this year in Brazil's presidential election to support their cause.
A river of gay men, lesbians and even straight couples flowed down skyscraper-lined Avenida Paulista in what is billed as the world's biggest Gay Pride parade.
According to the Associated Press, event organizers expected about 3.2 million people, but did not immediately release a tally. Police have not provided a crowd estimate. The event has become a huge tourist draw.
Lesbian couple weds in Portugal's 1st gay marriage
LISBON, Portugal — A lesbian couple wed Monday in Portugal's first same-sex ceremony since the predominantly Catholic country introduced a law allowing gay marriage last month.
The Associated Press reported that Teresa Pires and Helena Paixao, divorced Portuguese mothers in their 30s who have been together since 2003, married in a 15-minute ceremony at a Lisbon registry office.
"This is a great victory, a dream come true," Pires was quoted as saying. "Now we're a family, that's the important thing."
The ceremony came less than a month after Portugal's conservative president ratified a gay marriage law passed by Parliament in January. His approval made Portugal the sixth in Europe to allow same-sex couples to wed.
The center-left Socialist government has said the law is part of its effort to modernize Portugal, where homosexuality was a crime until 1982. Three years ago, the same government lifted Portugal's ban on abortion, despite church opposition.
Pires and Paixao, the lesbian couple, had campaigned for a change in the law since a registry office turned them away when they first tried to marry in 2006, according to the Associated Press.
Brazilian man, Mass. husband rejoin in asylum case
BOSTON — A Brazilian man was reunited with his Massachusetts husband last week after U.S. Sen. John Kerry pressed federal officials to temporarily allow the 31-year-old gay man back into the country on humanitarian grounds.
The Associated Press reported that Brazilian-born Genesio Oliveira rejoined Tim Coco, 49, of Haverhill, at an emotional reunion at Boston's Logan International Airport.
Gay rights and immigration rights advocates declared the case a rare victory for gay, married asylum seekers.
"I'm delighted," said Oliveira, who married Coco in 2005 in Massachusetts where gay marriage is legal. "I've been waiting for this to happen. I never really undid my bags since returning to Brazil."
According to the Associated Press, the couple split nearly three years ago when Oliveira, nicknamed "Junior," was forced to return to Brazil after being denied asylum in the U.S. because the federal government does not recognize same-sex marriages.
The pair maintained contact through online video chats and sporadic visits during holidays. The case gained international attention from gay rights and immigration advocates who criticized U.S. officials for separating the couple — who were legally married.
Last year, Kerry asked Attorney General Eric Holder to grant Oliveira asylum on humanitarian grounds. Then in March, Kerry wrote Homeland Security Secretary Napolitano asking her to issue Oliveira "humanitarian parole" based on his fear of persecution in Brazil.
Humanitarian parole is used sparingly to bring someone who is otherwise inadmissible into the U.S. temporarily because of a compelling emergency, according to the U.S. Department of Homeland Security.
Last month, Kerry called Coco to inform him that Oliveira had been granted humanitarian parole and would be allowed to stay in the U.S. for at least a year.
"Obviously we'll work on a permanent solution, but for right now I just couldn't be happier that the system worked and Tim and Junior are reunited," Kerry was quoted as saying. "This is a very sweet moment, long overdue, but sweeter because they decided it was worth the wait."
State Department hosts intersex activists from around the world
Group met with policy makers, health officials, NGOs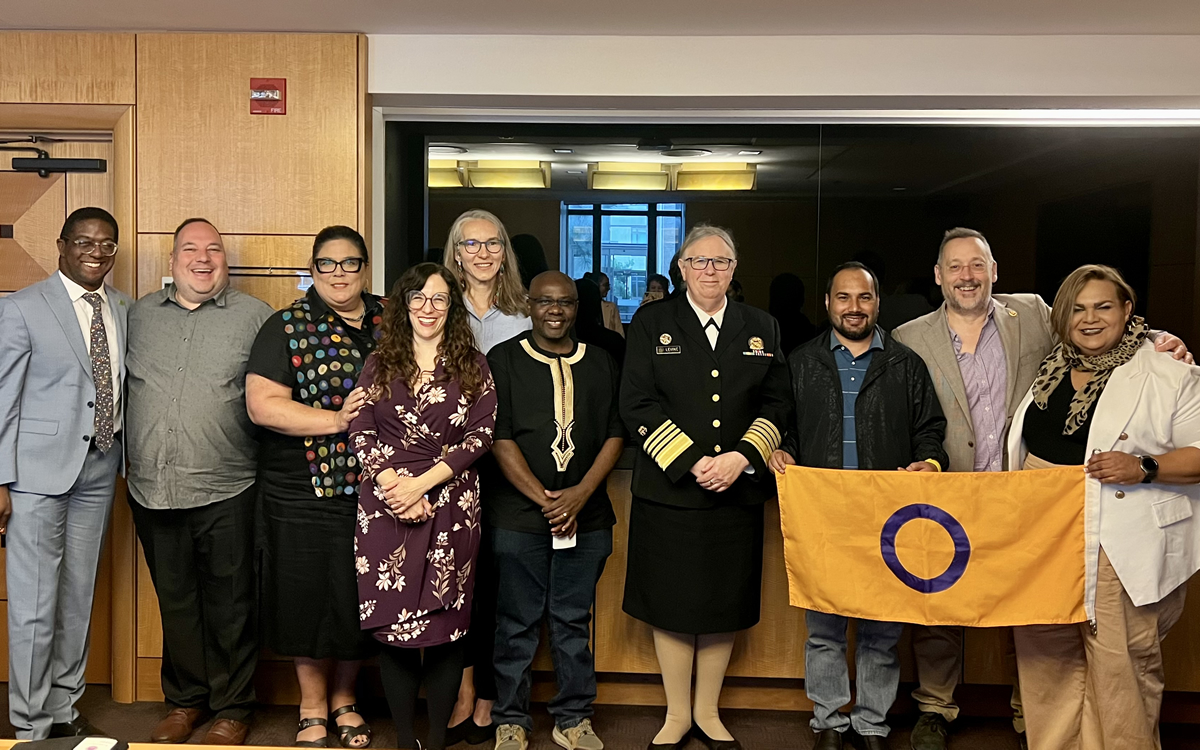 The State Department last week hosted five intersex activists from around the world.
Kimberly Zieselman, a prominent intersex activist who advises Jessica Stern, the special U.S. envoy for the promotion of LGBTQ and intersex rights abroad, brought the activists to D.C.
• Morgan Carpenter, co-founder and executive director of Intersex Human Rights Australia
• Natasha Jiménez, an intersex activist from Costa Rica who is the general coordinator of Mulabi, the Latin American Space for Sexualities and Rights
• Julius Kaggwa, founder of the Support Initiative for People with Atypical Sex Development Uganda
• Magda Rakita, co-founder and executive director of Fujdacja Interakcja in Poland and co-founder of Interconnected UK
• Esan Regmi, co-founder and executive director of the Campaign for Change in Nepal.
Special U.S. Envoy for Global Youth Issues Abby Finkenauer and Assistant Health Secretary Rachel Levine are among the officials with whom the activists met.
Zieselman told the Washington Blade on Sept. 21 the activists offered State Department officials an "intersex 101" overview during a virtual briefing.
More than 60 Save the Children staffers from around the world participated in another virtual briefing. Zieselman noted the activists also met with Stern, U.N. and Organization of American States officials, funders and NGO representatives while in D.C.
"The people we met were genuinely interested," Rakita told the Blade.
Stern in an exclusive statement to the Blade said "the visiting intersex activists clearly had an impact here at State, sharing their expertise and lived experience highlighting the urgency to end human rights abuses, including those involving harmful medical practices against intersex persons globally." Andrew Gleason, senior director for gender equality and social justice at Save the Children US, in a LinkedIn post he wrote after attending his organization's meeting with the activists echoed Stern.
"There are many learnings to recount from today's discussion, but one thing is clear, this is unequivocally a child rights issue, and one that demands attention and action at the intersection of LGBTQI+ rights, reproductive rights and justice, disability justice and more," wrote Gleason. "Gratitude to the panelists for sharing such poignant testimonies and providing insights into what organizations like ours can do to contribute to the broader intersex movement; and thank you to Kimberly for your leadership and bringing this group together."
The activists' trip to D.C. coincided with efforts to end so-called sex "normalization" surgeries on intersex children.
Greek lawmakers in July passed a law that bans such procedures on children under 15 unless they offer their consent or a court allows them to happen. Doctors who violate the statute face fines and prison.
Germany Iceland, Malta, Portugal and Spain have also enacted laws that seek to protect intersex youth.
A law that grants equal rights and legal recognition to intersex people in Kenya took effect in July 2022. Lawmakers in the Australian Capital Territory earlier this year passed the Variation in Sex Characteristics (Restricted Medical Treatment) Bill 2023.
Intersex Human Rights Australia notes the law implements "mechanisms to regulate non-urgent medical care to encourage child participation in medical decisions, establish groundbreaking oversight mechanisms and provide transparency on medical practices and decision making." It further points out the statute "will criminalize some deferrable procedures that permanently alter the sex characteristics of children" and provides "funding for necessary psychosocial supports for families and children."
"It's amazing," Carpenter told the Blade when discussing the law and resistance to it. "It's not perfect. There was some big gaps, but physicians are resisting every step of the way."
The State Department in April 2022 began to issue passports with an "X" gender marker.
Dana Zzyym, an intersex U.S. Navy veteran who identifies as non-binary, in 2015 filed a federal lawsuit against the State Department after it denied their application for a passport with an "X" gender marker. Zzyym in October 2021 received the first gender-neutral American passport.
Federal government prepares for looming shutdown
White House warns of 'damaging impacts across the country'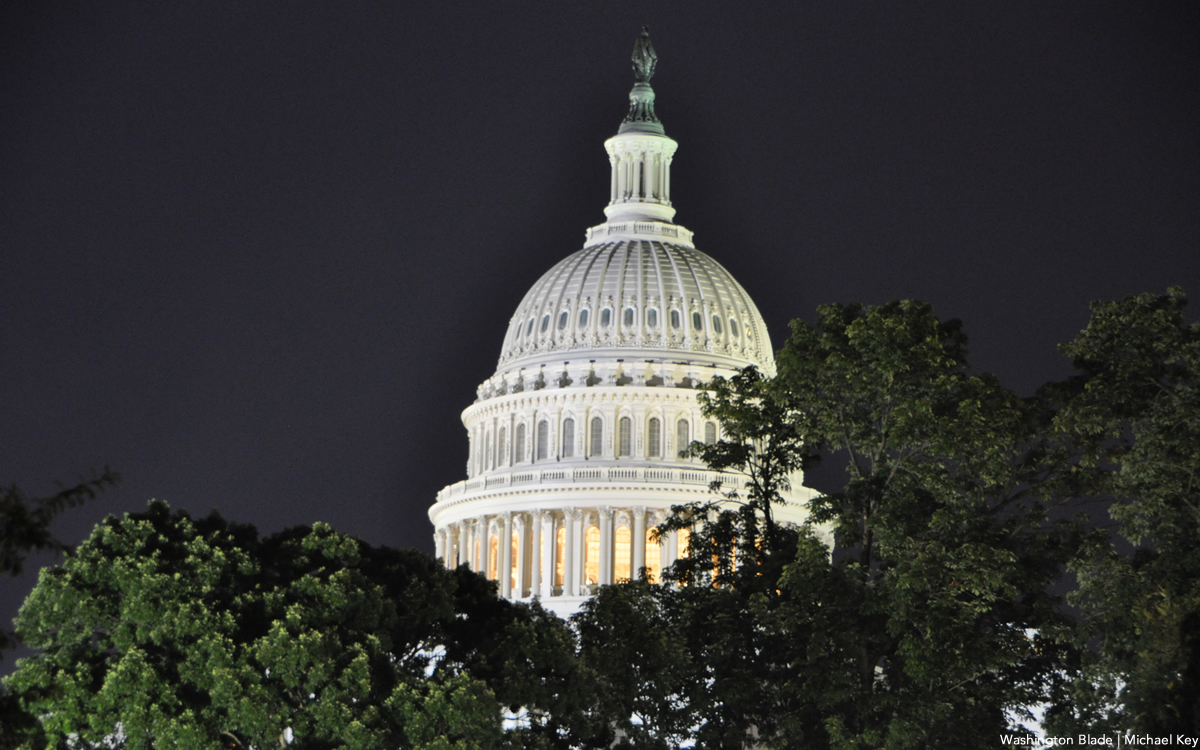 However remote they were on Monday, odds of avoiding a government shutdown were narrowed by Thursday evening as House Republicans continued debate over their hyper-partisan appropriations bills that stand no chance of passage by the Upper Chamber.
As lawmakers in the Democratic controlled Senate forged ahead with a bipartisan stop-gap spending measure that House GOP leadership had vowed to reject, the federal government began bracing for operations to grind to a halt on October 1.
This would mean hundreds of thousands of workers are furloughed as more than 100 agencies from the State Department to the Advisory Council on Historic Preservation roll out contingency plans maintained by the White House Office of Management and Budget. On Thursday the Office of Personnel Management sent out memos to all agencies instructing them to ready for a shutdown on Sunday.
Before 1980, operations would continue per usual in cases where Congress failed to break an impasse over spending, as lapses in funding tended to last only a few days before lawmakers brokered a deal.
Since then, the government has shut down more than a dozen times and the duration has tended to become longer and longer.
"Across the United States, local news outlets are reporting on the harmful impacts a potential government shutdown would have on American families," the White House wrote in a release on Thursday featuring a roundup of reporting on how the public might be affected.
"With just days left before the end of the fiscal year, extreme House Republicans are playing partisan games with peoples' lives and marching our country toward a government shutdown that would have damaging impacts across the country," the White House said.
The nature and extent of that damage will depend on factors including how long the impasse lasts, but the Biden-Harris administration has warned of some consequences the American public is likely to face.
Transportation Secretary Pete Buttigieg, for example, warned: "There is no good time for a government shutdown, but this is a particularly bad time for a government shutdown, especially when it comes to transportation."
Amid the shortage of air traffic controllers and efforts to modernize aviation technology to mitigate flight delays and cancellations, a government shutdown threatens to "make air travel even worse," as Business Insider wrote in a headline Thursday.
Democratic lawmakers including California Congresswoman Barbara Lee and Maxine Waters, meanwhile, have sounded the alarm in recent weeks over the consequences for the global fight against AIDS amid the looming expiration, on Oct. 1, of funding for PEPFAR, the President's Emergency Plan for AIDS Relief.
QAnon follower pleads guilty to threatening member of Congress
Conspiracy movement claims Satan-worshipping pedophiles secretly rule the world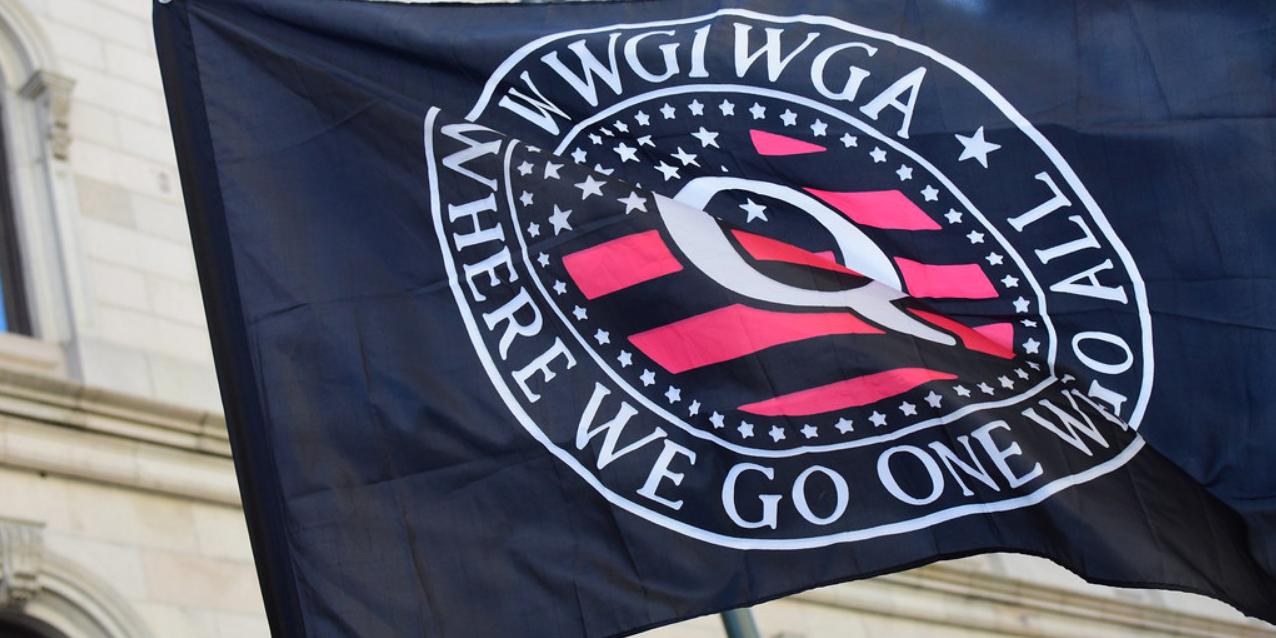 A New Mexico man has entered a plea deal after being charged with a federal criminal complaint of making threats through interstate communications directed at a member of Congress.
Federal prosecutors charged Michael David Fox, a resident of Doña Ana County, for calling the Houston district office of an unnamed member of Congress on or about May 18, 2023, and uttering threats that included knowingly threatening to kill an active member of Congress.
The plea agreement was brought before U.S. Magistrate Judge Damian L. Martinez of U.S. District Court in New Mexico in the Las Cruces by Fox's attorney from the Federal Public Defender's Office in August.
According to the criminal complaint as outlined by a Federal Bureau of Investigation criminal investigator for the Albuquerque Field Office, Las Cruces Resident Agency, on May 18 at approximately 9:04 p.m. Fox called the office of a congresswoman for the District of Texas, U.S. House of Representatives (Victim One/"V1″), who is from Houston. The call was received by V1's office.
In the phone call Fox stated "Hey [Vl], you're a man. It's official. You're literally a tranny and a pedophile, and I'm going to put a bullet in your fucking face. You mother fucking satanic cock smoking son of a whore. You understand me you fucker?"
Law enforcement was able to trace the call back to Las Cruces, N.M., and it was believed that Fox was the user of cell phone account used to make the call. According to the FBI agents who interviewed Fox, he admitted to making the call.
Fox acknowledged that the threat was direct but claimed that he did not own any guns. Fox
claimed to be a member of the Q2 Truth Movement, the Q Movement. Fox explained these
movements believe all over the world there were transgender individuals running
governments, kingdoms and corporations.
Fox told the FBI that there is a plan called "Q the Plan to Save the World" which he learned about from an online video. Fox claimed that he believed Q was going to engage in the "eradication" of the people who were causing all the world's misery. He believed that part of the eradication had already happened.
Fox explained that he had run Vl's skull features through forensic analysis and determined
that Vl was born male and is now trans. Fox discussed his military service with the
U.S. Air Force, "Q the Plan to Save the World," and how God communicates using
numbers.
Fox continued to reiterate several different types of conspiracy theories indicating
extreme far right ideologies as his explanation for why he conducted the phone call to
threaten V1.
According to the FBI, Fox rescinded his threat against Vl and apologized. Fox claimed he was not intoxicated or under the influence of drugs when he made the call. Fox stated he understood how Vl would feel threatened by his phone call, and he acknowledged that anyone he knew or cared about would also be concerned with such a threat.
The charge of interstate threatening communications carries a maximum penalty of five years in federal prison.
QAnon began in 2017, when a mysterious figure named "Q" started posting on the online message board 4chan, claiming to have inside access to government secrets. Since then, QAnon has grown into a conspiracy movement that claims Satan-worshipping pedophiles secretly rule the world. It is claimed by QAnon adherents that former President Donald Trump is the only person who can defeat them.
Brooklyn, N.Y.-based journalist Ana Valens, a reporter specializing in queer internet culture, online censorship and sex workers' rights noted that Fox appears to be a "transvestigator." Valens noted that the transvestigation conspiracy theory is a fringe movement within QAnon that claims the world is primarily run by trans people. Phrenological analysis is common among transvestigators, with a prominent focus on analyzing celebrities for proof that they are trans.