Gray secures Stein Club endorsement
Fenty, opponent clash over issues in D.C. mayor's race
D.C. Council Chairman Vincent Gray won the Gertrude Stein Democratic Club mayor's race endorsement Monday, exceeding a required vote threshold of 60 percent by just three votes.
Activists familiar with the club, the city's largest gay political group, had expected Gray to win more votes than D.C. Mayor Adrian Fenty. But most thought club members were more evenly split between the two contenders and that neither candidate would reach the 60 percent requirement.
"You can count on me as mayor of the District of Columbia to work with you to continue to make progress so that we could be the best jurisdiction in America for the GLBT community," Gray said minutes after winning the endorsement.
A total 76 votes were cast in the mayor's endorsement decision. Gray took 48 votes, or 63 percent, while Fenty received 24 votes, or 32 percent. Four people, or 5 percent, voted for no endorsement.
The endorsement came after club members voted 87 percent to 8 percent to endorse D.C. Congressional Delegate Eleanor Holmes Norton over challenger Douglas Sloan, a Ward 4 Advisory Neighborhood Commissioner. Norton is seeking re-election to an eleventh term in office.
Norton is considered to be among the most LGBT-supportive members of Congress and has a longstanding record of pushing pro-LGBT bills.
The club's endorsement vote for Gray also came after Gray and Fenty challenged each other's record on LGBT and non-LGBT issues during a part of the endorsement meeting designated as a candidates' forum.
Stein Club member and radio talk show host Mark Levine, who served as moderator of the forum, said Fenty and Gray both have "very, very good records" in support of LGBT civil rights. He noted that both have been strong supporters of same-sex marriage, with Gray voting for the city's marriage bill and Fenty signing it into law.
But written questions submitted by club members and read by Levine questioned Fenty's record on LGBT issues during his time as mayor. One asked why his highly regarded AIDS office director, Dr. Shannon Hader, abruptly resigned two weeks ago. Another questioned why Fenty hasn't issued a formal rescinding of a mayoral award to the anti-gay group PFOX, which Fenty has said was a mistake.
Others wanted to know why Fenty hasn't attended the main Black Pride festival since becoming mayor and why he hasn't used his "bully pulpit" as mayor to speak out against anti-LGBT hate crimes.
On the PFOX issue, Fenty gave his most detailed explanation to date as to why his office presented a ceremonial resolution to a group that says sexual orientation can be changed.
"The minute that this happened, when we found out that we had issued this ceremonial proclamation to PFOX, I personally said that my administration should not have done that, that it is my fault that it happened, and my apologies went out to each and every person in the city whom we had offended," Fenty said.
"The fact of the matter is that when you have a lot of people working for you, sometimes mistakes happen," he said. "The fact of the matter also is that as mayor of the District of Columbia, as a person who you elected, this should not have happened. I personally, professionally apologize to each and every person in this room, to each and every person in this city. … You have my assurance that I will work extremely hard to make sure nothing like this ever happens again."
Gray, who criticized Fenty over the PFOX matter when it first surfaced earlier this year, did not address it during the Stein Forum.
Instead, he criticized Fenty for what Gray called a "confrontational" leadership style that has negatively affected his ability to lead the city on a wide range of issues.
Gray pledged to adopt a leadership marked by "cordiality" and "collegiality" that he said would foster cooperation, even on issues that are contentious, such as the public schools reform programs started by Fenty and that Gray said he supports.
Fenty said his administration has been on the forefront in support of LGBT civil rights in a number of areas at the same time it has improved city services for all residents, including LGBT residents and people with HIV/AIDS.
He praised Hader, director of the city's HIV/AIDS Administration, for turning around what had been a trouble-plagued agency into an agency recognized nationally for its effectiveness in helping a city with the nation's highest rate of HIV infection. He did not say during the Stein Club forum why Hader resigned.
Last week, the mayor told the Blade he believed she left in a career move to take another important job with an international health organization. He told the forum that Hader's interim replacement, Dr. Nnemdi Kamanu-Elias, has training as a public health expert and AIDS specialist equal to that of Hader.
On public safety matters, Fenty said D.C. Police Chief Cathy Lanier has put together a "first-ever biased-crime report which hopefully will serve as a benchmark" to help police monitor and better fight hate crimes by encouraging more people to report hate crimes.
He cited Lanier's decision to expand and decentralize the department's Gay & Lesbian Liaison Unit — which requires all officers to be trained in LGBT-related issues and assigns GLLU-affiliated officers to each of the department's seven police districts — as other ways to address bias-related crime.
"We can't just have one specialized unit focusing on GLBT affairs and hate crimes," Fenty said. "We need the entire department to do that."
Gray, however, appeared to side with a number of activists who expressed skepticism over Lanier's changes to the GLLU. Some activists have said the decentralized operation has detracted from the unit's successful track record of operating as a cohesive team of mostly LGBT officers who responded to calls for service and investigated crimes against LGBT people.
"I absolutely think we do need a special unit within the [police department]," Gray said. "I think we've seen the success of it. One of the things I would do as mayor is hire a sergeant to run that unit, someone we know has the sensitivity to the issues that are important to us so that we will concentrate our efforts on hate crimes and other heinous crimes that are perpetrated on the basis of discrimination."
As he has in other candidates' forums, Fenty cited his public school reform program and the work of his public schools chancellor, Michelle Rhee, in accomplishing what he said are major improvements in student test scores. He criticized Gray for not disclosing whether he would retain or replace Rhee if elected mayor.
Following the forum, Levine asked the two candidates to step outside the hall at Town nightclub, where the event was held, to allow club members to discuss who they would support. Veteran gay activist and former Lambda Rising bookstore owner Deacon Maccubbin, former Stein Club officers Jeff Marootian and John Lazar spoke on Fenty's behalf, saying he has been a highly effective mayor who deserves another term.
Former Whitman-Walker Clinic Deputy Director Pat Hawkins and gay Democratic activist Lane Hudson urged the club to endorse Gray, saying the Council chairman has a demonstrated record of strong support on LGBT issues.
Some Stein Club members, including Bob Summersgill, former president of the Gay & Lesbian Activists Alliance, who has not yet taken sides in the mayor's race, said they were surprised that the Fenty campaign did not arrange for more supporters to join the club and vote for him.
"The Stein endorsement is largely an issue of campaign organizational strength," Summersgill said. "I think that had the Fenty campaign wanted to win the endorsement, they had the means to get enough people to join and attend to swing the vote.
"It seemed like the Fenty campaign wasn't really trying," he said.
Other people noted that many of the same club members who voted Monday for a Gray endorsement voted four years ago to endorse then City Council Chairwoman Linda Cropp over Fenty in the mayor's race. Fenty defeated Cropp by an overwhelming margin, and a Blade analysis of precincts with high concentrations of gay voters showed the gay vote going to Fenty by more than a three-to-one margin.
"So the question is does the Stein endorsement reflect the sentiment of the rank and file LGBT person in this city," said Stein Vice President Sheila Alexander Reid, who supported Fenty in 2006.
Asked if she were supporting Fenty again this time, Reid said, "I want to wait until tomorrow to talk about this. I'm an officer and tonight the club made its endorsement."
Anacostia group honors LGBTQ advocate Pannell for 30 years of service
Oct. 5 celebration set for Ward 8 Sycamore & Oak retail village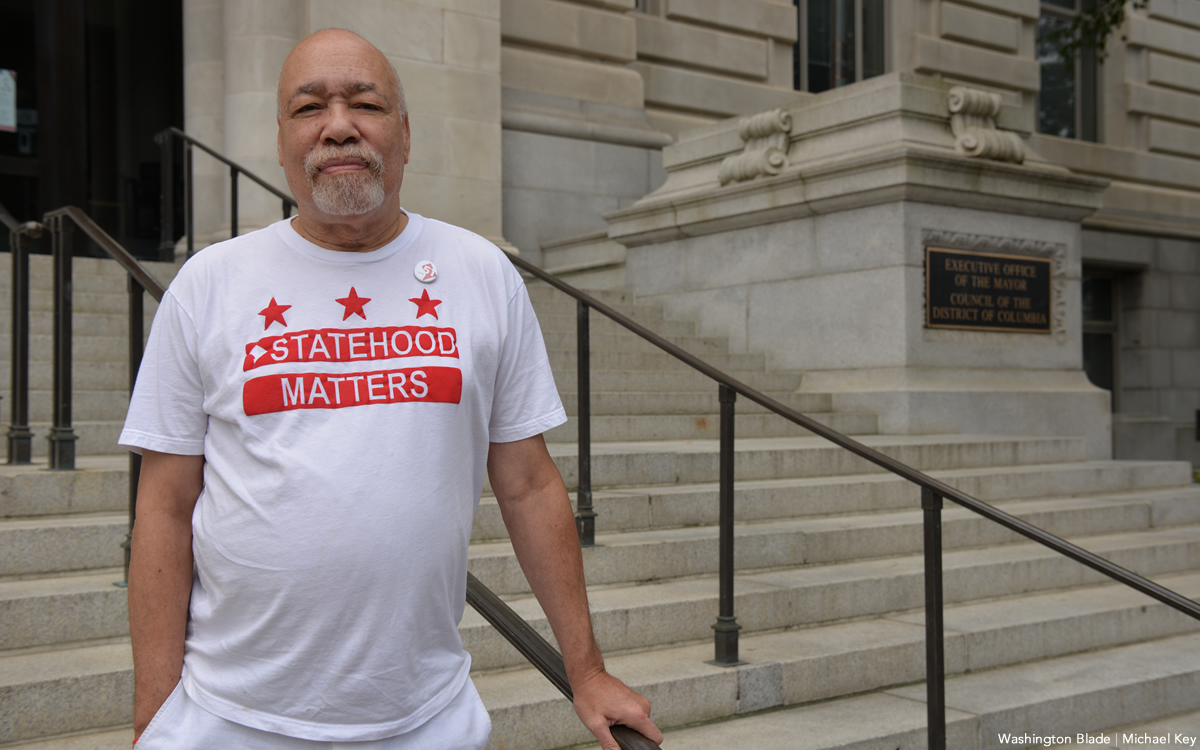 The Anacostia Coordinating Council (ACC), an advocacy organization for D.C.'s Anacostia neighborhood and surrounding areas east of the Anacostia River, is holding a celebration honoring LGBTQ rights and Anacostia community activist Phillip Pannell for his 30 years of service with the ACC.
The event was scheduled to take place from 6-8 p.m. on Thursday, Oct. 5, at the recently opened Sycamore & Oak retail village mall on the St. Elizabeth's East Campus in Southeast D.C.
Pannell, 73, serves as the ACC executive director, a position he has held since 1995. He has been a member of the Anacostia-based nonprofit organization's staff since 1993.
A longtime advocate for LGBTQ rights, Pannell has been credited with persuading many of D.C.'s LGBTQ organizations to reach out to LGBTQ residents who live in Wards 7 and 8 east of the Anacostia River.
He has also been credited with persuading African-American organizations, including organizers of the annual Martin Luther King Jr. memorial celebrations, to include and welcome LGBTQ people to their events.
"Join us for an evening of food, fun, and surprises," an announcement of the event released by the ACC says.
ACC spokesperson Lamont Mitchell told the Washington Blade several community leaders and public officials who have known Pannell during his many years of D.C. community involvement were expected to speak at the Oct. 5 celebration. Among the expected speakers, Mitchell said, was former D.C. Mayor Sharon Pratt.
According to the announcement, the event is free and open to the public, but organizers requested that people register in advance at tinyurl.com/Pannell35.
The ACC event honoring Pannell was to take place about a month after the D.C. newspaper Washington Informer published a detailed article profiling Pannell's career as a community activist and advocate for several important local causes and issues, including D.C. statehood.
"D.C. statehood is not just a political issue, it is also a civil and human rights issue because if D.C. were a state, we would be a state with the highest percentage of African Americans, basically a majority, minority state," the Informer quoted Pannell as saying. "That's one of the reasons a lot of right-wing Republicans don't want to see D.C. become a state because we are going to elect progressive, Black Democratic senators," Pannell told the Informer.
A statement on the ACC's website says Pannell has received more than 100 awards during his nearly four decades of work in D.C., including the 2011 U.S. President's Call to Service Award and the 2012 D.C. Federation of Civic Associations award for Outstanding President of a Member Association.
Elected officials turn out for annual Equality NoVa Ice Cream Social
Northern Virginia LGBTQ group stresses 'political awareness, education'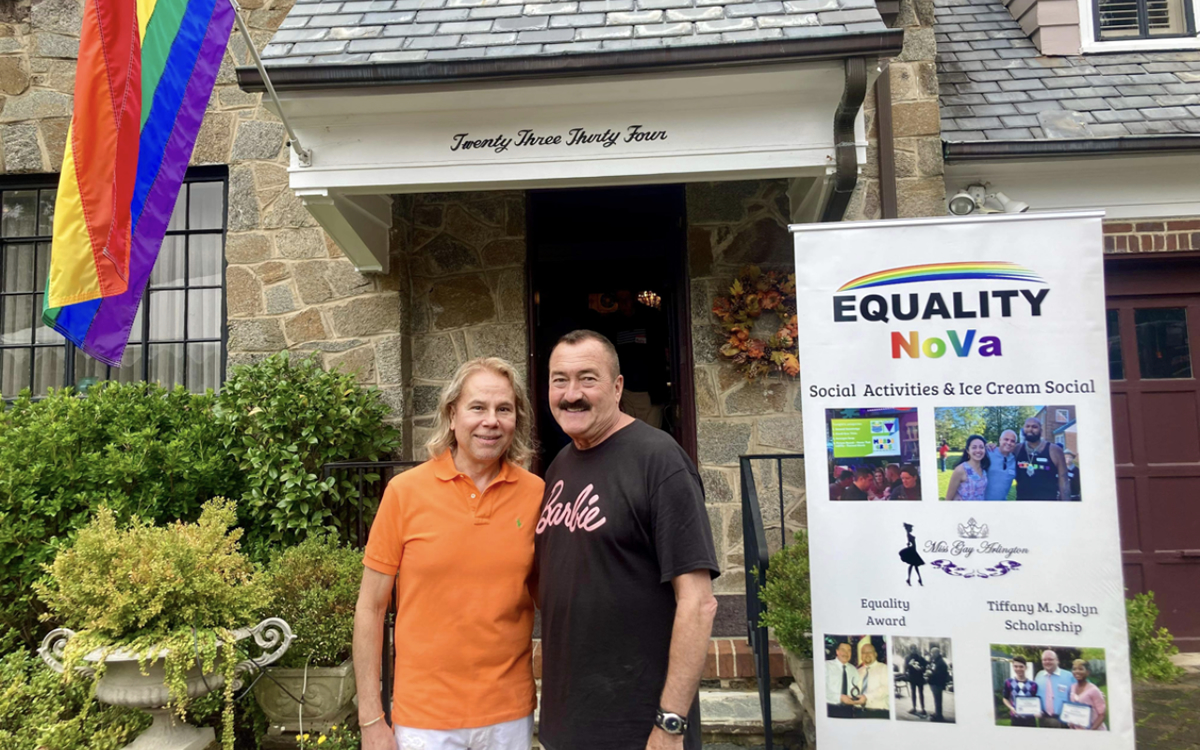 Four LGBTQ supportive members of the Virginia General Assembly and two candidates running for seats on the Arlington County Board were among more than 100 people who turned out on Sunday, Sept. 24, for the LGBTQ organization Equality NoVa's annual Ice Cream Social.
The event was held at the Arlington, Va. home of Freddie Lutz, owner of the Arlington gay bar and restaurant Freddie's Beach Bar, and Lutz's husband, Johnny Cervantes.
Daniel Hays, president of Equality NoVa, told those attending the event in introductory remarks that Equality NoVa, which recently changed its name from the Arlington Gay and Lesbian Alliance (AGLA), was founded in 1981 and is the oldest continuously operating LGBTQ organization in Virginia.
In an announcement in April the group said the name change came after it had taken on for some time the activities and representation of the now-defunct LGBTQ groups in Alexandria and Fairfax counties and had expanded its operations to cover most if not all the regions known as Northern Virginia.
Hays noted that the group is a nonpartisan organization that doesn't endorse candidates for public office but organizes educational and political awareness events and awareness campaigns on issues impacting LGBTQ people related to statewide and local government agencies and officials.
The elected officials attending the event were Virginia House of Delegates members Charniele Herring (D-Alexandria & Fairfax), Elizabeth Bennett-Parker (D-Alexandria & Arlington), and Vivian Watts (D-Fairfax).
Also attending was Virginia State Sen. Barbara Favola, a Democrat whose district includes parts of Arlington, Fairfax, and Loudoun Counties.
Joining the state lawmakers attending the Equality NoVa social were Arlington County Board candidates Maureen Coffey and Susan Cunningham and Arlington County School Board candidate Miranda Turner.
Many of those attending the event said they were rooting for the re-election of Herring, Bennett-Parker, Watts, and Favola in the upcoming Virginia elections in November. All members and candidates for the General Assembly will be on the ballot in an election that political observers say could decide which party controls both houses of the state legislature.
Currently, Democrats control the 40-member Virginia Senate by a margin of 22-18 seats. Republicans currently control the House of Delegates by a margin of 51 to 46 seats, with three vacancies in the 100-member House.
With Virginia Gov. Glenn Youngkin (R) putting in place through executive action public school policies that LGBTQ activists consider hostile and discriminatory for transgender students, LGBTQ activists are hopeful that a Democratic takeover of the House of Delegates would result in a reversal of Youngkin's school policy.
Some of the activists attending the Equality NoVa event said they were fearful that a Republican takeover of the state Senate and if Republicans retain control of the House of Delegates could result in the General Assembly approving the type of anti-LGBTQ legislation passed in Florida and other states.
Anti-transgender heckler interrupts Danica Roem during debate
Trans lawmaker is running for the Va. state Senate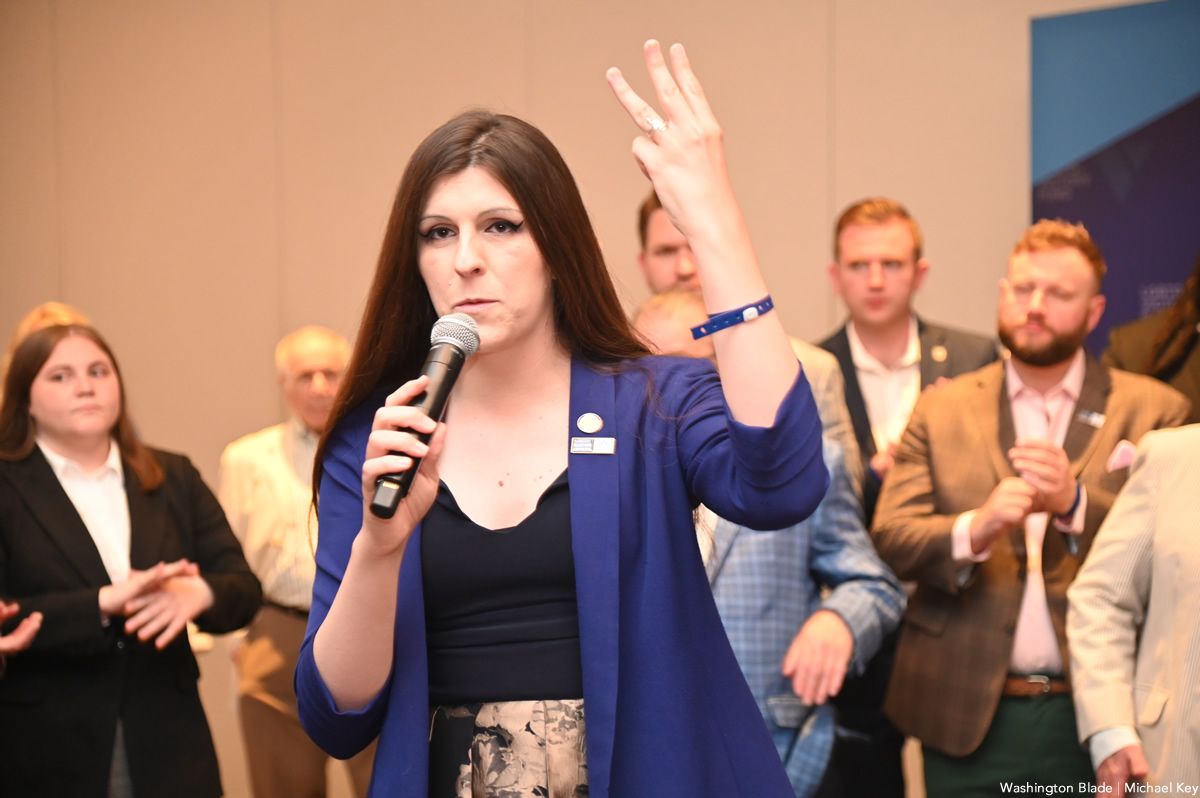 An anti-transgender heckler interrupted Virginia state Del. Danica Roem (D-Manassas) on Sept. 28 during a debate with her Republican opponent for the state Senate.
The woman heckled Roem during the Prince William Committee of 100-organized debate between her and Bill Woolf that took place at Metz Middle School in Manassas. 
"Thank you for reminding me why I won three elections in this district in Prince William County, which is the most diverse county in all of Virginia and the 10th most nationally where we welcome everyone because of who they are, not despite it, no matter what you look like, where you come from how you worship, if you do, or who you love because you should be able to thrive here because of who you are, never despite it," said Roem.
Audience members applauded Roem after she responded to the heckler who was eventually removed from the auditorium.
Roem in 2017 defeated then-state Del. Bob Marshall, a vocal LGBTQ rights opponent who co-wrote Virginia's constitutional amendment defining marriage as between a man and a woman that voters approved 11 years earlier. Roem subsequently became the first openly transgender person seated in a state legislature in the U.S.
Roem in 2019 became the first out trans state legislator to win re-election. Roem in May 2022 announced she is running to represent the newly redistricted Senate District 30, which includes western Prince William County and the cities of Manassas and Manassas Park.
Woolf during the Sept. 28 debate did not say whether he would support the repeal of the marriage amendment. Woolf also reiterated his support of a bill that would require school personnel to out trans students to their parents.