Hillary Clinton to address int'l LGBT issues
Secretary of State Hillary Clinton will speak Tuesday on the importance of integrating LGBT issues in U.S. foreign policy, according to the State Department's LGBT affinity organization.
Michelle Schohn, spokesperson for Gays & Lesbian in Foreign Affairs Agencies, wrote Wednesday on her blog that Clinton would be making the address as part of the State Department's celebration of Pride month.
Speakers from the Council for Global Equality, a group focused on LGBT inernational affairs, and other LGBT activists will hold a discussion during a subsequent panel.
The event will take place  Tuesday at 11 am at the State Department's Loy Henderson Auditorium. The address is 2201 C Street NW.
GLIFAA is asking those interested in attending to e-mail [email protected] to RSVP and for more information.
CORRECTION: An earlier version of this post incorrectly identified Schohn as president of GLIFAA. She is the spokesperson and no longer has the title  of president.
Ark. governor makes transphobic swipe during GOP State of the Union response
Sarah Huckabee Sanders: Progressives 'can't even tell you what a woman is'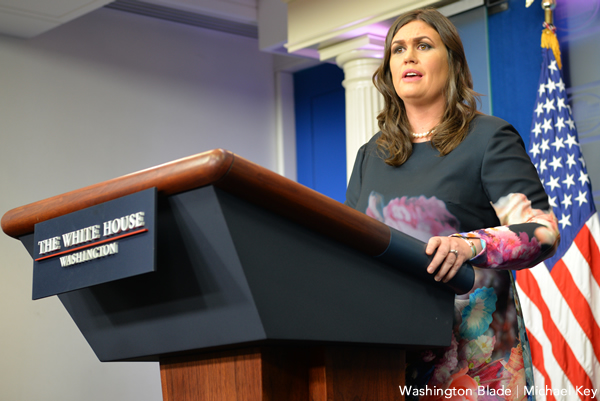 Arkansas Gov. Sarah Huckabee Sanders delivered the Republican response to the State of the Union address late Tuesday night, beginning by asking her audience to "forgive me for not believing much of anything I heard tonight from President Biden."
"I'm the first woman to lead my state," Sanders said, while Biden is "the first man to surrender his presidency to a woke mob that can't even tell you what a woman is."
Referring to this line in her speech, trans activist and Minneapolis City Councilwoman Andrea Jenkins tweeted: "The governor and Republicans all across this country continue to attack transgender people and especially our trans youth to score political points with their base."
"It is time to stop these mean-spirited attacks on the transgender community," Jenkins added.
Human Rights Campaign President Kelley Robinson, who attended the State of the Union as a guest of House Minority Leader Hakeem Jeffries (D-N.Y.), released a statement following Sanders' speech.
"It's just plain despicable that she used her platform tonight to sow division by demonizing the LGBTQ+ community, especially transgender and nonbinary people," Robinson said.
"Transgender kids just want to grow up feeling loved, respected and valued for who they are. But politicians like Gov. Huckabee Sanders are making that nearly impossible with their neverending attacks on these kids."
Robinson also noted the Arkansas Senate is poised to send Sanders a bill that would bar trans youth from using school restrooms and facilities that align with their gender identities.
The state has already passed measures prohibiting trans minors from participating in school athletics programs and accessing guideline directed gender affirming healthcare, laws that were stayed pending the conclusion of litigated challenges.
Sanders served as White House press secretary under former President Donald Trump's administration from 2017-2019. Her father, Mike Huckabee, was governor of Arkansas from 1996-2007.
Biden's second State of the Union prioritizes bipartisanship
President reiterated calls to pass Equality Act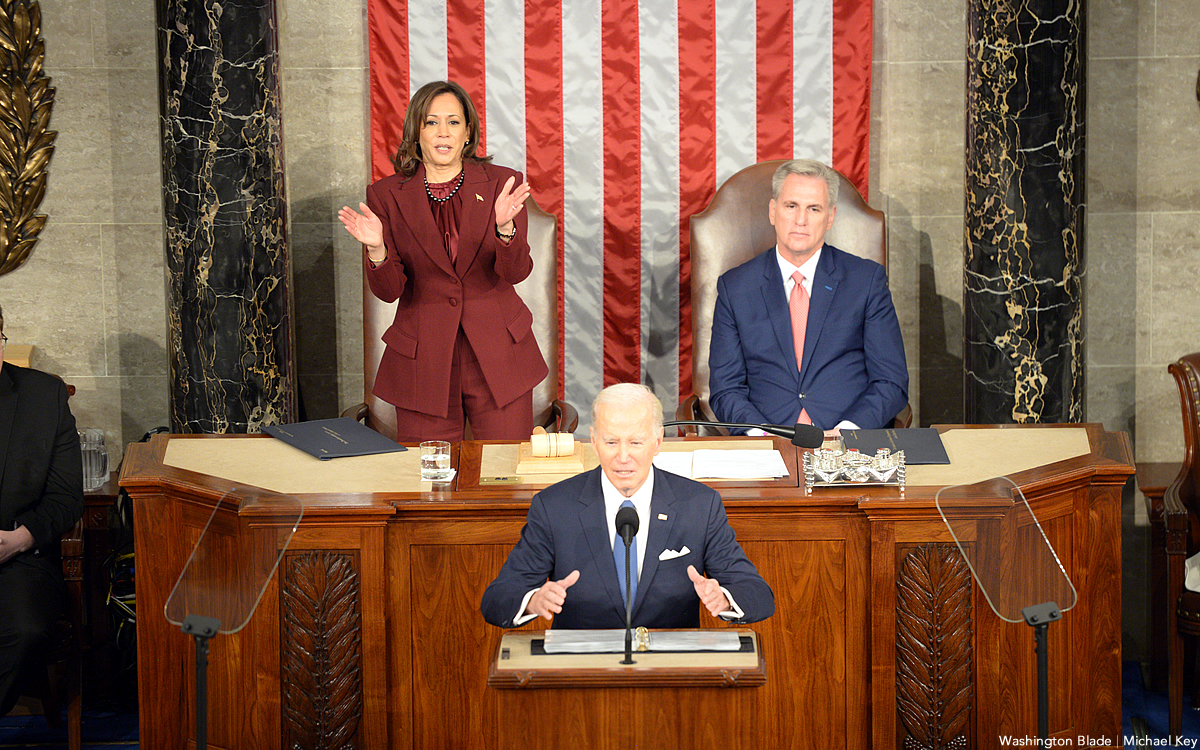 President Joe Biden's second State of the Union address on Tuesday focused on building upon recent accomplishments, especially legislative milestones that were reached with bipartisan cooperation.
Nevertheless, the speech was met with vocal objections from Republican lawmakers over Biden's comments about the debt ceiling, the Southern border and his mention of some GOP members' plans to cut social security and Medicare.
"From reauthorizing the Violence Against Women Act, to the Electoral Count Reform Act, to the Respect for Marriage Act that protects the right to marry the person you love," Biden said, "To my Republican friends, if we could work together in the last Congress, there is no reason we can't work together in this new Congress."
On the subject of legislation, for the second year in a row, Biden repeated his plea for Congress to revisit the Equality Act "to ensure LGBTQ Americans, especially transgender young people, can live with safety and dignity."
He also focused part of Tuesday's address on public health. "Twenty years ago, under the leadership of President Bush and countless advocates and champions, we undertook a bipartisan effort through PEPFAR to transform the global fight against HIV/AIDS," Biden said.
The successful effort should be repeated in the fight against cancer, he added.
These matters aside, Biden included little mention of LGBTQ issues, or the extremism of Republicans who are poised to run for the presidency next year. Instead, the bulk of his remarks were focused on themes like implementing the provisions of the Inflation Reduction Act and the bipartisan infrastructure law.
The country's economic recovery was another well-trod message, on the heels of a January jobs report whose data showed record low unemployment and steady growth in new jobs and workers' wages.
Biden did devote some time to reproductive rights.
"The vice president and I are doing everything we can to protect access to reproductive health care and safeguard patient privacy," he said. "But already, more than a dozen states are enforcing extreme abortion bans."

The president then vowed to veto a national abortion ban if Congress should pass one.
During last year's State of the Union, Biden said "the onslaught of state laws targeting transgender Americans and their families is wrong," adding, "As I said last year, especially to our younger transgender Americans, I will always have your back as your president, so you can be yourself and reach your God-given potential."
One sign of solidarity with the LGBTQ community this year was the invitation of Gina and Heidi Nortonsmith, plaintiffs in the Massachusetts case that led the state to become the first to legalize same-sex marriage, to join first lady Jill Biden's box.
House Minority Leader Hakeem Jeffries (D-N.Y.) brought Human Rights Campaign President Kelley Robinson as his guest. Biden honored Jeffries' predecessor, U.S. Rep. Nancy Pelosi (D-Calif.), as "someone who I think will be considered the greatest speaker in the history of this country."
McCarthy confirms Santos faces House ethics probe
'If Ethics finds something, we'll take action'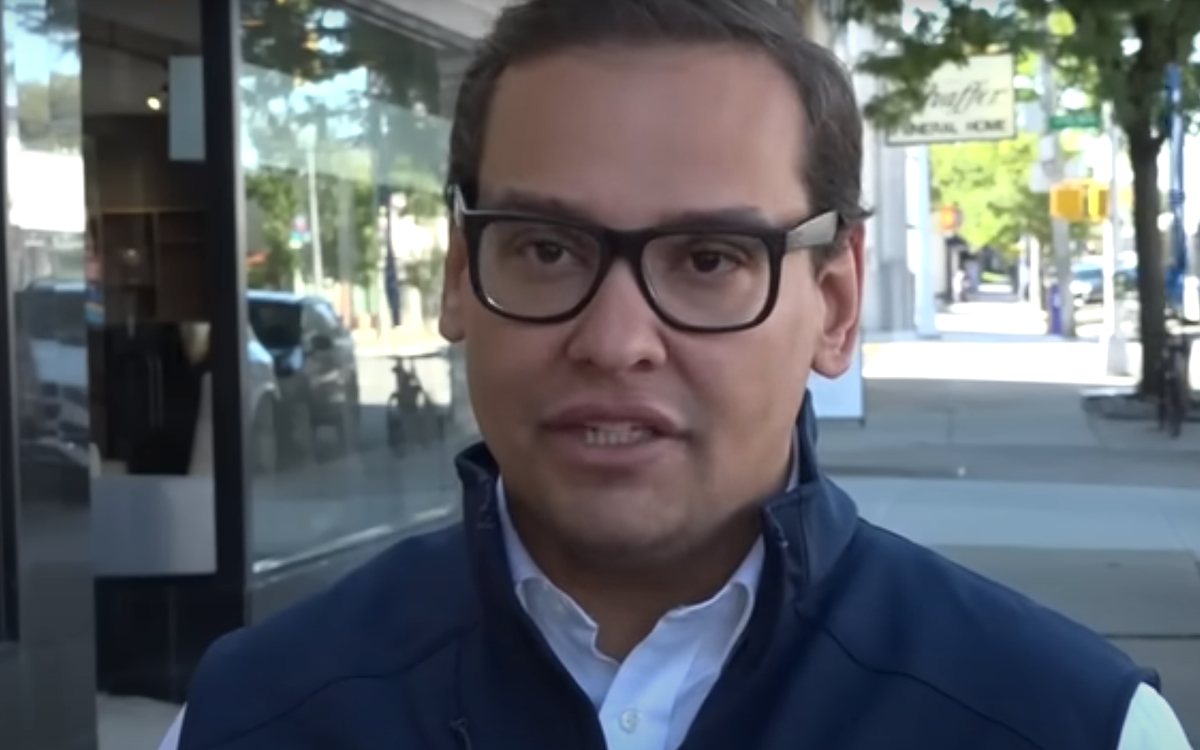 House Speaker Kevin McCarthy (R-Calif.) confirmed to CNN on Tuesday that U.S. Rep. George Santos (R-N.Y.) faces an investigation by the House Ethics Committee.
"Ethics is moving through, and if Ethics finds something, we'll take action," McCarthy said.
For his part, Santos continued to lean into the defiant attitude with which he has recently treated the many scandals that have enveloped him since his arrival to Washington.
Santos told CNN he is "not concerned" about the ethics probe and is eager to welcome the constituents from his district, New York's 3rd Congressional, who are headed to Capitol Hill today to demand his resignation.
"Right now we're not allowing him to be on committees from the standpoint of the questions that have arisen," McCarthy told the network, following reports last week that Santos stepped down from the House Small Business and Science, Space and Technology Committees.
Asked whether his resignations came at the speaker's behest, Santos told reporters at the time: "Nobody tells me to do anything."
Also last week came reports that the FBI was exploring allegations that Santos ran a GoFundMe scam, allegedly stealing crowdsourced money that was intended for oncology treatments for a homeless veteran's treasured service dog.
Politico reported that on Tuesday, dozens of constituents from Santos' district called on the beleaguered New York Republican to resign — or demanded House GOP leadership call a vote to expel him.
Gathering on Capitol Hill outside of congressional offices on the day that President Joe Biden is to deliver his State of the Union address, constituents waved a number of signs including those that read "I believe in Santa more than Santos," "Scamtos," and "Sashay away George." They chanted: "Force him out!" The New York Republican has given no indication he'd resign.
One of his GOP constituents said he found Santos' lie that his mother perished during 9/11 particularly offensive. "You have to be really psychologically impaired to throw that around like it's nickels," Ben Marzouk, a local Republican, said.
Just now: Constituents deliver petition to George Santos's office demanding he leave congress. pic.twitter.com/LlOHzfOxZb

— Ford Fischer (@FordFischer) February 7, 2023
Right now: constituents of Rep George Santos gather at the Capitol to demand his removal from congress.

Will be live-streaming their press conference which will begin in a few minutes. pic.twitter.com/QIgrrguiHN

— Ford Fischer (@FordFischer) February 7, 2023