HHS proposes hospital visitation rule
The Department of Health & Human Services on Wednesday officially  proposed an new adminstrative rule following up on a presidential memorandum mandating hospital visitation rights for same-sex couples.
The proposed regulation — issued by the Centers for Medicare & Medicaid Services — would require hospitals that receive funds under Medicare and Medicaid to allow patients during a hospital stay to designate a same-sex partner as a visitor.
"Every patient deserves the basic right to designate whom they wish to see while in the hospital," said HHS Secretary Kathleen Sebelius. "Today's proposed rules would ensure that all patients have equal access to the visitors of their choosing — whether or not those visitors are, or are perceived to be, members of a patient's family."
The new announcement comes on the heels of a letter Sebelius sent to hospitals on Tuesday calling on hospitals to go forward with the change even before the rule-making process is complete
President Obama directed HHS to develop these new rules in an April 15 presidential memorandum. In the same directive, Obama also asked HHS to develop policy to require hospitals to comply with directives giving LGBT Americans the authority to make emergency medical decisions for their partners. The memorandum also asks for additional recommendations on ways to address LGBT health issues in 180 days.
Don McLeon, an HHS spokesperson, said a group within the department is "actively working" on ways to implement other parts of the president's memorandum.
In a statement, Joe Solmonese, president of the Human Rights Campaign, praised HHS for starting the process for issuing the hospital visitation change.
"Today's announcement brings us a step closer to providing a critical protection for LGBT Americans and their families," Solmonese said.
The proposed rules would mandate hospitals have written policies for patients' visitation rights and specify instances in which the hospital may restrict patient access to visitors based on reasonable clinical needs.
 
According to HHS, one key provision of the proposed rules spells out that visitors chosen by a patient must have the same visitation privileges afforded to immediate family members.
The proposed regulations will be available for public comment for 60 days and are set to become final after CMS has considered the comments.
Victory Fund honors Maine House speaker at D.C. conference
Ryan Fecteau is gay Catholic University alum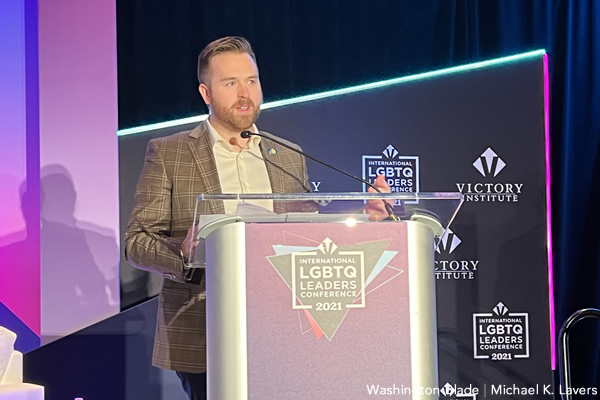 The Victory Fund on Saturday honored Maine House Speaker Ryan Fecteau on the last day of its International LGBTQ Leaders Conference in D.C.
Fecteau — an openly gay Catholic University of America alum — won a seat in the Maine House of Representatives in 2014. He became the chamber's speaker in 2018.
"Hate and intolerance will not derail us," said Fecteau after Florida state Rep. Carlos Guillermo Smith presented him with the Tammy Baldwin Breakthrough Award, which is named after U.S. Sen. Tammy Baldwin (D-Wis.). "Our community will not be intimidated."
The Victory Fund on Friday honored Guatemalan Congressman Aldo Dávila, a gay man who is living with HIV.
Rachel Levine: Efforts to deny health care to trans youth are 'politics'
Former Pa. health secretary opened Victory Fund conference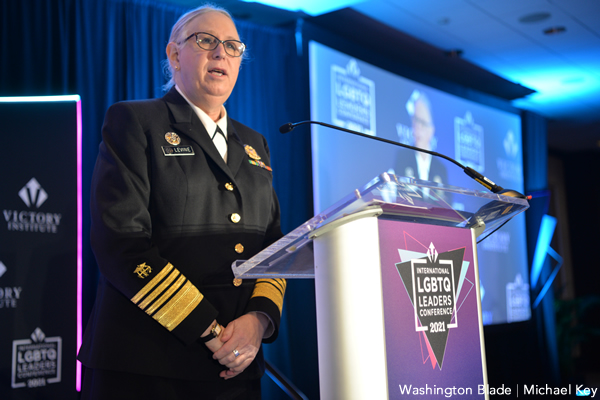 Assistant Health Secretary Rachel Levine on Thursday criticized efforts to prevent transgender youth from accessing health care.
"Unfortunately, some have fought to prevent transgender youth from accessing the health care that they need," she said in a speech she delivered at the opening of the Victory Fund's 2021 International LGBTQ Leaders Conference that took place in-person at the JW Marriott in downtown D.C. "This is politics and this politics has no place in health care and public health and they defy the established standards of care written by medical experts."
Levine was Pennsylvania's Health Secretary until President Biden nominated her to become assistant secretary of health.
She became the first openly trans person confirmed by the U.S. Senate in March. Levine in October became a four-star admiral in the U.S. Public Health Service.
The conference will take place in-person and virtually through Sunday.
VIDEO: Biden addresses advocates on World AIDS Day
President says end to transmission 'within striking distance'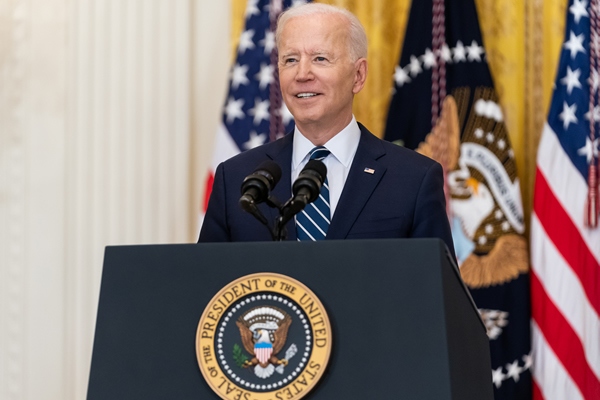 President Biden, in remarks delivered Wednesday at the White House in recognition of World AIDS Day, said to advocates in the fight against HIV/AIDS the end to HIV transmission was near.
"It's because of you and it's not hyperbole to suggest that we are within striking distance of eliminating HIV transmission, within striking distance," Biden told attendees in the East Room.
Joining Biden in the East Room were Secretary of Health & Human Services Xavier Becerra and Gabriel Maldonado, an HIV/AIDS Advocate and founder of TruEvolution, a Riverside, Calif.-based LGBTQ group.
Biden also during his remarks touted having made the appointment of Harold Phillips to lead the White House Office of National AIDS Policy — a position that had gone vacant throughout the entirety of the Trump administration.
Notably, Biden talked about the Ending the HIV Epidemic plan, an initiate health officials started in the Trump administration, by saying was to beat HIV domestically by 2030. That was initial target date when the initiative, but Biden had campaigned on defeating by HIV by 2025 to the skepticism off observers.
Watch Biden full remarks below: