Democrats find 2010 a tougher sell than 2008
LGBT bloggers wage 'Don't Ask, Don't Give' campaign
Asking gay Americans to reignite their enthusiasm for the Democratic Party at the same time critics are assailing the party for its handling of federal LGBT legislation is no small challenge.
But that's exactly what Democratic National Committee Executive Director Jennifer O'Malley Dillon did last week while speaking at the National Stonewall Democrats biennial convention in D.C.
With three months remaining before the midterm elections, Dillon acknowledged that "an enthusiasm gap" exists between how Democratic voters feel this year compared to 2008. And she said that gap must close.
"We are going to hold the House and the Senate," she said. "I'm very confident about that. But to do that, it's just going to be incredibly hard. History is against us in this election."
Also against Dillon's efforts to rally LGBT voters are increasingly intense criticisms that President Obama and congressional leaders aren't doing enough to enact promised changes, such as repealing "Don't Ask, Don't Tell" and passing the Employment Non-Discrimination Act.
Dillon recognized that the "pace of change isn't always fast enough" for LGBT people, but said the DNC is creating new and more substantive ways to engage potential donors and volunteers.
"We want to make sure that the programs we're building on moving forward aren't just programs that we're sitting in D.C. saying, 'Oh, I think it would be great if we had ruffly stickers with rainbows on them,' but that we are really building out a substantive program," she said.
Dillon also said the DNC is developing communications — including material for the DNC website as part of the Your Voice Matters effort — to demonstrate in a clearer way the Obama administration's broader accomplishments.
But discontent among many LGBT voters persists. And a continuing effort LGBT bloggers launched last year, called "Don't Ask, Don't Give," urges LGBT people to withhold donations from the Democratic Party until more pro-LGBT bills are passed.
Leading the DNC boycott is John Aravosis, editor of Americablog.com, who's asking readers to sign a pledge saying they will only contribute money to the Democratic Party after President Obama signs ENDA into law, and signs repeals of "Don't Ask, Don't Tell" and the Defense of Marriage Act.
Aravosis said at the start of this year that he didn't feel inclined to whip the effort because signs had emerged that Congress would pass "Don't Ask, Don't Tell" repeal and ENDA. The situation changed, though, as the year progressed.
"ENDA is now nowhere to be seen and no one thinks it's passing both houses by the election — even though we were promised," he said. "On 'Don't Ask, Don't Tell,' the legislation being discussed isn't full repeal. It isn't the repeal at all, even though it's being sold that way. It's not even clear if the legislation is going to pass anyway at this point."
Aravosis dismissed the notion that outreach from the Democratic National Committee could be any substitute for the advancement of these issues.
"It's a very 1990s strategy from the DNC," he said. "They think showing face to the gay community — simply showing up at our events is going to buy our voters and buy our money because we should be so honored that they would deign to visit us."
Aravosis estimated about 10,000 readers of Americablog.com have pledged to withhold donations to the Democratic Party as part of the "Don't Ask, Don't Give" initiative.
"'Don't Ask, Don't Give' was, I think, part of a larger effort of the gay Netroots and, I would say, the community in general showing their ire at the Democrats," Aravosis said. "I think it did change things for a while, but I think now the Democrats have backed off yet again."
Dillon told the Blade that she hopes the DNC's engagement with LGBT people will convince those who haven't been satisfied to maintain their support.
"Of course, we'd like to see everyone feel like they can contribute to the party and feel good about that," she said. "We obviously hope that people see us as a party that's growing and building our commitment and our connection to the LGBT community, and that this is a place where people feel like their money will be well spent."
'We're going to have disappointments'
Despite some disappointment, many LGBT Democrats who attended the Stonewall convention said they remain committed to the Democratic Party.
Rick Stafford, a veteran gay activist from Minnesota and chair of the Democratic Party's LGBT caucus, said the Democratic Party is worth supporting because of the dramatic strides it's taken in support of LGBT rights during the last decades.
"I can remember not more than 25 years ago, the Democratic Party and their leadership officials basically said to the LGBT community, 'Go away,'" Stafford said. "We were held up as the poster child for the special interests. And in 25 years, if you told me back then that the issue that we would be fighting on disappointment was marriage equality, I would have told you [that] you were nuts."
Stafford said LGBT critics of the Democratic Party should take care with the tone of their discussion because disagreement and discontent among Democrats led to the Republican takeover of Congress in 1994.
"We're going to have disappointments, and not all Democratic elected officials are going to be supportive," Stafford said. "But I think the leadership of Obama, Pelosi and even Harry Reid will be light years [ahead of] seeing Sarah Palin, Mitch McConnell or John Boehner setting the agenda for our country."
Jerame Davis, who's gay and co-owner of the Indiana-based LGBT website Bilerico Project, also expressed discontent about the amount of progress the party has made recently on LGBT issues.
"The one thing that has concerned me has been President Obama said he was going to be a 'fierce advocate' for our issues, and I've had trouble seeing where the advocacy was coming along, let alone the fierceness," Davis said.
Still, Davis said the alternative to Democrats running the legislative branch of the federal government would be "far, far worse."
"The idea of turning either of those [chambers] over to the Republicans scares me far worse than trying to continue to push our friends to be more supportive and to advocate harder for our issues," Davis said.
Also urging continued support for Democrats was Rep. Jared Polis (D-Colo.), a gay lawmaker who spoke at the convention. He told the Blade that people who were in doubt over supporting the Democratic Party should look closely at Democratic candidates and their Republican opponents.
"The Democratic Party is the only party that stands for equality," he said. "I think it's important that voters weigh where both candidates are on issues like marriage equality, ENDA — and 99 times out of 100, you'll come out in favor of the Democrat."
Polis has been active in raising funds not only for his own his re-election, but for other Democratic candidates. He's set up two joint fundraising committees — the Jared Polis Majority Fund and the Jared Polis Victory Fund — that have raised substantial funds for Democrats seeking election.
The Jared Polis Majority Fund has raised $26,000 over the course of this Congress, while the Jared Polis Victory Fund has raised $150,000, according to Federal Election Commission reports.
Notable donations from the Jared Polis Majority Fund in the second quarter of this year included $1,500 to David Cicilline, the gay mayor of Providence, R.I. who's running for Congress, and $1,500 to Rep. Scott Murphy (D-N.Y.), who last year replaced Sen. Kirsten Gillibrand (D-N.Y.) upon her appointment to the U.S. Senate. The Jared Polis Victory Fund in the second quarter donated $4,000 to Sen. Michael Bennet (D-Colo.), who's seeking to retain his U.S. Senate seat.
"We've been very active in helping to build a pro-equality majority in the House and I've focused a lot of national fundraising in helping to achieve that," Polis said.
The notion that LGBT voters should directly support candidates they see as supportive versus supporting the Democratic Party infrastructure is a common view among many advocates.
Aravosis said the best donation tactic that LGBT people can use as the November election approaches is to support candidates "who are proven to be pro-gay and proven to have come through for us."
"That means support Democrats who actually have fought for us, or, [get behind] those Republicans who have fought for us, although I'm not convinced there's too many," he said.
Davis said this approach is the best way to ensure that a majority in Congress supportive of LGBT rights is in place.
"So, the way I see it is this: find a good friend that you think is going to advocate for our issues well, and that's where you should put your money," Davis said.
Activists demand ICE release transgender, HIV-positive detainees
Protest took place outside agency's D.C. headquarters on Wednesday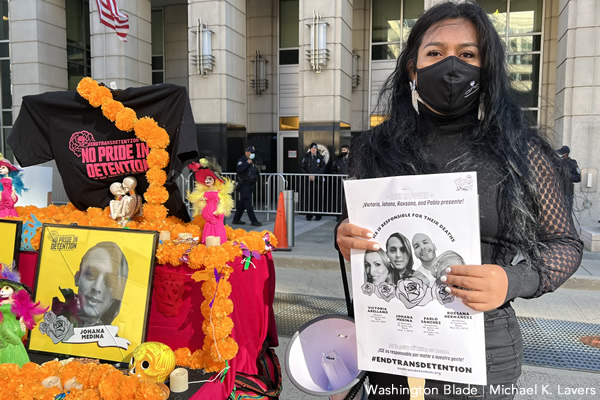 Jessycka Ckatallea Letona is an indigenous transgender woman from Guatemala who fled persecution in her homeland because of her gender identity.
She asked for asylum in the U.S. in 2016 when she entered the country in Eagle Pass, Texas.
Ckatallea on Wednesday told the Washington Blade that U.S. Immigration and Customs Enforcement officials placed her in a pod with 70 men at a privately-run detention center in Florence, Ariz. She also said personnel at another ICE detention center in Santa Ana, Calif., ridiculed her because of her gender identity and forced her to strip naked before she attended hearings in her asylum case.
Ckatallea spent a year and eight months in ICE custody before her release. She won her asylum case and now lives in the San Francisco Bay Area.
"It was a very traumatic experience," said Ckatallea as she spoke with the Blade in front of ICE's headquarters in Southwest D.C. "I came to a country thinking that it would take care of me, that it would protect me because of my gender identity."
Ckatallea is one of the more than a dozen immigrant rights activists who participated in a protest in front of ICE's headquarters that Familia: Trans Queer Liberation Movement, Immigration Equality and the End Trans Detention campaign organized. Ckatallea, Immigration Equality Executive Director Aaron Morris and other protest participants demanded ICE immediately release trans people and people with HIV/AIDS from their custody.
The groups placed on the sidewalk in front of the building a Day of the Dead "ofrenda" to honor three trans women—Victoria Orellano, Roxsana Hernández and Johana "Joa" Medina León—who died in ICE custody or immediately after their release. The "ofrenda" also paid tribute to Pablo Sánchez Gotopo, a Venezuelan man with AIDS who died in ICE custody on Oct. 1.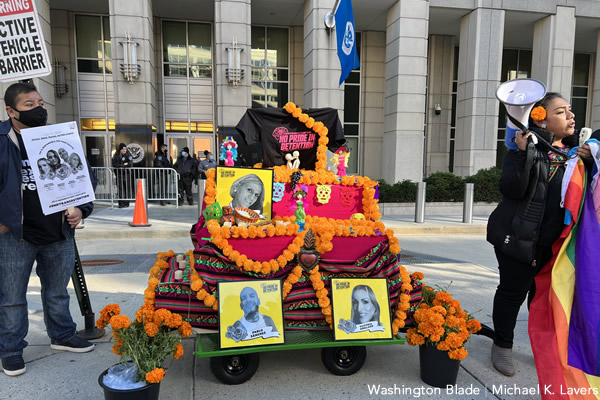 Ckatallea, Morris and the other protesters approached the building's entrance and presented security personnel with a petition that calls upon President Biden and Homeland Security Secretary Alejandro Mayorkas to "immediately release all transgender people, people living with HIV, and people with medical conditions from ICE custody."
ICE has repeatedly defended its treatment of trans people and people with HIV/AIDS who are in their custody.
The Blade in July 2020 interviewed a person with HIV who was in ICE custody at the Adams County Detention Center, the same privately-run facility in which Gotopo was held until his hospitalization. The person with whom the Blade spoke described conditions inside the detention center as "not safe" because personnel were not doing enough to protect them and other detainees from COVID-19.
Congressman Mike Quigley (D-Ill.) is among the dozens of lawmakers who have called for the release of all trans people and people with HIV/AIDS from ICE custody. The Illinois Democrat on Tuesday reiterated this call during a virtual briefing that Familia: Trans Queer Liberation Movement, Immigration Equality and the End Trans Detention Campaign organized.
"ICE's clear inability to do better leads me to seek to end of ICE's detention of all trans migrants," said Quigley. "During both the Trump and Biden administration I led dozens of my colleagues to demand that ICE release transgender detainees and end its practice of holding trans migrants in custody. We had hoped that things would change with the new administration, so far I'm disappointed."
Congresswoman Pramila Jayapal (D-Wash.) also participated in the briefing alongside Immigration Equality Legal Director Bridget Crawford and Sharita Gruberg of the Center for American Progress and others.
Texas GOP Governor Greg Abbott signs anti-Trans youth sports bill
"Despite the powerful testimony of trans kids & adults- the emails to the Governor to veto this harmful piece of legislation it is now law"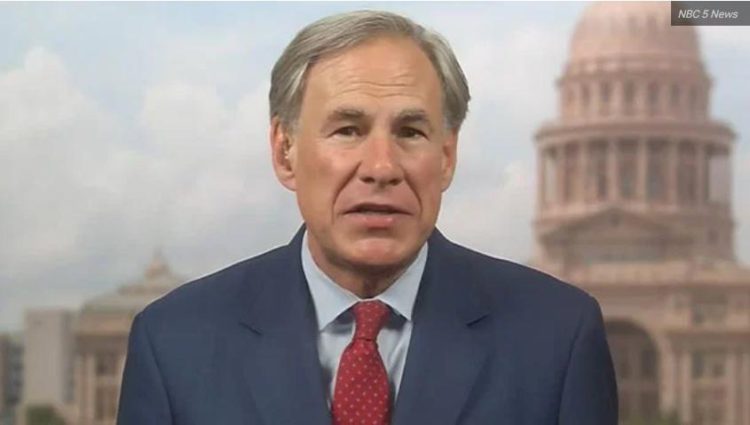 AUSTIN – Texas Republican Gov. Greg Abbott signed into law Monday H.B. 25, an anti-Transgender youth sports bill banning Trans K-12 student-athletes from playing on sports teams consistent with their gender identity.
H.B. 25 is the 9th statewide bill signed into law this year banning transgender youth from participating in school sports and the 10th in the country. This bill also comes during a year when Texas lawmakers have proposed nearly 70 anti-LGBTQ bills, including more than 40 bills that specifically target transgender and nonbinary youth — far more than any other state.
"We are devastated at the passage of this bill. Despite the powerful testimony of trans kids and adults, families and advocates, and the many emails and calls our community placed to the Governor's office to veto this harmful piece of legislation it is now law," Ricardo Martinez, CEO of Equality Texas, said.
"Most immediately, our focus is our community and integrating concepts of healing justice to provide advocates who have already been harmed by this bill with spaces to refill their cup and unpack the acute trauma caused by these legislative sessions. Our organizations will also begin to shift focus to electing pro-equality lawmakers who understand our issues and prioritize representing the vast majority of Texans who firmly believe that discrimination against trans and LGB+ people is wrong," he added.
Earlier this month, the Texas state government was criticized for removing web pages with resources for LGBTQ youth, including information about The Trevor Project's crisis services. The Trevor Project the world's largest suicide prevention and crisis intervention organization for LGBTQ+ young people.
"Transgender and nonbinary youth are already at higher risk for poor mental health and suicide because of bullying, discrimination, and rejection. This misguided legislation will only make matters worse," Amit Paley, CEO and Executive Director of The Trevor Project said in a statement released Monday afternoon.
To every trans Texan who may be feeling hurt and attacked by this legislation and months of ugly political debate — please know that you are valid, and you are deserving of equal opportunity, dignity and respect. The Trevor Project is here for you 24/7 if you ever need support, and we will continue fighting alongside a broad coalition of advocates to challenge this law," Paley said.
Breaking: Transgender students in Texas will be restricted from playing on K-12 school sports teams that align with their gender identity under a bill Gov. Greg Abbott has signed into law. https://t.co/54kMy2fWGu

— Texas Tribune (@TexasTribune) October 25, 2021
********************
Additional resources:
Research consistently demonstrates that transgender and nonbinary youth face unique mental health challenges and an elevated risk for bullying and suicide risk compared to their peers.
If you or someone you know needs help or support, The Trevor Project's trained crisis counselors are available 24/7 at 1-866-488-7386, via chat at TheTrevorProject.org/Help, or by texting START to 678678.
Ohio high school cancels play with Gay character after Pastor complains
The School's fall production of "She Kills Monsters" was scheduled to open in less than one month until the play was canceled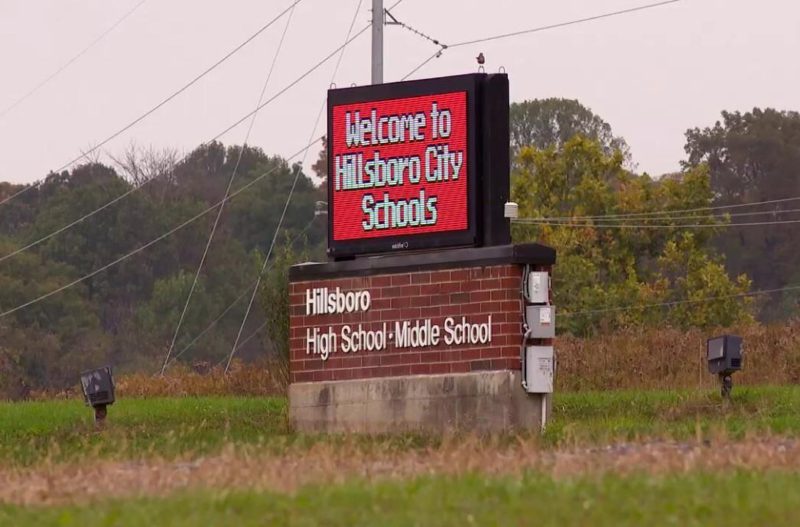 HILLSBORO, Oh. — A Southwest Ohio high school's play was abruptly canceled after Jeff Lyle, a local pastor from Good News Gathering, complained of a gay character.
Hillsboro High School's fall production of "She Kills Monsters" was scheduled to open in less than one month, until students learned the play would be canceled last week, reports Cincinnati's ABC affiliate WCPO.
The story follows a high school senior as she learns about her late sister's life. It is implied throughout the play that her sister is gay, according to the news station.
The play's cancellation comes a week after Lyle, a long-time voice of the anti-LGBTQ+ religious-right in Ohio, and a group of parents confronted the production's directors at a meeting, according to Cincinnati CBS affiliate Local 12. Lyle denies pressuring school officials, but tells WCPO he supports the decision.
"From a Biblical worldview this play is inappropriate for a number of reasons, e.g. sexual innuendo, implied sexual activity between unmarried persons, repeated use of foul language including taking the Lord's name in vain," Lyle said.
Some families say they believe Lyle did influence the school's decision.
"I think that's wrong," Jon Polstra, a father of one of the actors, told WCPO. "All they would have had to do if they objected to something in the play was not go to the play."
In a statement to Local 12, Hillsboro City Schools Superintendent Tim Davis said the play was canceled because it "was not appropriate for our K-12 audience."
The Lexington Herald Leader reports that the school planned to perform a version intended for audiences as young as 11 years old.
Students were "devastated" and "blindsided" by the news, according to WCPO.
"It felt like we had just been told, 'Screw off and your lives don't matter,'" Christopher Cronan, a Hillsboro High student, said. "I am openly bisexual in that school and I have faced a lot of homophobia there, but I never expected them to cancel a play for a fictional character."
Cronan's father, Ryan, also voiced his frustration.
"They want to say the town is just not ready, but how are you not ready? It's 2021," Ryan Cronan said.
Students have started a GoFundMe in hopes of putting on the production at a community theater in 2022.
"If we do raise enough money, I am going to be genuinely happy for a very long time, because that means people do care," Cronan told WCPO.