O'Malley flip-flopping on marriage bill?

The Equality Federation is holding its annual meeting in Baltimore this weekend. The association of statewide LGBT rights groups held a rally downtown last night to celebrate the Prop 8 ruling in California and, later, a reception for activists and donors that attracted a good crowd of D.C. politicos.
Instead of welcoming the activists to the "Free State," Maryland Gov. Martin O'Malley threw cold water on the festivities, as WBAL-TV reported a startling change in his position on a same-sex marriage bill. O'Malley told me in a 2007 interview that he would sign a marriage bill if it reached his desk. He has repeated that pledge many times since.
But WBAL's Dave Collins reported last night that the governor's press office stated, "O'Malley would give a same-sex marriage bill careful consideration, but stopped short of saying he'd sign it."
Earlier this week, I contacted O'Malley's campaign seeking comment on the Prop 8 ruling.
"As you know the governor supports civil unions, but has also always opposed any constitutional amendment in Maryland that would ban same-sex marriage," was the reply.
The civil unions ship has sailed — it's 2010, not 2001. In California, a federal judge first appointed by Ronald Reagan and later confirmed under George H.W. Bush has ruled in favor of same-sex marriage. And a Republican administration (Schwarzenegger) declined to defend Prop 8 in court. And, later, the Republican mayor of San Diego, Jerry Sanders, apologized for not supporting marriage equality sooner.
Contrast that with the behavior of Maryland's Democratic governor, who won't expend an ounce of political capital to advance marriage rights and who instead backs the second-class status of civil unions. And now his press office, in the heat of a re-election campaign against an anti-gay opponent, appears to have forgotten O'Malley's pledge to sign a marriage equality bill if it reaches his desk.
In San Diego, Mayor Sanders was inspired to open his mind because his daughter is a lesbian. O'Malley has not had a similar epiphany, despite the fact that his own brother, Paul, is gay.
LGBT donors must develop a conscience and resist pouring money into O'Malley's campaign. The Blade will be tracking donations and publicizing the names of LGBT donors to his campaign. And Equality Maryland should resist the pressure to endorse a candidate who would relegate his own brother to second-class status under the law.
National Gay & Lesbian Chamber of Commerce Certifies Brown, Naff, Pitts Omnimedia, Inc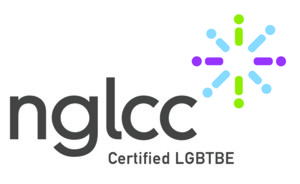 Washington, D.C. — Brown, Naff, Pitts Omnimedia, Inc, the parent company of the Washington Blade and Azer Creative, announced today it has been certified by the National Gay and Lesbian Chamber of Commerce (NGLCC) as an LGBT Business Enterprise. The NGLCC supports and advocates for diversity and inclusion for LGBT-owned businesses. With this certification the Blade's parent company joins more than 510 business and 134 corporate partners of the NGLCC.
Brown, Naff, Pitts Omnimedia, Inc. owns and operates the Washington Blade, the oldest and most acclaimed LGBT newspaper in the country. In 2012, the company launched Azer Creative, a full-service design firm. The company employs more than a dozen full-time LGBT staff.
"We are excited to become one of the 500 LGBT businesses across the country certified by NGLCC," said Lynne Brown, the Blade's publisher and a co-owner of the company. "The LGBT community has been part of our company from the beginning and we look forward to continue that for many years to come."
The Washington Blade was founded in 1969 and is known as the "newspaper of record" for the LGBT community both locally and nationally. Visit washingtonblade.com for more information. Azer Creative is a full-service graphic design firm based in Washington, D.C. Visit azercreative.com for more information. 
Vote now for the 2013 Best of Gay DC!
Choose in dozens of categories among hundreds of nominees, and make your voice heard!
Nominate the 'Best of Gay D.C.' now!
Dozens of categories cover all the best for LGBT Washington. Who deserves the prize this year?