Local author teaches leaders to be effective
New book offers 140 concise insights for busy readers

"The world is changing fast; resources are finite. Traditional sources of leadership have yet to grasp the way ahead is teamwork."
So reads the first of 140 insights compiled in Caroline Nicholl's newly released book "#TEAMWORK tweet," which she wrote for "thinking adults who lack the time or desire to read long books, but want to improve themselves with knowledge of the most up-to-date subjects."
A former member of London's Metropolitan Police, Nicholl recognizes high performing teams are the key to an organization's success. Her premise about teams is simple: We rely on each other to achieve a common goal. But her work was not so simple. She helped change one of the world's largest law enforcement departments from a "force" into a "service." As chief of police for the city of Milton Keyes, her work in restorative justice led to national legislation. Restorative justice attempts to repair the harm done to the victim, where offenders are encouraged to take responsibility for their actions and to repair the harm they've done — by apologizing, returning stolen money, or doing community service. Her innovative work in policing attracted widespread attention for the results she accomplished — a drop of repeat offending from 48 percent to 3.4 percent.
Nicholl's groundbreaking work attracted the attention of the Commonwealth Fund in New York City, which awarded Nicholl a Harkness Fellowship, and the Washington, D.C. Metropolitan Police Department, whose chief asked Nicholl to join their team. Nicholl's systems approach (analyze the components, identify the issues, develop a solution) was applied to create a new model for reducing family and youth violence and to cut down the disruption caused by street prostitution. A 2008 study showed her program has successfully prevented 3,500 offenders from returning to the justice system.
After 20 years in public service, Nicholl brought the knowledge and experience of working on teams to start Blue Apricot Solutions, focusing on organizational development and coaching. That was in 2002, shortly after Sept. 11. Nicholl describes the lessons from the disastrous events as, "A stark reminder of what can happen when organizations fail. Everyone wants to achieve and do well but the fact is seldom can we achieve in a vacuum: We rely on others, just as others rely on us." Blue Apricot is the platform through which she pursues her passion to explore what leadership truly involves and means.
Caroline Nicholl teaches leaders how to be effective. Her tweet handle to follow is @execteamcoach. Her book "#TEAMWORK tweet" is available at thinkaha.com.
New faces at CAGLCC's networking event
"There were more new people at the NT (Network Thursday) than I have seen in a long time," said Eileen Kessler, president of OmniStudio. She observed a growing trend occurring at CAGLCC's signature networking event "Network Thursdays." More and more new business professionals are finding connections and value in networking at the monthly event.
For the last 20 years CAGLCC's Network Thursdays have provided a place for LGBT business people to network, exchange ideas and build relationships. The NT's are held on the second Thursday of each month at various members' places of business. Although many long-term members are always in attendance, the last several months have welcomed more new faces than ever before.
"We offered a special; members could bring a guest for free" says Travis Slocum of United Bank. Generally, members attend for free, and non-members pay a cover. Slocum, co-chair of CAGLCC's Membership Committee is enthusiastic about the response. "New faces, new members."
CAGLCC member news
Stone Lyons of Stone Lyons Media launched a web video for Pet Peeps LLC, owned by CAGLCC member Gus Elfving. Watch the reality TV-style video at Stone Lyons Media on Facebook.
Marry Me in DC, founded by Sheila Alexander-Reid, is hosting Baltimore's first gay wedding show. The Marry Me in DC LGBT Wedding Expo is on Aug. 22, 1-6 p.m. at Club Hippo, 1 W. Eager St. Visit marrymeindc.com/expo for details.
CAGLCC means business, caglcc.org.
Study: One in ten LGBT workers experienced discrimination at work
LGBTQ employees of color were more likely to report being denied jobs and verbal harassment at work as opposed their white counterparts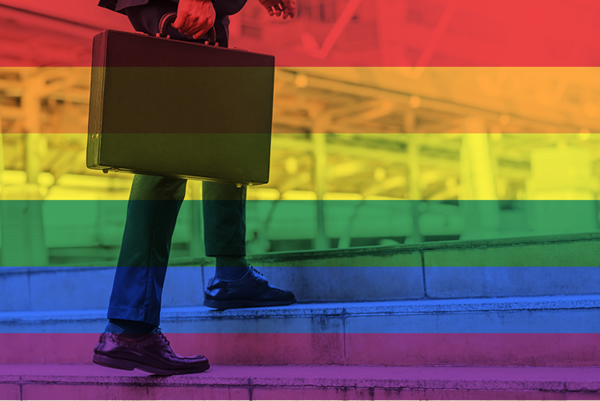 LOS ANGELES – A new study by the Williams Institute at UCLA School of Law finds an estimated 46% of LGBT workers have experienced unfair treatment at work at some point in their lives, including being fired, not hired, or harassed because of their sexual orientation or gender identity.
An estimated 9% of LGBT employees reported experiences of discrimination in the past year, despite the U.S. Supreme Court's 2020 decision in Bostock v. Clayton County, which extended employment non-discrimination protections to LGBT people nationwide. Approximately 11% of LGBT employees of color reported being fired or not hired because of their sexual orientation or gender identity in the last year.
Using survey data collected in May 2021 from 935 LGBT adults in the workforce, researchers examined lifetime, five-year, and past-year discrimination among LGBT employees.
Results show that over half (57%) of LGBT employees who experienced discrimination or harassment at work reported that the unfair treatment was motivated by religious beliefs, including 64% of LGBT employees of color and 49% of white LGBT employees.
"Employment discrimination and harassment against LGBT people remain persistent and pervasive in 2021," said lead author Brad Sears, Founding Executive Director at the Williams Institute. "Passing the Equality Act would ensure that LGBT people—particularly transgender people and LGBT people of color—are allowed to participate fully in the workplace as well as other public settings."
ADDITIONAL FINDINGS:
Discrimination
30% of LGBT employees reported experiencing at least one form of employment discrimination (being fired or not hired) because of their sexual orientation or gender identity at some point in their lives.
29% of LGBT employees of color reported not being hired compared to 18% of white LGBT employees.
Harassment
38% of LGBT employees reported experiencing at least one form of harassment (including verbal, physical, or sexual harassment) at work because of their sexual orientation or gender identity at some point in their lives.
LGBT employees of color were significantly more likely to experience verbal harassment than white employees.

36% of LGBT employees of color reported experiencing verbal harassment compared to 26% of white LGBT employees.
Religious Motivation
Of employees who experienced discrimination or harassment at some point in their lives, 64% of LGBT employees of color said that religion was a motivating factor compared to 49% of white LGBT employees.
Avoiding Discrimination
Half (50%) of LGBT employees said that they are not open about being LGBT to their current supervisor and one-quarter (26%) are not out to any of their co-workers.
Many LGBT employees reported engaging in "covering" behaviors to avoid harassment or discrimination at work, such as changing their physical appearance and avoiding talking about their families or social lives at work.

For example, 36% of transgender employees said that they changed their physical appearance and 28% said they changed their bathroom use at work to avoid discrimination and harassment.
Time to dust off your pre-pandemic budget
We can no longer rely on closures to restrict us from spending money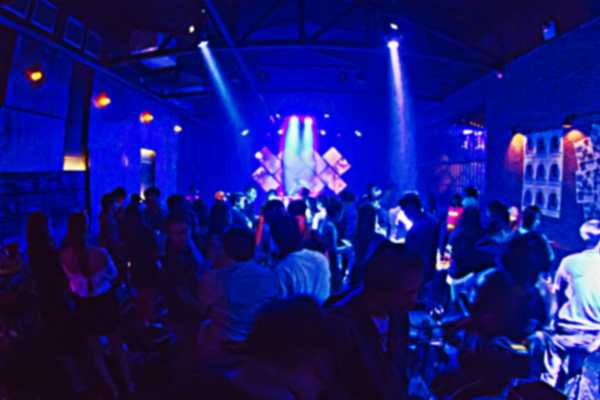 D.C.'s first 'mostly open' weekend shows there is a year's worth of socializing built up. It was amazing to feel the energy of the District roar back to life. From long lines outside bars to literal dancing in the streets – this is the city we all came to love. Now that the physical hangover may have subsided, you should prepare for the financial hangover. If you were lucky to keep your full pay and position through the pandemic, data tells us most of you were paying down debt.
The first thing everyone needs to do is dust off that old pre-pandemic budget. Sadly (or really luckily), we can no longer rely on health restrictions to naturally restrict us from spending. If you need a refresher, start with your post-tax income. From there, subtract 'fixed' or required expenses, like rent, and the balance is what you get to play with. Some may ask why I don't use gross income (aka the before tax income) like many financial institutions do for credit applications. Frankly, it's because net income (aka the money you actually receive) is the most practical number to budget daily life with. It's what you can tangibly use to live.
Now as you develop your budget, return to using an app like Mint to take some of the work out of it. If you prefer to retain some level of privacy, many banks offer their own version of 'spending trends' that you can use to put together a more simple budget. This time the challenge is a bit different – we are all 'restarting' our social lives. So instead of having to 'cut' things, we can better prioritize what we actually want to do. Still – it is not easy or fun to have to choose, but every dollar you don't spend today, will be there for the next rainy day.
Finally, so many of our friends and family lost their jobs or had their wages cut during the pandemic. Expanded unemployment benefits helped, but anyone trying to budget for life in D.C. knows that choices had to be made and often rent/utilities took a back seat to eating. Luckily, a state-run, but federal program will help people pay back rent and utilities, so they can focus on getting back to work. In D.C., this is called StayDC, but each jurisdiction offers a similar program.
Be prepared to do a little homework, you will need proof of income (or lack thereof) and documentation of the late payments. Finally, your landlord will need to complete separate forms, but it is in their best interest to receive those funds, so don't let them drag their feet. The program will cover back rent to April 2021, three months of future rent, and past utilities. Do not delay, nor feel any shame by participating – this is the key to your long term success and, frankly, is a drop in the bucket compared to other spending priorities.
I hope this helps and I wish everyone a much more fun and prosperous 2021.

Information contained herein is for informational purposes only and should not be considered investment advice or recommendations. Advice may only be provided after entering into an advisory agreement with an advisor.
Alex Graham is a Principal at Graham Capital Wealth Management, a registered Investment Advisor located on K Street.
Gay D.C. business owner to run 100-mile ultramarathon
Brandt Ricca to raise money for Capital Pride, LGBTQ businesses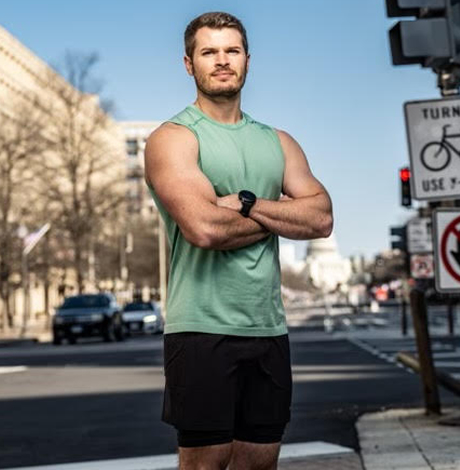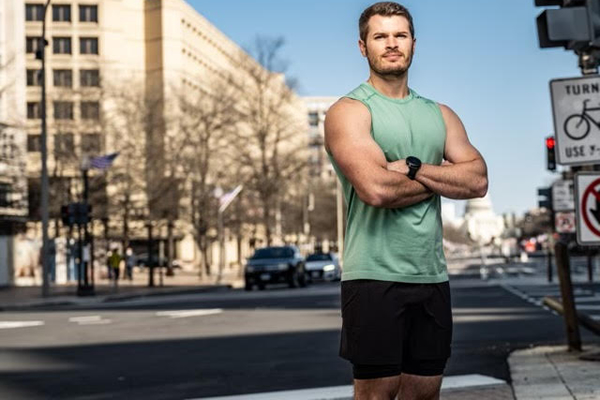 Brandt Ricca will begin a non-stop 100-mile ultramarathon at 6 a.m. on Oct. 7 while most D.C. residents will still be sipping their morning coffee.
In a year of isolation and economic downturn, Ricca decided to run 100 miles in two days to benefit local, LGBTQ-owned businesses affected by the coronavirus pandemic. Ricca, who's lived in D.C. for 10 years, is donating the money he raises to the Capital Pride Alliance and Equality Chamber of Commerce, where he has been a member since 2018.
The gay entrepreneur and owner of the D.C.-based business Nora Lee by Brandt Ricca understands first-hand how the ongoing pandemic affects small businesses, particularly LGBTQ-owned companies.
"I definitely want to give back to the community and local colleagues, especially because Capitol Pride has been now canceled two years in a row," Ricca said.
Out of the funds raised, 90 percent will go towards funding 20 small business grants through the Equality Chamber of Commerce and the remaining 10 percent will go towards supporting Capital Pride Alliance.
Brandt, already an avid runner and self-described "fitness explorer," decided after crowdsourcing ideas to pursue the 100-mile project. Ricca has been a frequent visitor at the Equinox Anthem Row in D.C. to prepare for the run.
"I was looking to do my next fitness endeavor, at the same time wanting to do something to get back to the fellow business owners in D.C.," he said.
Applications for the 20 grants of various sizes for LGBTQ businesses are projected to open this summer through the Equality Chamber of Commerce, Ricca said. His goal is to raise $100,000 from individuals and companies. The grants will be distributed in October following the completion of the run.
Equality Chamber of Commerce Vice President Riah Gonzales-King is in the process of developing grants and additional summer educational programming to help young LGBTQ entrepreneurs and students start their businesses.
"So much of the culture centers around these businesses, many of which have been around for decades," Gonzales-King said. "They're pillars of the community — their owners are pillars in the community. And I think it's time that we gave back."
Helping LGBTQ entrepreneurs specifically at this time is essential, Ricca said, especially entrepreneurs in the creative and hospitality industry.
Ricca began training in February with the help of several exercise experts like Brian Mazza, a New York City fitness entrepreneur who ran 50 miles last December to raise awareness for male infertility stigma. The former Men's Health headliner is guiding Ricca's physical training, which has been a near-daily routine. Ricca was inspired by Mazza's run in the first place.
Ricca reached out to Mazza over Instagram to get his assistance and training.
Mazza said Ricca reaching out over Instagram "meant the world."
"I believe what he's doing for his cause is remarkable," Mazza said. "It's important. I'm happy that he's standing up for what he believes in and helping these businesses and helping individuals in general."
Jacob Zemer, a coach and nutritionist, has designed a daily nutrition program for Ricca to prepare him for the run. Zemer and Mazza have been working together throughout the process to track Ricca's health and progress.
The two fitness experts work with Ricca multiple times a day to monitor his diet, mileage, heart rate and pace monitoring. Both Mazza and Zemer said Ricca'a training has been successful.
"Brandt's an excellent individual," Zemer said. "He's very easy to work with. He's highly coachable, he's a pleasure to talk to every day."
Pacers Running will be sponsoring and designing Ricca's 100-mile route throughout the D.C. region. The company is also working with Ricca to design specific shoes for the ultramarathon.
Pacers Running CEO Kathy Dalby won "Best Straight Ally" in the Washington Blade's 2019 Best of Gay D.C.
"I really wanted someone local who could really guide me on a route," Ricca said.
Elyse Braner, a community lead at Pacers Running and longtime friend to Ricca, said the local business was excited to collaborate with Brandt because of an alignment of values.
"As a community, inclusivity and diversity is extremely important to Pacers Running," Braner said. "As a small business, we really appreciated that Brandt wanted to do an event that supported small businesses — specifically LGBTQ businesses."
Originally an event-planning business, Nora Lee debuted in 2018 on the second annual Allison Gala, a fundraising event benefiting the Triple Negative Breast Cancer Foundation, which Brandt created in memory of a family friend. He's worked with a range of clients, including the Dupont Circle Hotel and Sotheby's Real Estate.
Looking back at events on his website, he said he found himself bored with the photography. This led him to focus on creative marketing and decided to pivot his business model at the beginning of the pandemic. Now, Ricca provides photography and video shoots for clients.
"When COVID hit I decided to, like every business owner, I revisited my plan," he said. "I really enjoyed the creative branding more in the photo shoot. So I decided to pivot strictly to just a full-on creative branding agency."
The training for the 100-mile run has provided a stable routine for Ricca, which has helped him get through the pandemic, he said. Ricca is planning to create a campaign this summer inviting LGBTQ entrepreneurs to do their version of 100 miles, with the hope it will provide positive stability in their lives as it does in his.
"Obviously, people think I'm crazy for doing this," Ricca said. "All the uncertainty out there right now – with business, with clients, with whatever; I needed an anchor. Something that was going to be a routine for me that I can control."