April 17, 2019 at 9:00 am EST | by Joey DiGuglielmo
QUEERY: Van Goodwin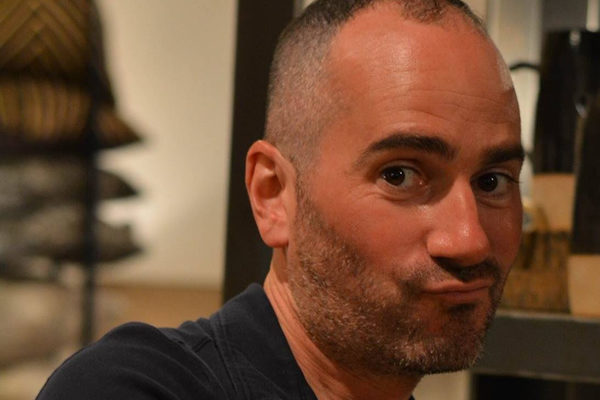 Editor's note — On the occasion of the Blade's 50th anniversary and for the first time in many years, Blade editors have refreshed the questions in Queery, a feature that debuted in the paper in 2007.
Capital Area Gay and Lesbian Chamber of Commerce President Van Goodwin says LGBT chambers provide a service that can't be provided elsewhere — making the case for LGBT rights with data and economics.
"That resonates with policymakers in a different and often more effective manner than they're used to hearing," he says.
Queer chambers also right some of the business world's historic wrongs, he says.
"LGBTQ people have long been at a disadvantage in professional and business opportunities not only because of overt discrimination, but also the fact that we haven't had access to the same social and professional networks," the 40-year-old Natchez, Miss., native, says. "LGBTQ chambers help address that."
CAGLCC has its 11th annual Mega Networking event on Wednesday, April 24 from 6-9 p.m. at City Winery (1350 Okie St., N.E.). It's free. About 30 area non-profits will be represented and the event typically draws about 1,000 attendees. It's free. Details at caglcc.org.
Goodwin has been involved with CAGLCC for 12 years, on the board for four and president for three. He joined through a friend and was simply "looking to meet other people and connect myself better professionally."
He enjoys Mega Networking especially because it brings together many businesses and non-profits in a space where "they would otherwise never engage each other."
Goodwin is owner and managing director of Van Allen, LLC, an information technology and services business he started in 2014. He came to Washington 16 years ago for work.
Goodwin is single ("af," as he puts it) and lives in Van Ness ("Van in Van Ness, I know," he says). Having visited 45 countries, travel is his passion though he also enjoys art and hiking.
How long have you been out and who was the hardest person to tell?
After breaking up with a college girlfriend of a couple years about 18 years ago, I just talked to friends about my experiences with other men as they unfolded over a couple of years, but the conversation was about what I did rather than what I was. The identity evolved and by the time it did, the people who chose to still be there didn't care.
Who's your LGBTQ hero?
John Waters. His films find appreciation in people's differences and most importantly, he gives people permission to be different and to see the hypocrisy in those who would exclude them.
What LGBTQ stereotype most annoys you?
The expectation of being catty, especially in the way gay men expect each other to adhere to the stereotype. It leads to some incredibly toxic behavior in our community when we should be showing authentic support. Just be kind and learn how to be both funny and kind at the same time.
What's your proudest professional achievement?
Probably starting my own business that just passed its fifth year in operation.
What terrifies you?
Leaving the world worse than I found it. That and locked-in syndrome.
What's something trashy or vapid you love?
I would eat a Taco Bell Mexican Pizza value meal every day if I could.
What's your greatest domestic skill?
Draping freshly dried clothes over my living room furniture so masterfully that they won't wrinkle for days or sometimes even weeks on end.
What's your favorite LGBTQ movie or show?
"DTLA," and I really love Darryl Stephens as a lead in everything I've seen him in. He's talented, authentic and effortlessly sexy.
What's your social media pet peeve?
Not doing a cursory fact (or even sanity) check before sharing.
What would the end of the LGBT movement look like to you?
I think that happens when people don't need L, G, B, T and Q because people don't define an identity based on who they love. It's when people are no longer constrained by how the people around them define those identities.
What's the most overrated social custom?
Feigning being too busy.
What was your religion, if any, as a child and what is it today?
I grew up as Roman Catholic, went to Catholic school, the whole thing. Today I don't claim any particular religion but I respect the role faith can play in people's lives and society and respect the role people of faith played in my life.
What's D.C.'s best hidden gem?
Lincoln's Cottage. It's massive and beautiful and creates an intimate relationship with history the more popular sites can't. Most of the city doesn't even know it's there.
What's been the most memorable pop culture moment of your lifetime?
I was really thrilled when I saw Liza Minnelli featured in "Arrested Development." It's the most perfect character I'd never have thought to create.
What celebrity death hit you hardest?
Stephen Hawking. His writing made some of the most complex topics attainable to me at a young age. That helped give me the confidence to try for achievements that seemed beyond me, because I knew that if I could understand that, there's so much more I could do.
If you could redo one moment from your past, what would it be?
I'd have done whatever I could to get to a more urban area for college or after high school in general. I didn't have the context then, but I see now how good that would have been for me.
What are your obsessions?
I like seeing people around me create success (and hopefully some for me too).
Finish this sentence — It's about damn time:
We head-on address that rapidly advancing technology is consolidating massive power largely by random chance, and let go of the ridiculous fantasy that something in a capitalist-socialist dichotomy will fix it. Also, if I may, it's about damn time Netflix brought back "Battlestar Galactica."
What do you wish you'd known at 18?
I wish I'd understood the power of changing a conversation and how much perception is reality. It would have saved me years and stress.
Why Washington?
I [expletive] love this town. This city is incredibly smart and driven. In a tiny diamond, it's easy to meet the most accomplished humans on earth on a given subject. It forces you to stay on your toes. It loves a good happy hour or street party. It has a deep culture of civic engagement with a comically large collection of one-person institutions. And it's super gay.