April 17, 2019 at 7:46 pm EDT | by James Wellemeyer
LGBTQ and cannabis activists say histories long intertwined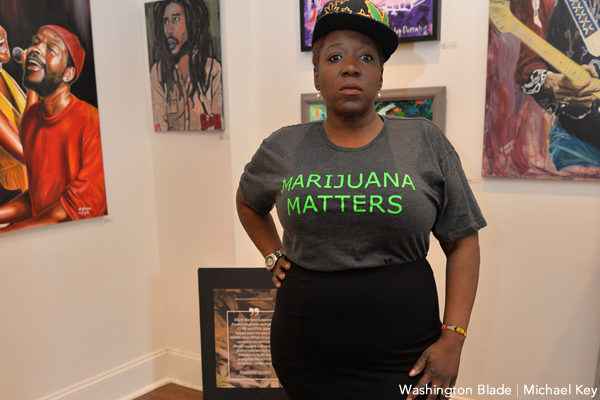 Marijuana legalization is often seen as a criminal justice issue. In 2017 alone, more than 600,000 people were arrested on marijuana violations and advocates across the country are pushing for its decriminalization to reduce arrest rates.
But many say the legalization of pot is also an LGBT issue. Not only are LGBT people more likely to use marijuana, but the initial push for medical marijuana legalization in the U.S. started in response to the AIDS epidemic.
Khadijah Tribble, an HIV and cannabis activist who studied marijuana policy at the Harvard Kennedy School and now leads a social enterprise organization called Marijuana Matters, says she saw an intersection between the LGBTQ community, the HIV epidemic and marijuana legalization in her research.
"The LGBTQ community out in California were the first main activists pushing for medicinal marijuana laws," Tribble says.
This push came in the early 1990s, says Paul Scott, a longtime marijuana and HIV activist and current president of the Los Angeles Black Gay Pride Association.
Scott lived in San Francisco in 1994.
"The AIDS crisis was so damaging at the time," he remembers. But the northern Californian city was "progressive" in addressing it.
"Marijuana was just part of the treatment," Scott says. "It helped alleviate some of the symptoms of AIDS and the horrible cocktails they put them on initially, which were almost proving as deadly as the virus was."
According to Scott, "a guy named Dennis Peron worked with City Hall, got the District Attorney of San Francisco involved, and got the ball rolling."
Peron, whose partner Jonathan West died of AIDS in 1990, sold weed in The Castro to men with HIV. In 1991, he gathered support for Proposition P in San Francisco. The resolution, which passed with 79 percent of the vote, demanded the state government allow marijuana for medicinal use. Peron went on to start the San Francisco Cannabis Buyers Club and in 1996, co-authored California Proposition 215. The proposition, which passed and remains in place today, permits the use of medical marijuana in the state.
"We had all these other diseases that marijuana helps for. But it wasn't until the visual effect of young white men dying in the hospitals with AIDS that it shook the conscience of America and began to change the law," Scott says. "It wasn't because of black folks getting arrested. It wasn't because it was the right thing to do. For the first time, this country saw young white men dying and sprung into action to do something."
More than 20 years after 1996, Scott and Tribble both believe marijuana legalization remains an LGBT issue today.
"For me, marijuana matters in the LGBTQ community because it always has," Tribble says.
"It's still an LGBT issue because it's still not accessible to everybody everywhere," Scott says. "HIV/AIDS is still high in black populations in the South. And they can't get pot. They still have to break laws. So absolutely it is."
Tribble also says the criminalization of marijuana disproportionately affects some LGBTQ people.
"Any prohibition on civil liberties tends to impact marginalized communities the most," she says. "When you have identities that have been systematically discriminated — your gender, your sexuality — you are primed to be more marginalized by marijuana laws. If you are a cisgender white male, you are the least likely to be stopped for marijuana. If you are a person of color who is trans, you are more likely to be stopped, more likely to do time and the time will be longer."
The sale of marijuana remains illegal in D.C., but private use is no longer outlawed.
However, in some states, such as California, Colorado, Maine and others, selling weed is now legal. As the number of these states rises, some hope marijuana will bring new business opportunities for LGBT people.
"I am an LGBT-owned business in the cannabis community," Tribble says. "Because LGBT people have been marginalized in the prohibition, LGBT communities should be privileged when we talk about access to employment, access to entrepreneurship opportunities."
Amber Senter is the co-founder and executive director of Supernova Women, a group of women of color in the cannabis industry. She also hopes marijuana legalization will increase LGBT business ownership but worries the reality may look different.
"When cannabis started out, it was for people who weren't seen as normal in society," Senter, who's queer, says. "So in the beginning, you had a lot of obviously LGBT people."
"Now with everything moving toward being corporate, they're pushing everyone who was in it before out," she says. "There will be more opportunities overall, so there will be more opportunities for LGBT people. But at the same time, the culture is not the same."
Scott holds a similar opinion on the issue. He got into the marijuana business early, starting the second cannabis club in the U.S. He then decided to open another in a primarily black area of Los Angeles when he moved to the city.
"I want to say yes," Scott says on whether legalization will bring more opportunities for LGBT people. "I think there's a small window. I think I was lucky enough to create that window. But I'm being pragmatic here and once it becomes legal, it's competitive. And if you don't have the money, you won't have the business."