Reid files cloture on 'Don't Ask' legislation
Vote set to take place on Tuesday at 2:15
Reid's motion to proceed on the fiscal year 2011 defense authorization bill was met with objection by Sen. John McCain (R-Ariz.), prompting Reid to move to end debate by filing cloture.
This manuever means a vote to start official consideration of the defense bill and amendments will take place Tuesday at 2:15 pm. Moving forward will require 60 votes from members for the U.S. Senate.
On the Senate floor, Reid said after a successful vote for cloture on Tuesday, opponents of "Don't Ask, Don't Tell" repeal would have an opportunity to strip the bill of this language as well as address other matters senators may find controversial.
"I understand there are issues that I've talked about the last couple of days and many other important matters that colleagues on both sides of the aisle wish to address," Reid said.
Reid also said he expects the time before lawmakers break again for recess after the first week of October will be spent on debating and voting on amendments on the defense authorization bill.
The majority leader predicted a final vote on the legislation as a whole won't take place until the lame duck session in November.
"I'm willing to work with Senate Republicans … to complete this bill as soon as possible, which likely will be after the recess," Reid said.
McCain, the ranking member of the Senate Armed Services Commitee, objected to consideration of the defense authorization bill because he said the Democratic leadership is planning amendments unrelated to the U.S. military.
The Arizona senator said Reid's plans to attach to the legislation the DREAM Act, an immigration-related bill, and a measure addressing the "secret holds" U.S. senators can place on presidential nominations aren't appropriate for defense legislation.
McCain also lamented how a hate crimes protections measure was attached last year to Fiscal Year 2010 Defense Authorization Act.
"Under this majority leader, we have witnessed the unfortunate and growing politicization of the national defense authorization act," McCain said. "Time to offer and debate important, defense-related amendments to this bill on the floor is being limited or cut off, so that the majority leader can push through highly political legislation that has little or nothing to do with national defense — legislation that would never be referred to the [Senate] Armed Services Committee if it were introduced independently."
McCain also expressed discontent with the "Don't Ask, Don't Tell" repeal language in the bill, but had a notable change in rhetoric from what he's said previously on the provision.
The senator acknowledged the "Don't Ask, Don't Tell" provision has relevance to the U.S. armed forces. McCain also said he has no position on "Don't Ask, Don't Tell" repeal at this time, but wants to wait for the Pentagon working group to complete its study on the issue on Dec. 1.
"I want to make one thing very clear: I do not oppose or support the repeal of 'Don't Ask Don't Tell' at this time, but I do oppose taking legislative action prior to the completion of a real and thorough review of the law," McCain said. "A complete survey to evaluate the impact of repeal on the men and women serving in our military should be concluded before moving forward."
Many speculated McCain previously had stronger objection to "Don't Ask, Don't Tell" repeal earlier this year because he was facing a challenge from conservative J.D. Hayworth in a Republican primary.
But the primary has since taken place and McCain has emerged as the victor. The Arizona senator now faces a general election against a Democrat.
Senate Armed Services Committee Chairman Carl Levin (D-Mich.) responded to McCain's objection to proceeding by noting the Senate has taken up amendments on a variety of issues to defense authorization legislation in previous years.
"The Senate as a body has right to offer amendments which are not germane or relevant," Levin said.
Levin said the Senate has previously considered amendments to defense authorization bills on indecency standards, minimum wage, welfare reform and the death penalty for drug-related killings.
"I didn't hear anybody make the charge at that the time that somehow or another the Senate rules were being utilized to bring to the floor of the Senate an amendment which wasn't directly related to the bill in front of us," Levin said.
Activists target McCain
Earlier on Thursday, activists affiliated with GetEQUAL interrupted a Senate Armed Services Committee hearing to persuade McCain to drop his objection to moving forward with the legislation., according to a statement from the organization.
Working in conjunction with HERO, an Arizona-based grassroots group, activists interrupted the hearing in the Dirksen Senate Office Building while holding up images of those who obstructed civil rights in the past, such as former Alabama Gov. George Wallace.
Additionally, they held up signs saying, "Senator McCain repeal 'Don't Ask Don't Tell,' do you want to be the next George Wallace?" and "Senator McCain repeal 'Don't Ask Don't Tell,' it's not too late to change your legacy."
Robin McGehee, co-founder of GetEQUAL, said in a statement the protest was necessary because McCain is "more interested in placating the McCain-Palin wing of the Republican Party."
"When 80 percent of the American people, the Joints Chiefs of Staff, military leaders, and active-duty  servicemembers all agree that it is past time we stop the firing of critical military personnel, you can be assured that you're standing on the wrong side of history," she said.
The U.S. Senate took the initial steps of moving forward with the issue of "Don't Ask, Don't Tell" on Thursday as Senate Majority Leader Harry Reid (D-Nev.) filed cloture on major defense budget legislation that includes repeal language.
Manhattan grand jury indicts Donald Trump
Former commander-in-chief is first former president indicted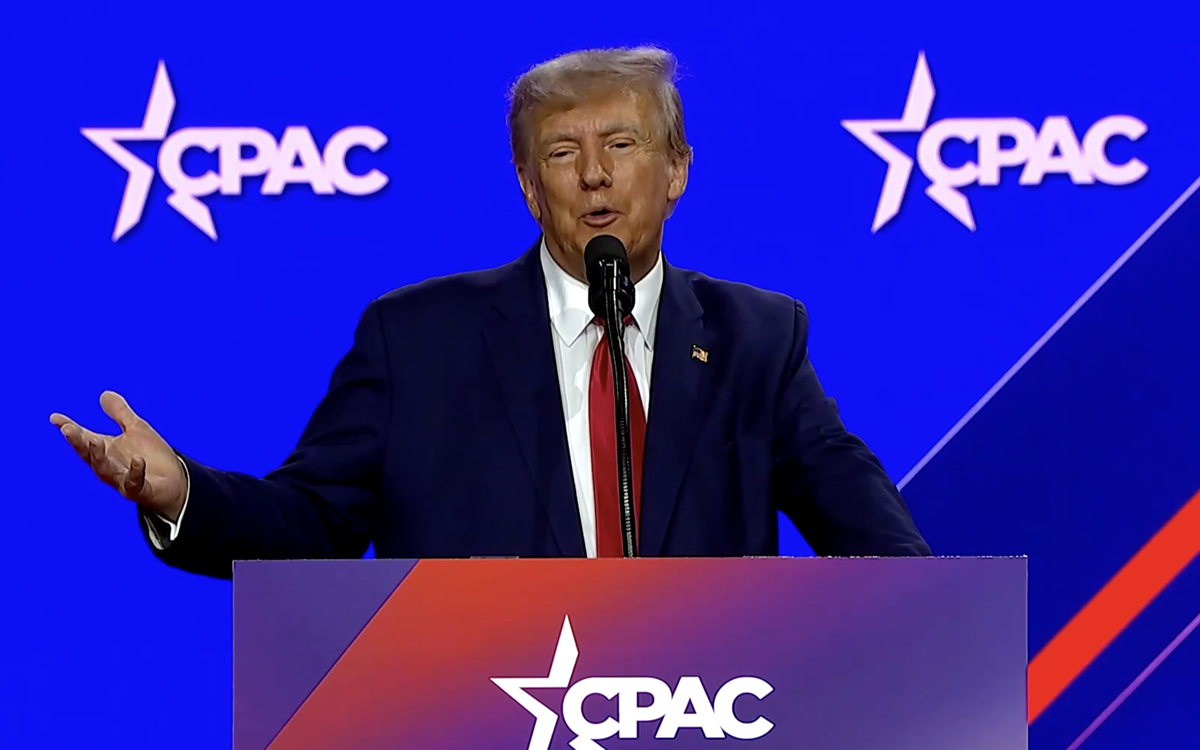 A New York grand jury on Thursday voted to bring criminal charges sought by the Manhattan District Attorney's Office against former President Donald Trump in connection with his alleged orchestration near the end of the 2016 presidential race of a hush money payment to an adult film actress.
The contents of the indictment triggered by the grand jury's decision will almost certainly be kept under seal, however. And it is not clear when the charges will be filed, nor when an arrest and arraignment might come, or even whether Trump will surrender himself.
The uncertainty also extends to the consequences of America's first-ever indictment of a former president, the prospect of which had already roused Trump's allies in Congress to accuse prosecutors of politically motivated misconduct while prompting the former president's supporters to heed his call for protests.
The New York Times reported on March 9 that Trump's attorneys had received the signal from prosecutors that they were considering criminal charges, according to four people with knowledge of the matter.
Republican members in House leadership, meanwhile, signed on to a letter issued by Trump ally and chair of the U.S. House Judiciary Committee, U.S. Rep. Jim Jordan (R-Ohio), which demands testimony and documents from Manhattan District Attorney Alvin Bragg on his office's case against the former president.
The move closely followed Trump's Truth Social post previewing the coming indictment in which he wrote that charges would be filed on March 21 and urged his supporters to "protest, take our nation back!" The message recalls Trump's Dec. 19, 2020, tweet promoting the "wild" protests in D.C. that were scheduled for Jan. 6, 2021.
Evidence from court testimony in the criminal cases against several defendants who were charged with crimes including seditious conspiracy for their involvement in the deadly insurrection on the U.S. Capitol that day has shown that tweet was a major factor in the instigation of the riots.
In a notice to senators' offices on March 20, the Senate sergeant at arms said U.S. Capitol Police are taking security precautions, because "while law enforcement is not tracking any specific, credible threats against the Capitol or state offices, there is potential for demonstration activity."
Trump's former longtime personal attorney Michael Cohen is a key witness for the government, reportedly meeting with prosecutors 20 times to testify to his involvement in facilitating the payment to Daniels under Trump's instruction.
In 2018, Cohen was charged with violating campaign finance laws and other crimes stemming from his involvement in the scheme, testifying under oath that he routed – "in coordination with" and "at the direction of" Trump, who was then "a candidate for federal office" – $130,000 to Daniels just before the 2016 presidential election to secure her agreement not to disclose that she and Trump had extramarital sex in 2006.
Cohen was convicted and then disbarred before serving 13.5 months of his 5-year prison sentence.
However, after his two-hour testimony before the grand jury on March 20, Trump ally Robert Costello publicly challenged Cohen's testimony and credibility. He told reporters that Cohen, to whom Costello had once been a legal advisor, was lying about the former president's involvement in the payment and had previously claimed credit for conceiving of and executing the payment to Daniels.
The Federal Election Commission opened an inquiry into the matter but dropped the probe following a split 2-2 vote along party lines by the bipartisan agency's commissioners. A former FEC official previously told the Washington Blade that its investigations are almost always dropped, even in cases for which there is clear and substantial evidence that campaign finance laws were violated.
Trump faces more legal jeopardy amid the Justice Department's ongoing separate probes into his role in the Jan. 6 siege of the Capitol and potentially criminal mishandling of classified documents.
According to reports last week, there were new developments in the case presented to members of a special grand jury that was convened in connection with charges brought by Fulton County District Attorney Fani Willis over allegations that Trump unlawfully interfered in  the 2020 presidential election in Georgia.
Trump in a lengthy statement described the New York indictment as "political persecution and election interference at the highest level in history."
Former President Donald Trump speaks out for the first time since his historic indictment. "This is Political Persecution and Election Interference at the highest level in history." @NewsNation pic.twitter.com/Uqme7aP78I

— Kellie Meyer (@KellieMeyerNews) March 30, 2023
Bill would require US foreign policy to promote LGBTQ, intersex rights
U.S. Rep. Robert Garcia (D-Calif.) among measure's sponsors
Three lawmakers on Tuesday introduced a bill that would require the U.S. to promote LGBTQ and intersex rights abroad through its public policy.
U.S. Reps. Robert Garcia (D-Calif.) and Sara Jacobs (D-Calif.) introduced the International Human Rights Defense Act. U.S. Sen. Ed Markey (D-Mass.) has sponsored the bill in the U.S. Senate.
Garcia, the former mayor of Long Beach, Calif., of Peruvian descent who represents California's 42nd Congressional District, last November became the first openly gay immigrant elected to Congress. Garcia on Tuesday noted to the Washington Blade during a telephone interview the International Human Rights Defense Act is the first bill he has introduced.
"These issues around global human rights are ones that unfortunately, many aren't codified into law," he said.
Garcia said the U.S. has "different levels of global involvement," depending upon who is president. He added the bill is "a great way of codifying an important office for us at the State Department, but also a series of measures and reports that will ensure that we're promoting (LGBTQ rights) abroad."
President Joe Biden in 2021 signed a memorandum that committed the U.S. to promoting LGBTQ and intersex rights abroad as part of the Biden-Harris administration's overall foreign policy.
Then-Secretary of State John Kerry in 2015 announced the creation of the special envoy for the promotion of LGBTQ and intersex rights abroad. The White House in 2021 named Jessica Stern, who was previously the executive director of Outright International, a global LGBTQ and intersex rights group, to the position.
Former President Donald Trump tapped then-U.S. Ambassador to Germany Richard Grenell to lead an initiative that encouraged countries to decriminalize consensual same-sex sexual relations. Then-State Department spokesperson Ned Price during a 2021 interview with the Blade said the decriminalization of consensual same-sex sexual relations is one of the Biden-Harris administration's five priorities as it relates to the promotion of LGBTQ and intersex rights overseas.
Markey and then-California Congressman Alan Lowenthal introduced the International Human Rights Defense Act in 2021.
The Human Rights Campaign, the Council for Global Equality and Equality California are among the 111 organizations that signed a March 24 letter to U.S. Sen. Chris Coons (D-Del.), who chairs the Senate State, Foreign Operations and Related Programs Subcommittee, and U.S. Rep. Barbara Lee (D-Calif.), who is the ranking member of House State, Foreign Operations and Related Programs Subcommittee. The groups urged lawmakers to increase funding of the State Department's Global Equality Fund to $40 million and U.S. Agency for International Development's Inclusive Development Hub's Protection of LGBTQI+ Persons to $30 million in fiscal year 2024.
"We are grateful to you for your dedication to global LGBTQI+ rights programs over the last five fiscal years, including the additional $25 million increase to these programs within the Fiscal Year 2023 Consolidated Appropriations Act," reads the letter. "These investments have provided flexibility to the State Department and USAID to scale already existing programs and develop new mechanisms to quickly deploy funding to LGBTQI+ organizations across the globe."
"Even with these increases, the State Department and USAID continue to face significant funding gaps to address the needs of LGBTQI+ communities impacted by COVID-19, rising authoritarianism, and humanitarian crises," adds the letter.
The White House has sharply criticized last week's passage of a bill that would further criminalize homosexuality and LGBTQ and intersex people in Uganda. Vice President Kamala Harris on Monday spoke about her support of LGBTQ and intersex rights during a press conference with Ghanaian President Nana Afuko-Addo that took place in Accra, the Ghanaian capital.
Garcia described the Uganda bill to the Blade as "awful" and added "a big part of why we're having this discussion now is that there are countries across the world that are criminalizing same sex relationships."
EXCLUSIVE: First Gen Z congressman demands action on LGBTQ rights, gun control
Rep. Frost calls on Biden to speak out against wave of legislative attacks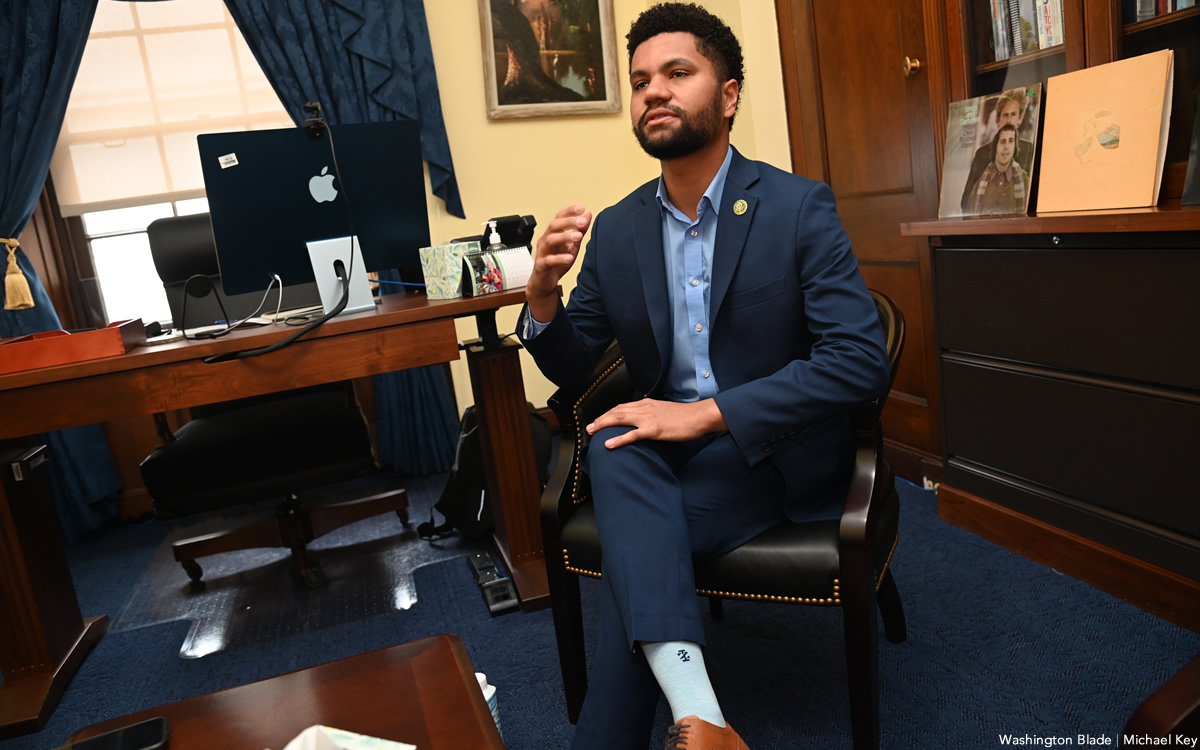 U.S. Rep. Maxwell Alejandro Frost (D-Fla.) during an exclusive interview with the Washington Blade on March 24 called for President Joe Biden to "speak out about" the wave of anti-LGBTQ legislation across the country.
The congressman said the U.S. Departments of Justice and Education "should be heavily involved in investigating what's going on in Florida and in all these states where these bills are being passed." Frost added that Biden is "the perfect person" to warn voters about the consequences of extreme anti-equality policies; noting the pro-worker, pro-union "Joe from Scranton" frequently promotes his working-class roots.
"That [message] coming out of his mouth, the story of these policies impact everyone, I think would have a really big impact," the congressman said.
Frost, 26, in 2022 became the first Gen Zer elected to Congress.
He represents Florida's 10th Congressional District that includes Pulse, a gay nightclub in which a gunman killed 49 people on June 12, 2016.
Frost co-organized the March for Our Lives, which took place in D.C. on March 24, 2018, less than two months after a gunman killed 17 people in Marjory Stoneman Douglas High School in Parkland, Fla. His gun control advocacy efforts began when he became a volunteer for the Newtown Action Alliance, a group that formed in the wake of the massacre at Sandy Hook Elementary School in Newtown, Conn., in 2012.
DeSantis 'a dictator'
Frost during the interview spoke out against Florida's Parental Rights in Education Act — more commonly known as the "Don't Say Gay" law — which he categorized as a "bigoted law made by bigoted people."
The law aims to regulate classroom discussions about gender identity and sexual orientation from kindergarten through third grade. It also prohibits public schools from using confidentiality forms in the case of a student disclosing sensitive information that includes their gender identity and sexual orientation and requires personnel to inform their parents if they were to ask for the information.
"They're starting to change our education system because they want to try to counteract the inherent progressive and, you know, decent values that young people have," explained Frost.
While Republican Florida Gov. Ron DeSantis focuses on preparing legislation that otherwise helps "take away" history, Frost notes the governor does not put forth measures that seek to improve his state.
"He's not focusing on raising wages, ensuring people have a livable planet, ensuring that we end gun violence, the rocketing housing prices," Frost said. "And these things impact everybody."
The congressman was weary of the overall repercussions that the "Don't Say Gay" law would have on the mental and physical health of LGBTQ people across Florida, and he went as far as saying it could result in deaths. Frost further pointed out the number of hate crimes in his state has increased since DeSantis took office.
"This is going to have real impacts to LGBTQ+ students, parents, etc. Just people in the district and across Florida, that can result — that will result and is resulting in — trauma and people being hurt and hate crimes, and we probably will see death from it," said Frost.
"This [governor] is a dictator," he concluded.
State lawmakers and other members of Congress have introduced Florida-style 'Don't Say Gay' laws.
Republican Louisiana Congresswoman Julia Letlow introduced a Parental Bill of Rights Act in March that looks "to ensure the rights of parents are honored and protected in the nation's public schools." Frost maintains, however, that these types of bills only serve to spread bigotry and hate "under the guise of parental rights."
Frost perceives what he contends is the extremist overhaul of the country's educational system as a "long-term plan" from Republican politicians. A plan that, in his view, goes back to the overturning of the landmark Roe v. Wade ruling.
White House spokesperson Robyn Patterson in a statement to the Blade said Biden "has been outspoken in his support of LGBTQI+ Americans and he'll continue to speak out against vicious political attacks against them."
Biden earlier this month during an interview with Kal Penn for "The Daily Show" described efforts to restrict the rights of transgender people in Florida and elsewhere as "close to sinful."
Four LGBTQ advocacy groups earlier this month filed a federal lawsuit on behalf of four families with trans children who are challenging the Florida Boards of Medicine and Osteopathic Medicine's ban on gender affirming healthcare for minors.
Patterson in her statement stressed Biden "is grateful for the leadership of Congressman Frost and other leaders who share his commitment to supporting LGBTQI+ Americans and speaking out against dangerous policies that seek to vilify our fellow Americans."
Frost survived gun violence in 2016
Frost spoke with the Blade a day after Capitol Police arrested Manuel Oliver, whose son, Joaquin "Guac" Oliver, was killed in Marjory Stoneman Douglas High School massacre.
Officers arrested Manuel Oliver after he and his wife, Patricia Oliver, challenged U.S. Reps. Pat Fallon (R-Texas) and Andy Biggs (R-Ariz.) during a joint House Oversight and Judiciary Committee hearing on gun control.
The two Republican congressmen asked officers to remove the Olivers from the hearing.
Frost, a vocal gun control supporter who survived a gun violence incident in 2016, told the Blade the hearing was full of "lies."
"Folks were in town and people came out [because of my recently introduced gun bill]; glad they came to the hearing. And they sat through all of those lies," Frost said. "And I think when you hear those lies, sometimes you just want to say something."
The Oliver family spoke out against Fallon's defense of guns, saying how guns were the very thing that took their son away. Fallon then insisted that they be taken out of the hearing.
Frost later said the "real story" was the fact that there were "two parents who lost their son who was in high school, because he was shot to death and died in a pool of his own blood."
Frost, who's vice chair of the House Gun Violence Prevention Task Force, recently introduced a gun control bill that, according to a press release, "would bring together those most impacted by gun violence with leaders across federal agencies to advance policy, collect and report data, expand state and local outreach, and maximize existing programs and services related to preventing gun violence."
Frost introduced the bill alongside U.S. Sen. Chris Murphy (D-Conn.)
Frost opposes oil drilling project
The congressman also spoke about Biden's controversial Willow Project, an oil drilling venture that will take place in Alaska. Climate activists are among those who strongly oppose the plan.
"A lot of times in life, but also a lot in politics, you have to hold multiple truths," Frost emphasized. "And there's a lot of truths to hold at the same time. The president approving this project is directly against, I believe his values, but also [the] campaign promises that he had made."
The Trump administration originally approved the Willow Project in 2020, and up to 600 million barrels of oil are located in the area in which the drilling will take place.
The Biden-Harris White House felt it could not do much since Houston-based ConocoPhillips has the existing and valid leases for the area.
Even so, Frost emphasized that although the current administration is in favor of drastically cutting emissions, it also recognizes the fact that "at least for the next decade or two we'll need a reliance on oil and fossil fuels as we transition, which is another truth." He did stress, nonetheless, that he does not "subscribe" to the idea that society needs "more capacity to scale back emissions over the next few decades."
"And we're also here to tell the administration that, you know, there's a lot more that can be done, there's more projects pending," Frost said. "We'd love to see them do the right thing on that. So, we're talking with the administration directly. We're working with organizations, especially like youth organizations, that are really thinking through the climate crisis."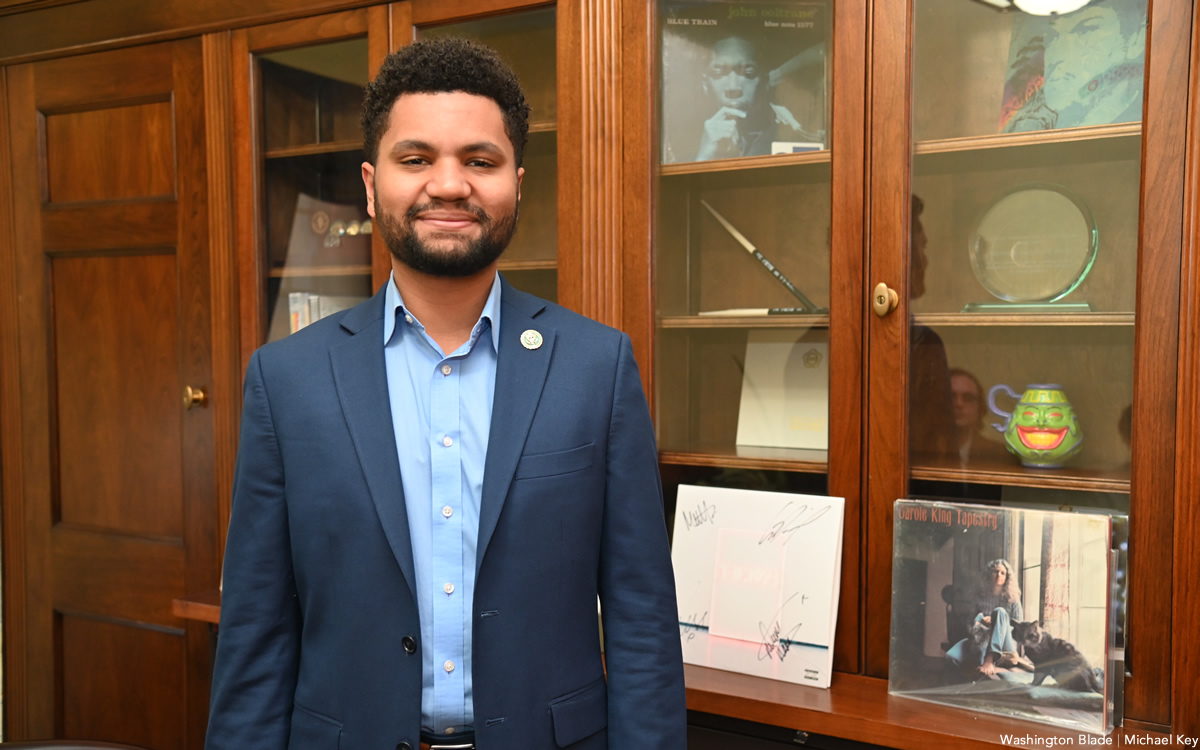 Christopher Kane and Michael K. Lavers contributed to this article.