21 senators urge Obama not to appeal 'Don't Ask' ruling
A group of 21 U.S. senators on Tuesday sent a letter to the U.S Attorney General Eric Holder asking him not to appeal a recent ruling by a California federal court striking down "Don't Ask, Don't Tell."
Sen. Mark Udall (D-Colo.) and Kirsten Gillbrand (D-N.Y.) had already issued the letter to the Justice Department last month following U.S. District Court Judge Virginia Phillips' ruling against the law. The letter sent on Tuesday is identical, but has the names of 19 additional Democratic senators.
"In light of important national security concerns, we respectfully request that you, in your capacity at the Department of Justice, refrain from appealing this decision or the permanent injunction granted against this law," the senators write.
On Tuesday, Phillips issued an injunction prohibiting the federal government from enforcing "Don't Ask, Don't Tell" as a result of her ruling in September. The Justice Department has 60 days to decide whether or not to appeal the decision.
The full text of the letter follows:
October 12, 2010
Dear Mr. Attorney General,

We are writing to bring to your attention the recently issued decision of Judge Virginia A. Phillips of the United States District Court of the Central District of California in Log Cabin Republicans v. United States, which declared that the "Don't Ask, Don't Tell" (DADT) underlying law violates the U.S. Constitution's guarantees of due process and free speech, thereby rendering DADT unconstitutional.  In light of important national security concerns, we respectfully request that you, in your capacity at the Department of Justice, refrain from appealing this decision or the permanent injunction granted against this law.

The following quote from the judge's decision captures the overwhelming reason why the decision should stand:  "Among those discharged were many with critically needed skills … Far from furthering the military's readiness, the discharge of these service men and women had a direct and deleterious effect on this governmental interest."  As one of many criteria that the Justice Department will examine in deciding whether to appeal the permanent injunction to this policy, we ask that you examine whether or not an appeal furthers a legitimate governmental interest.  We would say any appeal does not.

Additionally, DADT harms military readiness, as well as the morale and the cohesiveness of our armed forces, at a time when our military's resources are strained and unity is critically important.  For every person discharged after ten years of service, six new servicemembers would need to be recruited to recover the level of experience lost by that discharge. This not only weakens our military, but neither is it an effective use of our government resources or taxpayer monies.

President Obama, Defense Secretary Robert M. Gates and Admiral Mike Mullen, chairman of the Joint Chiefs, have all publicly advocated for the repeal of this harmful law.  There is no legal or military justification and not one shred of credible evidence that supports continuing the discriminatory DADT law, and considering the guidance of the commander-in-chief and the nation's top two defense officials, we urge you to refrain from seeking an appeal.  The federal court decision was a step in the right direction, and we are confident that the Senate will take the ultimate step by voting this fall on the fiscal year 2011 National Defense Authorization Act to permanently lift the ban on gays in the military. Although we understand that only action by Congress can bring real finality to this issue, we believe an appeal of the recent federal court decision could set back those congressional efforts.  Therefore, we request your assistance in ensuring that we can eradicate this discriminatory law permanently and urge the Justice Department to choose not to appeal any court decision that would keep this law in place.

Thank you for your attention to this urgent matter.  We look forward to hearing from you.

Sincerely,

Senators:

Udall

Gillibrand

Kerry

Schumer

Burris

Whitehouse

Landrieu

Sanders

Merkley

Shaheen

Johnson

Franken

Boxer

Feingold

Lautenberg

Durbin

Menendez

Bennet

Mikulski

Sherrod Brown

Cardin
Romney tells Santos, 'You don't belong here'
Utah Republican confronted embattled congressman before State of the Union
U.S. Sen. Mitt Romney (R-Utah) told embattled U.S. Rep. George Santos (R-N.Y.) "you don't belong here" in Congress when the two bumped into each other Tuesday night during President Joe Biden's State of the Union address.
Romney later told reporters he was struck by Santos' shamelessness as he watched the beleaguered freshman congressman "trying to shake hands with every senator and the president of the United States."
Santos should instead have been "sitting in the back row and staying quiet," particularly given the House Ethics Committee probe into his alleged financial crimes, Romney said.
Also on Tuesday, House Speaker Kevin McCarthy (R-Calif.) told CNN that "ethics is moving through, and if ethics finds something, we'll take action," in response to a question about calls for Santos' resignation.
The congressman has dominated headlines since his arrival to Washington, around which time it was revealed that he had made up virtually every element of his biography and identity.
"Look, embellishing is saying you got an A when you got an A-minus," Romney said. "Lying is saying you graduated from a college you didn't even attend," as Santos did, falsely claiming to have graduated from Baruch College with a stint on the university's volleyball team.
"And he shouldn't be in Congress," Romney continued. "And they're going to go through the process and hopefully get him out. But he shouldn't be there and if he had any shame at all, he wouldn't be there."

Ark. governor makes transphobic swipe during GOP State of the Union response
Sarah Huckabee Sanders: Progressives 'can't even tell you what a woman is'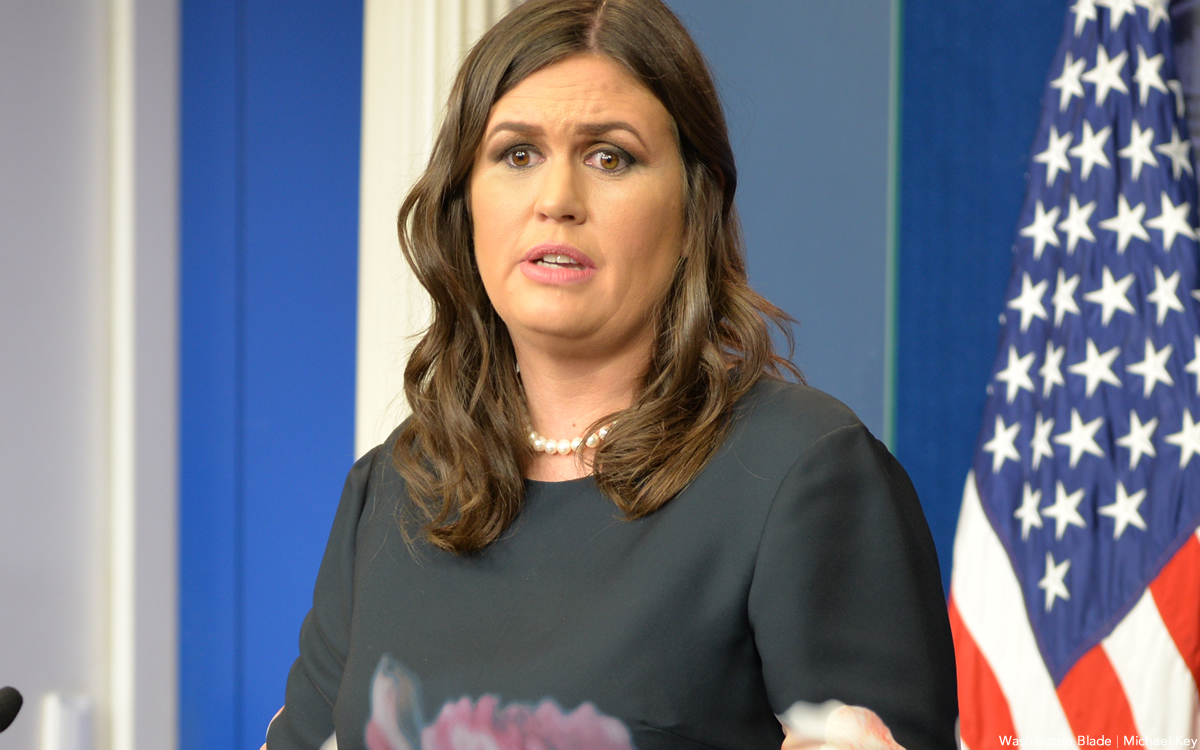 Arkansas Gov. Sarah Huckabee Sanders delivered the Republican response to the State of the Union address late Tuesday night, beginning by asking her audience to "forgive me for not believing much of anything I heard tonight from President Biden."
"I'm the first woman to lead my state," Sanders said, while Biden is "the first man to surrender his presidency to a woke mob that can't even tell you what a woman is."
Referring to this line in her speech, trans activist and Minneapolis City Councilwoman Andrea Jenkins tweeted: "The governor and Republicans all across this country continue to attack transgender people and especially our trans youth to score political points with their base."
"It is time to stop these mean-spirited attacks on the transgender community," Jenkins added.
Human Rights Campaign President Kelley Robinson, who attended the State of the Union as a guest of House Minority Leader Hakeem Jeffries (D-N.Y.), released a statement following Sanders' speech.
"It's just plain despicable that she used her platform tonight to sow division by demonizing the LGBTQ+ community, especially transgender and nonbinary people," Robinson said.
"Transgender kids just want to grow up feeling loved, respected and valued for who they are. But politicians like Gov. Huckabee Sanders are making that nearly impossible with their neverending attacks on these kids."
Robinson also noted the Arkansas Senate is poised to send Sanders a bill that would bar trans youth from using school restrooms and facilities that align with their gender identities.
The state has already passed measures prohibiting trans minors from participating in school athletics programs and accessing guideline directed gender affirming healthcare, laws that were stayed pending the conclusion of litigated challenges.
Sanders served as White House press secretary under former President Donald Trump's administration from 2017-2019. Her father, Mike Huckabee, was governor of Arkansas from 1996-2007.
Biden's second State of the Union prioritizes bipartisanship
President reiterated calls to pass Equality Act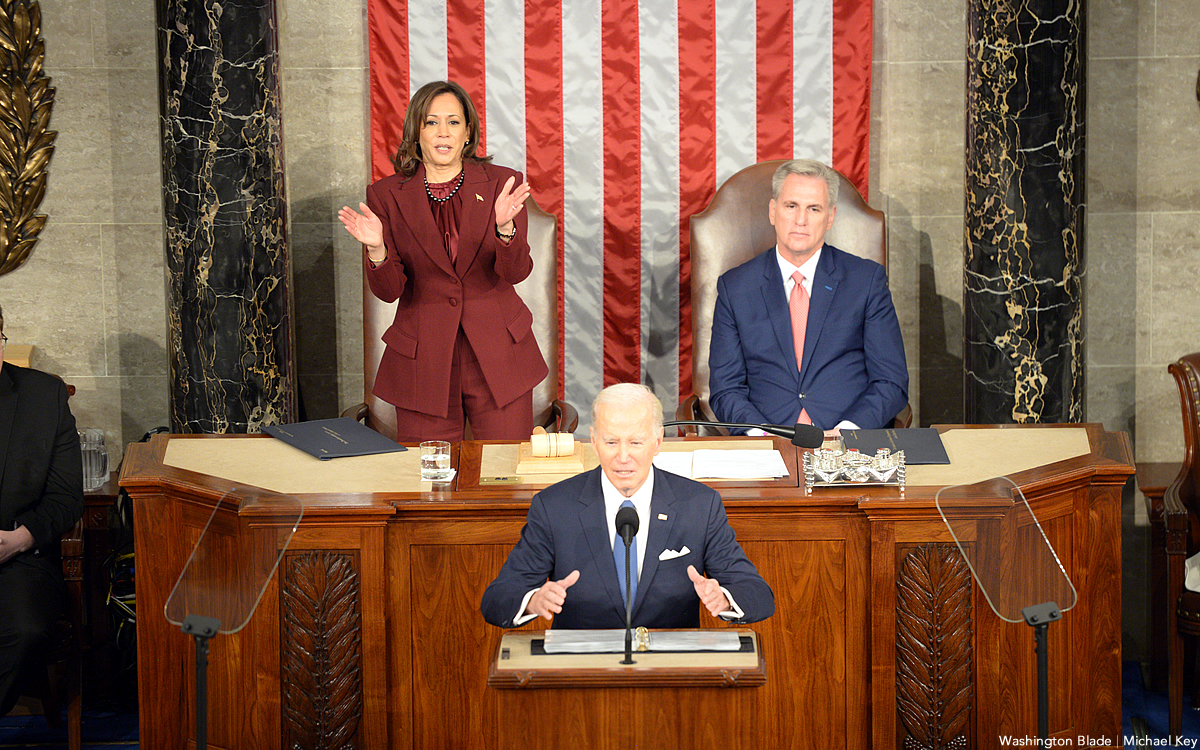 President Joe Biden's second State of the Union address on Tuesday focused on building upon recent accomplishments, especially legislative milestones that were reached with bipartisan cooperation.
Nevertheless, the speech was met with vocal objections from Republican lawmakers over Biden's comments about the debt ceiling, the Southern border and his mention of some GOP members' plans to cut social security and Medicare.
"From reauthorizing the Violence Against Women Act, to the Electoral Count Reform Act, to the Respect for Marriage Act that protects the right to marry the person you love," Biden said, "To my Republican friends, if we could work together in the last Congress, there is no reason we can't work together in this new Congress."
On the subject of legislation, for the second year in a row, Biden repeated his plea for Congress to revisit the Equality Act "to ensure LGBTQ Americans, especially transgender young people, can live with safety and dignity."
He also focused part of Tuesday's address on public health. "Twenty years ago, under the leadership of President Bush and countless advocates and champions, we undertook a bipartisan effort through PEPFAR to transform the global fight against HIV/AIDS," Biden said.
The successful effort should be repeated in the fight against cancer, he added.
These matters aside, Biden included little mention of LGBTQ issues, or the extremism of Republicans who are poised to run for the presidency next year. Instead, the bulk of his remarks were focused on themes like implementing the provisions of the Inflation Reduction Act and the bipartisan infrastructure law.
The country's economic recovery was another well-trod message, on the heels of a January jobs report whose data showed record low unemployment and steady growth in new jobs and workers' wages.
Biden did devote some time to reproductive rights.
"The vice president and I are doing everything we can to protect access to reproductive health care and safeguard patient privacy," he said. "But already, more than a dozen states are enforcing extreme abortion bans."

The president then vowed to veto a national abortion ban if Congress should pass one.
During last year's State of the Union, Biden said "the onslaught of state laws targeting transgender Americans and their families is wrong," adding, "As I said last year, especially to our younger transgender Americans, I will always have your back as your president, so you can be yourself and reach your God-given potential."
One sign of solidarity with the LGBTQ community this year was the invitation of Gina and Heidi Nortonsmith, plaintiffs in the Massachusetts case that led the state to become the first to legalize same-sex marriage, to join first lady Jill Biden's box.
House Minority Leader Hakeem Jeffries (D-N.Y.) brought Human Rights Campaign President Kelley Robinson as his guest. Biden honored Jeffries' predecessor, U.S. Rep. Nancy Pelosi (D-Calif.), as "someone who I think will be considered the greatest speaker in the history of this country."