December 2, 2010 at 3:26 pm EST | by Kevin Majoros
Queer Cup Classic results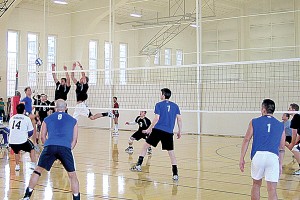 Last weekend the Capital Punishment Volleyball Club (CPVC) hosted the President's Queer Cup Classic at the Reckord Armory in College Park, Md. It was a North American Gay Volleyball Association (NAGVA) sanctioned event and featured 39 teams from across the United States.  The tournament offered three NAGVA dictated divisions — BB, B and A. The teams consisting of advanced ability players were placed in the A division.
Pool play began on Saturday with each team playing four matches of two games to 25 with a 45-minute time limit and a score cap at 27.
The pool play records were then used to determine seeding for tournament play on Sunday.  Washington, D.C. was well represented in the A division with four teams on the roster.
Results were as follows:
B Division
First: NY Whitney and the Crack Cocaine Dancers
Second: Baltimore Hawaii 5.3
Third: NY Fight to Win
BB Division
First: NY Pisco Sour
Second: Atlanta Mojo
Third: USA We Like It
A Division
First: NY Bicha Sucia 2.0
Second: Baltimore B-More Boys
Third: NY Misfits