In 2011, I resolve to …
Learn patience, fight censorship and forgive Oprah

Oy! It's New Year's resolutions time again.
How about going to the gym more often, your ever-so-helpful boyfriend asks. Your girlfriend wonders if you could be less of a Crackberry addict, and though you worked 24/7 to save the world in 2010, every good cause wants you to be even more helpful in the new year.
This hits LGBTQ people where we live. Along with the issues that straight people deal with (from the ridiculous to the sublime) when making New Year's resolutions, we'll wrestle with everything from should I resolve to come out to my boss, drink less in bars or work to stop bullying of queer students in 2011.
The ancient Romans believed in Janus, the god of beginnings who had two faces (one looking back and one looking forward). On New Year's, they gave Janus presents so their next 12 months would be good.
Today, we hope to appease the gods on Twitter and Facebook, making and vowing to keep our resolutions, knowing our resolve will last until our next status update.
Oscar Wilde, the quintessential queer, knew this when only birds tweeted. "Good resolutions are simply checks that men draw on a bank where they have no account," he said.
"The only way to spend New Year's Eve is either quietly with friends or in a brothel," the gay poet W.H. Auden said about spending Dec. 31 agog in resolutions.
I love Auden, but I don't quite see myself hanging in a brothel during the holidays. I'll spend New Year's Eve with friends doing what we always do, making resolutions on matters silly and solemn. Dear Reader, I'd like to share with you my New Year's resolutions for myself and the queer community.
• In 2011, I'll move on from Blanche, Rose, Dorothy and Sophia. The clothes are so '80s, we're past the oughts and our queer moms are our Facebook friends.
• Patience is a virtue, my grandmother always said, when she'd encourage me to be more tolerant of the foibles of others. Unfortunately, patience is a virtue with which I've never been afflicted. But during the new year, I'll aim to be more patient with other people. I won't scream at the TV when my gaydar tells me the actress on the talk show is a closeted queer or tell my gay male friend he's hurting not only himself but all of us by not coming out at his job. Maybe their careers could be hurt if they were openly queer, I'll say to myself.
• The next time my "liberal" cousin tells me, "it's great that you're gay, but I hope Evan (her son) isn't. It would be too hard," I won't say, "Hard?  For Evan or for you?"
• When a "progressive," hetero poet says I should treat my queerness as a "teachable moment," I won't sigh and turn away from her. It gets old fast, but as long as there is homophobia, we queers will be placed in the role of "educators."
• My magnanimity won't end there. I'll even forgive Oprah for recently going to such pains to deny being queer that she told Barbara Walters, "I'm not even kind of lesbian." I won't say something snarky like "I'm not even kind of straight," because, as Oprah has said, "Cheers to a New Year and another chance for us to get it right."
• But patience has its limits. In 2011, the LGBTQ community should strive for less, not more, patience with closeted queer politicians, who endorse homophobic laws such as same-sex marriage prohibition legislation. Though President Obama signed historic legislation repealing "Don't Ask, Don't Tell," the political environment will likely be far less same-sex friendly in the aftermath of the 2010 elections.
• Let's swear on all things Lady Gaga to work for peace and marriage equality; combat censorship in the arts; and embrace "Glee," dancing, Home Depot, new spouses and the other joys of queer life in 2011. Happy New Year!
National Gay & Lesbian Chamber of Commerce Certifies Brown, Naff, Pitts Omnimedia, Inc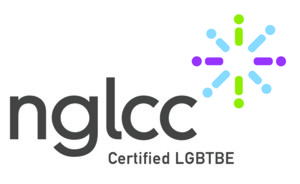 Washington, D.C. — Brown, Naff, Pitts Omnimedia, Inc, the parent company of the Washington Blade and Azer Creative, announced today it has been certified by the National Gay and Lesbian Chamber of Commerce (NGLCC) as an LGBT Business Enterprise. The NGLCC supports and advocates for diversity and inclusion for LGBT-owned businesses. With this certification the Blade's parent company joins more than 510 business and 134 corporate partners of the NGLCC.
Brown, Naff, Pitts Omnimedia, Inc. owns and operates the Washington Blade, the oldest and most acclaimed LGBT newspaper in the country. In 2012, the company launched Azer Creative, a full-service design firm. The company employs more than a dozen full-time LGBT staff.
"We are excited to become one of the 500 LGBT businesses across the country certified by NGLCC," said Lynne Brown, the Blade's publisher and a co-owner of the company. "The LGBT community has been part of our company from the beginning and we look forward to continue that for many years to come."
The Washington Blade was founded in 1969 and is known as the "newspaper of record" for the LGBT community both locally and nationally. Visit washingtonblade.com for more information. Azer Creative is a full-service graphic design firm based in Washington, D.C. Visit azercreative.com for more information. 
Vote now for the 2013 Best of Gay DC!
Choose in dozens of categories among hundreds of nominees, and make your voice heard!
Nominate the 'Best of Gay D.C.' now!
Dozens of categories cover all the best for LGBT Washington. Who deserves the prize this year?