Holding movement leaders accountable
Criticizing HRC without seeking its destruction

A few weeks ago, I wrote a column for the Blade questioning whether HRC President Joe Solmonese was engaged in lobbying rank-and-file members of Congress.  The reaction to that column requires a response on my part.
The headline "How engaged is HRC in 'Don't Ask' fight?" was not written by me and does not reflect the content of the column. In addition to what I wrote in the column, I know that Allison Herwitt, HRC's legislative director, and her team have been working diligently in lobbying Congress on our legislative priorities. I also know that HRC's field team was doing what they could back in the states to advance repeal of "Don't Ask, Don't Tell."
I also believe that the work done by the HRC Foundation is beyond reproach.  Whether it be Darryl Herrschaft at the HRC Workplace Project, Donna Payne's outreach to the African-American community, the work that Harry Knox has done over the years on religious issues, or Candace Gingrich-Jones' youth outreach, HRC is full of people who do incredibly meaningful work everyday.
Some have questioned whether I unfairly published an e-mail to me from HRC's head of communications, Fred Sainz. I e-mailed Sainz to let him know that I had heard that Solmonese viewed his job as fundraising rather than lobbying members of Congress and told him that I was writing a column on the subject. I offered to include any information on Solmonese's lobbying activity. Here is his exact response to me: "Here's what you can say Lane and attribute it to me: that's fucking bullshit!"
This didn't answer the question; and it was only the beginning of Fred's effort to distract from the question I was posing. He suggested that I should be disqualified from commenting on HRC because the organization had fired me after exposing the Mark Foley scandal several years ago.
I have long put that behind me. In fact, when asked about it, I usually say that being fired by HRC opened up more opportunities than I had before. One of those opportunities is to sometimes play a leadership role in our movement and once in a while providing commentary on the state of our movement.
This leads me to another reaction that I received to my previous column. Some believe that I see myself as leading a movement to destroy HRC. That is as ridiculous as it sounds. What I do believe is that we all have a responsibility to further our movement and that includes holding people in leadership accountable. That's why I'm writing this column and why I wrote the last.
The most interesting response to that column was a joint statement from Sens. Susan Collins and Joe Lieberman in which they wrote, "repealing this policy is testament to Joe's leadership and HRC's role in this legislative battle." When I read this, it struck me as an outsized response to my Blade column.
I've heard stories of how former HRC Executive Director Elizabeth Birch would passionately lobby congressional staff on legislative priorities during the workweek and would then barnstorm the country on weekends raising money and recruiting new board members. Birch never hid her lobbying work. Why would Solmonese?
In all of the criticism, questions and responses to that column, no one ever disputed the claim that Solmonese does not engage in lobbying rank-and-file members of Congress. If Solmonese views his job as fundraising instead of lobbying, then he and his staff should be able to justify it. That they adopted such a defensive posture must mean that they can't.
HRC was founded as an advocacy organization and is our movement's leading presence in Congress. It is fair to ask whether its leader regularly lobbies and it is fair to expect a reasonable response to the question.
National Gay & Lesbian Chamber of Commerce Certifies Brown, Naff, Pitts Omnimedia, Inc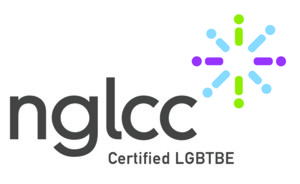 Washington, D.C. — Brown, Naff, Pitts Omnimedia, Inc, the parent company of the Washington Blade and Azer Creative, announced today it has been certified by the National Gay and Lesbian Chamber of Commerce (NGLCC) as an LGBT Business Enterprise. The NGLCC supports and advocates for diversity and inclusion for LGBT-owned businesses. With this certification the Blade's parent company joins more than 510 business and 134 corporate partners of the NGLCC.
Brown, Naff, Pitts Omnimedia, Inc. owns and operates the Washington Blade, the oldest and most acclaimed LGBT newspaper in the country. In 2012, the company launched Azer Creative, a full-service design firm. The company employs more than a dozen full-time LGBT staff.
"We are excited to become one of the 500 LGBT businesses across the country certified by NGLCC," said Lynne Brown, the Blade's publisher and a co-owner of the company. "The LGBT community has been part of our company from the beginning and we look forward to continue that for many years to come."
The Washington Blade was founded in 1969 and is known as the "newspaper of record" for the LGBT community both locally and nationally. Visit washingtonblade.com for more information. Azer Creative is a full-service graphic design firm based in Washington, D.C. Visit azercreative.com for more information. 
Vote now for the 2013 Best of Gay DC!
Choose in dozens of categories among hundreds of nominees, and make your voice heard!
Nominate the 'Best of Gay D.C.' now!
Dozens of categories cover all the best for LGBT Washington. Who deserves the prize this year?