Service members torn over coming out
In wake of repeal, some ready to talk, others staying in closet

For one gay Air Force pilot, it remains business as usual as he keeps his sexual orientation a secret despite passage of legislation allowing for repeal of "Don't Ask, Don't Tell."
The Charleston, S.C., resident, who spoke on condition of anonymity, said he considers himself a private individual and sees no need to make public to his Air Force comrades his gay identity.
"It's just not my style," he said. "So, no, I'm probably not going to say anything. If somebody asks me, I might say, 'Well, if you're asking the question, then you probably already know the answer to it, so I'll leave it at that.'"
The pilot said he sees no need to take a date to squadron picnic as straight airmen might bring their spouses.
"As far I can tell, nobody suspects that I'm gay at work, other than I'm single," the pilot said. "We're a bunch a pilots, so sometimes it's not easy for relationships, so a lot of guys that are even older than I am have never been married, so it's not uncommon. I don't stand out being in my early 30s and single."
The pilot's decision to keep his sexual orientation a secret represents one option for gay service members now that "Don't Ask, Don't Tell" is on its way out the door.
On Dec. 22, President Obama signed into law legislation allowing for repeal of the military's gay ban, bringing to a close a long struggle to repeal the 17-year-old law.
Following the signing of the legislation, some service members say they intend to make no changes in how they interact with their military colleagues, others plan to make their sexual orientation public, while others say they're already out to others in their unit.
Alex Nicholson, executive director of Servicemembers United, said he thinks the service members will respond to the lifting of "Don't Ask, Don't Tell" in the variety of ways that civilian gays and lesbians handle their sexual orientation.
"I largely think it'll reflect civilian society," Nicholson said. "Some people will make that personal judgment to not come out, some people will decide to come out for the first time."
But for the most part, Nicholson said he thinks the end of the military's gay ban will "in all likelihood be a boring event" that won't change things for gay service members.
"Some people are already out, and that will continue," Nicholson said. "Others are not out, and it's not necessarily because of 'Don't Ask, Don't Tell' that they're not out because of personal choice or environmental judgments."
Nicholson predicted that a "small minority" of gay service members will come out to make a statement about their sexual orientation.
"In the rest of the gay community, you see some people who subscribe to the philosophy it's important to be out to get people more accustomed with gays and lesbians," Nicholson said. "And I think you'll see that reflected in a certain group of the military as well."
One Navy corpsman who spoke to the Blade said he expects no changes after "Don't Ask, Don't Tell" repeal because he's already out to the majority of his colleagues in his unit.
"I've also never straight-up told people, but a lot of people have met people that I've dated or people have come out to a bar with me or just with my friends," he said.
The corpsman, a D.C. resident, said he hasn't been discharged under "Don't Ask, Don't Tell" even though he's out to many of his colleagues because "it was never an issue."
"You're carrying yourself in a certain way wearing the uniform and whatever you do outside of work has nothing to do with your job performance," he said. "I feel like I performed to where anything I did in my off time shouldn't bother anybody."
Meanwhile, in Southern Maryland, a Marine Corps sergeant who's not out to his unit said he intends to make his sexual orientation public after repeal has been in effect for a while.
"In the military life, I don't see right now as the time to jump out of the closet until after everything goes through and they do all the sensitivity training," he said. "Probably within a couple years, I'll probably slowly start just coming out."
But delaying his coming out process doesn't mean the sergeant is indifferent to passage of "Don't Ask, Don't Tell" repeal legislation. When Obama signed repeal, he said his reaction was to "have a couple bottles of Champagne."
"I was ecstatic about it," he said. "It came a lot faster than I thought it was going to come because I didn't see it coming before Congress let out."
The sergeant said he wants to wait before making any declarations about his sexual orientation because he wants senior military leadership that may be uncomfortable with gays to retire first.
"I want to see a lot of more them retire and get out of the picture and a lot more of my peers and my generation move up into their spots," the sergeant said. "The others from my age range, from what I see, are a lot more accepting of it."
The sergeant said younger Marines went to school "with five, six, seven, 10 people in their graduating class who were openly gay" — an experience not shared by senior leadership.
Among the strongest opponents of "Don't Ask, Don't Tell" repeal prior to Obama's signing of the legislation was Marine Corps Commandant Gen. James Amos, who said an end to the military's gay ban could be a distraction that could "cost Marines' lives."
Still, after the law was signed, the commandant issued guidance stating that the Marine Corps will lead the way in implementing "Don't Ask, Don't Tell" repeal.
The sergeant said he doesn't share Amos' earlier concerns that open service in the military would be a problem and predicted that Marines would still be able to work as a team.
"That person still wants to survive just as much as I want to survive and go home to mom's home cooking with apple pie," he said.
As others make plans to come out at a future time, some service members who were previously closeted are reportedly already making headway in the coming out process in the short time since Obama signed repeal.
The co-director of OutServe, a global network of LGBT service members, who goes by the alias J.D. Smith to avoid being outed under "Don't Ask, Don't Tell," said he's already seeing an "interesting trend" of gay service members starting to come out to their families and others with whom they're close.
"I think the process is people are coming out to people in their units," Smith said. "People are coming out to their close friends that they trust because they know that it's about to happen, so I think the coming out process in general has begun even with the law still in effect."
Smith said he knows gay service members who for the first time brought home their significant others over the holidays to introduce them to their families as a result of Obama signing "Don't Ask, Don't Tell" repeal.
Even though the president has signed the legislation, repeal has yet to take effect and gay service members could still be ousted under "Don't Ask, Don't Tell" for some time.
Open service will only happen after the president, the defense secretary and the chairman of the Joint Chiefs of Staff certify that that U.S. military is ready for "Don't Ask, Don't Tell" repeal.
The law provides no timeline for when this certification must take place, but Obama said in a recent interview that he foresees it happening in the course of "months, not years."
Defense Secretary Robert Gates has said he wants to implement training for service members before going forward with allowing gays to serve openly in the military. Gates hasn't given a specific timeline for how long the process would take, but has told reporters he wants to move in a "matter of weeks" through the early stages of the process.
Further, after certification takes place, a 60-day waiting period for congressional review must pass before gays can serve openly in the military without fear of discharge.
Although an implementation date remains uncertain, gay service members are expressing confidence that "Don't Ask, Don't Tell" will soon be off the books.
The naval corpsman said he's confident that repeal of the military's gay ban will become final, but said he still anticipates that the end may take between six months and a year.
"You can't expect for something like night to day," he said. "It's going to take a little bit of time for all these things to go through and for people to be accepting of it."
The Air Force pilot said he thinks repeal will be implemented this year because he believes Gates and Chairman of Joint Chiefs of Staff Adm. Mike Mullen want open service to happen on their watches.
"They don't want to drag it out forever," the pilot said. "I'm thinking that probably by the end of September, it'll be all said and done. That's my personal opinion just based on what I heard about how it's going to take to do the different training at different levels."
Nicholson said the perception that open service will come to the military soon is widely shared among gay troops and that the people who are "raising the alarm bells" tend to come from outside the military.
"The tone is celebratory and one of relief," Nicholson said. "I think a lot of people that I've talked to and that have proactively talked to me about it seem to think it's inevitable, it's just a matter of time."
6 killed in shooting at Christian school in Nashville
The shooter was identified as Audrey Hale, 28, of Nashville, according to police who identifies as transgender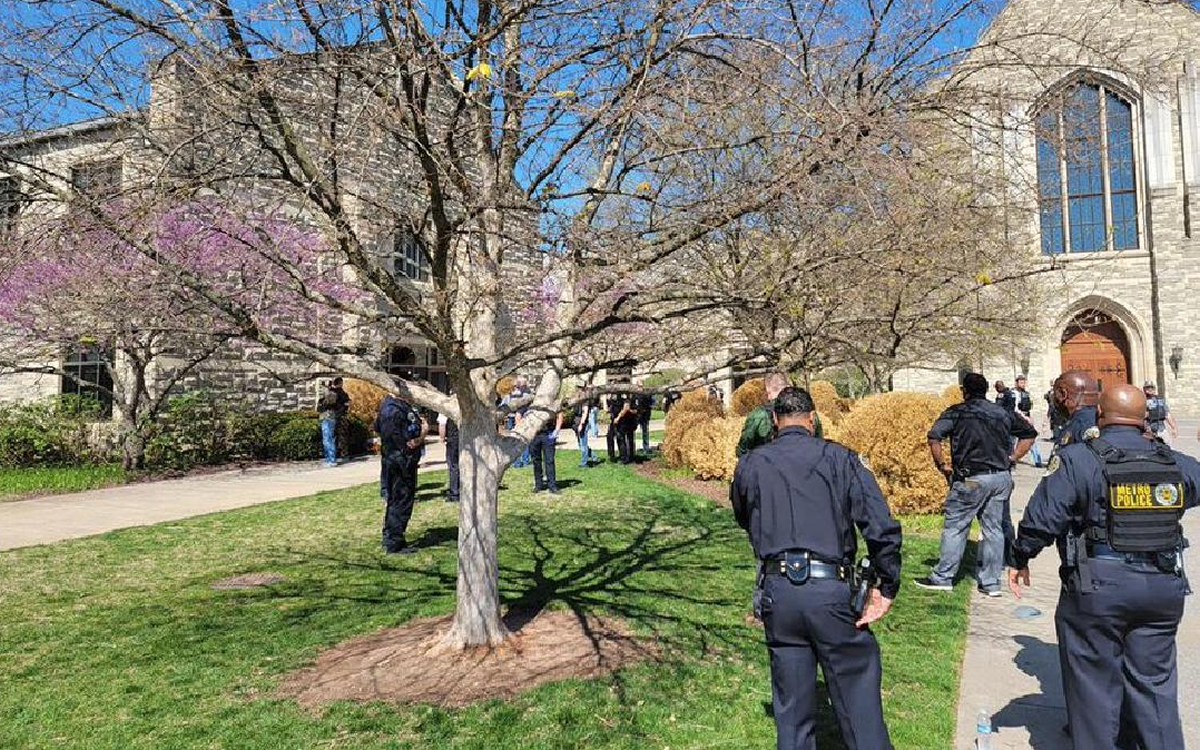 In a press conference Nashville Police Chief John Drake told reporters that earlier Monday morning a 28-year-old local female armed with two "assault-type rifles and a handgun," was killed by responding officers.
"At one point she was a student at that school," Chief Drake told reporters hours after the shooting at The Covenant School. "But unsure what year […] but that's what I've been told so far."
The shooter was identified as Audrey Hale, 28, of Nashville, according to the chief, who identifies as transgender.
According to Drake three children and three adults were killed in the shooting at The Covenant School on Burton Hills Boulevard, a private Christian school.
Children's Hospital Vanderbilt University Medical Center spokesperson John Howser told reporters "We can now confirm 3 children and 2 adults from the school shooting were transported to our Adult Emergency Department (The 2 adults) and (The 3 children) to the Pediatric Emergency Department at Monroe Carell Jr. Children's Hospital," Howser said adding "All 5 patients have been pronounced dead."
Police identified the three slain students as Evelyn Dieckhaus, Hallie Scruggs, and William Kinney, all age 9.
The three faculty members killed were Cynthia Peak and Mike Hill, both 61, and school head Katherine Koonce, 60.
At his only scheduled public event at the White House, President Joe Biden called the shooting "sick" and renewed his call for Congress to ban assault weapons.
Chief Drake noted that the shooter was killed on the school's second floor by his officers acknowledging that the victims were students and staff members of the school.
The school has students from preschool through sixth grade and on a normal day has about 200 students and 40 staff members on campus.
In a statement, Tennessee Gov. Bill Lee tweeted: "I am closely monitoring the tragic situation at Covenant. As we continue to respond, please join us in praying for the school, congregation & Nashville community."
I am closely monitoring the tragic situation at Covenant, & the @TNDeptofSafety & @TNHighwayPatrol are assisting local law enforcement & first responders at the scene.

As we continue to respond, please join us in praying for the school, congregation & Nashville community.

— Gov. Bill Lee (@GovBillLee) March 27, 2023
NBC News reported that just days ago, a 17-year-old suspect wounded two administrators at a Denver high school before he was found dead.
In February, three students were gunned down at Michigan State University. And in January, two students were fatally shot at a charter school in Des Moines, Iowa.
The Washington Post and other media outlets reporting that Rep. Andrew Ogles (R-Tenn.), who represents the Nashville district where the Covenant School is located, said Monday in a statement that he was "utterly heartbroken" by the mass shooting.
Gun reform activists including Fred Guttenberg, whose daughter Jamie was killed in the mass shooting at Marjory Stoneman Douglas High School in Parkland, Florida, on February 14, 2018, have called out Ogles for his hypocrisy posting tweets of Ogles posing with his children all carrying assault rifles in a 2021 family Christmas card photo:
The tragedy of the latest mass shooting is listening to Tennessee politicians who refuse to call it a shooting but who engaged in behavior that caused this to be more likely when they glorify guns. Tennessee Rep @AndyOgles, is this you with your family? pic.twitter.com/LJGnUKqJdA

— Fred Guttenberg (@fred_guttenberg) March 27, 2023
Vice president to visit three African countries that criminalize homosexuality
Ugandan lawmakers passed anti-homosexuality bill last week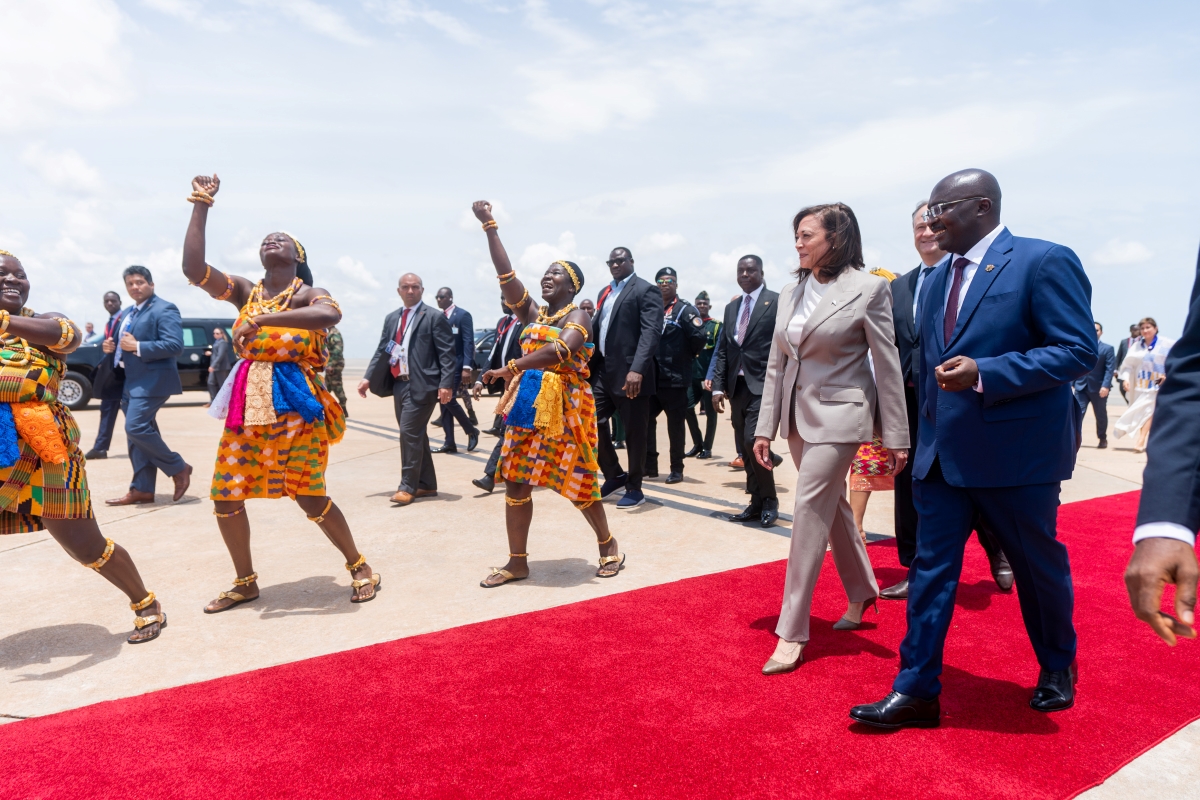 Vice President Kamala Harris this week will visit three countries in Africa that criminalize consensual same-sex sexual relations.
Harris and her husband, second gentleman Douglas Emhoff, arrived in Ghana on Sunday. They will travel to Tanzania and Zambia before returning to the U.S. on April 2.
Ghana, Tanzania and Zambia are among the dozens of countries in which consensual same-sex sexual relations remain criminalized.
The Washington Blade last week reported LGBTQ and intersex Ghanaians remain in limbo as lawmakers continue to debate the Promotion of Proper Human Sexual Rights and Ghanaian Family Values Bill that, would among other things, further criminalize LGBTQ and intersex people and make advocacy on their behalf and allyship illegal. A Ghanaian representative who spoke during a March 20 meeting that focused on the integration of LGBTQ and intersex rights into the U.N. Security Council's work said the body is not an appropriate venue to discuss them.
"You know that a great deal of work in my career has been to address human rights issues, equality issues across the board, including as it relates to the LGBT community," said Harris on Monday during a press conference with Ghanaian President Nana Afuko-Addo that took place in Accra, the Ghanaian capital. "I feel very strongly about the importance of supporting the freedom and supporting and fighting for equality among all people and that all people be treated equally. This is an issue that we consider and I consider to be a human rights issue and that will not change."
Tanzanian President Samia Suluhu, with whom Harris is scheduled to meet on Thursday, last month described LGBTQ rights as "imported cultures." The Tanzanian government has also banned children's books from schools because of their LGBTQ-specific content.
The State Department in 2019 recalled then-U.S. Ambassador to Zambia Daniel Foote after the Zambian government sharply criticized him for publicly defending a gay couple who had been convicted of violating the country's colonial-era sodomy law and sentenced to 15 years in prison.
Then-Zambian President Edgar Lungu later pardoned the couple. Current Zambian President Hakainde Hichilema, which whom Harris will meet on March 31, last September reiteated his government does not support LGBTQ and intersex rights.
Harris arrived in Africa less than a week after Ugandan lawmakers approved a bill that would further criminalize homosexuality and LGBTQ and intersex people. White House Press Secretary Karine Jean-Pierre said the measure if signed "would impinge upon universal human rights, jeopardize progress in the fight against HIV/AIDS, deter tourism and investment in Uganda, and damage Uganda's international reputation."
"The bill is one of the most extreme anti LGBTQI+ laws in the world," she said on March 22 during her daily press briefing. "Human rights are universal — no one should be attacked, imprisoned or killed simply because of who they are or who they love."
President Joe Biden in 2021 signed a memo that committed the U.S. to promoting LGBTQ and intersex rights abroad as part of the White House's overall foreign policy. Then-State Department spokesperson Ned Price later told the Blade the decriminalization of consensual same-sex sexual relations is one of the Biden-Harris administration's five priorities as it relates to LGBTQ and intersex rights overseas.
A senior administration official told reporters during a conference call that previewed Harris' trip that she "is very much focused on opportunities in Africa and a positive message and the great things we can do in partnership with African countries. And you're going to really see that as the theme of the trip, given Africa's role in the world and what we think can be done with Africans, for the sake of Africans in the United States and the rest of the world."

"But that doesn't mean that she would shy away from discussing difficult issues, and you know her track record on the LGBTQ issue," added the official. "She spent her whole career fighting for rights of overlooked and marginalized people, including LGBTQ people."
The official further stressed the Biden-Harris administration "is very clear about the right for all people to live free of harm and discrimination and to realize their full potential and to fully participate in society."
"The vice president has been clear about that throughout her engagements in the United States and elsewhere in the world, and it won't be any different when she is in Africa," added the official. "We have said, you know, including in recent days — expressed the concerns we have about certain developments that we've seen on the African continent, whether it's laws or practices that are anti-LGBTQ. And that's not consistent with what this administration stands for."
The official also said they "don't think that is a choice between taking a firm stand on that set of really important issues and the big positive opportunity that the vice president sees in Africa and she's going to emphasize on this trip."
The Blade will provide further updates of Harris' trip as they become available.
LGBTQ protections added to N.M. Human Rights Act
Governor Michelle Lujan Grisham signed House Bill 207 on Friday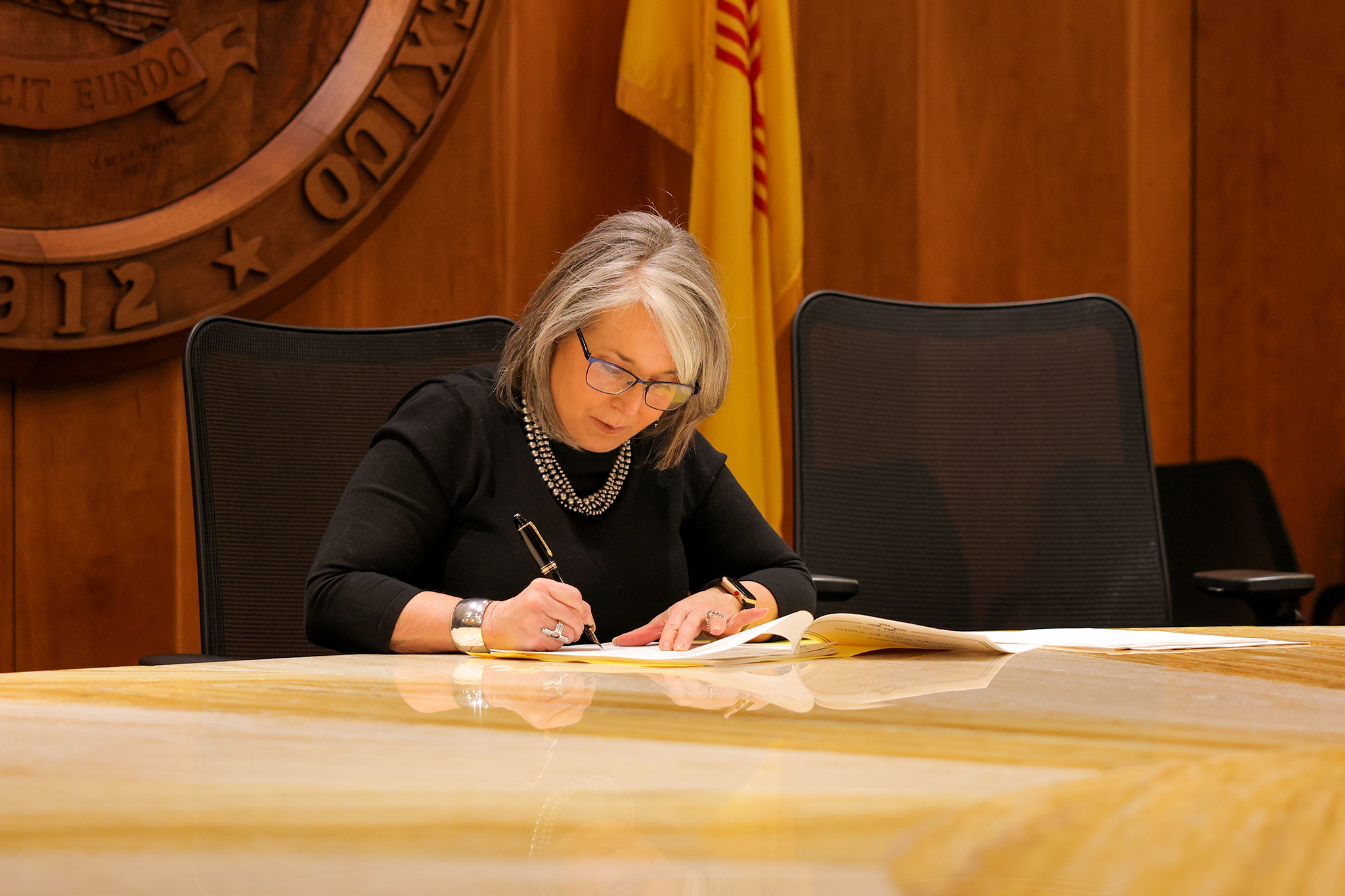 New Mexico Gov. Michelle Lujan Grisham signed House Bill 207 into law on Friday that expands protections for LGBTQ New Mexicans under the state's Human Rights Act. For transgender residents, Grisham also signed House Bill 31, a measure that removes the requirement that name changes be published in a newspaper.
The Santa Fe New Mexican newspaper reported that HB 31 also lets people 14 and older petition a district court for a name change and prohibits the court from requiring notice to the applicants' parents if it finds notice would jeopardize the applicant's safety.
"While hundreds of bills have been introduced across the country to restrict the rights of queer and trans people, New Mexico is committed to making our state a safer place for everyone by closing a loophole to ensure our taxpayer dollars cannot be used to discriminate against our LGBTQ+ friends and neighbors," state Rep. Kristina Ortez (D-Taos) said in a statement.
We're so glad to say that #HB31 and #HB207 -passed by #nmleg – is officially signed into law by @GovMLG! We will continue to love, affirm, and protect all #LGBTQ people here!#EQNM30th pic.twitter.com/3eUx5LLlvC

— Equality New Mexico (@equalitynm) March 25, 2023
State Rep. Christine Chandler (D-Los Alamos), the sponsor of HB 31, noted that the measure will benefit trans New Mexicans seeking to change their names as well as ensure safety for victims of domestic violence who may change their names to be more secure.
"Removing this antiquated publishing requirement protects New Mexicans' privacy and allows them to safely move on with their lives," Chandler said.
These measures are the latest in legislation passed this session to protect LGBTQ New Mexicans as well as women's rights.
On March 16, Grisham signed into law House Bill 7, the Reproductive and Gender-Affirming Health Care Act, which prohibits public bodies, including local municipalities, from denying, restricting, or discriminating against an individual's right to use or refuse reproductive health care or health care related to gender.
"New Mexicans in every corner of our state deserve protections for their bodily autonomy and right to health care," said Grisham as she signed HB 7. "I'm grateful for the hard work of the Legislature and community partners in getting this critical legislation across the finish line."
"Trans and nonbinary individuals deserve the support and care necessary to survive and thrive," said Ortez, who co-sponsored HB 7. "Protecting gender-affirming health care is a critical part of making sure trans and nonbinary New Mexicans can succeed in school, establish healthy relationships with their friends and family, and live authentically as themselves."
"In New Mexico we value the freedom and dignity of making your own personal decision about reproductive and gender-affirming health care," said Ellie Rushforth, the American Civil Liberties Union of New Mexico managing reproductive rights and gender equity attorney. "Now more than ever it is critical that New Mexicans and our neighbors have access to the full spectrum of health care in every corner of our state. We thank the governor for supporting and signing HB 7 into law. This is lifesaving legislation."