Ind. House panel approves marriage amendment
A House committee in Indiana on Monday reported out a state constitutional amendment that would ban same-sex marriage in the Hoosier State.
According to the Chicago Sun-Tribune, the Republican-controlled committee approved the amendment along party lines by an 8-4 vote before sending the meaure to the House floor. 
Current law in Indiana restricts marriage to one man and one woman, but, the amendment, if passed, would prevent the courts from overturning the statute or the Legislature from approving marriage rights for gay couples in later years.
The House and Senate, both controlled by the GOP, are expeceted to approve the amendment. After both chambers pass the proposal, it would have to pass again in 2013 or 2014 in order to get on the ballot in 2014.
Biden's second State of the Union prioritizes bipartisanship
President reiterated calls to pass Equality Act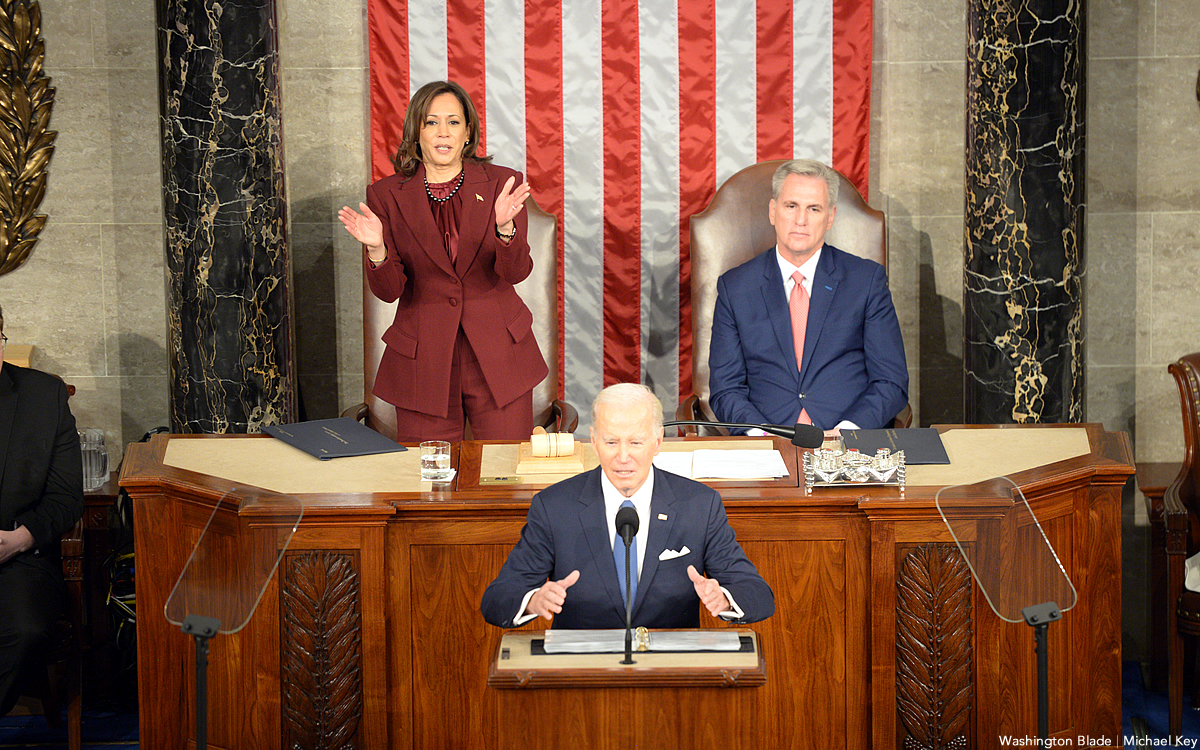 President Joe Biden's second State of the Union address on Tuesday focused on building upon recent accomplishments, especially legislative milestones that were reached with bipartisan cooperation.
Nevertheless, the speech was met with vocal objections from Republican lawmakers over Biden's comments about the debt ceiling, the Southern border and his mention of some GOP members' plans to cut social security and Medicare.
"From reauthorizing the Violence Against Women Act, to the Electoral Count Reform Act, to the Respect for Marriage Act that protects the right to marry the person you love," Biden said, "To my Republican friends, if we could work together in the last Congress, there is no reason we can't work together in this new Congress."
On the subject of legislation, for the second year in a row, Biden repeated his plea for Congress to revisit the Equality Act "to ensure LGBTQ Americans, especially transgender young people, can live with safety and dignity."
He also focused part of Tuesday's address on public health. "Twenty years ago, under the leadership of President Bush and countless advocates and champions, we undertook a bipartisan effort through PEPFAR to transform the global fight against HIV/AIDS," Biden said.
The successful effort should be repeated in the fight against cancer, he added.
These matters aside, Biden included little mention of LGBTQ issues, or the extremism of Republicans who are poised to run for the presidency next year. Instead, the bulk of his remarks were focused on themes like implementing the provisions of the Inflation Reduction Act and the bipartisan infrastructure law.
The country's economic recovery was another well-trod message, on the heels of a January jobs report whose data showed record low unemployment and steady growth in new jobs and workers' wages.
Biden did devote some time to reproductive rights.
"The vice president and I are doing everything we can to protect access to reproductive health care and safeguard patient privacy," he said. "But already, more than a dozen states are enforcing extreme abortion bans."

The president then vowed to veto a national abortion ban if Congress should pass one.
During last year's State of the Union, Biden said "the onslaught of state laws targeting transgender Americans and their families is wrong," adding, "As I said last year, especially to our younger transgender Americans, I will always have your back as your president, so you can be yourself and reach your God-given potential."
One sign of solidarity with the LGBTQ community this year was the invitation of Gina and Heidi Nortonsmith, plaintiffs in the Massachusetts case that led the state to become the first to legalize same-sex marriage, to join first lady Jill Biden's box.
House Minority Leader Hakeem Jeffries (D-N.Y.) brought Human Rights Campaign President Kelley Robinson as his guest. Biden honored Jeffries' predecessor, U.S. Rep. Nancy Pelosi (D-Calif.), as "someone who I think will be considered the greatest speaker in the history of this country."
McCarthy confirms Santos faces House ethics probe
'If Ethics finds something, we'll take action'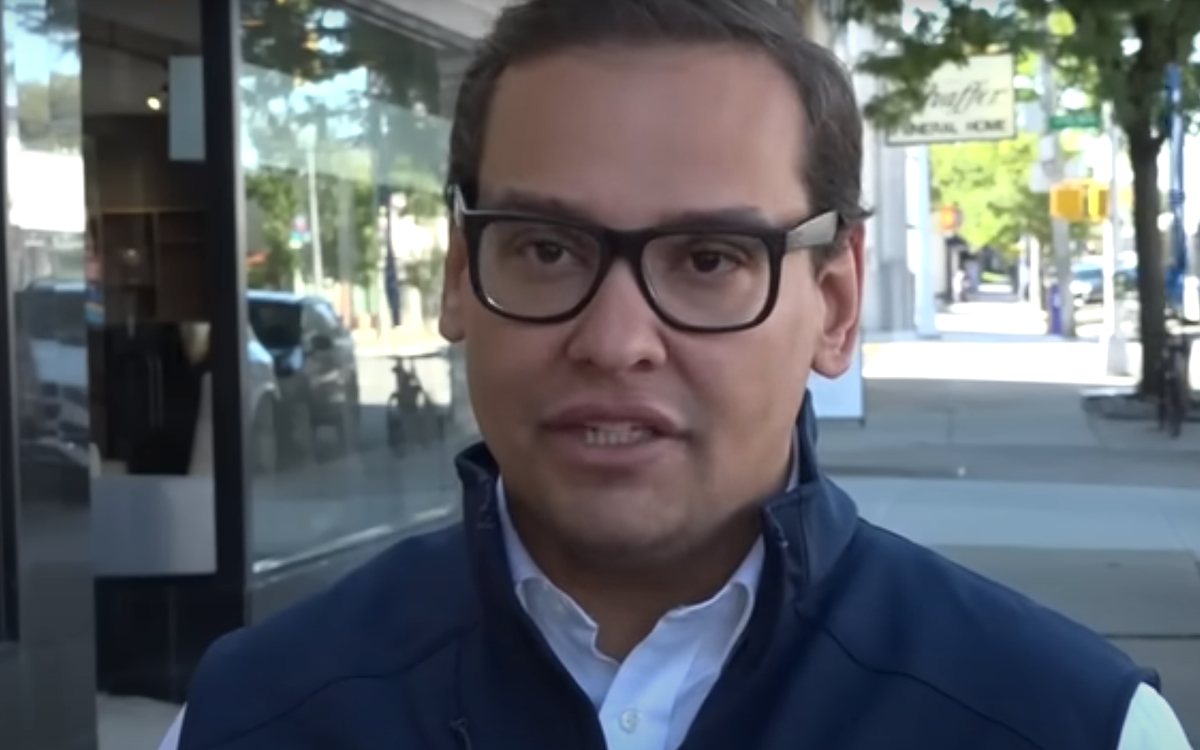 House Speaker Kevin McCarthy (R-Calif.) confirmed to CNN on Tuesday that U.S. Rep. George Santos (R-N.Y.) faces an investigation by the House Ethics Committee.
"Ethics is moving through, and if Ethics finds something, we'll take action," McCarthy said.
For his part, Santos continued to lean into the defiant attitude with which he has recently treated the many scandals that have enveloped him since his arrival to Washington.
Santos told CNN he is "not concerned" about the ethics probe and is eager to welcome the constituents from his district, New York's 3rd Congressional, who are headed to Capitol Hill today to demand his resignation.
"Right now we're not allowing him to be on committees from the standpoint of the questions that have arisen," McCarthy told the network, following reports last week that Santos stepped down from the House Small Business and Science, Space and Technology Committees.
Asked whether his resignations came at the speaker's behest, Santos told reporters at the time: "Nobody tells me to do anything."
Also last week came reports that the FBI was exploring allegations that Santos ran a GoFundMe scam, allegedly stealing crowdsourced money that was intended for oncology treatments for a homeless veteran's treasured service dog.
Politico reported that on Tuesday, dozens of constituents from Santos' district called on the beleaguered New York Republican to resign — or demanded House GOP leadership call a vote to expel him.
Gathering on Capitol Hill outside of congressional offices on the day that President Joe Biden is to deliver his State of the Union address, constituents waved a number of signs including those that read "I believe in Santa more than Santos," "Scamtos," and "Sashay away George." They chanted: "Force him out!" The New York Republican has given no indication he'd resign.
One of his GOP constituents said he found Santos' lie that his mother perished during 9/11 particularly offensive. "You have to be really psychologically impaired to throw that around like it's nickels," Ben Marzouk, a local Republican, said.
Just now: Constituents deliver petition to George Santos's office demanding he leave congress. pic.twitter.com/LlOHzfOxZb

— Ford Fischer (@FordFischer) February 7, 2023
Right now: constituents of Rep George Santos gather at the Capitol to demand his removal from congress.

Will be live-streaming their press conference which will begin in a few minutes. pic.twitter.com/QIgrrguiHN

— Ford Fischer (@FordFischer) February 7, 2023
Victory Institute letter with 375+ signatories urges Senate to confirm Gigi Sohn for FCC
'If [Democrats] remain silent and complicit, this will become a go-to strategy to tank LGBTQ nominees'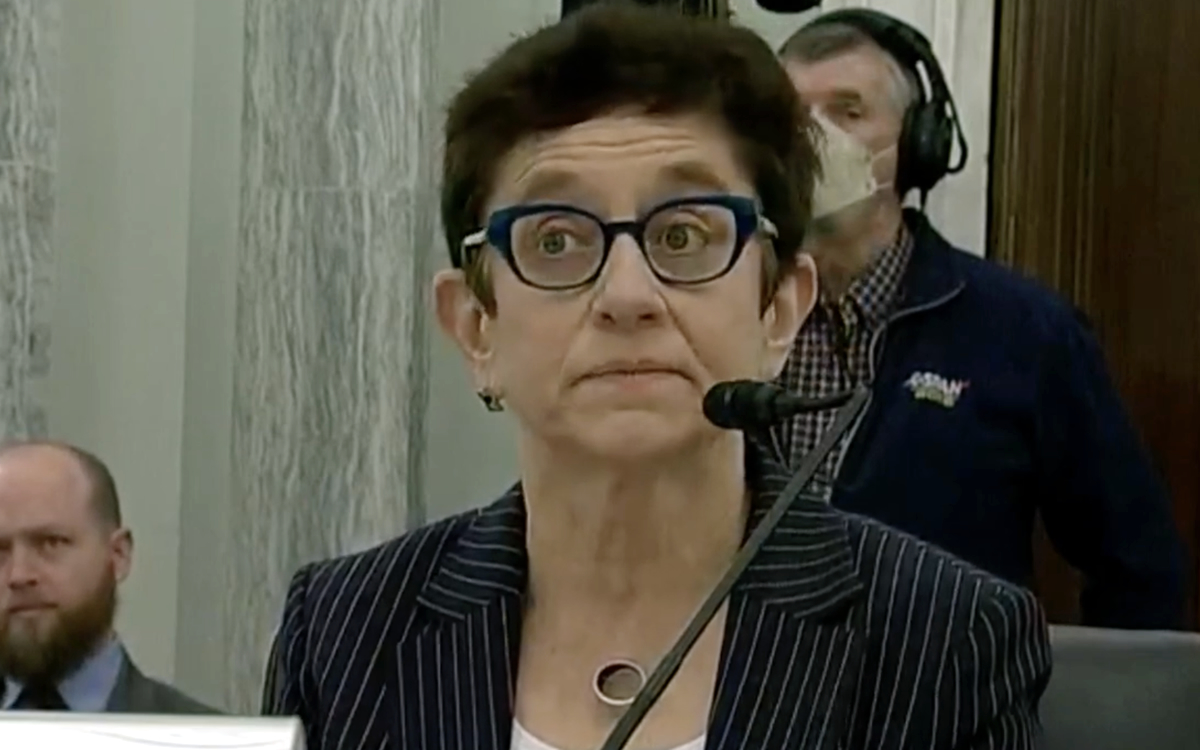 The LGBTQ Victory Institute submitted a letter Monday with more than 375 signatories urging Senate leadership to confirm Gigi Sohn's nomination for commissioner at the Federal Communications Commission.
Sohn, whose appointment has been languishing since October 2021, would be the first LGBTQ person ever to serve in that role where she would become the tie-breaking vote on the bipartisan-led commission.
"Gigi is one of the nation's leading public advocates for open, affordable, and democratic
communications networks," the Victory Institute wrote in its letter. "Gigi has worked across the country to defend and preserve the fundamental competition and innovation policies that have made broadband internet access more ubiquitous, competitive, affordable, open, and protective of user privacy. During this time, she has worked across the industry, notably as Counselor to former FCC Chair Tom Wheeler."
Despite these qualifications – and the Biden-Harris administration's decision to nominate her for a third time – Sohn's confirmation has been delayed amid coordinated attacks by industry lobbyists, conservatives on the Senate's Committee on Commerce, Science, and Transportation, and right-wing media organizations.
Fox News, Breitbart, and the Daily Mail have recently focused on Sohn's membership on the board of the Electronic Frontier Foundation (EFF), a respected organization that has come out against a pair of laws that were enacted in 2018 amid the panic over child sex trafficking.
The laws, according to the Los Angeles Times, "have proved to be largely ineffective for their stated purpose and rife with adverse side effects," with the EFF writing that they "will not stop sex trafficking and will instead make stopping it harder." Regardless, the matter has nothing to do with the work in which Sohn would be engaged at the FCC.
Nevertheless, these attacks on Sohn, an out lesbian, dovetail with efforts to link the LGBTQ community with child sexual abuse and exploitation. The EFF came out in support of Sohn, too, arguing that the attacks against her were "dog whistles."
"Democrats can't claim to support LGBTQ rights while failing to stand up to blatant bigotry targeting one of their own nominees," Evan Greer, director of the digital rights organization Fight for the Future, told the Los Angeles Times. "If they remain silent and complicit, this will become a go-to strategy to tank LGBTQ nominees to any public position," she said.
According to research provided by GLAAD, one of the groups that signed the Victory Institute's letter, "These criticisms [of Sohn] have led extremists, especially those from the QAnon movement, to conclude that Sohn supports sex trafficking and is participating in a secret plot by Democrats and other 'far left elites' to silence conservatives."
Former U.S. Rep. Devin Nunes (R-Calif.) called Sohn a "she-male" and "fringe lunatic," claims that prompted other users to make death threats against her, according to research provided by GLAAD.
Separately and in the past, Sohn earned criticism for her social media posts, including one authored by the acclaimed actor and comedian Issa Rae that Sohn shared, which read: "Your raggedy white supremacist president and his cowardly enablers would rather kill everybody than stop killing black people."