March 11, 2011 at 12:35 am EST | by Chris Johnson
White House hosts anti-bullying conference
President Obama on Thursday opened the doors of the White House to anti-bullying advocates for a conference in which participants discussed harassment of students and devised strategies to curtail bullying.
In remarks starting off the conference, Obama said if the conference had one goal, it would be dispel the myth that bullying is "a harmless rite of passage or an inevitable part of growing up."
"It's not," he said. "Bullying can have destructive consequences for our young people.  And it's not something we have to accept. As parents and students, as teachers and members of the community, we can take steps — all of us — to help prevent bullying and create a climate in our schools in which all of our children can feel safe; a climate in which they all can feel like they belong."
The conference, in which around 150 students, parents, teachers and anti-bullying advocates participated, wasn't specifically directed toward the bullying of LGBT students, although harassment of children because of their sexual orientation or gender identity was often mentioned.
Bullying against LGBT students received renewed attention late last year when several young men who were gay or perceived to be gay took their own lives after they were reportedly bullied. Among them was Tyler Clementi, a Rutgers University student, who leaped off the George Washington Bridge in September after a video was posted online of him reportedly having a sexual encounter with another man in his dorm room.
During his remarks, Obama noted that students who are gay are among the types of children who often face bullying at school.
"A third of middle school and high school students have reported being bullied during the school year," Obama said. "Almost 3 million students have said they were pushed, shoved, tripped, even spit on. It's also more likely to affect kids that are seen as different, whether it's because of the color of their skin, the clothes they wear, the disability they may have, or sexual orientation."
Obama also announced that his administration had launched a new website, stopbullying.gov, as a resource housed within the Department of Health & Human Services for parents, students and teachers on how to confront the issue of bullying in schools. The website is set to provide information on the risks of bullying and its warning signs and effects.
First lady Michelle Obama, who introduced the president at the start of the event, said the issue of bullying is personal for both her and her hisband because of their concern for their two daughters: Malia and Sasha.
"As parents, this issue really hits home for us," she said. "As parents, it breaks our hearts to think that any child feels afraid every day in the classroom, or on the playground, or even online. It breaks our hearts to think about any parent losing a child to bullying, or just wondering whether their kids will be safe when they leave for school in the morning."
Michelle Obama urged parents "to make a real effort to be engaged in our children's lives" and to listen to them and be there when needed.
"We need to get involved in their schools and in their activities so that we know what they're up to, both in and out of the classroom," she said. "And when something is wrong, we need to speak up, and we need to take action."
Following the president remarks, Valerie Jarrett, senior adviser to the president, led a panel discussion of anti-bullying experts to discuss ways that parents, administrators and government officials can work to curtail harassment of students.
Points that were mentioned included recommending that parents be friends with their children on Facebook for oversight purposes and how the behavior of those who perpetuate bullying must also be addressed as part of anti-bullying efforts.
After the panel, conference participants split into five break-out sessions for more extensive debate on particular issues related to bullying. Topics of the breakout session included cyberbullying and in-school programs to confront bullying.
Top Obama administration officials during a wrap-up session at the close of the conference emphasized the support that anti-bullying advocates have in the White House.
Education Secretary Arne Duncan announced a new initiative — a technical assistance center — which would specifically address harassment to complement anti-bullying efforts that are already underway.
"By trying to highlight these best practices, we will state and local policy makers and educators work to keep children safe and provide the best learning environment for all students," Duncan said. "We can provide support, which is why I'm happy to announce today our department's intention to establish a new technical assistance center specifically dedicated to bullying prevention."
Secretary of Health & Human Services Kathleen Sebelius urged teachers and others to speak out when anti-gay slurs are used in schools.
"Building safe neighborhoods and schools where young people can thrive is a job for all of us," Sebelius said. "It means speaking out next time you hear a homophobic slur, stepping in when you see someone being preyed upon and letting your local education leaders — from principals to schools — know that bullying is not an isolated part of growing up. It's a serious danger for all of our children."
Participants had a largely positive reaction to the event and thought it was productive in devising strategies to thwart bullying.
In a statement, Jeff Krehely, director of the LGBT research and communications project at the Center for American Progress, said the conference "put a national spotlight" on bullying and its potentially "destructive impact."
"Although the event is born out of tragedies, the conference will hopefully spark a robust national discussion about what we can all do to stop this problem," Krehely said. "With an increase in bullying and full-on assaults on youth who are perceived to be gay or transgender, as well as those who are perceived to be Muslim, now is the right time to show leadership on this issue."
Caleb Laiseki, executive director of the Arizona-based Gays & Lesbians United Against Discrimination, said the conference was "much more productive" than he expected.
"I'm coming from Arizona, and Arizona can't even pass the anti-bullying bill through committee, so I was extremely happy to see the White House was very dedicated to this," Laiseki said.
Laiseki, who's 16 and gay, dropped out of high school after he was bullied because of his sexual orientation and completed his education by earning a general equivalency diploma. He founded GLUAD to help address the  problems he faced in school.
"The reason I started the organization was because I was pushed into lockers and humiliated," he said. "I received death threats [and was] followed home. It was just one thing after another. And I also had friend commit suicide after several attempts. So, the main goal of GLAUD is homelessness, suicide prevention and anti-bullying work."
Laiseki attended the breakout session focused on cyber-bullying and said he proposed that law enforcements have the tools to intervene immediately when such harassment takes place.
"We can immediately track down the [Internet protocol] address and go from there," Laiseki said. "And both of the representatives [from the Obama administration] were in agreement. And we took notes actually and discussed it for at least one-third of the meeting."
Dan Savage, founder of the "It Gets Better" online video campaign aimed at helping troubled LGBT teens, said the conference was of "tremendous symbolic importance" because it identified bullying as a national problem, but said more could be done with the issue of parents being the bullies of LGBT youth.
"What was never addressed is when the parents are the bullies," Savage said. "LGBT kids whose parents reject them are eight times likelier to attempt suicide; kids who are LGBT are four times. It literally doubles the risk of the already quadrupled risk of suicide for LGBT kids when their families reject them."
Legislation pending before Congress known as the Student Non-Discrimination Act and the Safe Schools Improvement Act would address the issue of LGBT bullying of students in schools. Savage, who's gay and also a sex-advice columnist, said the passage of this legislation would be effective.
"It puts schools on notice," Savage said. "It establishes a national sense of accountability. Schools are reactive. They don't like to be sued. They don't like to get in trouble with the folks that pay the bills — at the federal or state level — and it really creates a way for school administrators and school boards to be held accountable."
Shannon Cuttle, director of Safe Schools Action Network, said she felt the event was effective because it drew more attention to the issue of bullying.
"I think that anytime that you can collectively get a group of people to work in collaboration to try to discuss this issue, it's going to put a dent in the issue," Cuttle said. "Today is making the right step. Being able to bring people from across America — teachers, administrators, individuals and students — that's key."
But Cuttle, a lesbian D.C. activist, said the best way to address the issue of bullying in schools to confront harassment with "boots on the ground."
"We have to be able to go into the schools, we have to have conversations and we have to be able to discuss the issue," she said. "We have to be able to have those honest, open conversations with teachers and school administrators, and as parents and students, we need to talk to our school boards and local officials and be able to put rules and policies in place to keep kids safe."
Chris Johnson is Chief Political & White House Reporter for the Washington Blade. Johnson is a member of the White House Correspondents' Association. Follow Chris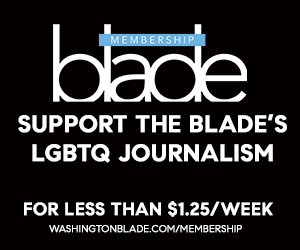 Sign Up for Blade eBlasts