Va. B&B rejects gays, couple claims
Lawmaker calls for anti-discrimination protections

A legally married gay man claims that a Virginia bed and breakfast denied him and his spouse a reservation for a room because they are of the same gender.
Russell Williams, 56, of Hanover, Pa., said his spouse, David Schaefer, 54, tried to make reservations in late February at Stafford House in Fairfax, Va., as part of a trip for the wedding of their nephew. However, they say they were  denied a room over the phone on the basis of their relationship.
"So they, in that conversation — they ascertained that this was two men," Williams said. "It's a husband-and-wife operation. The wife was on the phone with David, and she said, 'Well, we don't accept non-traditional couples.'"
Williams, who married Schaefer five years ago in Boston after being together 35 years, said his spouse tried to "push back a bit" on the Stafford House owner, but she remained firm in denying the reservation. Williams, a racehorse breeder, said the owner also told Schaefer, a physician, that unmarried opposite-sex couples would be unable to obtain a reservation.
"There were no harsh words," Williams said. "Apparently, the husband is a minister and it's a religion-based policy that they have. And that was that. I guess we'll stay at the Marriott."
Stafford House didn't respond to multiple requests from the Washington Blade to confirm the allegation that an owner denied the couple a reservation.
Virginia has no LGBT-specific non-discrimination law, nor one that protects same-sex couples against discrimination in public accommodations.
Williams said facing this discrimination reminded him of the mistreatment that racial minorities in the United States once faced in similar situations.
"The first thing that popped into my head was now I knew how black people felt 50 years ago," Williams said. "It was bizarre. David felt the same way."
Virginia State Del. Adam Ebbin (D-Alexandria), the only openly gay member of the General Assembly and a candidate for a Virginia State Senate seat, called the alleged discrimination faced by Williams and Schaefer "an embarrassment to Virginia."
"It's surprising, in spite of our lack of protections and laws, that this would happen in Fairfax County," Ebbin said. "It's another outrage that makes me want to redouble my efforts in support of equality in Virginia."
Ebbin said a change in law to prohibit discrimination of all types would be the best way to remedy the situation. In the 2011 session of the General Assembly, Del. Ken Plum (D-Fairfax) introduced legislation that would amend the Virginia Human Rights Act to include safeguards for LGBT people against unlawful discrimination.
"Clearly, we need to change the laws to prohibit discrimination of all types," Ebbin said. "Unfortunately, we're still at the building-block level."
Fred Sainz, vice president of communications for the Human Rights Campaign, also expressed frustration that no legal protections exist to protect LGBT people from discrimination in public accommodations.
"These kinds of things should not be happening in this day and age, and the frustrating part is that they happen all too frequently in areas all across our country," Sainz said. "It's even more frustrating when they happen right across from the nation's capital — in a city that is virtually within walking distance of the nation's capital."
Sainz said the incident "makes clear the need for uniformity of laws nationwide that protect all Americans, specifically on the basis of sexual orientation and gender identity." But Sainz also said the situation speaks to the need for state non-discrimination legislation in Virginia because he said states have always been "first and strongest" to protect LGBT families.
Williams said although he felt he faced discrimination, he doesn't think sympathizers should retaliate against the owners of Stafford House.
"I would not want to see the people at the B&B persecuted," Williams said. "I think it's wrong and I think they're ignorant, but I hope that — and I've talked about this with a lot of friends — gay people should not retaliate against this kind of thing. I think we should just go ahead and do what we have to do to get our civil rights and make sure that people comply."
LGBT advocates said they felt drawing attention to this issue can help with efforts to pass laws to prevent such discrimination in the future. Ebbin said such examples can help build the case in the Virginia General Assembly to pass non-discrimination laws.
"We constantly hear complaints from Richmond that there are no documented cases of discrimination," Ebbin said. "Every incident like this helps us make it more clear to my colleagues that we need to move forward on protecting LGBT people along with all others."
Sainz added he believes more LGBT couples throughout the country face this kind of discrimination, but few make the incidents public because they're embarrassed.
"My suspicion is more incidents like this take place than we hear of because people are embarrassed, and so they don't want to shine the light on these kinds of situations," Sainz said. "I think that this couple bringing attention to this issue is the right thing to do."
UPDATE: Following the posting of this article, Donna Stafford, an owner of Stafford House, told the Washington Blade that the bed and breakfast has changed its policy and will no longer bar anyone from making a reservation.
"We were in the process of [changing our policy] even before your article came out," Stafford said. "We're not going to put restrictions on anyone that stays."
In a separate email, Stafford noted that the prior policy of Stafford House was within the letter of all relevant state and local housing laws.
ADDITIONAL UPDATE: In a joint statement, Williams and Schaefer told the Blade on Wednesday via email that following Stafford House's announced change in policy, they booked a room at the facility and plan a stay shortly.
"Pursuant to your update we have reserved a room at the Stafford House and plan to stay there this weekend," they wrote. "Tolerance doesn't require agreement about everything and if they learned that across the river in Congress the whole country would be better off."
2023 Best of LGBTQ DC Readers' Choice Award Finalist Voting
Vote for your favorite finalists through October 2nd!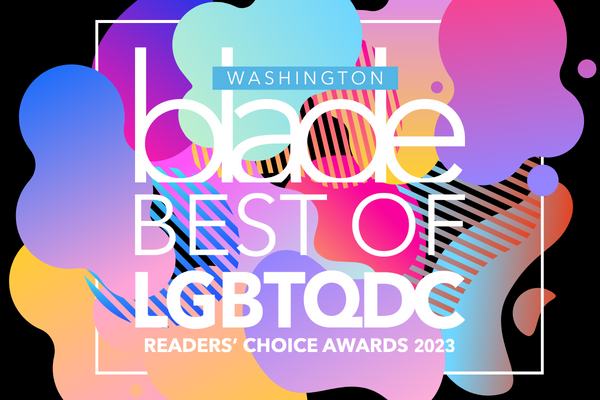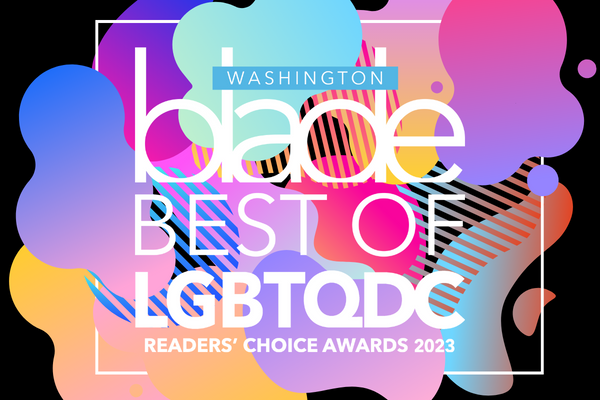 Whitman-Walker celebrates opening of new Max Robinson Center
Mayor, city officials call facility major benefit for Southeast D.C.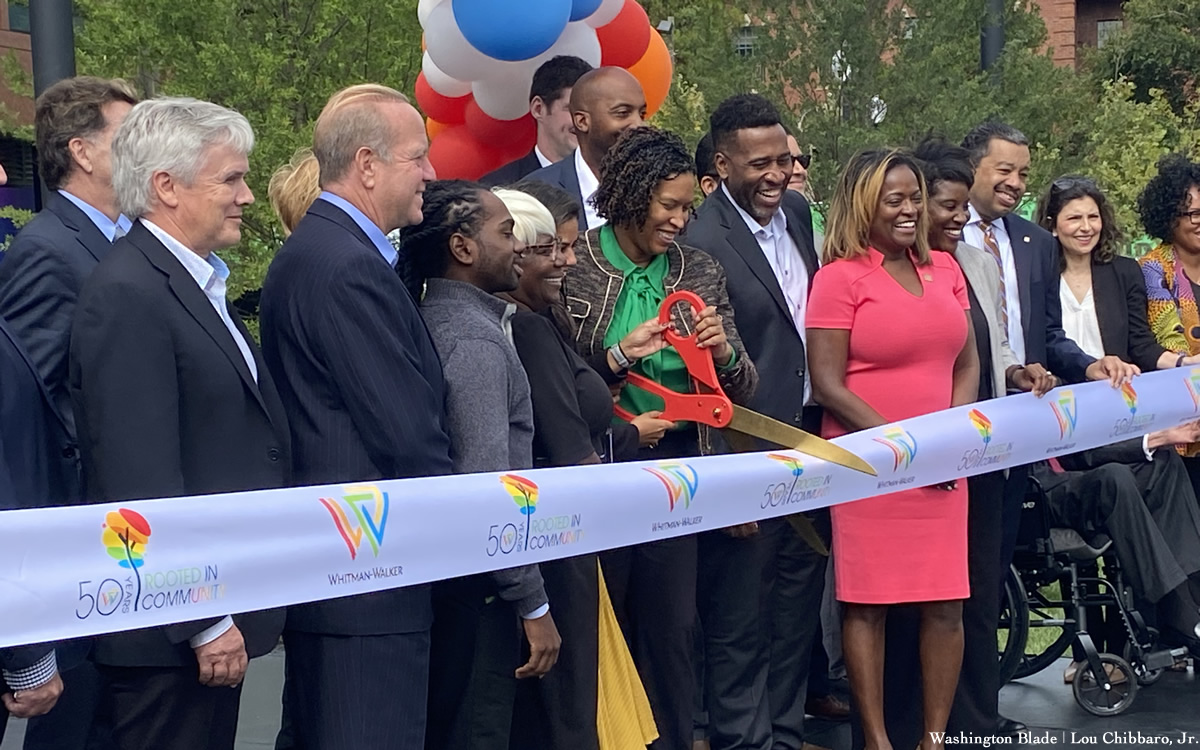 D.C. Mayor Muriel Bowser, joined by city officials and leaders of Whitman-Walker Health, cut a ceremonial ribbon on Monday to mark the official opening of Whitman-Walker's new Max Robinson Center at the city's St. Elizabeth's East campus in Southeast D.C.
The six-story healthcare and research facility will enable Whitman-Walker to expand its wide range of services to the community, with a focus on Ward 7 and Ward 8 residents, officials said. Those services, which began when the facility opened its doors on Aug. 14, include primary, dental, and HIV care, behavioral health services, substance use counseling, and a pharmacy, according to a Whitman-Walker statement.
"Today, we're opening a bigger Max Robinson Center, and in two years we'll be opening a new hospital on this same campus – and together, these two facilities are going to change the way we deliver healthcare in D.C.," Bowser told the crowd of about 200 that turned out for the event held in a courtyard next to the newly opened building.
"We're incredibly grateful that Whitman-Walker is part of the legacy that we're building on the St. Elizabeths East campus," the mayor said. "This campus represents our commitment to Ward 8 and our community to a stronger, healthier, and equitable D.C."
Whitman-Walker and city officials noted that the new building replaces the longtime LGBTQ supportive health care organization's original Max Robinson Center that opened in 1993 on Martin Luther King Boulevard in Anacostia about a mile away from the new facility. The center was named in honor of award-winning TV news journalist Max Robinson who became the first African American to serve as co-anchor of a network news program at ABC News in 1978. Robinson died of complications associated with HIV/AIDS in 1988.
Bowser and others who spoke at the event praised Whitman-Walker for providing high quality healthcare through its Max Robinson center for underserved communities in city neighborhoods east of the Anacostia River.
The opening of the new Max Robinson Center comes on Whitman-Walker's 50th year since its founding in 1973 as an LGBTQ community health clinic in a church basement in Georgetown, Whitman-Walker CEO Naseema Shafi noted at the ribbon cutting event.
"We are thrilled to unveil this once-in-a-lifetime healthcare and research expansion during our 50th anniversary year," Shafi said. "Our new healthcare home will significantly improve access to excellent healthcare for all residents," she said.
Among other things, the new facility will allow Whitman-Walker to serve an additional 10,000 patients per year more than it was able to serve at the original Max Robinson Center, a statement released by Whitman-Walker says. An important part of its services will include mental health and behavioral services, officials said.
There are more than 40 exam rooms, eight dental suites, six group therapy rooms and a psychotherapy suite in the new facility, the officials said in the statement.
The statement says the new building will also serve as headquarters for the Whitman-Walker Institute, an arm of the healthcare organization that for many years has conducted HIV related research. It says the new facility will allow Whitman-Walker to expand its research "from 19 to over 60 clinical trials, including innovations in cancer research and continued progress toward finding a cure for HIV."
Others who attended or spoke at the event included D.C. Council members Christina Henderson (I-At-Large), Trayon White (D-Ward 8), and Vincent Gray (D-Ward 7); Japer Bowles, director of the Mayor's Office of LGBTQ Affairs; Latrena Owens, executive director of St. Elizabeths East Development; and Debrah Wells, a Whitman-Walker patient who said the substance use treatment and counseling she received at the Max Robinson Center "saved my life."
Also speaking were Louis Dubin, managing partner of Redbrick development company, which led the development of the building project; and Jim Davis, president of Davis Construction, the company that built the new facility. Both pointed out that they worked with banks and other lenders along with financial support from the city that made the financing of the new Max Robinson Center possible.
Whitman-Walker CEO Shafi told the Washington Blade after the ribbon cutting event that while Whitman-Walker has expanded its services to include the wider community in the years since its founding as an LGBTQ clinic, its commitment to serving the healthcare needs of the LGBTQ community continues in all its facilities, including the new Max Robinson Center.
"What's interesting about Whitman-Walker of today — when we started in 1973, we were started by community for community, and we were responding to the needs at that time particularly of the LGBTQ community," she said. "So, now we've continued to take care of people, we will continue to do so," she added.
"And this new site in Congress Heights gives us the opportunity to take care of even more community members, parts of the LGBTQ community and the greater Washington region," she said, noting that Whitman-Walker currently has about 2,500 transgender or gender expansive people in care, and 3,500 people with HIV in care.
Man charged in 2019 D.C. gay murder sentenced to 16 years
Distraught family members urged judge to hand down longer prison term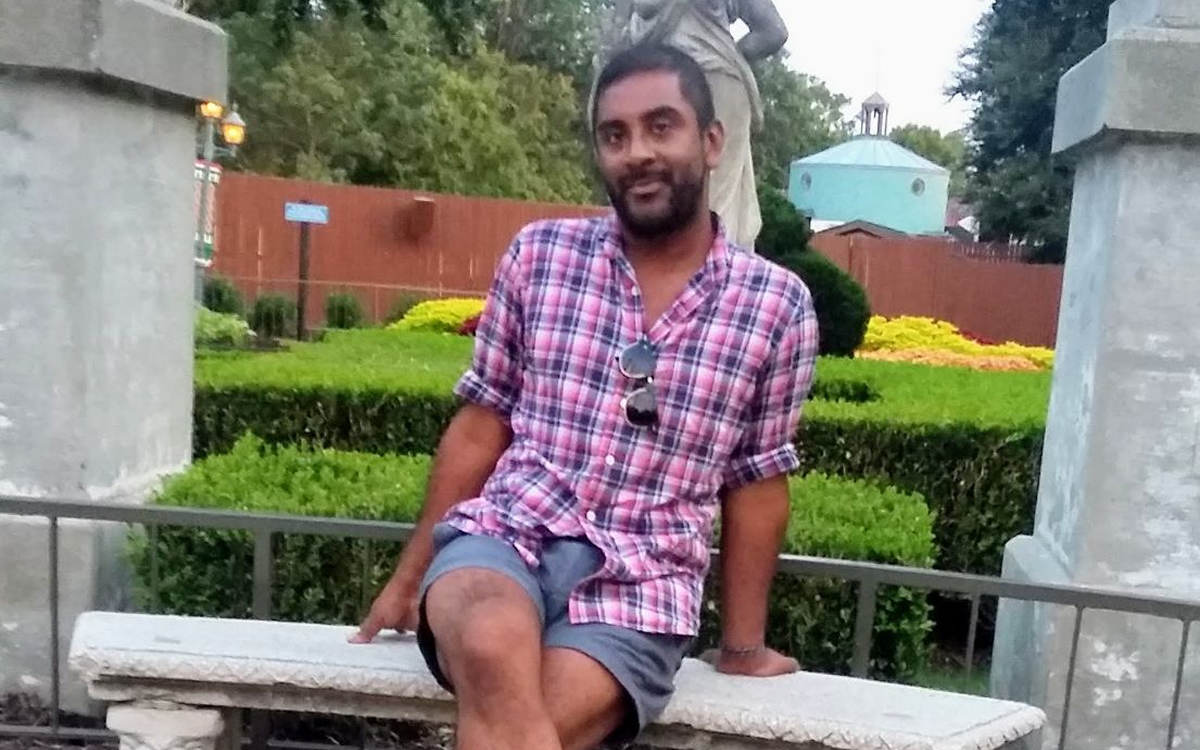 Former U.S. Navy Hospital Corpsman Collin J. Potter, 31, who earlier this year pleaded guilty to second-degree murder while armed for the Jan. 6, 2019, stabbing death of gay D.C. resident Vongell Lugo, was sentenced Sept. 15 by a D.C. Superior Court judge to 16 years in prison and five years of supervised probation upon his release.
The sentencing took place at a hearing in which Assistant United States Attorney Peter V. Roman, the lead prosecutor in the case, described in gruesome detail how Potter stabbed Lugo 42 times inside Lugo's Northwest D.C. apartment shortly after the two met at a D.C. bar and Potter accepted Lugo's invitation to come to the apartment.
Superior Court Judge Marisa Demeo handed down her sentence after listening to testimony by Lugo's mother, brother, and sister, and seven of Lugo's friends, who presented highly emotional victim impact statements describing Lugo as a beloved figure whose brutal murder had a devastating impact on their lives.
Nearly all of the 10 who spoke – eight in the courtroom and two through a live video hookup – urged the judge to hand down a far greater prison term than the 14 to 16-year sentence that prosecutors with the Office of the U.S. Attorney for D.C. offered and Potter accepted in exchange for pleading guilty as part of a plea bargain deal. The plea arrangement made it clear that the judge would make the final decision on what the sentence should be.
Under D.C. criminal law, judges have the discretion to hand down a sentence of up to life in prison for a second-degree murder conviction.
Many of the family members and friends wept as they described Lugo, 36, as a loving, caring person who enriched their lives and who was taken from them by Potter in an unimaginable act of violence.
The sentencing took place a little over seven months after Potter, who was 26 at the time of the murder, pleaded guilty to the charge of second-degree murder while armed and prosecutors dropped their original charge of first-degree murder while armed and other related charges as part of the plea bargain deal.
Court records show that at the request of prosecutors, a D.C. Superior Court grand jury on Aug. 20, 2019, indicted Potter on five counts related to the murder, including two counts of first-degree felony murder while armed, felony murder while armed with aggravating circumstance, and kidnapping.
The U.S. Attorney's Office has declined to disclose why prosecutors offered the plea deal that included dropping those charges and allowing Potter to plead guilty to second-degree murder rather than bringing Potter to trial on the first-degree murder and other charges.
Attorneys familiar with this type of case have said prosecutors usually offer a plea deal when they are uncertain whether they can convince a jury to find someone guilty beyond a reasonable doubt at a trial.
At the Sept. 15 sentencing hearing, Potter's defense attorney, Matthew Davies of the D.C. Public Defender Service, told the judge one reason why the plea offer made sense was it avoided a trial in which Potter would likely have used the defense of insanity or severe mental health problems, that Davies said his client is currently grappling with.
Davies pointed to information submitted by the defense that Potter has a history of trauma brought about by being sexually abused as a child. He said Potter also has an alcohol abuse problem and related mental health issues, and those factors led to the stabbing incident that took the life of Lugo.
He asked the judge to hand down a sentence of 14 years of incarceration, saying that would adequately serve the cause of justice for this case.
The subject of Potter's mental health also surfaced in a 10-page sentencing memorandum that Roman filed in court two days before the sentencing, and which Roman summarized at the hearing, including the recommendation of a sentence of 16 years of incarceration.
The sentencing memo begins by describing Lugo as an "openly gay man who was born and raised in Trinidad & Tobago before emigrating to the United States with his family several years ago." One of Lugo's friends told the Washington Blade that Lugo had been working as an associate manager for a company that provides language translation services.
The sentencing memo says police arrived at Lugo's apartment about 4 a.m. on Jan 6, 2019, when two neighbors called 911 after hearing Lugo screaming for help through the walls of their adjoining apartments.
It says police arrived shortly after Potter, who was fully nude and covered in Lugo's blood, had dragged Lugo's nude body outside the apartment door into the apartment building hallway.
"After the police arrived, the defendant made several statements," the sentencing memo says. "He repeatedly referred to Mr. Lugo as his girlfriend and as a female and stated that Mr. Lugo's injuries were self-inflicted," the memo continues. "The defendant then banged his own head against the wall and started screaming obscenities and that he did not want to live," it says.
Several of the close to 20 friends and family members of Lugo who were sitting in the courtroom as prosecutor Roman presented these details were crying.
Defense attorney Davies told the judge that he informed Potter that he had a strong defense based on mental health issues if the case went to trial. But Davies said Potter expressed strong opposition to going to trial and subjecting Lugo's family to additional trauma.
Court documents show Potter was arrested at the scene and has been held in jail since that time as the case dragged on for more than four years since the January 2019 murder.
Court records also show that Lugo and Potter met at the Black Whiskey, a bar on 14th Street, N.W. where Lugo was a regular customer. Although some of Lugo's family members and friends who spoke at the sentencing hearing said they considered the murder a hate crime, court records show police and prosecutors did not list the case as a hate crime.
"He was a beautiful gay man, and everyone loved him," Hannah Donnelly, one of Lugo's friends and co-workers said in presenting her victim's impact presentation in the courtroom.
Another friend said in her impact statement that Lugo invited her to join him to watch D.C.'s Capital Pride parade. She and nearly all the others who presented their impact statements at the hearing were not gay or lesbian themselves but said Lugo was beloved because he always did all he could to help them and support them in their everyday lives.
"He was like a brother to me," said Gregory Porter, one of Lugo's friends who, along with his wife, presented their victim impact statements in the courtroom. "There was never a thought that he would no longer be a part of our life," Porter told the judge. "We ask for equal justice. We ask the court to invoke the maximum possible sentence," he said.
Victoria Lugo, Lugo's mother, was the first of the family members and friends to deliver her victim's impact statement. Looking directly at Potter, she told him there was nothing her son could have done to him to justify what Potter did.
"You have taken my child from me, Mr. Potter," she said while crying. "My heart hurts," she continued. "No mother should have to go through this."
Potter, who was dressed in an orange prison jumpsuit, accepted Judge Demeo's invitation to speak before she handed down her sentence.
"I'd like to say I am truly very sorry," Potter told the judge. "I accept the consequences of my action," he said. "I feel I will spend the rest of my life having a positive impact on other people's lives to make up for what I have done," he said.
After listening to Potter, the presentations by Lugo's family members and friends and hearing remarks from prosecutor Roman and defense attorney Davies, Judge Demeo said she would accept the plea agreement. She said the circumstances surrounding the case, including what she called the "brutal nature of the crime," warranted that she issue a sentence representing the upper end of the plea agreement of 16 years' incarceration and five years of supervised release.
She said she would order that the facility where Potter is incarcerated will provide him with mental health treatment.
"There is no doubt that this was a horrific crime," she said. "Vongell Lugo was shown by witnesses to be a wonderful soul," she added.