National LGBT youth advocacy group to close doors
NYAC officials say money woes led to shutdown decision
The National Youth Advocacy Coalition (NYAC), a Washington, D.C.-based national organization that advocated on behalf of LGBT youth for more than 18 years, announced on Monday that it would close its doors for good on May 13.
"The organization has been experiencing financial hardship for years," the group said in an announcement on its Facebook page. "This is a very difficult decision and was not made lightly."
The group's interim executive director, Asha Leong, told the Blade the NYAC board struggled over the past six months to obtain new sources of revenue from foundations and other donors at a time when its declining donor base was made worse by the national recession.
Leong said that in recent years, at least 80 percent of NYAC's annual budget of between $400,000 and $500,000 came from a single federal grant from the U.S. Centers for Disease Control and Prevention. She said the CDC lowered the grant from $427,500 last year to $406,125 for NYAC's current fiscal year. The grant was for HIV testing and prevention programs targeting black and Latino gay male, bisexual, and transgender youth.
She said a mostly new board of directors led by board president Amita Swadhin of New York scrambled over the past six months to reverse the organization's narrowing donor base and dependence on a single federal funding source for most of its budget.
"We have for many years largely been an HIV/AIDS organization," said Leong, who joined NYAC as interim director in January. "This government contract has been the bulk of our work, which has been another struggle because I think that our past vision was not only a health involvement organization but also to be an LGBT youth empowerment development organization."
The NYAC website shows that the group currently has four employees, including Leong, along with interns and volunteers. Its offices are located at 1638 R St., N.W., near Dupont Circle.
LGBT leaders familiar with NYAC this week praised its work on LGBT youth, saying the group became a pioneer in recognizing during its early years the need for addressing youth-related issues.
"Like others, I was sad to hear that NYAC will be closing its doors," said Rea Carey, executive director of the National Gay & Lesbian Task Force. Carey served as NYAC's first full-time executive director in the late 1990s.
In a statement released on Tuesday, Carey said "the staff, board, youth and adults associated with NYAC over the years have changed the lives of thousands and thousands of LGBTQ youth in ways that are profound, inspirational and will carry on long into the future."
Andrew Barnett, executive director of D.C.'s Sexual Minority Youth Assistance League (SMYAL), which was among the local organizations to receive support from NYAC, praised NYAC for its work.
"For the past 18 years, NYAC has been a key national leader by empowering LGBTQ youth to be a part of the movement for social justice for all," Barnett said. "NYAC's youth organizing programs have raised the voices of LGBTQ youth from all over the country."
Adam Tenner, executive director of the D.C.-based Metro Teen AIDS and one of NYAC's founding board members, said the group's demise may be part of a pattern he sees both in LGBT and non-LGBT non-profit organizations.
"When the bulk of a group's funding comes from one source, it can create an unevenness that's hard to correct," said Tenner, who long ago left the NYAC board. "As to what finally did in the agency, the imbalance of the funding mix and the lack of a clear, actionable vision in the organization over the past five or six years" played a significant role, he said.
"And unfortunately, this amazing group of people who currently serve on the board I think got there too late to really save it," he said.
DC Front Runners Pride 5K to take place as scheduled
Air quality improved overnight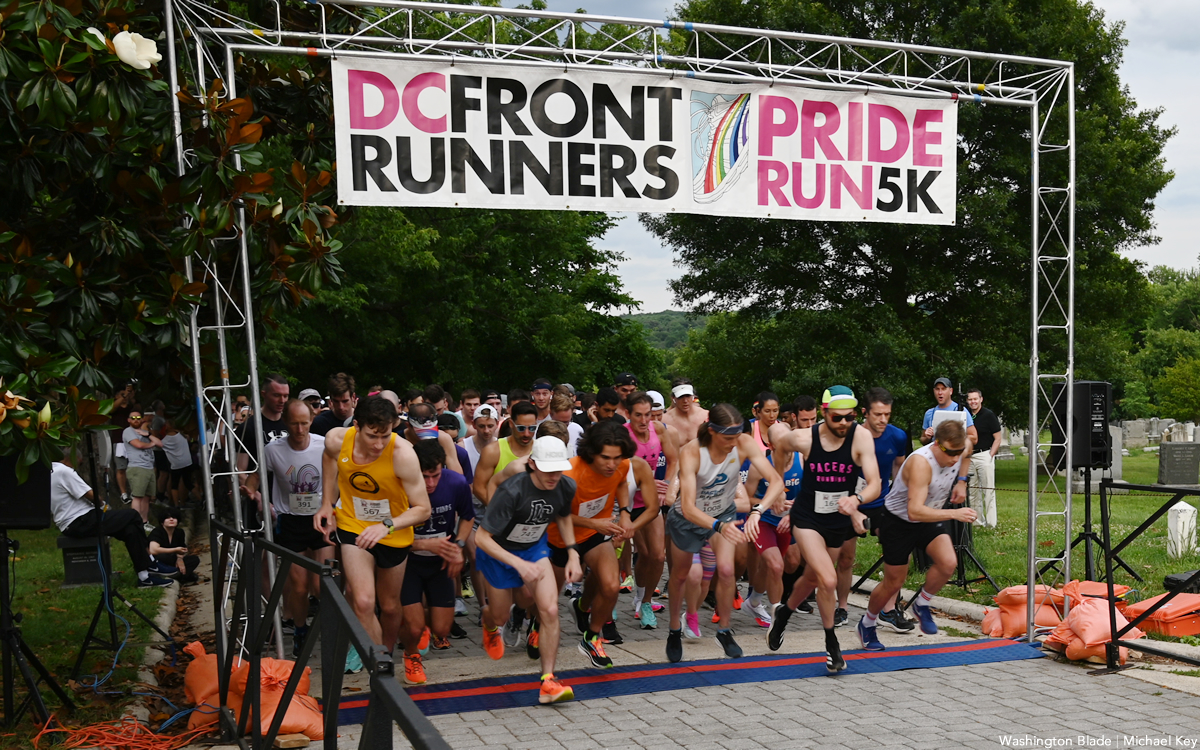 The D.C. Front Runners' annual Pride Run 5K will take place as scheduled at Congressional Cemetery on Friday.
The Blade Foundation, SMYAL, the Wanda Alston Foundation, Team DC, Teens Run DC, Pride 365 and Ainsley's Angels of America are among the race's beneficiaries. Wegmans, Shake Shack, Knead Hospitality and Design, Choice Hotels and Capital One Café are among the sponsors.
Rooftop Pool Party postponed
Capital Pride Alliance moves official event to June 22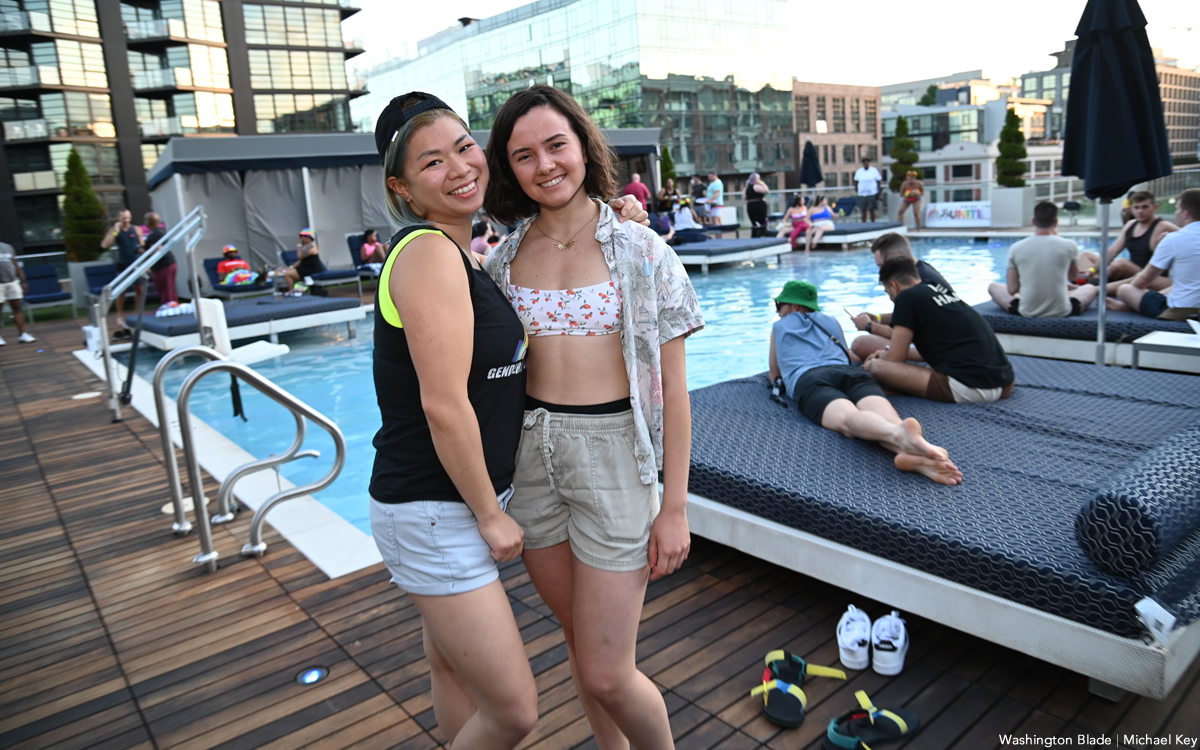 The Capital Pride Rooftop Pool Party, originally scheduled to begin at 8 p.m. tonight, has been postponed until Thursday, June 22, according to a statement released by the Capital Pride Alliance on Instagram. This action comes amid an international climate event created by the Canadian wildfire that has resulted locally in poor air quality and a haze around the region.
The Capital Pride Alliance Instagram account posted, "As with all concerns regarding health and safety issues, the Capital Pride Alliance will closely monitor the air quality situation resulting from Canadian wildfire smoke and take necessary precautions in consultation with our partners in the DC government."
"What does this mean for the pool party?" a question one private Instagram account user posed in the comment section.
"Important Update:" A representative of the Capital Pride Alliance responded through the group's official Instagram account. "Tonight's Capital Pride RoofTop Pool Party at VIDA The Yards is being postponed until Thursday, June 22 at 8:00 pm, due to the current air-quality situation resulting from the Canadian wildfires smoke. Please note that this postponement only applies to today's event."
The Capital Pride Alliance has yet to cancel or postpone any further events.
The White House earlier today rescheduled a large outdoor Pride reception planned for this evening to Saturday.
White House postpones Pride event due to wildfire smoke
Thousands expected for celebration bumped to Saturday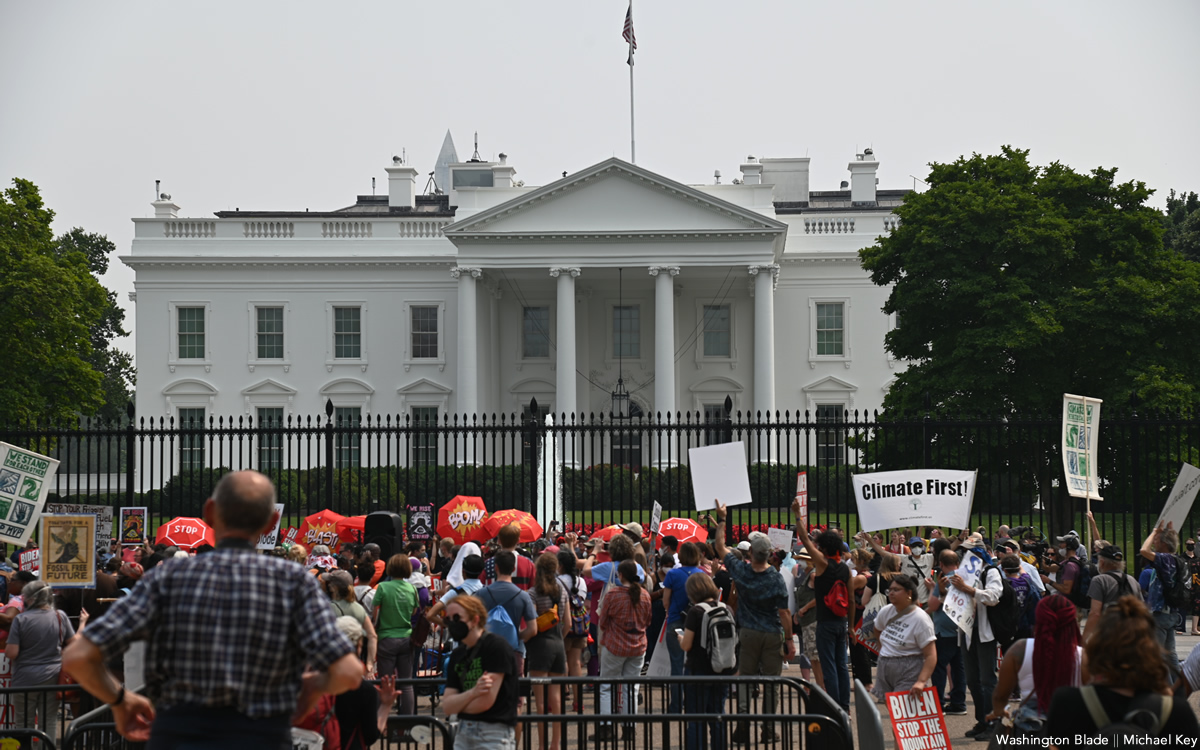 The White House announced Thursday that a Pride event scheduled for this evening has been postponed to Saturday due to the lingering Canadian wildfire smoke.
The smoke has enveloped D.C. in a dangerous haze that triggered a "purple alert" on Thursday, considered worse than a "red alert."
The event, expected to draw thousands of invited LGBTQ advocates and supporters to D.C., has been rescheduled for 1 p.m. on Saturday on the South Lawn of the White House, the same day as D.C.'s Capital Pride Parade, which kicks off at 3 p.m., and Pride on the Pier celebration, which starts at 2 p.m.