National news in brief: July 8
A new 'Supergay' iPhone app, soldiers attacked in anti-gay beating, California mandates teaching gay history, Chicago mayor Rahm Emanuel pushes for marriage equality and a Michigan anti-bullying bill on life-support.

Gay superhero a hit in iTunes App Store
SAN FRANCISCO — An unlikely hit is rising in popularity among iPhone and iPod Touch users.
Spanish game creators Klicrainbow boast that the $2.99 app, "Supergay & The Attack of His Ex-Girlfriends" is the first video game to star a gay superhero, and users of the Apple mobile devices are accepting this groundbreaking game with open arms.
The animated game features comic book style art and currently offers the first 10 chapters of the storyline, with promises of more chapters to come.
The game tells the story of Dr. Tom Palmer — a young, attractive scientist working on a controversial cloning experiment — on the eve of his wedding to the daughter of his boss.
Throughout the narrative, Tom grapples with the fact that he's gay as well as with some of the choices he's made in his life, according to MSNBC.
"Having a gay character in a game is always something positive that gay gamers can relate to," Steve Muir, editor of GenuineGamers.com told the Blade. "However in this instance I think the character we see is more of a stereotype than something we can relate to. Having a quick look at the developers and their title, I see the fluorescent pink color, mentions of Gay Power and the 'Rainbow Ray.' I understand this is a gay superhero but I can't image anyone taking this seriously."
"I think gay gamers, like gay comic fans, have a fascination with the dual identities of superheroes," gay gaming champion, Matthew Michael Brown told the Blade. "We see some of our personal struggles reflected in the lives of these characters and are thrilled when they hit any medium. That said, video games are the future of entertainment and so to see such progressive characters break into this industry is especially exciting." Brown won the second season of Sony's Playstation Network reality series, The Tester.
Gay soldiers allegedly attacked in Colo.
DENVER — Two soldiers identifying as gay stationed at Fort Carson in Colorado Springs were allegedly assaulted by attackers shouting homophobic slurs and racial epithets early Saturday morning.
The soldiers had stopped off at Albert Tacos after a night out at a local nightclub where the men also work. The two soldiers — who had to conceal their identities when making statements about the crime because "Don't Ask, Don't Tell" is still in enforcement — said that some of the work friends that came with them to the restaurant caught the attention of a group of men because of the way that they were dressed, according to ABC News Denver.
One of the victims was treated for a facial fracture and had to have his jaw wired shut.
"We're concerned that these soldiers may not get the support they need because of the ongoing impact of 'Don't Ask, Don't Tell," J.D. Smith, co-director of the active duty service members organization OutServe, said in a statement. "Will they be investigated for reporting the crime? Or for seeking medical help? These soldiers will have to literally lie at work to hide what's occurred to them."
Calif. mandates teaching LGBT history in schools
SACRAMENTO — The California Assembly this week passed 49-25 a bill that would "end LGBT history exclusion in education."
The Fair, Accurate, Inclusive and Respectful Education Act had already passed the Senate 23-14 on April 14, and now heads to Gov. Jerry Brown for signature.
"The struggle of the multicultural and multiethnic LGBT community in California is one of the greatest stories yet to be told," said Equality California Executive Director Roland Palencia in a statement released minutes after passage. "The FAIR Education Act will ensure that public schools acknowledge the heroism of individuals and communities who in spite of countless barriers continuously overcome adversity."
The bill was authored by gay state Sen. Mark Leno, and follows another historic California victory 20 months ago, with the passage of official recognition of Harvey Milk Day.
The bill also compels schools to put strict guidelines in place to protect students from bullying based on real or perceived sexual orientation or gender identity.
"This is a victory not only for the LGBT youth in California who have been fighting to be heard in Sacramento and represented in their history classes, but also for all California youth who deserve to learn a fair and accurate account of California and U.S. history," said Carolyn Laub, executive director of Gay-Straight Alliance Network. "By passing the FAIR Education Act, the Assembly has taken an unprecedented step to reduce bullying, increase safety for all students and teach students to respect each other's differences."
Mayor Emanuel pushes for marriage equality
CHICAGO — In the spirit of Pride month, Chicago Mayor Rahm Emanuel closed June by stating that he hopes Illinois "moves in the direction" of New York after that state passed a bill legalizing same-sex marriage there.
The political heavyweight left his position as White House chief of staff in 2009 to pursue the Chicago mayoral spot being opened with the retirement of Richard M. Daley. Emanuel secured that spot in March 2010 in a race against many local big names, including former U.S. Sen. Carol Moseley Braun, who long backed the idea of marriage equality and voted against both "Don't Ask, Don't Tell" in 1993 and the Defense of Marriage Act in 1996.
Emanuel's statement is his strongest yet on the topic of marriage equality, and advocates hope he will play as pivotal a role in pushing for a bill as Mayor Michael Bloomberg did in New York City.
"Obviously as someone who is working on marriage equality in this state I'm thrilled to see it," gay state assembly member Greg Harris, author of the state's civil unions law, told the Blade. "I think it goes to show that mainstream of political thought in Illinois is moving toward full marriage equality for all people, but that doesn't mean there still isn't lots of work to do in the state."
"No matter what the states do, until we get rid of the Federal [Defense of Marriage Act] there will never be full equality for any same-sex relationship."
Mich. anti-bullying bill put on hold
LANSING, Mich. — The fate of a proposed law that would have specifically protected students from anti-gay and anti-trans harassment and bullying, along with other forms of bullying is now in question as lawmakers go on break.
"Matt's Safe-School Law," named for a teen who committed suicide after being bullied, exists in two versions in the state legislature, one where protected classes like gay and lesbian kids are specifically enumerated — a version backed by the state Board of Education, Michigan's LGBT advocacy group Equality Michigan, and the Republican Rick Snyder — and a general version of the bill that does not specify any protected classes.
The Republican-controlled legislature has only held hearings on the general version of the bill, according to Michigan's LGBT newspaper, Between the Lines. The June 29 Education Committee hearing saw anti-bullying groups come out against the less powerful version of the bill.
"We are disappointed to have to oppose House Bill 4163 today but feel that changes can be made to strengthen it so it becomes the powerful tool it is intended to be," Equality Michigan Policy Director Emily Dievendorf said in a statement after the hearing. "Our kids need to be assured that their second home, their school, is conducive to learning and is accepting of who they are."
Michigan is one of only six states without anti-bullying legislation, which compels schools to create safer environments for students in regard to harassment and bullying.
Family of transgender woman who died in ICE custody sues federal government
Roxsana Hernández passed away in N.M. in 2018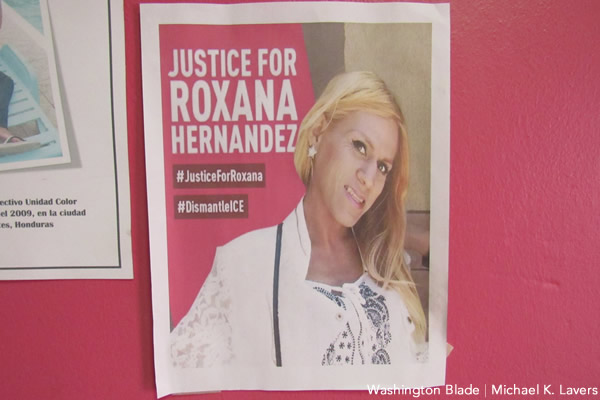 The family of a transgender woman with HIV who died in U.S. Immigration and Customs Enforcement custody in 2018 has sued the federal government.
The Transgender Law Center and two immigration lawyers — Daniel Yohalem and R. Andrew Free — in 2020 filed a lawsuit in U.S. District for the District of New Mexico against five private companies who were responsible for Roxsana Hernández's care.
The lawsuit named Management and Training Corporation, LaSalle Corrections, Global Precision Systems, TransCor America and CoreCivic as defendants. The Transgender Law Center, Yohalem and Grant and Eisenhofer Law on Wednesday petitioned the court to add the federal government to the lawsuit.
"This amended complaint adds the United States, including U.S. Immigration and Customs Enforcement (ICE), U.S. Customs and Border Protection (CBP), and the United States Department of Homeland Security (DHS) to the list of entities who had a direct role in Roxsana's death," said the Transgender Law Center in a press release.
Hernández, who was from Honduras, entered CBP custody on May 9, 2018, when she asked for asylum at the San Ysidro Port of Entry in San Diego. She arrived at the Cibola County Correctional Center, a facility in Milan N.M., that CoreCivic operates, a week later.
Hernández was admitted to Cibola General Hospital in Grants, N.M., shortly after she arrived at the privately-run detention center. Hernández died at Lovelace Medical Center in Albuquerque, N.M., on May 25, 2018.
The lawsuit, among other things, alleges Management and Training Corporation personnel "denied Roxsana and her fellow detainees food, water and restroom access throughout their transfer" from California to a facility in San Luis, Ariz., that LaSalle Corporations operates. The lawsuit also states Hernández did not receive necessary medical care from LaSalle Corporations, Global Precision Systems and TransCor personnel as they transported her to the Cibola County Correctional Center.
CoreCivic officers, according to the lawsuit, delayed Hernández's medical care once she was hospitalized.
An autopsy the New Mexico Office of the Medical Investigator performed concluded Hernández died from Castleman disease associated with AIDS.
A second autopsy that former Georgia Chief Medical Examiner Kris Sperry performed at the Transgender Law Center's request concluded the cause of death was "most probably severe complications of dehydration superimposed upon HIV infection, with the probable presence of one or more opportunistic infections." The second autopsy also found "evidence of physical abuse" that included bruising on Hernández's rib cage and contusions on her body.
"Defendants' discriminatory, negligent, and reckless acts and omissions: (a) caused Roxsana to suffer severe emotional and physical distress; (b) created an unreasonable risk that Roxsana's condition would deteriorate, especially in light of her known HIV-positive status; (c) caused Roxsana's condition to deteriorate; (d) diminished the opportunity for Roxsana's condition to improve; (e) caused her to lose her chance to survive and participate in the federal immigration process; and (f) ultimately, caused her death," reads the motion the Transgender Law Center filed on Wednesday.
"My sister came to the U.S. in search of safety and protection from the horrific violence she experienced as a trans woman in Honduras, and what she found instead was abuse, discrimination and neglect," said Hernández's sister, Jenny Hernández Rodríquez, in the Transgender Law Center press release. "The tragic fact that she is no longer with us is a direct result of that discrimination and neglect."
A spokesperson for the Department of Homeland Security — which oversees ICE and CBP — with whom the Washington Blade spoke on Thursday declined to comment.
Hernández's death sparked widespread outrage among immigration advocates. Her case also intensified calls for ICE to release all trans women in their custody.
The Transgender Law Center, the Rapid Defense Network and the Ballard Spahr law firm in April 2020 filed a class action lawsuit that demanded the release of all trans people in ICE custody.
More than 40 Democratic members of the U.S. House of Representatives in January 2020 called for ICE to release all trans people in their custody. Illinois Congressman Mike Quigley on Thursday during a House Appropriations Committee hearing asked Acting ICE Director Tae Johnson about the treatment of trans people in his agency's custody.
"We have made some efforts on sort of improving our training and identifying specific facilities which would focus on housing these individuals in a less restrictive environment but there's always more work we can do," said Johnson. "We're looking at all aspects of our vulnerable population to include transgender, and this is going to continue to be a priority for us as we move forward in assessing our detention framework."
A unit for trans women in ICE custody opened at the Cibola County Correctional Center in 2017. It closed in 2020.
Biden administration to ban discrimination against LGBTQ patients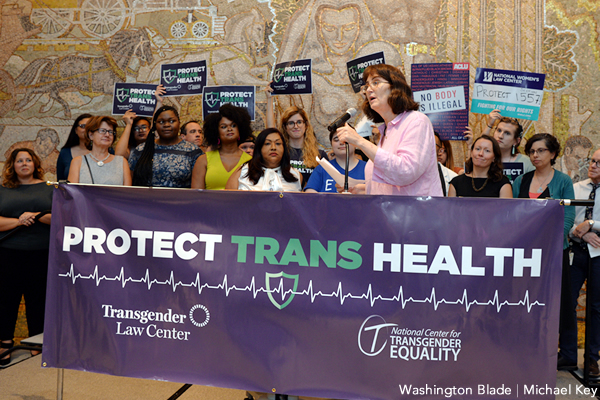 The Biden administration announced on Monday it would enforce civil rights protections under Obamacare to prohibit discrimination in health care against patients for being LGBTQ, reversing policy during the Trump years excluding transgender status as a protected characteristic under the law.
The Department of Health & Human Services declared it would enforce Section 1557 of the Affordable Care Act, which prohibits discrimination in health care on the basis of sex, and begin to take up cases of discrimination based on sexual orientation and gender identity.
HHS Secretary Xavier Becerra said in a statement the Supreme Court has "made clear that people have a right not to be discriminated against on the basis of sex and receive equal treatment under the law, no matter their gender identity or sexual orientation."
"Fear of discrimination can lead individuals to forgo care, which can have serious negative health consequences," Becerra said. "It is the position of the Department of Health and Human Services that everyone — including LGBTQ people — should be able to access health care, free from discrimination or interference, period."
The move is consistent with the executive order President Biden signed on his first day in office directing federal agencies to implement the U.S. Supreme Court's decision last year in Bostock v. Clayton County to the furthest extent possible. Federal agencies were directed to comply within 100 days of the executive order, which is about now and a short time after Biden's first 100 days in office.
The announcement with respect to Section 1557 comes on the same day as the hearing took place this morning in Bagly v. HHS, a case before a federal court in Massachusetts challenging Trump's undoing of transgender protections under the law. An attorney with the U.S. Justice Department announced a new notice of proposed rule-making is coming with respect to Section 1557.
Sharita Gruberg, vice president for the LGBTQ Research and Communications Project at the Center for American Progress, said in a statement the change "assures LGBTQ people that their rights will be upheld at the doctor's office, vaccine sites, and everywhere else they seek health care and coverage."
"The administration's announcement that it will enforce these protections are a critical step toward addressing vaccine hesitancy among LGBTQ people, a population that has been disproportionately impacted by the pandemic and seriously harmed by the previous administration's attempts to permit discrimination against LGBTQ patients, Gruberg added.
The past three administrations have instituted policy on LGBTQ protections based on their interpretation of Section 1557. Each move had varying implications and directions for LGBTQ patients.
The Obama administration issued a rule in 2016 interpreting Section 1557 to apply to cases of anti-transgender discrimination and discrimination against women who have had abortions, which was consistent with court rulings at the time. However, that move was enjoined by a nationwide court order in Texas as a result of litigation filed by Texas Attorney General Ken Paxton.
The Trump administration, shortly after the Supreme Court's ruling in Bostock, made final a regulation proposed last year rescinding the Obama administration's transgender protections under Section 1557. Faced with criticism, the Trump administration defended itself by saying its move was consistent with the court order in Texas, although it seemed to ignore the decision from the higher court.
The new rule from HHS goes above and the beyond the Obama administration by instituting protections based on both sexual orientation and gender identity. It wasn't immediately clear whether the proposed rule would be a new regulation entirely, or seek to modify the changes that were made in the two previous administrations. The Blade has placed a request seeking comment with HHS.
Susan Bailey, president of the American Medical Association, said in a statement the new HHS rule is a welcome change after the Trump administration rescinded protections for transgender patients.
"It's unfortunate that such an obvious step had to be taken; the AMA welcomes this common-sense understanding of the law," Bailey said. "This move is a victory for health equity and ends a dismal chapter in which a federal agency sought to remove civil rights protections."
Discrimination in health care is an experience transgender people commonly report. The U.S. Transgender Survey in 2015 found one-third of responders said they had at least one negative experience in health care related to being transgender. Further, 23 percent of responders said they didn't seek health care because they feared being mistreated and one-third said they didn't go to a provider because they couldn't afford it.
A Center for American Progress survey from 2018 had similar findings with respect to transgender people and patients with being gay, lesbian and bisexual or queer. Eight percent of responders said a doctor refused to see them because of their perceived or actual sexual orientation, while 28 percent of providers said a doctor refused to see them because of their actual or perceived sexual orientation.
Hospitals, especially religiously affiliated providers, refusing to provide transition-related care, including gender assignment surgery, is another frequently reported incident for transgender patients. The American Civil Liberties Union, for example, has filed litigation against hospitals under Section 1557 for refusing to perform the procedure.
Rachel Levine, assistant secretary of health and the first openly transgender presidential appointee to obtain Senate confirmation, hailed the HHS rule change in a statement.
"The mission of our Department is to enhance the health and well-being of all Americans, no matter their gender identity or sexual orientation. All people need access to healthcare services to fix a broken bone, protect their heart health, and screen for cancer risk," Levine said. "No one should be discriminated against when seeking medical services because of who they are."
Although the Biden administration's announcement is a welcome move for LGBTQ advocacy groups, the change is not without critics.
John Banzhaf, a law professor at George Washington University who declares himself a supporter of transgender rights, said the policy could have unintended consequences, which he said has become evident in the British health system.
"[Transgender] individuals with a penis but no vagina are being asked to have medical tests on their non-existent cervices, while [transgender] persons with a vagina and cervix will not be asked, under new guidelines which appear to place lives at risk and encourage a physically impossible medical exam on organs which simply do not exist," Banzhaf said. "And, carrying this absurdity to its totally illogical conclusion, a patient with a penis and a full beard was offered a cervical test because, despite his clearly masculine appearance and style of dress, he registered himself as being gender neutral."
Bill to ban conversion therapy dies in Puerto Rico Senate committee
Advocacy group describes lawmakers as cowards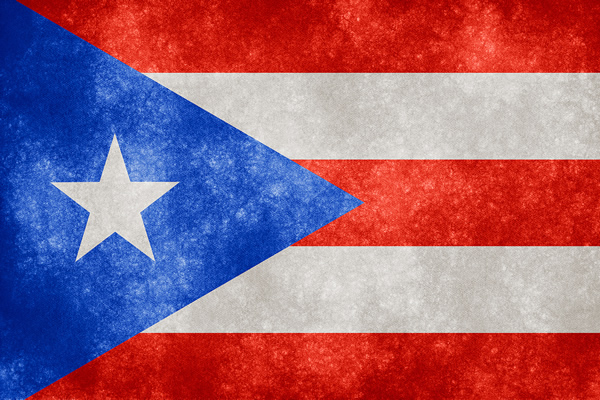 A Puerto Rico Senate committee on Thursday killed a bill that would have banned so-called conversion therapy on the island.
Members of the Senate Community Initiatives, Mental Health and Addiction Committee voted against Senate Bill 184 by an 8-7 vote margin. Three senators abstained.
Amárilis Pagán Jiménez, a spokesperson for Comité Amplio para la Búsqueda de la Equidad, a coalition of Puerto Rican human rights groups, in a statement sharply criticized the senators who opposed the measure.
"If they publicly recognize that conversion therapies are abuse, if they even voted for a similar bill in the past, if the hearings clearly established that the bill was well-written and was supported by more than 78 professional and civil entities and that it did not interfere with freedom of religion or with the right of fathers and mothers to raise their children, voting against it is therefore one of two things: You are either a hopeless coward or you have the same homophobic and abusive mentality of the hate groups that oppose the bill," said Pagán in a statement.
Thursday's vote comes against the backdrop of continued anti-LGBTQ discrimination and violence in Puerto Rico.
Six of the 44 transgender and gender non-conforming people who were reported murdered in the U.S. in 2020 were from Puerto Rico.
A state of emergency over gender-based violence that Gov. Pedro Pierluisi declared earlier this year is LGBTQ-inclusive. Then-Gov. Ricardo Rosselló in 2019 signed an executive order that banned conversion therapy for minors in Puerto Rico.
"These therapies lack scientific basis," he said. "They cause pain and unnecessary suffering."
Rosselló issued the order less than two weeks after members of the New Progressive Party, a pro-statehood party  he chaired at the time, blocked a vote in the Puerto Rico House of Representatives on a bill that would have banned conversion therapy for minors in the U.S. commonwealth. Seven out of the 11 New Progressive Party members who are on the Senate Community Initiatives, Mental Health and Addiction Committee voted against SB 184.
"It's appalling. It's shameful that the senators didn't have the strength and the courage that our LGBTQ youth have, and it's to be brave and to defend our dignity and our humanity as people who live on this island," said Pedro Julio Serrano, founder of Puerto Rico Para [email protected], a Puerto Rican LGBTQ rights group, in a video. "It's disgraceful that the senators decided to vote down this measure that would prevent child abuse."