September 13, 2011 at 5:41 pm EDT | by Chris Johnson
LGBT student bullying on the rise: Justice Dept.
Bullying of LGBT youth is making up a growing number of discrimination complaints received by the Obama administration.
Thomas Perez, assistant attorney general for the Justice Department's Civil Rights Division, said on Tuesday there has been a growing number of reported bullying cases during an oversight hearing before the Senate Judiciary Committee.
"The bullying of kids who are LGBT is probably the largest growth area in our docket," Perez said. "This is about safety — whether it's kids who are gay, whether it's kids who are Muslim, whether it's kids who speak English with an accent, whether it's kids with disabilities, and we have in Tennessee a case involving bullying of kids with disabilities — this is an emerging growth area, I regret to say."
Perez made the remarks on bullying in response to questioning from Sen. Al Franken (D-Minn.), who introduced legislation known as the Student Non-Discrimination Act that aims to protect LGBT youth from bullying and harassment in school.
President Obama has yet to endorse the legislation. During the hearing, Perez said the administration supports "the goals" of the Student Non-Discrimination Act, but stopped short of offering a full-throated endorsement.
"I very much support the goals behind your efforts in introducing the Student Non-Discrimination Act," Perez said. "Kids are dying, kids are being brutally assaulted, kids are scared."
Perez noted that the Obama administration has taken on an "active program engagement" on its own to address bullying. One such step was an anti-bullying summit that Obama and first lady Michelle Obama held at the White House in March.
Additionally, the Education Department has interpreted federal law prohibiting gender discrimination to cover in some instances LGBT students who don't conform to gender stereotypes. Title IV of the Civil Rights Act and Title IX of the Education Amendments of 1972 prohibit harassment based on gender.
Following up on the remarks, Franken said he assumes Perez's mention of the Student Non-Discrimination Act means the administration believes "an explicit ban against discrimination in public schools based on sexual orientation" is necessary.
Perez replied, "Our work as I just described in the LGBT context — we proceed under the sex discrimination theory … that gender nonconformity is one form of sex discrimination under federal law."
Later during the hearing, Perez said congressional action to expand the definitions regarding discrimination in schools would be helpful, although he didn't specifically name any legislation.
"It would obviously be much simpler if you could expand the universe of cases involving people who have been victimized if you were to expand those definitions," Perez said.
LGBT bullying was raised during the hearing among other issues related to the Justice Department's Civil Rights Division including protection of early voting, redistricting and protections of service members returning home.
Among the successes that Perez touted was the enactment of the Matthew Shepard and James Byrd Jr. Hate Crimes Prevention Act, which Congress passed in 2009.
Asked by Sen. Chris Coons (D-Del.), who chaired the hearing, about the benefits of the hate crimes law to the LGBT community, Perez replied that it has "transformed our ability to combat hate crimes in remarkable ways."
"One of the really remarkable and helpful ways that this has transformed our government is that is has facilitated additional cooperation with state and local authorities," Perez said. "We've trained over 4,000 local law enforcement officers. I have participated personally in many of them. Our message is this: this is not a law simply for the feds, this is everyone's law."
Perez said he doesn't measure the success of the law by the number of federal prosecutions of hate crimes, but in terms of whether it has prevented crimes and "the quality of justice writ large — whether it's federal, state, local."
The lack of federal non-discrimination protections in employment also came up during the hearing as a continuing problem for LGBT people.
Asked by Coons about areas of federal law that protect other groups from discrimination but not LGBT people, Perez noted the lack of workplace protections.
Perez recalled the administration's support for the Employment Non-Discrimination Act, which would bar job bias against LGBT people in most situations in the private and public workforce, and said passage would be "very helpful." Perez testified before the Senate in favor of the law in 2009.
"The first hearing I had after confirmation was on the Employment Non-Discrimination Act," Perez said. "The hate crimes bill was introduced in 1996. It took 13 years. ENDA was actually introduced a few years before that, and it's still pending."
Chris Johnson is Chief Political & White House Reporter for the Washington Blade. Johnson is a member of the White House Correspondents' Association. Follow Chris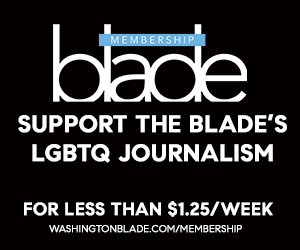 Sign Up for Blade eBlasts