September 17, 2011 at 8:11 pm EDT | by Chris Johnson
Bachmann: Anti-gay bullying 'not a federal issue'
Republican presidential candidate Michele Bachmann is coming under fire from LGBT advocates for saying anti-gay bullying isn't a problem for the federal government.
At a rally in Costa Mesa, Calif., on Friday, Minnesota resident Alex Lemon asked Bachmann what she intends to do about the rash of anti-gay school bullying in her district, according to CBS News.
Bachmann reportedly offered a brief response: "That's not a federal issue." The GOP presidential hopeful moved on to shake hands with the next rally attendee.
A U.S. House member who represents Minnesota in Congress, Bachmann has become associated with the issue of anti-gay bullying because of the rash of teen suicides in her congressional district. Over the past two years, nine youths have committed suicide in the Anoka-Hennepin school district, the largest in Minnesota. At least four suicide victims were victims of bullying because they were gay or perceived to be gay.
In July, the National Center for Lesbian Rights and the Southern Poverty Law Center filed a lawsuit against the district on behalf of students who say they experienced harassment and violence as a result of an anti-gay environment. The Education and Justice departments are also investigating the district over the issue.
Minnesota resident Tammy Aaberg met with Bachmann's staffers on Thursday in her Waite Park, Minn., district office to urge the lawmaker to speak out against bullying. Aaberg's 15-year-old son, Justin, hanged himself in July 2010 after being subjected to anti-gay harassment.
LGBT advocates pounced on Bachmann for rejecting the idea that the federal government should have a role in stopping anti-gay bullying in schools.
Fred Sainz, vice president of communications at the Human Rights Campaign, said Bachmann's remarks at the rally demonstrate "her ignorance and why she's not worthy of the presidency."
"Two bills to make schools safer for all kids are pending before Congress and in just a few days, the White House will host a second summit on the issue," Sainz said. "It most certainly is a federal issue."
Daryl Presgraves, spokesperson for the Gay, Lesbian & Straight Education Network, or GLSEN, called the Republican presidential candidate's comments "disappointing."
"Given her visibility and the well-documented experiences of students being bullied in her own district, it's disappointing that Rep. Bachmann disagrees with the notion that the safety of all children is a universal concern, not one limited by jurisdiction," Presgraves said.
Caleb Laiseki, a 16-year-old national advocate for LGBT youth, also maintained bullying should be under the purview of the federal government.
"A national issue is when an issue is occurring throughout the entire nation," Laiseki said. "Therefore, when incidents of suicides and bullying are occurring in all fifty-states, it clarifies that this a national issue that needs prompt solutions."
Legislation pending before Congress known as the Student Non-Discrimination Act and the Safe Schools Improvement Act aims to stop the bullying of LGBT students in schools. President Obama has yet to endorse either of these bills.
But the Obama administration has interpreted existing federal law prohibiting schools from discriminating on the basis on gender to apply in some circumstances to LGBT youth. Title IV of the Civil Rights Act of 1964 and Title IX of the Education Amendments of 1972 prohibit harassment based on gender.
Additionally, the White House held a bullying summit in March. Next week, the Education Department is hosting its second annual bullying prevention summit at the Washington Hilton Hotel in D.C.
Bachmann has an extensive anti-gay voting history as a member of Congress and has taken anti-gay positions in her pursuit of the White House. She backs a U.S. constitutional amendment that would ban same-sex marriage and has pledged to reinstate "Don't Ask, Don't Tell" if elected president.
The lawmaker co-owns with her spouse, Marcus Bachmann, a faith-based therapy center that has been revealed in engage in widely discredited "ex-gay" therapy aimed at turning gay people into being straight. The clinic has reportedly been the recipient of at least $137,000 in Medicaid funds since 2005. Bachmann has refused to answer questions about this practice at her clinic or whether federal funds have subsidized it.
Chris Johnson is Chief Political & White House Reporter for the Washington Blade. Johnson is a member of the White House Correspondents' Association. Follow Chris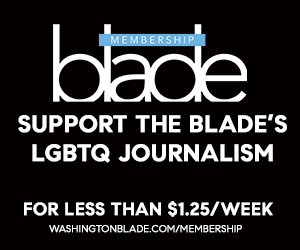 Sign Up for Blade eBlasts