October 19, 2011 at 3:39 pm EDT | by Shannon Cuttle
Make Spirit Day part of your everyday
[Editors note: in honor of Spirit Day, October 20, the Blade's social media pages will be joining news outlets, celebrities, organizations and even schools and churches in going purple to raise awareness about LGBT youth bullying. Watch the Washington Blade Facebook Page and Twitter stream for more information.]
Over the past year the topic of bullying and harassment has come out of the classroom and into the main stream across kitchen tables, community centers, school board meetings and colleges nationwide.
The topic of bullying and harassment is not something new but the impact of bullying and harassment in an age of social media and 24/7 access is only starting to be understood. Terms like cyber-bullying were not identified even ten years ago are today a cause for concern not only with families but educators across the country.
The past year we have seen tragedy in the news with reports of youth who have taken their life in what could of been prevented if schools and local communities were equipped and armed with resources, training and polices to deal with the health and well being of every student including those dealing with bullying and harassment.
But, this past year we have also seen great strides in the fight against bullying and harassment as students and communities are working to come together to take action to help stop bullying before it starts. One local educator in Washington D.C. helped create a mentor-ship program with students and teachers, one family held a bake sale to help raise money to bring a bullying prevention training to a school and even students are leading the way such as Brittany McMillan, a youth from Canada who created Spirit Day to raise awareness and encourage us all to take action.
Bullying and harassment is an everyone issue. There is not one school from pre-k to college or one community in this country that does not have to work to end bullying and harassment starting today. This issue touches every community and every student regardless of sexual orientation, gender identity, race, religion, age, income level, disability, or grade level. To say that a local school or community does not have a bullying and harassment issue means they do not really have the pulse on what is going on inside the classrooms or outside the playground.
The impact of bullying and harassment is one that can last a lifetime with new research even linking PTSD (Post Traumatic Stress Disorder) in adults who have experienced bullying as a youth. According to the Department of Education over 160,000 youth miss school every day due to bullying and harassment and with 1 in 3 youth experiencing bullying and harassment daily, the CDC (Center for Disease Control) has said bullying is an epidemic facing this country. With over 40% of youth and 50% of teacher reporting bullying and harassment being a serious issue in their schools, this is a true health epidemic that has affected every community.
We need to create a collective response of hope and change to empower our youth and communities to take a stand against all forms of bullying and harassment. The spirit of the collective response will be a powerful force leading the way to change and support for all youth in building inclusive safe schools.
Locally, in the District of Columbia, addressing bullying and harassment in our schools must be a priority—achieving real change in our schools will require strong policies and meaningful implementation by the entire community. Our students deserve safe schools. The Bullying and Intimidation Prevention Act will ensure that all District students learn in a safe and supportive environment but we must take action now.
Today as you observe Spirit Day, do not just change your avatar but take the next step to create change in your local community. Send a message of hope and action. Reach out your co-workers , neighbors, family members and friends on why you are wearing purple for Spirit Day and what it means. Write an op-ed in your local paper on why anti-bullying is important to you and your city, town, district or state. Volunteer your time to a local GSA or community center, college campus or k-12 school. Call, email or fax your leaders about why anti-bullying and safe schools legislation and polices are important for all youth. Help take the next steps to ensure that all youth have safe spaces and inclusive schools.
Let's keep the spirit of all communities coming together to combat intolerance and hate beyond today and make it a part of our everyday.
If you or a friend are in crisis please contact 1-866-4U-TREVOR . You are not alone. You are loved.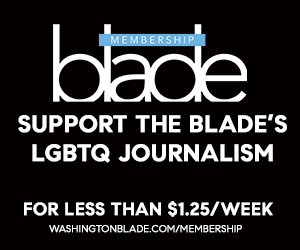 Sign Up for Blade eBlasts