Levin agrees to co-sponsor DOMA repeal
Brings total number of bill supporters to 31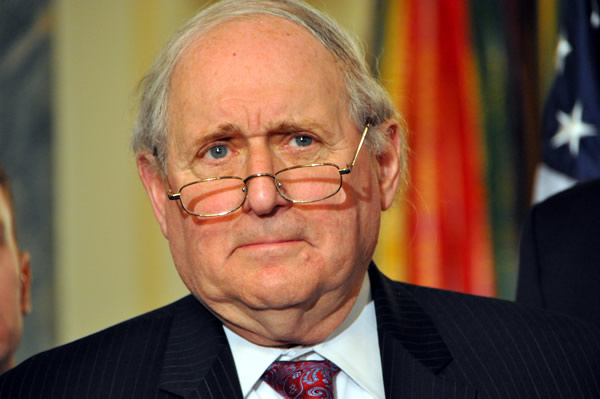 A U.S. senator seen as a leader in the fight for "Don't Ask, Don't Tell" repeal has agreed to sign on as a co-sponsor to legislation that would repeal the Defense of Marriage Act.
On Thursday, Sen. Carl Levin (D-Mich.) officially signed on as a support of the bill, known as the Respect for Marriage Act, bringing the total of co-sponsors to 31.
The Courage Campaign, a progressive grassroots organization, first announced on its blog, Prop 8 Trial Tracker, that Levin had agreed to co-sponsor the DOMA repeal legislation.
The organization has been building the number of co-sponsors of the Respect for Marriage Act, which is sponsored by Sen. Dianne Feinstein (D-Calif.), by sending petitions to potential supporters in the Senate.
Bryan Thomas, a Levin spokesperson, later confirmed for the Washington Blade that Levin "has indeed co-sponsored the Act."
Levin's decision to co-sponsor DOMA repeal comes after he publicly said he supports the measure when asked by the Washington Blade about the bill during a news conference on Sept. 20.
All co-sponsors of the legislation in the Senate are Democrats. In the House, Rep. Ileana Ros-Lehtinen (R-Fla.) co-sponsors companion legislation, which is sponsored by Rep. Jerrold Nadler (D-N.Y.).
The Michigan Democrat's decision to co-sponsor the legislation comes less than one week after Senate Judiciary Committee Chair Patrick Leahy (D-Vt.) announced that he intends to hold a committee vote on the legislation in November. Levin isn't a member of the panel, but all 10 Democrats who hold membership are already co-sponsors of the bill.
Levin, chair of the Senate Armed Services Committee, was seen early on as a leader in the fight to repeal "Don't Ask, Don't Tell." Last year, Levin backed a committee amendment to include repeal language as part of annual defense budget legislation.
The repeal-inclusive legislation ultimately didn't make it to the floor, but Levin supported the standalone bill that was introduced later and ultimately was successful.
Rick Jacobs, chair of the Courage Campaign, said in a statement Levin's decision to co-sponsor the Respect for Marriage Act is important because of his authority on military issues.
"Carl Levin is in many ways the conscience of the Senate," Jacobs said. "As a leader in defense and national security issues, Sen. Levin understands that America's true power comes from its diverse population. That's why his support for Sen Feinstein's bill to repeal the Defense of Marriage Act means so much. American soldiers can now bear arms without hiding that they are gay and lesbian; when they come home, their marriages deserve to be treated equally."
Biden condemns signing of Uganda's Anti-Homosexuality Act
National Security Council 'to evaluate' law's implications, U.S. engagement with country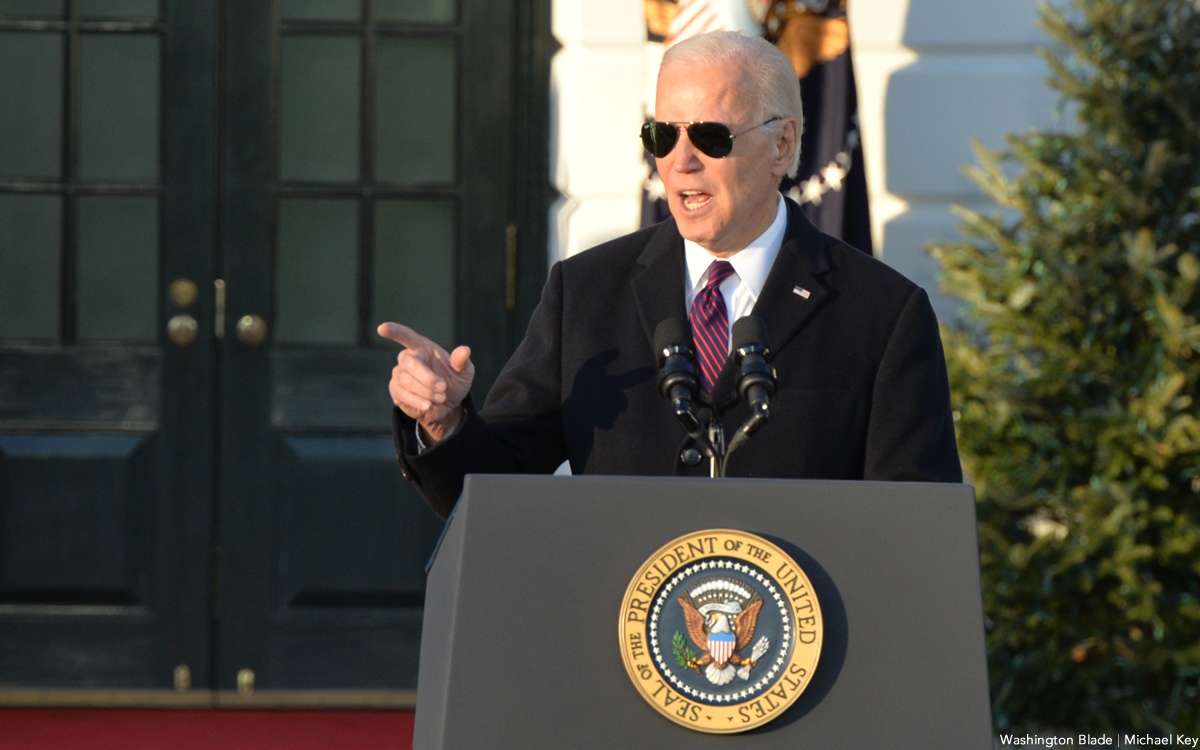 President Joe Biden on Monday condemned Uganda's Anti-Homosexuality Act that the country's president has signed.
"The enactment of Uganda's Anti-Homosexuality Act is a tragic violation of universal human rights — one that is not worthy of the Ugandan people, and one that jeopardizes the prospects of critical economic growth for the entire country," said Biden in his statement. "I join with people around the world — including many in Uganda — in calling for its immediate repeal. No one should have to live in constant fear for their life or being subjected to violence and discrimination. It is wrong."
Biden notes "reports of violence and discrimination targeting Ugandans who are or are perceived to be LGBTQI+ are on the rise," since MPs introduced the Anti-Homosexuality Act.
"Innocent Ugandans now fear going to hospitals, clinics, or other establishments to receive life-saving medical care lest they be targeted by hateful reprisals. Some have been evicted from their homes or fired from their jobs. And the prospect of graver threats — including lengthy prison sentences, violence, abuse — threatens any number of Ugandans who want nothing more than to live their lives in safety and freedom," said Biden.

"This shameful Act is the latest development in an alarming trend of human rights abuses and corruption in Uganda. The dangers posed by this democratic backsliding are a threat to everyone residing in Uganda, including U.S. government personnel, the staff of our implementing partners, tourists, members of the business community and others," added Biden. 
The version of the Anti-Homosexuality Act that President Yoweri Museveni signed contains a death penalty provision for "aggravated homosexuality."
Biden in his statement notes he has "directed my National Security Council to evaluate the implications of this law on all aspects of U.S. engagement with Uganda, including our ability to safely deliver services under the U.S. President's Emergency Plan for AIDS Relief (PEPFAR) and other forms of assistance and investments. My administration will also incorporate the impacts of the law into our review of Uganda's eligibility for the African Growth and Opportunity Act (AGOA)."  
"We are considering additional steps, including the application of sanctions and restriction of entry into the United States against anyone involved in serious human rights abuses or corruption," he said.
Ugandan media reports indicate the U.S. has revoked Parliament Speaker Anita Among's visa.
"The United States shares a deep and committed partnership with the people of Uganda. For more than 60 years, we have worked together to help millions of Ugandans live healthier, more productive lives," said Biden in his statement. "Our programs have boosted economic growth and agricultural productivity, increased investments in Ugandan businesses, and strengthened our trade cooperation. In total, the U.S. government invests nearly $1 billion annually in Uganda's people, business, institutions, and military to advance our common agenda. The scale of our commitments speaks to the value we place on this partnership — and our faith in the people of Uganda to build for themselves a better future. It is my sincere hope that we can continue to build on this progress, together and strengthen protections for the human rights of people everywhere."
 
Texas attorney general impeached, suspended pending outcome of Senate trial
Ken Paxton over the last decade has targeted LGBTQ people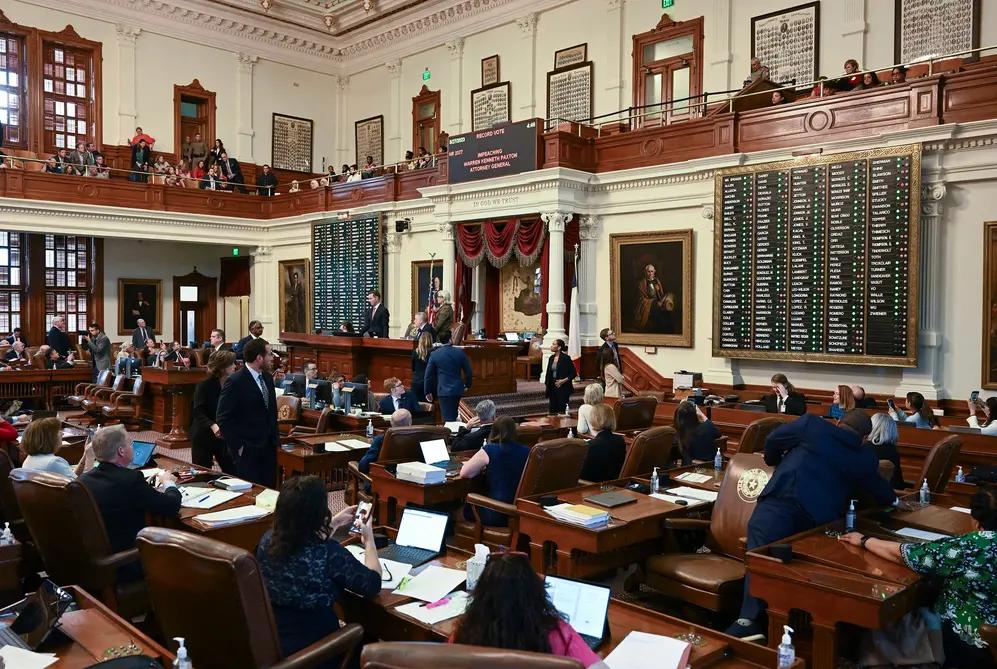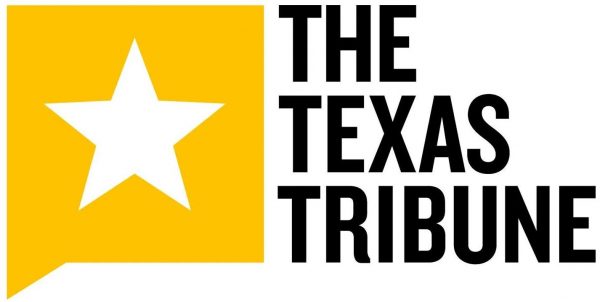 Editor's note: For the vast majority of the past 10 years the Texas attorney general has waged a relentless campaign to limit the rights and equality of LGBTQ Texans, especially transgender Texans. Today's vote is significant in terms of the possibility that a Senate conviction would offer a potential respite from Paxton's attacks on the LGBTQ community.
By Zach Despart and James Barragan AUSTIN, Texas | In a history-making late-afternoon vote, a divided Texas House chose Saturday to impeach Attorney General Ken Paxton, temporarily removing him from office over allegations of misconduct that included bribery and abuse of office.
The vote to adopt the 20 articles of impeachment was 121-23.
Attention next shifts to the Texas Senate, which will conduct a trial with senators acting as jurors and designated House members presenting their case as impeachment managers.
Permanently removing Paxton from office and barring him from holding future elected office in Texas would require the support of two-thirds of senators.
The move to impeach came less than a week after the House General Investigating Committee revealed that it was investigating Paxton for what members described as a yearslong pattern of misconduct and questionable actions that include bribery, dereliction of duty and obstruction of justice. They presented the case against him Saturday, acknowledging the weight of their actions.
"Today is a very grim and difficult day for this House and for the state of Texas," Rep. David Spiller (R-Jacksboro), a committee member, told House members.
"We have a duty and an obligation to protect the citizens of Texas from elected officials who abuse their office and their powers for personal gain," Spiller said. "As a body, we should not be complicit in allowing that behavior."
Paxton supporters criticized the impeachment proceedings as rushed, secretive and based on hearsay accounts of actions taken by Paxton, who was not given the opportunity to defend himself to the investigating committee.
"This process is indefensible," said Rep. John Smithee (R-Amarillo), who complained that the vote was taking place on a holiday weekend before members had time to conduct a thorough review of the accusations. "It concerns me a lot because today it could be General Paxton, tomorrow it could be you and the next day it could be me."
Saturday's vote temporarily removes a controversial but influential Republican figure in Texas and nationally. He has led an office that initiated lawsuits that overturned or blocked major Biden and Obama administration policies, sought to reverse Trump's electoral defeat in 2020, aggressively pursued voter fraud claims and targeted hospitals that provided gender care to minors.
The Legislature had impeached state officials just twice since 1876 — and never an attorney general — but the House committee members who proposed impeachment argued Saturday that Paxton's misconduct in office was so egregious that it warranted his removal.
"This gentleman is no longer fit for service or for office," said committee member Rep. Ann Johnson (D-Houston). "Either this is going to be the beginning of the end of his criminal reign, or God help us with the harms that will come to all Texans if he's allowed to stay the top cop on the take, if millions of Texans can't trust us to do the right thing, right here, right now."
Rep. Charlie Geren (R-Fort Worth), a member of the investigative committee, used his presentation time to criticize Paxton for calling representatives as they worked on the House floor to "personally threaten them with political consequences in the next election" if they supported impeachment.
Speaking against impeachment, Rep. Tony Tinderholt (R-Arlington), called the process "wrong."
"Don't end our session this way. Don't tarnish this institution," Tinderholt said. "Don't cheapen the act of impeachment. Don't undermine the will of the voters. Don't give Democrats another victory handed to them on a silver platter."
The vote came as hardline conservatives supportive of Paxton's aggressive strategy of suing the Biden administration were lining up in support of him. Former President Donald Trump — a close political ally to Paxton — blasted the impeachment proceedings as an attempt to unseat "the most hard working and effective" attorney general and thwart the "large number of American Patriots" who voted for Paxton.
Trump vowed to target any Republican who voted to impeach Paxton.
As lawmakers listened to the committee members make their case, Paxton took to social media to boost conservatives who had come to his defense, including Trump, U.S. Rep. Marjorie Taylor Greene (R-Ga.) and conservative radio host Grant Stinchfield, who tweeted, "Kangaroo Court in Texas."
About 90 minutes into the debate, the official Twitter account of the Texas attorney general's office began tweeting at members of the committee to challenge some of the claims being made.
"Please tell the truth," the agency's account said.
Because Paxton was impeached while the Legislature was in session, the Texas Constitution requires the Senate to remain in Austin after the regular session ends Monday or set a trial date for the future, with no deadline for a trial spelled out in the law.
Impeachment represents the greatest political threat to date for Paxton, who has been reelected twice despite a 2015 indictment for felony securities fraud and an ongoing federal investigation into allegations of official misconduct that began in 2020.
The impeachment vote, on the third-to-last day of the regular legislative session, capped a tumultuous week at the Capitol. From Tuesday to Thursday:
Paxton abruptly accused House Speaker Dade Phelan of presiding over the chamber while drunk and demanded that he resign.
The House General Investigating Committee revealed it had been investigating Paxton in secret since March.
The committee heard a three-hour presentation from its investigators detailing allegations of corruption against the attorney general.
The committee's three Republicans and two Democrats voted to forward 20 articles of impeachment to the full House.
Paxton, who was comfortably elected to a third term last year, made a rare appearance before assembled reporters Friday to criticize the process, saying he was not given a chance to present favorable evidence. He called impeachment an effort by Democrats and "liberal" Republicans to remove him from office, violating the will of voters and sidelining an effective warrior against Biden administration policies.
"The corrupt politicians in the Texas House are demonstrating that blind loyalty to Speaker Dade Phelan is more important than upholding their oath of office," Paxton said. He added, "They are showcasing their absolute contempt for the electoral process."
Many of the articles of impeachment focused on allegations that Paxton had repeatedly abused his powers of office to help a political donor and friend, Austin real estate developer Nate Paul.
In fall 2020, eight top deputies in the attorney general's office approached federal and state investigators to report their concerns about Paxton's relationship with Paul.
All eight quit or were fired in the following months, and most of the details of their allegations against Paxton were revealed in a lawsuit by four former executives who claim they were fired — in violation of the Texas Whistleblower Act — in retaliation for reporting Paxton to the authorities. Paxton's bid to dismiss the lawsuit is awaiting action by the Dallas-based 5th Court of Appeals.
According to the lawsuit, the whistleblowers accused Paxton of engaging in a series of "intense and bizarre" actions to help Paul, including intervening in an open-records case to help Paul gain documents from federal and state investigations into the real estate investor's businesses. They also accused Paxton of directing his agency to intervene in a lawsuit between Paul and a charity, pushing through a rushed legal opinion to help Paul avoid a pending foreclosure sale on properties and ignoring agency rules to hire an outside lawyer to pursue an investigation helpful to Paul's businesses.
In return, the whistleblower lawsuit alleged, Paul paid for all or part of a major renovation of a home Paxton owns in Austin. Paul also helped Paxton keep an extramarital affair quiet by employing the woman Paxton had been seeing, the lawsuit said, adding that the attorney general may also have been motivated by a $25,000 contribution Paul made to Paxton's campaign in 2018.
In their report to the House General Investigating Committee on Wednesday, the panel's investigators concluded that Paxton may have committed numerous crimes and violated his oath of office.
Investigators said possible felonies included abuse of official capacity by, among other actions, diverting staff time to help Paul at a labor cost of at least $72,000; misuse of official information by possibly helping Paul gain access to investigative documents; and retaliation and official oppression by firing employees who complained of Paxton's actions to the FBI.
The articles of impeachment accused Paxton of accepting bribes, disregarding his official duties and misapplying public resources to help Paul.
The articles also referred to felony charges of securities fraud, and one felony count of failing to register with state securities officials, that have been pending against Paxton since 2015, months after he took office as attorney general. The fraud charges stem from Paxton's work in 2011 to solicit investors in Servergy Inc. without disclosing that the McKinney company was paying him for the work.
The impeachment articles also accused Paxton of obstruction of justice by acting to delay the criminal cases with legal challenges and because a Paxton donor pursued legal action that limited the pay to prosecutors in the case, causing further delays "to Paxton's advantage."
Taken in total, the accusations showed a pattern of dereliction of duty in violation of the Texas Constitution, Paxton's oaths of office and state laws against public officials acting against the public's interest, the impeachment resolution said.
"Paxton engaged in misconduct, private or public, of such character as to indicate his unfitness for office," the articles said.
An attorney general had never before been impeached by the Legislature, an extraordinary step that lawmakers have reserved for public officials who faced serious allegations of misconduct. Only two Texas officials have been removed from office by Senate conviction, Gov. James Ferguson in 1917 and District Judge O.P. Carrillo in 1975.
If Paxton is to survive, he will need to secure the support of 11 senators. With the 12 Democratic senators likely to support his removal, votes for acquittal would need to come from the 19 Republican members.
None has publicly defended Paxton. In a television interview Thursday, Lt. Gov. Dan Patrick, who presides over the Senate, said merely that he believed senators would be responsible jurors and "do their duty."
A complicating factor is Sen. Angela Paxton (R-McKinney), Paxton's wife. State law requires all senators to attend an impeachment trial, though whether she will recuse herself from voting is unclear.
Paxton's political base lies in the far-right faction of the Republican Party, where he has positioned himself as a champion of conservative causes and a thorn in the side of Democratic President Joe Biden. Paxton has criticized his opponents as RINOs (Republicans in name only) who "want nothing more than to sabotage our legal challenges to Biden's extremist agenda by taking me out."
He also retained the backing of the state Republican Party, led by former state Rep. Matt Rinaldi, who frequently attacks Republicans he considers to be insufficiently conservative. On Friday, Rinadi said the impeachment was Phelan's fault for allowing Democrats to have too much influence in the House.
"The impeachment proceedings against the Attorney General are but the latest front in the Texas House's war against Republicans to stop the conservative direction of her state," Rinaldi said in a statement.
Paxton also has maintained a close relationship with Trump and filed an unsuccessful U.S. Supreme Court challenge to the 2020 presidential election. Paxton also spoke at Trump's rally on Jan. 6, 2021, shortly before the president's supporters attacked the U.S. Capitol.
Related:
***************************************************************************************
***************************************************************************************
The preceding article was previously published by The Texas Tribune and is republished by permission.
**********************
The Texas Tribune is a nonprofit, nonpartisan media organization that informs Texans — and engages with them — about public policy, politics, government and statewide issues.
Quality journalism doesn't come free
Perhaps it goes without saying — but producing quality journalism isn't cheap. At a time when newsroom resources and revenue across the country are declining, The Texas Tribune remains committed to sustaining our mission: creating a more engaged and informed Texas with every story we cover, every event we convene and every newsletter we send. As a nonprofit newsroom, we rely on members to help keep our stories free and our events open to the public. Do you value our journalism? Show us with your support.
Target stores across the country receive bomb threats over LGBTQ merchandise
Company removed Pride-themed items to back of stores in Southern states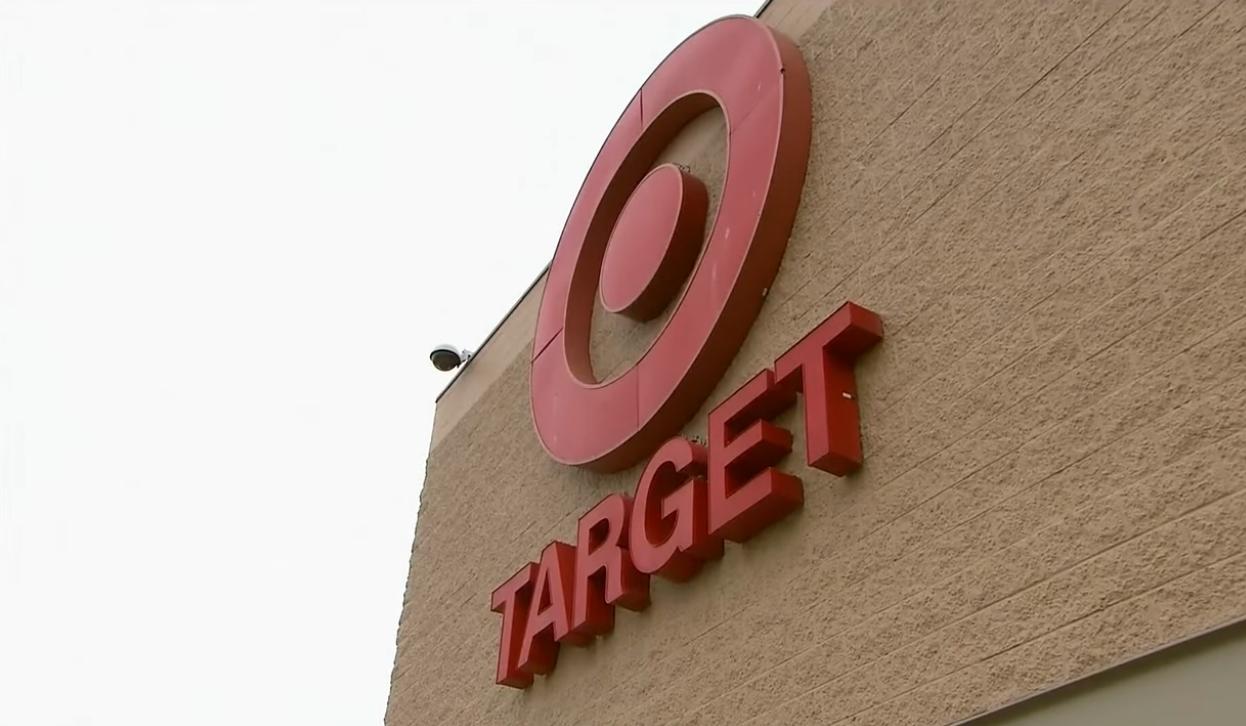 Police departments in Utah, Ohio and Pennsylvania aided by assistance from agents from Federal Bureau of Investigation Field Offices in Ohio and Utah are investigating threats made by email to local media referencing the retail chain Target's LGBTQ merchandise collections celebrating Pride Month.
KUTV CBS 2 Salt Lake City reported that Sgt. John Ottesen with Layton Utah Police said bomb threats were made to Target stores in Layton, Salt Lake City, Taylorsville and Provo. Ottesen confirmed that multiple law enforcement agencies commenced the investigation after the local new stations received the emailed threats.
A Target store in Layton, Utah, was evacuated after police said they were informed of a bomb threat to multiple Utah locations.
The threats specifically mentioned Target's Pride merchandise, were three sentences long, and came from a "bogus email address," according to Ottesen.
WOIO Cleveland 19 News received a bomb threat Friday afternoon against four Target stores in Ohio and a store in Monaca, Pa., purportedly from a person or persons angry over Target Corporation's decision to remove some of the LGBTQ merchandise after a series of threats and physical threats against its retail clerks and staff in several southern states earlier this week.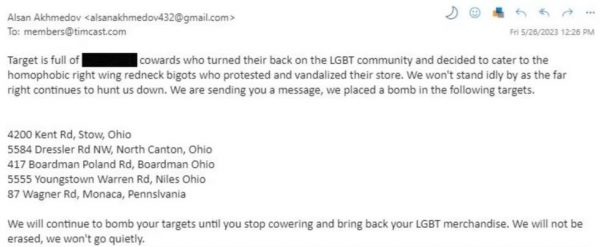 It was not immediately known if the threats were legitimate, though precautions were quickly taken to ensure staff and customer's safety according to officials.
A Target spokesperson who spoke with multiple media outlets said: "The safety of our team members and guests is our top priority. Law enforcement investigated these claims and determined our stores are safe. Our stores are currently open and operating regular hours."
Speaking for the Minneapolis-based retail giant two days ago, spokesperson Kayla Castañeda noted: "Since introducing this year's collection, we've experienced threats impacting our team members' sense of safety and wellbeing while at work. Given these volatile circumstances, we are making adjustments to our plans, including removing items that have been at the center of the most significant confrontational behavior."
Castañeda also released a statement from the company:
"For more than a decade, Target has offered an assortment of products aimed at celebrating Pride Month. Since introducing this year's collection, we've experienced threats impacting our team members' sense of safety and well-being while at work. Given these volatile circumstances, we are making adjustments to our plans, including removing items that have been at the center of the most significant confrontational behavior. Our focus now is on moving forward with our continuing commitment to the LGBTQIA+ community and standing with them as we celebrate Pride Month and throughout the year."
Removal of the merchandise from its online store in addition to the storefronts has prompted harsh criticism of the retailer. California Gov. Gavin Newsom tweeted.
CEO of Target Brian Cornell selling out the LGBTQ+ community to extremists is a real profile in courage.

This isn't just a couple stores in the South. There is a systematic attack on the gay community happening across the country.

Wake up America.

This doesn't stop here.… https://t.co/1vRgukaT0g

— Gavin Newsom (@GavinNewsom) May 24, 2023
Numerous LGBTQ activists and groups have condemned Target for bowing to what is seen as political pressure by a minority of far right extremists:
"Extremist groups and individuals work to divide us and ultimately don't just want rainbow products to disappear, they want us to disappear," Kelley Robinson, president of the Human Rights Campaign, said in a statement. "For the past decade, the LGBTQ+ community has celebrated Pride with Target — it's time that Target stands with us and doubles-down on their commitment to us."
On Friday, Alejandra Caraballo, a clinical instructor at the Harvard Law Cyberlaw Clinic and an LGBTQ activist tweeted her disgust over the decision by Target to effectively abandon company support for the queer product lines and the creators.
Target worked with indie trans and queer designers to make it's pride collection. The moment they get threatened by domestic terrorists, they abandon them without a second thought. Absolutely despicable. pic.twitter.com/TcHzg06Jvt

— Alejandra Caraballo (@Esqueer_) May 27, 2023
Another designer was dropped as well. pic.twitter.com/TXMEusOWj8

— Alejandra Caraballo (@Esqueer_) May 27, 2023
Related:
Atlanta LGBTQ community reacts to Target pulling some Pride merchandise: