Obama, Clinton push int'l LGBT rights
Administration issues new strategy, as Sec'y of State speaks out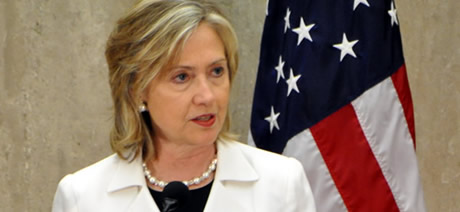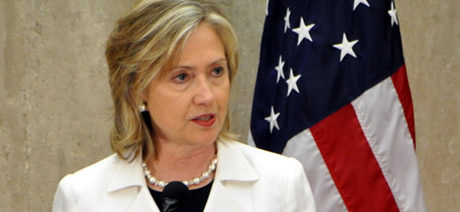 The Obama administration on Tuesday made public a sweeping plan to confront anti-LGBT abuses overseas as Secretary of State Hillary Clinton delivered a high-profile speech on protecting human rights that made extensive references to LGBT rights abuses.
On Tuesday, President Obama issued what's being called the first-ever U.S. government strategy to address LGBT human rights overseas in the form of a memo to the heads of government departments and agencies.
In the memo, Obama writes that the fight to end discrimination against LGBT people is "a global challenge" and "central to the United States' commitment to promoting human rights."
"I am deeply concerned by the violence and discrimination targeting LGBT persons around the world — whether it is passing laws that criminalize LGBT status, beating citizens simply for joining peaceful LGBT pride celebrations, or killing men, women, and children for their perceived sexual orientation," Obama said.
MORE IN THE BLADE: ANTI-HOMOPHOBIA CANDIDATE TO RETURN AS FIRST FEMALE PRIME MINISTER OF JAMAICA
The memo articulates six points in the new strategy to combat LGBT human rights abuses.
* U.S. agencies overseas are directed to strengthen efforts to combat the criminalization by foreign governments of LGBT status or conduct in addition to expanding efforts to combat discrimination overseas on this basis.
* The Departments of State and Homeland Security are directed to ensure LGBT people seeking asylum in the United States have equal access to protection and assistance. Additionally, the Departments of State, Justice and Homeland Security are to ensure appropriate training is in place for government personnel to help LGBT refugees and asylum seekers.
* U.S. foreign aid agencies are directed to engage regularly with governments, citizens, civil society and the private sector to foster an awareness of LGBT human rights.
* The State Department is to lead a "standing group" geared toward ensuring swift response to serious incidents threatening the human rights of LGBT people overseas.
* U.S. agencies overseas are directed to work with international organizations to counter anti-LGBT discrimination and increase the number of countries willing to defend LGBT issues.
* U.S. agencies engaged abroad are required to prepare a report for the State Department within 180 days on their progress on these initiatives. The department will then compile a larger report for the president.
Joe Solmonese, president of the the Human Rights Campaign, praised the Obama administration for the new guidance in a statement.
"As Americans, we understand that no one should be made a criminal or subject to violence or even death because of who they are, no matter where they live," Solmonese said. "Today's actions by President Obama make clear that the United States will not turn a blind eye when governments commit or allow abuses to the human rights of LGBT people."
Victoria Neilson, legal director for Immigration Equality, had particular praise for the added protections for LGBT people seeking asylum in the United States.
"Immigration Equality hears from more than 1,000 LGBT people a year who are fleeing persecution," Neilson said. "Many face daunting challenges in escaping their home country, let alone reaching the shores of the United States. By instructing foreign service officers to offer all available assistance to those who seek their help, the White House is extending a helping hand to some of the world's most vulnerable individuals."
On the same day the memo was issued, Clinton spoke extensively about the need to incorporate LGBT people in human rights protections during remarks at the U.S. Mission to the United Nations in Geneva, Switzerland.
The speech was in recognition of Human Rights Day, which recognizes the adoption of the Universal Declaration of Human Rights on Dec. 10, 1948 by the U.N. General Assembly. More than 1,000 diplomats and experts were in attendance.
"Today, I want to talk about the work we have left to do to protect one group of people whose human rights are still denied in too many parts of the world today," Clinton said. "In many ways, they are an invisible minority. They are arrested, beaten, terrorized, even executed. Many are treated with contempt and violence by their fellow citizens while authorities empowered to protect them look the other way — or too often, even join in the abuse. They are denied opportunities to work and learn, driven from their homes and countries and forced to suppress or deny who they are to protect themselves from harm. I am talking about gay, lesbian, bisexual and transgender people: human beings born free and given, bestowed equality and dignity who have a right to claim that, which is now one of the remaining human rights challenges of our time."
Clinton acknowledged that her "own country's record on human rights for gay people is far from perfect." She noted that being gay was still a crime in many parts of the country until 2003, when the Supreme Court struck down state sodomy laws in Lawrence v. Texas.
"Many LGBT Americans have endured violence and harassment in their own lives, and for some, including many young people, bullying and exclusion are daily experiences," Clinton said. "So we, like all nations, have more work to do to protect human rights at home."
But the secretary also rejected the idea that homosexuality is a Western creation and people outside of Western countries therefore have grounds to reject LGBT people.
"Well, in reality, gay people are born into and belong to every society in the world," Clinton said. "They are all ages, all races, all faiths; they are doctors and teachers, farmers and bankers, soldiers and athletes; and whether we know it, or whether we acknowledge it, they are our family, our friends, and our neighbors."
Clinton said those who first crafted the Universal Declaration of Human Rights may not in 1948 have realized the document applied to LGBT people, but said many of the countries involved in its crafting have come to the realization that — as Clinton has articulated before — gay rights are human rights, and human rights are gay rights.
"It is violation of human rights when people are beaten or killed because of their sexual orientation, or because they do not conform to cultural norms about how men and women should look or behave," Clinton said. "It is a violation of human rights when governments declare it illegal to be gay, or allow those who harm gay people to go unpunished. It is a violation of human rights when lesbian or transgendered women are subjected to so-called corrective rape, or forcibly subjected to hormone treatments, or when people are murdered after public calls for violence toward gays, or when they are forced to flee their nations and seek asylum in other lands to save their lives."
Clinton also announced the creation of a Global Equality Fund that will support the work of civil society organizations working on LGBT human rights issues around the world. The secretary said the U.S. government has already committed more than $3 million to start this fund.
During a conference call with reporters after the speech, a senior State Department official, who spoke on condition of anonymity, said the Bureau of Democracy, Human Rights & Labor made grants to organizations in the past, but the Global Equality Fund will "make permanent, or bolster the efforts to support civil society organizations around the world."
The official said organizations seeking to conduct work in the 80 countries where same-sex relations are criminalized "would be priority areas" for grant money under the fund.
Advocates hailed Clinton for her speech and called it a strong signal the United States is activel;y pushing for an end to LGBT rights abuses overseas. According to HRC, Solmonese met with Clinton in Geneva prior to her speech.
Mark Bromley, chair of the Council for Global Equality, was also in attendance and said Clinton gave a "remarkable speech" that received a standing ovation.
"For us, I think the real question was to set the proper tone to be respectful and to recognize that this is a difficult conversation for many conservative countries, but to also to be very firm in stating unequivocally that this is a human rights priority and a U.S. foreign policy priority," Bromley said.
Bromley added Clinton struck an appropriate balance by saying she delivered her address with "respect, understanding, and humility" while maintaining the importance of LGBT rights as a priority.
Justin Nelson, president of the National Gay & Lesbian Chamber of Commerce, was also a witness to Clinton's remarks and called them "monumental" and "historic."
"It's such a strong statement that LGBT rights are human rights and human rights are LGBT rights, and that's American foreign policy," Nelson said. "It sends a very strong message that people all over the world know that they have an ally in America."
Bromley said representatives from some countries didn't stand after the remarks despite the state ovation, but he couldn't identify who these people were or they countries from which they hailed.
"With most countries represented at some level, and 80 countries that continue to criminalize consensual same-sex relations, there were some that, obviously, would have a difficult time fully understanding the speech," Bromley said. "But at the same time, I think, the vast majority of audience really reacted enthusiastically and understood it to be a balanced, respective but firm statement of U.S. foreign policy."
The senior State Department official said 95 percent of the audience was standing after Clinton's remarks and there was a "sustained standing ovation."
"I think part of that is attributable to the fact that she came not to wag a finger, but to really invite a conversation," Clinton said. "I think the audience felt the spirit of respect, and also the spirit of hopefulness that she brought to the speech."
In the aftermath of the speech, questions linger on whether the Obama administration can truly be support LGBT rights abroad when neither Obama nor Clinton have yet to express support for marriage rights for gay couples at home.
Asked if by advocating for LGBT rights abroad overseas the Obama administration is now in favor of marriage equality, the senior State Department official responded, "I think the secretary and the president have both spoken about their personal views on marriage. I think that one of things that comes up a lot in the international context is that — as in America and elsewhere — there is an ongoing debate about gay marriage. But whatever our position on gay marriage, I think one of the things that many of us have been finding an agreement on is the fact that no matter what you think about that question, we can all agree that people ought not be killed or imprisoned for who are they are and who they love."
Watch the video of Clinton's speech here:
Federal judge blocks White House from ending Title 42
Advocacy groups say policy further endangered LGBTQ asylum seekers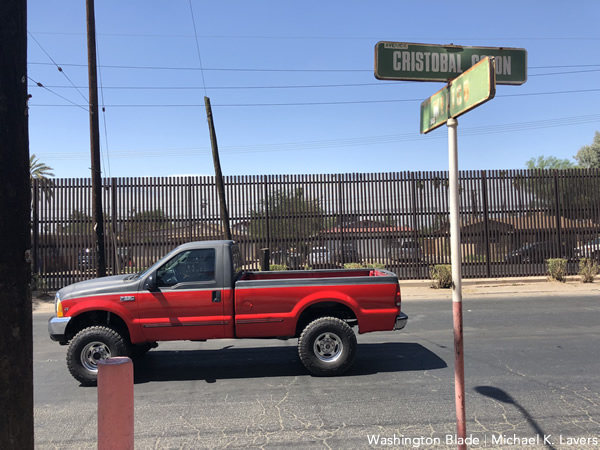 A Centers for Disease Control and Prevention rule that closed the Southern border to most asylum seekers and migrants because of the pandemic was to have ended Monday, but it remains in place after a federal judge blocked the Biden administration's plans to end it.
The White House last month announced it would terminate Title 42, a policy the previous administration implemented in March 2020.
U.S. District Judge Robert Summerhays in Louisiana on May 20 issued a ruling that prevented the Biden administration from terminating the Trump-era policy. White House Press Secretary Karine Jean-Pierre in a statement announced the Justice Department will appeal the decision, while adding the administration "will continue to enforce the CDC's 2020 Title 42 public health authority pending the appeal."
"This means that migrants who attempt to enter the United States unlawfully will be subject to expulsion under Title 42, as well as immigration consequences such as removal under Title 8 (of the U.S. Code)," said Jean-Pierre.
Advocacy groups and members of Congress with whom the Washington Blade has spoken since Title 42 took effect say it continues to place LGBTQ asylum seekers and other vulnerable groups who seek refuge in the U.S. at even more risk.
Oluchi Omeoga, co-director of the Black LGBTQIA+ Migrant Project, last month described Title 42 as a "racist and harmful policy." ORAM (Organization of Refuge, Asylum and Migration) Executive Director Steve Roth said Title 42 "put asylum seekers in harm's way in border towns and prevented them from seeking safety in the United States."
Title 42 was to have ended less than a month after five members of Congress from California visited two LGBTQ shelters for asylum seekers in the Mexican border city of Tijuana.
The Council for Global Equality, which organized the trip, in a tweet after Summerhays issued his ruling described Title 42 as a "catastrophe."
"The Biden administration cannot breathe a sign of relief until it's a matter of the past," said the Council for Global Equality on Saturday. "We remain committed to end Title 42."
#Title42 is a catastrophe — and the Biden administration cannot breathe a sigh of relief until it's a matter of the past. We remain committed to #EndTitle42. https://t.co/9EKJTiJzoV

— The Council for Global Equality (@Global_Equality) May 20, 2022
U.S. Army considers allowing LGBTQ troops to transfer from hostile states
Proposed guidance remains in draft form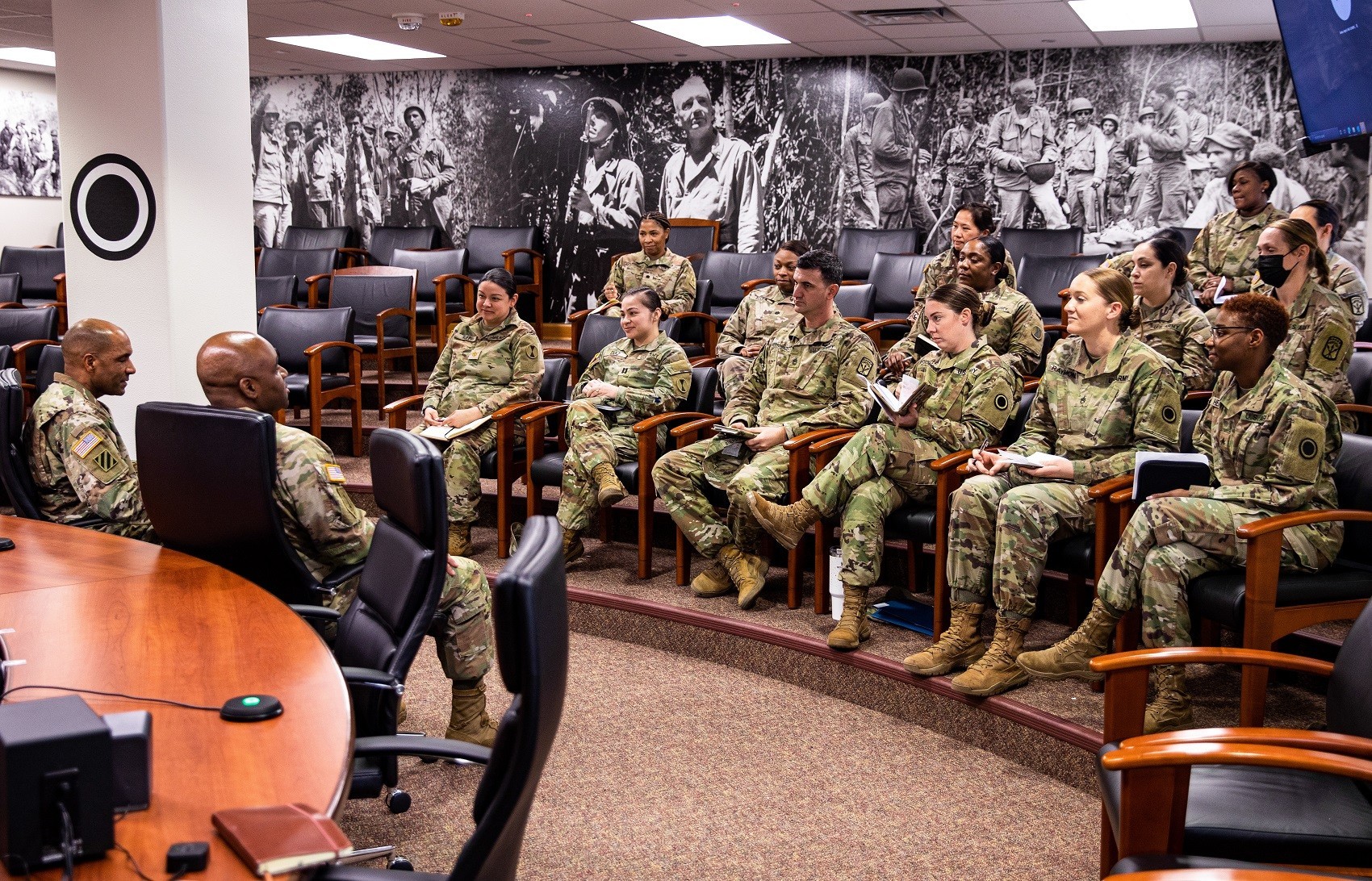 A draft policy is circulating among top officials of the U.S. Army that would allow soldiers to be able to request a transfer if they feel state or local laws discriminate against them based on gender, sex, religion, race or pregnancy.
Steve Beynon writing for Military.com reported last week the guidance, which would update a vague service policy to add specific language on discrimination, is far from final and would need approval from Army Secretary Christine Wormuth. But if enacted, it could be one of the most progressive policies for the Army amid a growing wave of local anti-LGBTQ and restrictive contraception laws in conservative-leaning states, where the Army has a majority of its bases and major commands.
"Some states are becoming untenable to live in; there's a rise in hate crimes and rise in LGBT discrimination," Lindsay Church, executive director of Minority Veterans of America, an advocacy group, told Military.com. "In order to serve this country, people need to be able to do their job and know their families are safe. All of these states get billions for bases but barely tolerate a lot of the service members."
This policy tweak to the existing Army regulations pertaining to compassionate reassignment would clarify the current standard rules, which are oft times fairly vague.
A source in the Army told Beynon the new guidance has not yet been fully worked out through the policy planning process or briefed to senior leaders including the Army secretary or the office of Defense Secretary Lloyd Austin.
"The Army does not comment on leaked, draft documents," Angel Tomko, a service spokesperson, told Military.com in an emailed statement. "AR 600-100 and 600-200 establish the criteria for which soldiers may request for a compassionate reassignment. The chain of command is responsible for ensuring soldiers and families' needs are supported and maintain a high quality of life."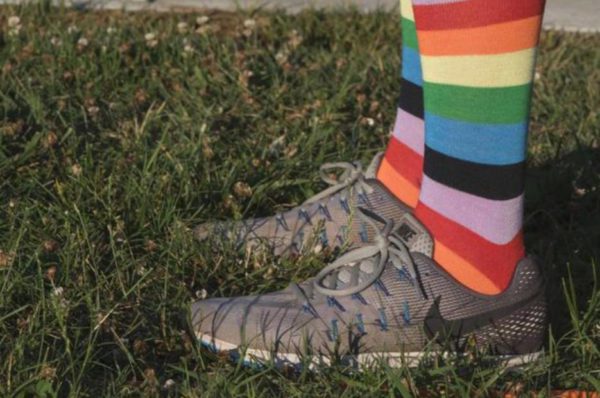 The Crystal City-based RAND Corporation had published a study on sexual orientation, gender identity and health among active duty servicemembers in 2015 that listed approximate six percent of LGBTQ troops are gay or bisexual and one percent are trans or nonbinary.
A senior analyst for RAND told the Washington Blade on background those numbers are likely much lower than in actuality as 2015 was less than four years after the repeal of 'Don't Ask, Don't Tell' and prior to when the Trump administration enacted the trans servicemember ban in 2017, which has had a chilling effect on open service.
The Biden administration repealed the Trump ban.
Another factor is that the current 18-24 year old troops colloquially referred to as "Gen Z" are much more inclined to embrace an LGBTQ identity and that would cause the numbers to be higher than reported.
Also factored in is uncertainty in the tweaking of policy in light of the recent leak of the draft U.S. Supreme Court decision that would effectively repeal Roe v. Wade.
According to Military.com it's unclear whether the Army's inclusion of pregnancy on the list would protect reproductive care for soldiers if Roe v. Wade is overturned. That language could be intended to protect pregnant service members or their families from employment or other discrimination, but could also be a means for some to argue for transfers based on broader reproductive rights.
One advocacy group pointed out that the current wave of anti-LGBTQ legislation will negatively impact the moral of service members:
"What we're seeing across the board is a small group of elected officials who are trying to politicize and weaponize LGBTQ identities in despicable ways. They're not only doing that to our youth, but the collateral damage is hurting our service members," Jacob Thomas, communications director for Common Defense, a progressive advocacy organization, told Military.com. "[Troops] can't be forced to live in places where they aren't seen as fully human."
How a pro-transgender memo sneaked through the Trump administration
2020 memo an outlier amid otherwise hostile policy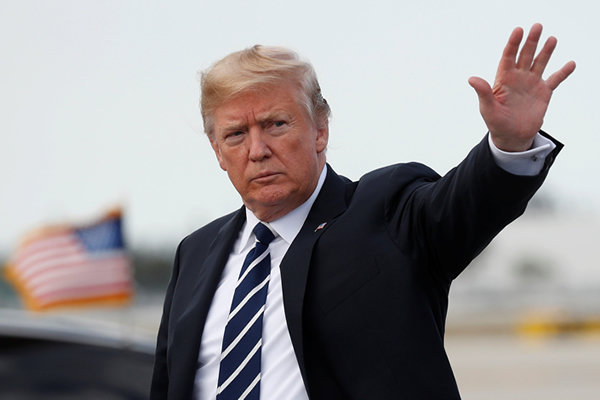 By the time the Trump administration ended, it had solidified a reputation for being hostile to transgender people — barring them from military service and reversing regulations aimed at ensuring non-discrimination protections regardless of gender identity — but one minor policy decision managed to sneak through affirming the acceptance of employees going through gender transition.
Top officials at the Defense Intelligence Agency, a company support agency for the U.S. government, outlined in a memo dated June 15, 2020 the process for employees and supervisors to "navigate transitioning while employed at the DIA." The document, which was not previously made available to the public, was obtained earlier this month by the Washington Blade through an appeal of a request under the Freedom of Information Act.
"Transitioning in the workplace is a personal decision," the memo says. "DIA encourages transitioning employees to openly communicate during the transitioning process; discuss plans for workplace transition with their supervisor or manager; and, as appropriate, include any steps that will prompt workplace changes (e.g., transitioning employees may begin using a different name or pronoun)."
Because the fundamental nature of a memo outlining steps to help employees in the workplace transition is contrary to the overwhelming anti-transgender outlook of the Trump administration, the DIA memo appears to have been an internal effort shielded from the White House at the time as opposed to a government-wide initiative.
The DIA guidance for transgender employees runs contrary to other sweeping Trump administration policies that sought to enable discrimination against transgender people, including the military policy former President Trump issued via Twitter in 2017 outright banning them from service "in any capacity."
Other anti-trans actions include the Department of Health & Human Services rescinding an Obama-era regulation that barred health care providers and insurers from discriminating against transgender patients, including the denial of transition-related care, which was orchestrated by then-director of Office of Civil Rights Roger Severino and came just days before the DIA memo.
Both the military ban and the health care rollback have since been reversed under the Biden administration.
Another Trump-era policy at a comparable scope to the DIA memo to employees, however, was the U.S. Office of Personal Management deleting on a page on its website outlining the guidance for accommodating federal workers going through the transition process. The DIA memo, which facilitates those transitions within that one agency, contradicts the message sent by the deletion of the OPM resource.
Although two sources familiar with the document told the Washington Blade it was timed for Pride month (which would be consistent with the June publication date), it would also be consistent with the U.S. Supreme Court's decision in Bostock v. Clayton County, which determined anti-LGBTQ discrimination is a form of illegal sex discrimination. After all, the Bostock decision came out on the same day as the date on the DIA memo.
A defense insider familiar with the DIA memo, who spoke on condition of anonymity, was among those who said the memo went out in recognition of Pride month and said it was intended to ensure there was guidance for transition at the agency.
"We had a number of different individuals who were going through the transition process and management needed to understand what the policy as they dealt with the individuals who were going through transition," the insider said.
The insider said production of the memo "wasn't part of any government wide effort" and completely within DIA. The memo, the insider said, wasn't creating any new policy for the agency, but "looking at existing policy, and then providing our manager and our workforce clear guidance."
Asked whether there was any backlash to the memo, the insider said, "No, I would say absolutely not." Once the guidance went out, the insider said, he "didn't hear anything from outside the organization" about it.
In response to a follow-up question on whether the White House or Pentagon under Trump expressed any objections to the guidance, the insider denied that was the case: "No one said anything to me about it."
Other highlights of the memo include options for diversity training to better understand transition-related issues; instructions to refer to employees by the name and pronoun of their choice; a reminder the Defense Intelligence Agency has no dress code, therefore employees are allowed to wear attire in the manner they choose; and a guarantee employees shall have access to restrooms consistent with their gender identity. Employees may transition without prior coordination, the memo says, or may do so while creating a transition plan that includes the date the transition will begin, whether time off is needed and how to discuss the situation with colleagues.
"Employees can use the restroom and other facilities that best align with their gender identity and are not restricted to use of a single-user restroom," the memo says. "Employees are not required to undergo or provide proof of any medical procedures to use restroom facilities designed for use by a specific gender."
Additionally, the document outlines the process for administrative record updates, including making a request for a gender marker changer through human resources, updating personnel files, and changing DIA and intelligence community badges and identification cards.
A DIA spokesperson, in response to email inquiries from the Washington Blade on the document, confirmed the memo was issued to coincide with Pride month and remains in effect to this day.
"Released jointly to the DIA civilian workforce by the DIA Chief of Staff, Equal Opportunity and Diversity Office, and Office of Human Resources, the memo titled 'Gender Transition in the Workplace for Civilian Employees' serves to notify DIA civilian employees of the Agency's position on supporting Lesbian, Gay, Bisexual, Transgender, Queer (LGBTQ) employees, including those taking steps to align themselves more fully with their gender identities," the DIA spokesperson said. "The memo was released in June 2020 to coincide with Pride Month and serves as active guidance."
In many cases, regulations and guidance would have to go through the White House Office of Management & Budget or Office of Information and Regulatory Affairs, but not necessarily, especially an internal memo to supervisors and employees to reinforce policy that purportedly was already in place.
A Trump White House official said he was unaware of the document until the Blade brought it to his attention and said it would not have come to the White House because it was never published in the Federal Register. The Office of Management & Budget didn't respond to the Blade's request to comment on whether it ever was brought to the attention of the White House at the time of its publication in 2020.
While regulations within U.S. agencies go to the White House for review and consultations, government agencies as well as businesses often consult transgender groups for assistance in developing guidance for transitioning in the workforce, such as the National Center for Transgender Equality.
Mara Keisling, a transgender advocate who served as executive director of the advocacy group during the Trump administration, said she was completely unaware of the memo until the Blade brought it to her attention, although DIA would have been "required by law" to have such a policy for transgender workers after the Supreme Court's decision in Bostock.
"We would have been happy to see it, but this was not the Trump administration doing something good," Keisling said. "This was HR bureaucrats, I don't mean bureaucrat in a bad way at all. This is HR bureaucrats following the law, and it clearly didn't rise to the level of the White House."
Keisling said she was unaware of any similar guidance for gender transition coming from a U.S. agency during the Trump administration. However, she disclosed her organization was able to work with federal workers to get "a couple of sneaky things done the White House didn't know about" consistent with the DIA memo, although she didn't elaborate.
"And super importantly, it's the intelligence community and defense and intelligence, which Defense Intelligence Agency obviously is both," Keisling said. "They have a little more autonomy than others anyway, so … if you told me there was something surprising from somewhere on a personnel issue, I would have guessed that it was somewhere in the intelligence report or Foreign Service community."