Anti-homophobia candidate to return as first female Prime Minister of Jamaica
Says she would not be opposed to appointing LGBT cabinet members

[UPDATE: We have corrected this post to better reflect the fact that this is Simpson Miller's second time in the Prime Minister position, in which she served from 2006-2007, at which time she became Jamaica's first female Prime Minister]
Portia Simpson Miller's People's National Party won a landslide victory in Parliament over the ruling Labor Party in Jamaica yesterday, giving her a second run at her previous role as first female Prime Minister of that Caribbean nation.
Jamaica is well known for its severe homophobia around the world, and in the past decade, many instances of serious anti-gay violence in Jamaica have caught the attention of the international media. In addition disgraced former Prime Minister, Bruce Golding, had vowed to keep gays out of his Cabinet, a policy supported by Simpson Miller's opponent, and outgoing Prime Minister, Andrew Holness, who stepped in to take Golding's place upon his resignation two months ago.
"People are entitled to their opinion, as well as I am entitled to mine," Holness responded to a question during a debate in December. "But as leader of the country, I have to respect everybody's opinion, and make sure that the institutions of freedom are well in place so that the debate can continue."
"My sentiments reflect the sentiments of the country," he continued. "The Prime Minister has a discretion, but that discretion cannot be exercised in a vacuum."
MORE IN THE BLADE: STATE DEPT. REPORT IDENTIFIES LGBT ABUSES ABROAD
In a nationally televised December debate between Holness and Simpson Miller, the People's National Party leader came out against the "buggery" law in Jamaica that criminalizes homosexual behavior — though she refused to vow to push for its repeal.
"Our administration believes in protecting the human rights of all Jamaicans," Simpson Miller responded. "No one should be discriminated against because of their sexual orientation. Government should provide the protection."
"I think we should have a look at the 'buggery' law, and that members of Parliament should be given the opportunity to vote with their conscience, on consultation with their constituents," she concluded.
In addition, when both candidates were asked if they would appoint qualified LGBT MPs to their cabinet, Holness remained steadfast to the existing policy while Simpson Miller refused to apply a litmus test of that sort to her cabinet candidates.
"But for me, I do not support the position of the former Prime Minister, because people should be appointed to positions based on their ability to manage and to lead," she said of appointing a gay cabinet member. "I would appoint anyone with the ability, the capacity, and the capability to manage in my cabinet."
Watch both responses below.
http://www.youtube.com/watch?v=GDb73VCjxAk
Trump indicted in classified document mishandling case
Former president to appear in federal court in Miami on Tuesday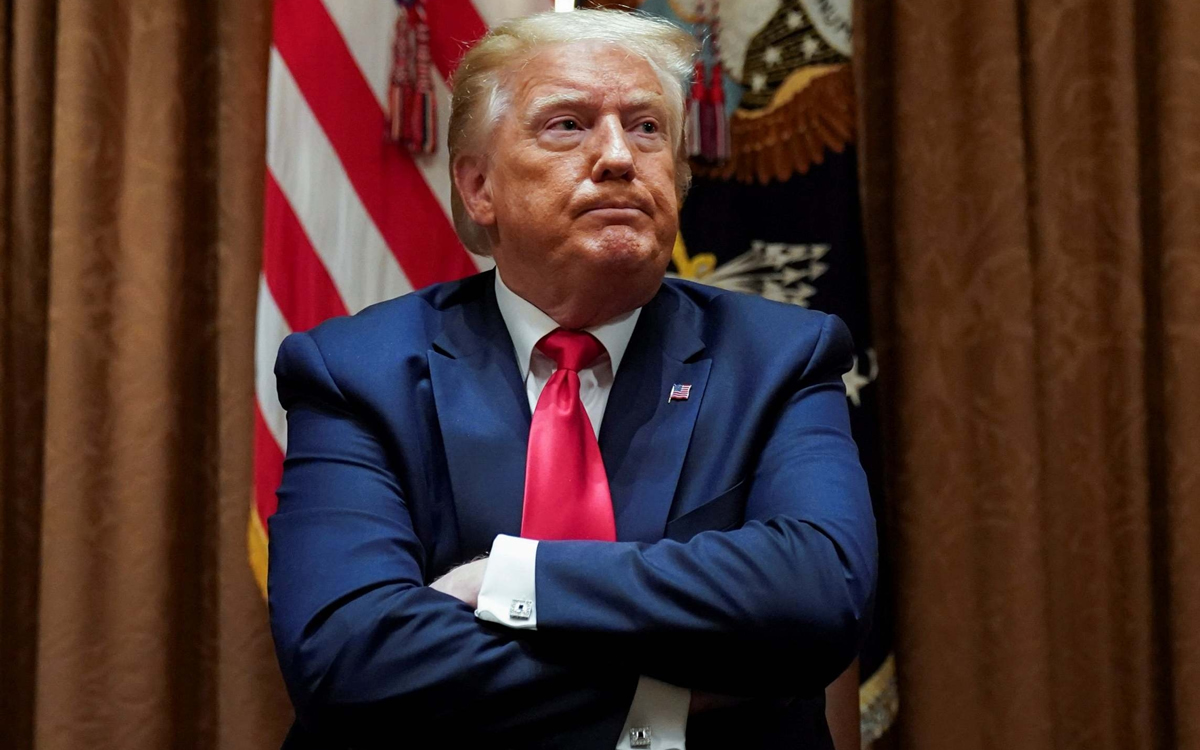 A federal grand jury has indicted former President Donald Trump on seven criminal counts in connection with his mishandling of more than 100 classified documents.
In a series of posts to his Truth Social account Thursday, Trump said that he has been indicted related to his mishandling of the classified documents taken to his estate at Mar-a-Lago after his term of office ended in January 2021.
The unprecedented decision comes after a more than yearlong investigation by special counsel Jack Smith into whether Trump knowingly retained classified and top secret government records when he left office and then disregarded a subpoena to return all classified documents in his possession and whether he and his staff obstructed Federal Bureau of Investigation efforts to ensure all documents had been returned.
A person familiar with the situation who was not authorized to discuss it publicly said Trump's lawyers were contacted by prosecutors shortly before he announced on his Truth Social platform that he had been indicted, the Associated Press reported.
In the first of a series of posts Trump wrote:
"Page 1: The corrupt Biden administration has informed my attorneys that I have been Indicted, seemingly over the Boxes Hoax, even though Joe Biden has 1850 boxes at the University of Delaware, additional Boxes in Chinatown, D.C., with even more boxes at the University of Pennsylvania, and documents strewn all over his garage floor where he parks his Corvette, and which is 'secured' by only a garage door that is paper thin, and open much of the time."
"Page 2: I have been summoned to appear at the federal courthouse in Miami on Tuesday at 3 p.m. I never thought it possible that such a thing could happen to a former president of the United States, who received far more votes than any sitting president in the history of our country, and is currently leading, by far, all candidates, both Democrat and Republican, in Polls of the 2024 presidential election. I AM AN INNOCENT MAN!"
"Page 3: This is indeed a DARK DAY for the United States of America. We are a country in serious and rapid decline, but together we will Make America Great Again!"
The Justice Department didn't respond to a request for a comment.
The AP also noted it remains unclear what the immediate and long-term political consequences will be for Trump. His first indictment spurred millions of dollars in contributions from angry supporters and didn't damage Trump in the polls.
No matter what, the indictment — and the legal fight that follows — will throw Trump back into the spotlight, sucking attention away from the other candidates who are trying to build momentum in the 2024 presidential race, the AP pointed out.
Rooftop Pool Party postponed
Capital Pride Alliance moves official event to June 22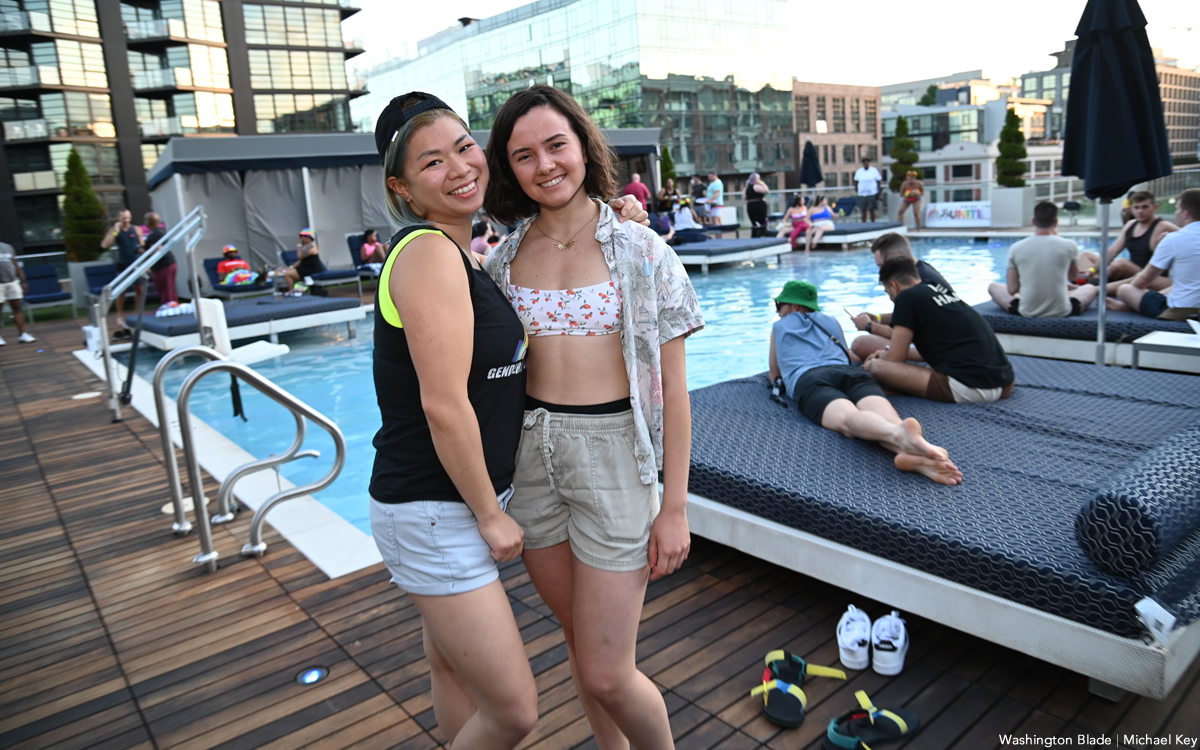 The Capital Pride Rooftop Pool Party, originally scheduled to begin at 8 p.m. tonight, has been postponed until Thursday, June 22, according to a statement released by the Capital Pride Alliance on Instagram. This action comes amid an international climate event created by the Canadian wildfire that has resulted locally in poor air quality and a haze around the region.
The Capital Pride Alliance Instagram account posted, "As with all concerns regarding health and safety issues, the Capital Pride Alliance will closely monitor the air quality situation resulting from Canadian wildfire smoke and take necessary precautions in consultation with our partners in the DC government."
"What does this mean for the pool party?" a question one private Instagram account user posed in the comment section.
"Important Update:" A representative of the Capital Pride Alliance responded through the group's official Instagram account. "Tonight's Capital Pride RoofTop Pool Party at VIDA The Yards is being postponed until Thursday, June 22 at 8:00 pm, due to the current air-quality situation resulting from the Canadian wildfires smoke. Please note that this postponement only applies to today's event."
The Capital Pride Alliance has yet to cancel or postpone any further events.
The White House earlier today rescheduled a large outdoor Pride reception planned for this evening to Saturday.
White House postpones Pride event due to wildfire smoke
Thousands expected for celebration bumped to Saturday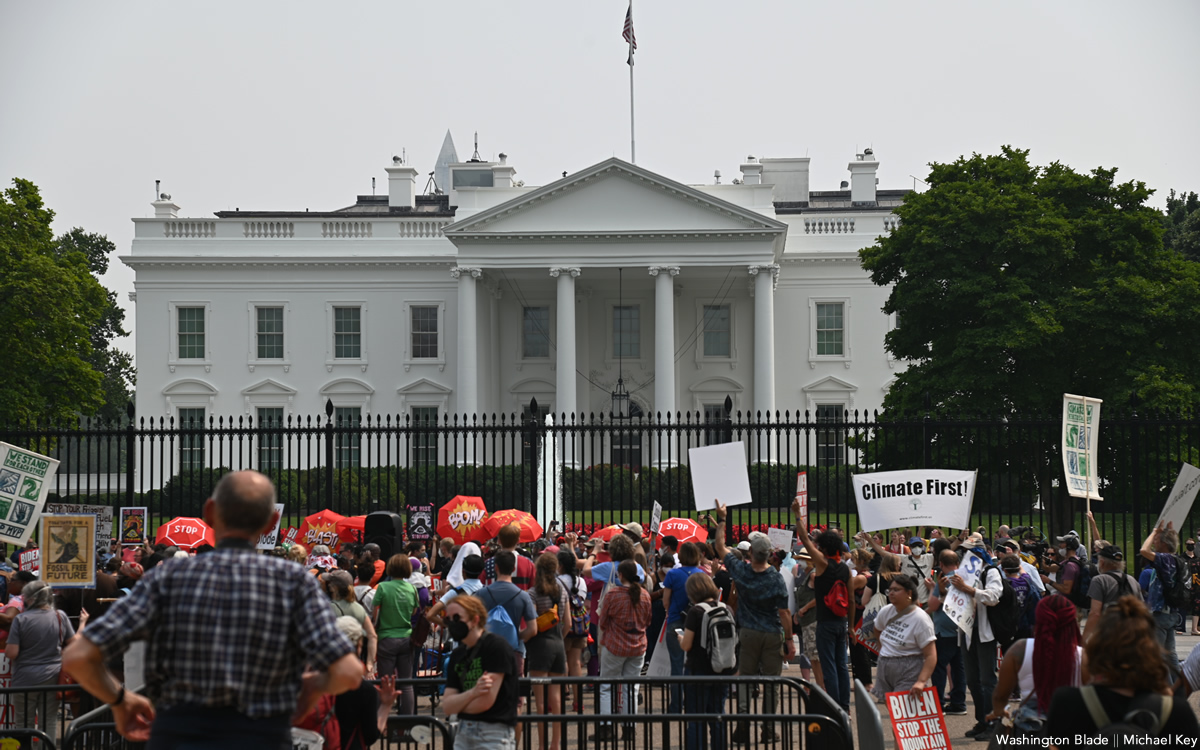 The White House announced Thursday that a Pride event scheduled for this evening has been postponed to Saturday due to the lingering Canadian wildfire smoke.
The smoke has enveloped D.C. in a dangerous haze that triggered a "purple alert" on Thursday, considered worse than a "red alert."
The event, expected to draw thousands of invited LGBTQ advocates and supporters to D.C., has been rescheduled for 1 p.m. on Saturday on the South Lawn of the White House, the same day as D.C.'s Capital Pride Parade, which kicks off at 3 p.m., and Pride on the Pier celebration, which starts at 2 p.m.