Gay marriage opponent to run for D.C. Council seat
Harry Thomas resignation triggers Ward 5 special election

Delano Hunter, a Ward 5 civic activist who unsuccessfully challenged Thomas in the September 2010 Democratic primary, told the Washington City paper this week that he plans to run for the seat in a special election expected to take place in May.
"It's certainly my intention to run again if the seat opens up," the City Paper quoted him as saying just prior to Thomas's resignation.
Thomas, a Democrat, announced his resignation less than a day after federal authorities charged him with felony theft for allegedly embezzling more than $350,000 in government funds and allegedly filing false income tax returns with the IRS.
Thomas was expected to plead guilty to at least two charges on Friday morning in U.S. District Court as part of a plea bargain arrangement, according sources familiar with the case.
"I am resigning my position as a member of the Council effective immediately," Thomas said in a statement released Thursday night. "I made some very serious mistakes and exhibited inadequate and flawed judgment. I take full responsibility for my actions. I am truly sorry."
Among those calling for Thomas's resignation last fall, when news surfaced that he was about to be charged with an embezzlement related offense, were Robert Turner, president of the D.C. Log Cabin Republicans, a gay group; and Robert Kabel, the openly gay chairman of the D.C. Republican Party.
Most gay Democratic activists who supported Thomas before news surfaced about his legal problems, including the Gertrude Stein Democratic Club, the city's largest LGBT political group, did not join others in calling for his resignation.
Thomas drew praise from LGBT activists in 2009 when he voted for the city's same-sex marriage law over strong objections from many of his Ward 5 constituents, who oppose gay marriage. A large number of the ward's residents are socially conservative African Americans who support civil rights related legislation but oppose same-sex marriage on religious grounds. Clergy from black churches in the ward testified against the marriage bill during a contentious City Council hearing prior to the Council's vote to approve the bill in December 2009.
The anti-gay National Organization for Marriage and other national groups opposed to same-sex marriage contributed tens of thousands of dollars for direct mail, robocalls, and racially divisive flyers attacking Thomas during his re-election campaign in 2010, according to Right Wing Watch, a project of People for the American Way, an LGBT-supportive organization.
Right Wing Watch said some of the same anti-gay groups supported Delano Hunter's race against Thomas but didn't contribute large amounts of money directly to his campaign.
A NOM spokesperson couldn't immediately be reached for comment.
LGBT activists were quick to point out that the attack campaign against Thomas had little effect. He won the Democratic primary with just under 62 percent of the vote. Hunter came in second with 19 percent of the vote.
Gay Republican Tim Day, a member of Log Cabin Republicans, ran against Thomas in the general election in November 2010 but lost by a lopsided margin in a ward that is overwhelmingly Democratic.
Other Democrats are expected to run in the May special election for Thomas's seat. LGBT advocates and gay residents of the ward will likely appeal to Council member Vincent Orange (D-At-Large), who formerly held the Ward 5 seat, to back a candidate supportive of LGBT equality and same-sex marriage. Orange remains a popular figure in the Ward.
He opposed same-sex marriage at the time he held his Ward 5 seat and when he ran unsuccessfully for mayor in 2006. But Orange changed his position shortly before he ran for the at-large Council seat in a special election, saying he now strongly supports civil marriage for gay and lesbian couples.
Even if Hunter were to win the Ward 5 seat, the same-sex marriage law is considered to be a settled issue by most the city's political establishment. Anti-gay groups failed in an attempt to bring the marriage law before D.C. voters in a referendum. The U.S. Supreme Court upheld rulings by the city's lower courts that an existing city law prevents a referendum from being held if its outcome would lead to discrimination – in this case discrimination against same-sex couples seeking to marry.
An outspoken opponent of same-sex marriage who is backed by anti-gay groups says he plans to run for the Ward 5 D.C. Council seat that became vacant Thursday night when incumbent Council member Harry Thomas resigned.
LGBTQ Democrats briefed on D.C. ranked choice voting bill
Council may already have enough votes to pass it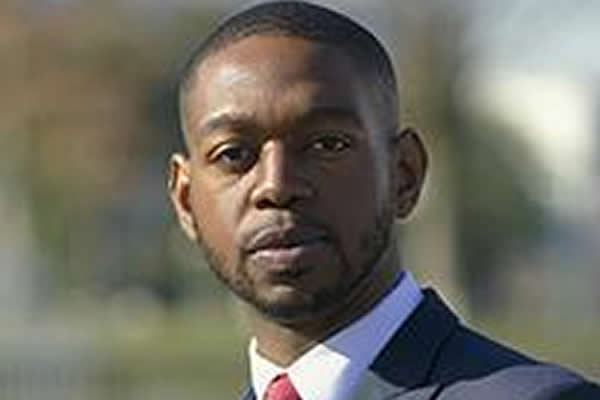 Members of D.C.'s Capital Stonewall Democrats, the city's largest local LGBTQ political group, received a briefing Monday night from the chief of staff for D.C. Council member Christina Henderson (I-At Large) on a bill she introduced in July calling for a "ranked choice" voting system for D.C. elections.
The bill, called the Voter Ownership, Integrity, Choice, and Equity (VOICE) Amendment Act of 2021, calls for D.C. to join about 50 other jurisdictions across the country, including New York City and San Francisco, in giving voters the option of ranking up to five candidates for a particular office in the order of their preference.
Under the ranked choice voting system, if a candidate receives more than 50 percent of the "first choice" votes, the candidate is declared the winner. But if no candidate receives greater than 50 percent of the first-choice votes in a race where there are three or more candidates, the system provides an instant runoff.
"The candidate with the fewest votes is eliminated, and voters who picked that candidate will have their votes count for their next choice," according to a statement released by Henderson at the time she introduced the legislation. "This process continues in rounds until there's a majority winner," the statement says.
T.J. Maloney, Henderson's chief of staff, told Capital Stonewall Democrats members during a virtual Zoom meeting that studies of the ranked choice voting system in jurisdictions where it has been adopted show that overall voter turnout has increased and, following a voter education process, voters appear to adjust and support the system.
Six other D.C. Council members joined Henderson in co-introducing the VOICE ranked choice voting bill, indicating it may already have a seven-vote majority in its favor on the 13-member Council. However, Council Chair Phil Mendelson (D-At-Large) does not support the current version of the bill, according to spokesperson Lindsay Walton.
Council member Charles Allen (D-Ward 6), the chair of the Council's Judiciary Committee where the bill was sent, has not scheduled a hearing on the bill, even though Allen is one of the bill's co-introducers.
Last week, the D.C. Democratic State Committee, which is the governing body of the D.C. Democratic Party and of which the Capital Stonewall Democrats is an affiliated member, voted to oppose the VOICE Act legislation. Some of its members said they believe a ranked choice voting system would be beneficial to the city's smaller political party candidates, including Republicans and Statehood Green Party candidates, and would place Democratic Party candidates at a disadvantage.
Gay Democratic activist John Fanning, who was an unsuccessful candidate for the Ward 2 D.C. Council seat in the 2020 D.C. Democratic primary, said he favors a simple runoff election system over a ranked choice voting system in cases where multiple candidates run, and none receive at least 50 percent of the vote.
Among the ranked choice bill's supporters is gay Democratic activist Austin Naughton, who serves as chair of the Ward 2 Democratic Committee. Naughton told the Washington Blade he is not an expert on the ranked choice voting system but his initial research into the system leads him to believe the system has the potential for providing a greater electoral voice for minority communities, including possibly the LGBTQ community and LGBTQ candidates who run for public office.
Capital Stonewall Democrats President Jatarious Frazier said the group was in the process of learning more about the ranked file voting system. No one raised the issue of the group taking a position on the legislation at Monday night's meeting.
Lesbian D.C. housing director to retire
Polly Donaldson worked to expand affordable units
Polly Donaldson, who has served as director of the D.C. Department of Housing and Community Development since 2015 as one of Mayor Muriel Bowser's first high-level LGBTQ appointments, announced on Sept. 10 that she will leave her position at the end of this month to retire.
A statement released by the mayor's office says Donaldson has led the design and implementation of the mayor's housing initiative that has produced more than 14,250 units of affordable housing with another 12,300 units under construction or in the planning stages.
"When I came into office and committed to investing at least $100 million into the Housing Production Trust Fund every year, I knew we would need a leader with a true passion for affordable housing to get those funds out the door and into the community – and Polly was the right person for the job," Bowser said in the statement.
"Then, two years ago, when we set a bold goal to build 36,000 new homes by 2025, with at least a third of them affordable, I was confident that Polly would have a plan to make that happen," the mayor said in her statement. "She leaves D.C. government with our city on track to meet that goal, and for that we are grateful, and we celebrate her service to our city."
At the time Donaldson began her job as the city's housing director she was a recognized expert in affordable housing and homeless related programs. She had served since 2004 as executive director of the Transitional Housing Corporation, a nonprofit organization that provides services to homeless people and develops programs for transitioning them into permanent homes.
HRC endorses McAuliffe, Ayala, Herring in Va.
Advocacy group on Tuesday announced statewide endorsements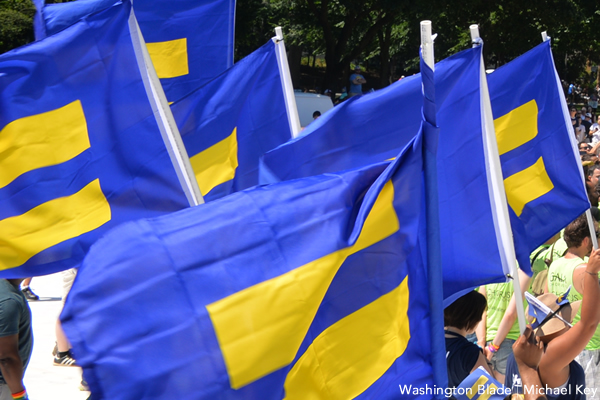 The Human Rights Campaign on Tuesday announced endorsements for three Virginia candidates on the statewide ballot in November.
These endorsements include Terry McAuliffe for governor, state Del. Hala Ayala (D-Prince William County) for lieutenant governor and Mark Herring for reelection as attorney general.

"All Virginians deserve leaders who will fight for their rights to achieve health and success regardless of who they are or who they love," said HRC in their press release. "The Human Rights Campaign is proud to endorse incredible champions who have spent their careers delivering on that promise of equality."

McAuliffe, who was governor from 2014-2018, signed an executive order prohibiting discrimination against LGBTQ state employees and vetoed every anti-LGBTQ bill that came across his desk during his tenure.

"Every human being deserves to be treated equally, live free from fear, and thrive regardless of who they are or who they love," McAuliffe said. "I am grateful for the support of the Human Rights Campaign, and together we will continue to ensure Virginia remains open and welcoming to all."

Herring, a vocal supporter of LGBTQ equality, in 2017 joined 18 other state attorneys general in calling on Congress to block then-President Trump's ban on transgender service members openly serving in the military.

Ayala, a state delegate since 2018, similarly co-sponsored and voted in support of numerous pro-equality bills, including the landmark Virginia Values Act, a bipartisan measure that made Virginia the first state in the South to extend nondiscrimination protections on the basis of sexual orientation and gender identity.

If elected, Ayala will become the Virginia's first female and woman of color lieutenant governor.

Virginia's statewide general election is Nov. 2. Early voting begins Friday.