Ecuador President appoints lesbian to cabinet
Closes ex-gay torture clinics in one of first actions as Health Minister

Announcing her presence with a major gesture with the closure of ex-gay torture clinics, Ecuador's new American born Health Minister has been revealed to be an openly gay woman who led the charge against those clinics since 2008.
According to LGBT Latino news blog, Blabbeando, Ecuadorian president Rafael Correa announced Wednesday the appointment of Carina Vance Mafla as the replacement of outgoing Health Minister, who resigned earlier this month over charges that he'd left the health system to languish without proper modernization efforts. Mafla was born in California, but spent her high school years in Ecuador, and returned after college and graduate school in 2004.
Yesterday, the nation's most prominent LGBT organization brought attention to Mafla's sexual orientation by heralding her as a "lesbian activist."
According to the Blabbeando translation, "the organization goes on to say that they hope the newly appointed minister will pay attention to current delays in the distribution of HIV medications, create guidelines to prevent discrimination against LGBT individuals at hospitals and health centers and take action on shutting down illegal religious "clinics" that promote "cures" for homosexuality."
Chile marriage equality bill receives final approval
South American country legalized civil unions in 2015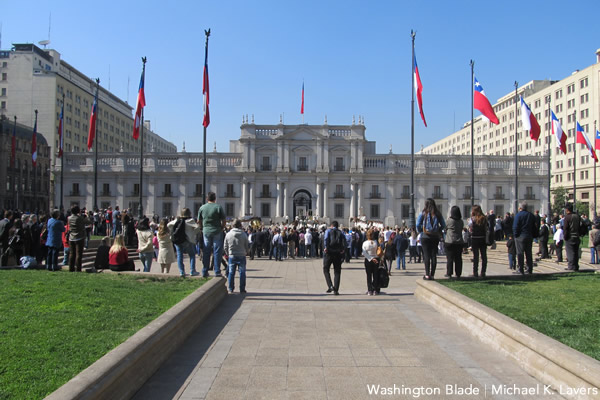 A bill that will extend marriage rights to same-sex couples in Chile received final approval on Tuesday.
The Chilean Senate and the Chilean House of Representatives approved the marriage equality bill that passed in the lower house of the country's Congress on Nov. 23. That vote took place two days after the first round of the country's presidential election took place.
A final vote on the bill was expected to have taken place last week, but senators unexpectedly opposed it.
A commission with members of both houses of the Chilean congress approved the bill on Monday.
Does a potential overturn of Roe imperil LGBTQ rights?
Some fear that Obergefell marriage decision could fall
The oral arguments before the justices of the United States Supreme Court had barely ended in the case brought by the state of Mississippi defending its law banning abortion after 15 weeks, Dobbs v. Jackson Women's Health Organization, when alarms were set off in legal circles as some argued that Obergefell v. Hodges — the same-sex marriage decision — would be in danger should the high court rule to overturn Roe v. Wade.
Florida State University law professor Mary Ziegler, appearing on NPR's 'Heard on All Things Considered,' told host Mary Louise Kelly that there was a basis for concern over whether the court would actually overrule its precedents in other cases based on the questions and statements raised during the hearing by the conservative members of the court.
Asked by Kelly if she saw a legal door opening Ziegler affirmed that she did. Kelly then asked her, "Them taking up cases to do with that. What about same-sex marriage?"
Ziegler answered, "Yeah, same-sex marriage is definitely a candidate. Justices Alito and Thomas have in passing mentioned in dicta that they think it might be worth revisiting Obergefell v. Hodges – the same-sex marriage decision.
"And I think it's fair to say that in the sort of panoply of culture war issues, that rights for same-sex couples and sexual orientation are still among the most contested, even though certainly same-sex marriage is more subtle than it was and than abortion was.
"I think that certainly the sort of balance between LGBTIQ rights and religious liberty writ large is a very much alive issue, and I think some states may try to test the boundaries with Obergefell, particularly knowing that they have a few justices potentially willing to go there with them."
As almost if to underscore the point raised by Ziegler during the hearing, Associate U.S. Supreme Court Justice Sonia M. Sotomayor pointed out that the high court has taken and "discerned" certain rights in cases from the Constitution.
Along with abortion, the court has "recognized them in terms of the religion parents will teach their children. We've recognized it in their ability to educate at home if they choose," Sotomayor said. "We have recognized that sense of privacy in people's choices about whether to use contraception or not. We've recognized it in their right to choose who they're going to marry."
In following up the cases cited by Justice Sotomayor, Associate U.S. Supreme Court Justice Amy Coney Barrett asked Mississippi Solicitor General Scott Stewart, who was defending the state's abortion law, whether a decision in his favor would affect the legal precedents in those cases cited by Justice Sotomayor.
In his answer to Justice Barrett, the state's Solicitor General said cases involving contraception, same-sex marriage and sodomy wouldn't be called into question because they involve "clear rules that have engendered strong reliance interests and that have not produced negative consequences or all the many other negative stare decisis considerations we pointed out."
However, Lambda Legal Chief Strategy Officer and Legal Director, Sharon McGowan had a different take and interpreted remarks by Associate U.S. Supreme Court Justice Brett Kavanaugh to mean that the decisions in Lawrence v. Texas, which decriminalized private sexual intimacy between same-sex couples, and Obergefell v. Hodges, which struck down remaining bans on the freedom of same-sex couples to marry, would actually justify overturning Roe v. Wade.
In a publicly released media statement McGowan noted: "During today's argument, Justice Kavanaugh suggested that two key Supreme Court decisions protecting LGBTQ civil rights—Lawrence v. Texas and Obergefell v. Hodges—support overruling Roe v. Wade and Planned Parenthood v. Casey.
'To that we say, NOT IN OUR NAME. LGBTQ people need abortions. Just as important, those landmark LGBTQ decisions EXPANDED individual liberty, not the opposite. They reflected the growing societal understanding of our common humanity and equality under law.
"Just as the Supreme Court in Brown v. Board of Education rejected the lie of 'separate but equal,' the Supreme Court's decisions in Lawrence and Obergefell appropriately overruled precedent where it was clear that, as was true with regard to race, our ancestors failed properly to acknowledge that gender and sexual orientation must not be barriers to our ability to live, love, and thrive free of governmental oppression. …
"These landmark LGBTQ cases, which Lambda Legal litigated and won, and on which we rely today to protect our community's civil rights, were built directly on the foundation of Casey and Roe. Our interests in equal dignity, autonomy, and liberty are shared, intertwined, and fundamental."
On Sunday, the Blade spoke with Shannon Minter, legal director for the National Center for Lesbian Rights, a national LGBTQ+ legal organization that represented three same-sex couples from Tennessee, whose case was heard by the U.S. Supreme Court along with Obergefell and two other cases.
Minter is urging caution in how people interpret the court arguments and remarks made by the justices.
"We should be cautious about taking the bait from anti-LGBTQ groups who falsely argue that if the Supreme Court reverses or undermines Roe v. Wade, they are likely to reverse or undermine Obergefell or Lawrence. In fact, that is highly unlikely, as the argument in Dobbs itself showed," he said.
"The only reason Justice Kavanaugh mentioned Obergefell and Lawrence, along with Brown v. Board of Education, was to cite them as examples of cases in which the Supreme Court clearly did the right thing. All of those decisions rely at least as strongly on equal protection as on fundamental rights, and even this extremely conservative Supreme Court has not questioned the foundational role of equal protection in our nation's constitutional law," Minter stressed.
During an interview with Bloomberg magazine, David Cortman, of the Scottsdale, Ariz.-based anti-LGBTQ legal group Alliance Defending Freedom, which has been listed by the Southern Poverty Law Center as an extremist hate group, said "two things in particular distinguish abortion from those other privacy rights: the right to life and the states' interest in protecting a child."
Cortman, whose group urged the justices to allow states to ban same-sex marriages, said those other rights may be just as wrong as the right to an abortion. "But the fundamental interest in life that's at issue in abortion means those other rights are probably not in any real danger of being overturned."
But Cortman is of the opinion that there is little impetus among the court's conservatives to take up challenges to those cases.
However, the fact that the six to three makeup of the high court with a conservative majority has progressives clamoring for the public to pay closer attention and be more proactively engaged.
Kierra Johnson, executive director of the National LGBTQ Task Force, in an emailed statement to the Blade underscored those concerns:
"Reports and analysis coming out of Wednesday's Supreme Court hearing on Dobbs v. Jackson Women's Health Organization are extremely disturbing and represent a threat to our individual constitutional rights to privacy and autonomy. There is no 'middle ground' on what the Constitution guarantees and what was decided decades ago with the Roe v Wade decision.
"This is about liberty, equality, and the rule of law, not the political or partisan views of those sitting on the bench. The unprecedented decision to remove a constitutional right recognized by the Supreme Court 50 years ago would set back civil rights by decades. ….
"Abortion access is essential, and a fundamental right under the U.S. Constitution. Bans on abortion are deeply racist and profoundly sexist – the harshest impacts fall on Black and Brown women and pregnant people and on our families and communities.
"If you think this decision will not affect you, think again: a wrong decision by the Supreme Court means you, too, will lose your bodily autonomy, your ability to own your own personal and community power. This is not just about abortion; it is about controlling bodies based on someone else determining your worthiness. This is a racial justice issue. This is a women's issue. It is an LGBTQ issue. It is a civil rights issue. These are our fundamental rights that are at stake."
In plea deal, D.C. trans woman's killers could be free in 3 years
Two in 2016 killing of Dee Dee Dodds guilty of voluntary manslaughter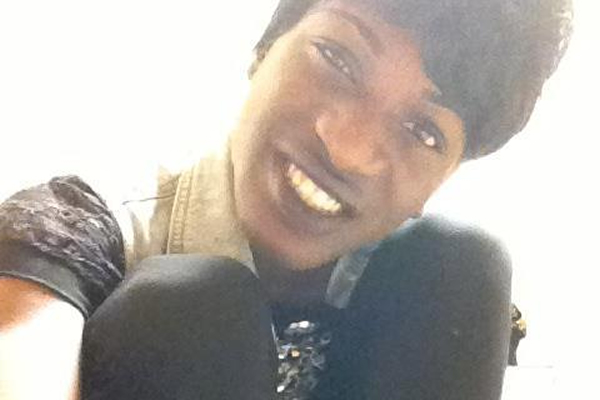 A D.C. LGBTQ anti-violence group will be submitting a community impact statement for a D.C. Superior Court judge scheduled to sentence two men on Dec. 10 for the July 4, 2016, shooting death of transgender woman Deeniquia "Dee Dee" Dodds in a case D.C. police listed as a hate crime.
Stephania Mahdi, chair of the D.C. Center for the LGBT Community's Anti-Violence Project, told the Washington Blade the project has been in contact with the Office of the U.S. Attorney for D.C., which is prosecuting the case against the two defendants set to be sentenced this week, to arrange for the submission of a statement on the impact the murder of Dodds has had on the community.
The impact statement would also apply to the sentencing of two other men charged in the Dodds murder case who are scheduled to be sentenced on Dec. 20.
The Dec. 10 sentencing for Jolonta Little, 30, and Monte T. Johnson, 25, was set to take place a little over two months after Little and Johnson pleaded guilty on Sept. 30 to a single count of voluntary manslaughter as part of a plea bargain deal offered by prosecutors.
In exchange for the guilty plea for voluntary manslaughter, prosecutors with the U.S. Attorney's Office agreed to drop the charge of first-degree murder while armed originally brought against the two men. The plea agreement also called for dropping additional charges against them in connection with the Dodds murder, including robbery while armed, possession of a firearm during a crime of violence, and unlawful possession of a firearm.
In addition, the plea agreement includes a promise by prosecutors to ask D.C. Superior Court Judge Milton C. Lee, who is presiding over the case, to issue a sentence of eight years in prison for both men. Under the D.C. criminal code, a conviction on a voluntary manslaughter charge carries a maximum sentence of 30 years in prison.
Johnson has been held without bond for five years and three months since his arrest in the Dodds case in September 2016. Little has been held without bond since his arrest for the Dodds murder in February 2017. Courthouse observers say that judges almost always give defendants credit for time served prior to their sentencing, a development that would likely result in the two men being released in about three years.
The plea deal for the two men came two and a half years after a D.C. Superior Court jury became deadlocked and could not reach a verdict on the first-degree murder charges against Johnson and Little following a month-long trial, prompting Judge Lee to declare a mistrial on March 6, 2019.
The two other men charged in Dodds' murder, Shareem Hall, 27, and his brother, Cyheme Hall, 25, accepted a separate plea bargain offer by prosecutors shortly before the start of the 2019 trial in which they pled guilty to second-degree murder. Both testified at Johnson and Little's the trial as government witnesses.
In dramatic testimony, Cyheme Hall told the jury that it was Johnson who fatally shot Dodds in the neck at point blank range after he said she grabbed the barrel of Johnson's handgun as Johnson and Hall attempted to rob her on Division Ave., N.E., near where she lived. Hall testified that the plan among the four men to rob Dodds did not include the intent to kill her.
In his testimony, Hall said that on the day of Dodd's murder, he and the other three men made plans to commit armed robberies for cash in areas of D.C. where trans women, some of whom were sex workers, congregated. He testified that the four men got into a car driven by Little and searched the streets for victims they didn't expect to offer resistance.
D.C. police and the U.S. Attorney's office initially designated the murder charge against Little and Johnson as an anti-trans hate crime offense based on findings by homicide detectives that the men were targeting trans women for armed robberies. But during Johnson and Little's trial, Judge Lee dismissed the hate crime designation at the request of defense attorneys on grounds that there was insufficient evidence to support a hate crime designation.
At the request of prosecutors, Judge Lee scheduled a second trial for Johnson and Little on the murder charge for Feb. 25, 2020. But court records show the trial date was postponed to June 22, 2020, and postponed several more times – to Jan 11, 2021, and later to Feb. 17, 2022, due to COVID-related restrictions before the plea bargain offer was agreed to in September of this year. The public court records do not show why the trial was postponed the first few times prior to the start of COVID restrictions on court proceedings.
Legal observers have said long delays in trials, especially murder trials, often make it more difficult for prosecutors to obtain a conviction because memories of key witnesses sometimes become faulty several years after a crime was committed.
"The D.C. Anti-Violence Project is disappointed to hear about the unfortunate proceedings in the case to bring justice for Dee Dee Dodds," Mahdi, the Anti-Violence Project's chair, told the Blade in a statement.
"A plea bargain from first-degree murder to voluntary manslaughter as well as a reduction of years in sentencing from 30 to 8 communicates not only a miscarriage of justice, but a message of penalization for victims who attempt to protect themselves during a violent assault," Mahdi said. "The continual impact of reducing the culpability of perpetrators who target members of specifically identified communities sends a malicious message to criminals that certain groups of people are easier targets with lenient consequences," she said.
"As a result of this pattern, the D.C. community has failed to defend the life and civil rights of Dee Dee Dodds and leaves criminally targeted LGBTQ+ community and other cultural identity communities critically undervalued by stewards of justice in the nation's capital," Mahdi concluded.
William Miller, a spokesperson for the U.S. Attorney's Office, has declined to disclose the reason why prosecutors decided to offer Johnson and Little the plea bargain deal rather than petition the court for a second trial for the two men on the first-degree murder charge.
Attorneys familiar with cases like this, where a jury becomes deadlocked, have said prosecutors sometimes decide to offer a plea deal rather than go to trial again out of concern that another jury could find a defendant not guilty on all charges.
During the trial, defense attorneys told the jury that the Hall brothers were habitual liars and there were inconsistencies in their testimony. They argued that the Halls' motives were aimed strictly at saying what prosecutors wanted them to say so they could get off with a lighter sentence.
The two prosecutors participating in the trial disputed those claims, arguing that government witnesses provided strong evidence that Johnson and Little should be found guilty of first-degree murder and other related charges.
Before the jury announced it was irreconcilably deadlocked on the murder charges, the jury announced it found Little not guilty of seven separate counts of possession of a firearm during a crime of violence and found Johnson not guilty of five counts of possession of a firearm during a crime of violence.