Maryland House debate on marriage bill to conclude tonight
Debate on bill expected to continue this evening after supporters successfully scuttle four hostile amendments

UPDATE: The House of Delegates is currently adjourned and will reconvene at 4:30 for a third reading on the marriage bill, which may or may not be followed by a vote.
ANNAPOLIS — At 2:45 the Maryland House of Delegates adjourned after voting down three amendments to the Civil Marriage Protection Act, while adopting two amendments, including one by former marriage foe, Del. Tiffany Alston.
The Alston amendment, supported by many in the LGBT delegation, including Dels. Clippinger, Mizeur, Cullison, and Washington, as well as the bill sponsor, floor leader Del. Dumais — who spoke passionately in favor of same-sex unions throughout the debate — would make clear that the law would not go into effect until all legal challenges to the law, or any referendum process relating to the law, have been exhausted.
The amendment sparked a heated debate between Republicans and Democrats in regard to the power of the amendment to effect the referendum process and the power of the courts in intervening. Minority leader Anthony O'Donnell sought to move to special order on the bill and the amendment for an opinion on the impact from Attorney General Douglas Gansler, tabling the debate on both until Monday. The motion on the special order was handily defeated 55-79, to the chagrin of many.
The Alston amendment — which could signal a shift in support for that delegate — passed easily 81-52, easing the way for those troubled by the bill to feel more comfortable in voting in its favor.
"It was something that could add a level of comfort for some people," Del. Washington told the Blade. "This is something that we could negotiate on."
Though the LGBT lawmakers would not comment on whether or not they think that Alston will now support the law, after her surprise vote against in March of 2011, all indicated a hope that she's come around.
"We believe that she is raising this in good faith," Del. Cullison told the Blade in regard to Alston's possible support after passage of her amendment. "And if that's what makes her comfortable with the bill, knowing that all of the safeguards for the referendum are in place, then I hope she'll be more comfortable with voting for the entire bill."
"We hope it makes her feel more comfortable," Del. Clippinger added.
On Sam Arora, Del. Clippinger hopes that he's moved back to the side of supporting same-sex marriage, after his surprise rejection of the law in March of 2011.
"I don't know where he stands right this second," Del. Clippinger told the Blade. "I don't know how he's going to stand until I see a dot on the board."
"But at the same time, he's expressed some misgivings, he passed in committee, he asked questions in regard to Del. Alston's amendment, we certainly hope that if it will help him fell more comfortable maybe that will move him along," Clippinger added.
Del. Arora voted against the Alston amendment.
In 2010 when Sam Arora was campaigning for the House of Delegates, he was able to pull massive amounts of LGBT support and fundraising money as a result of his close ties with gay Democratic activists and his pro-same-sex marriage position, at that time. Many of his former colleagues indicated a feeling of anger and betrayal after his 2011 flip on the issue. Since that vote, Arora has been ambiguous about his stance on the current effort.
Washington County Republican Del. Andrew Serafini proposed an amendment that would push the age of consent for same-sex marriages to 18, rather than allow the same-sex marriages to adhere to the current age of consent laws that allow girls under the age of 16 to marry with parental consent and proof of pregnancy. Supporters of the same-sex marriage bill argued that it may be time to change the age of consent in Maryland, but that there ought not to be differences between same-sex and opposite sex couples, should the bill pass and get signed into law. The amendment failed 54-81.
The delegates also passed on an amendment by Washington County Republican Del. Neil C. Parrott that would allow parents to opt out of allowing their children be exposed to curriculum that they find objectionable in terms of its presentation of same-sex marriage.
"That already is the law," Montgomery Co. Democrat, Del. Anne Kaiser, argued before the House voted down the amendment 48-73.
Prince George's Co. Democrat, Del. Aisha Braveboy offered the amendment that same-sex marriage advocates railed hardest against. The amendments would have changed the date the law becomes effective from October 2012 to January 2013, which would prevent marriages from occurring before an expected ballot initiative vote takes place. After impassioned discussion, the amendment was passed on a 72-63 vote.
Additionally, a short debate preceded a vote on amending the bill to change the word "marriage" to "civil unions" in the law. After supporters of same-sex marriage presented evidence from around the nation where civil unions were found to be inferior to marriage in offering couples equal protection, the delegates rejected the amendment 45-78.
Yesterday we reported that the Maryland House of Delegates on Thursday put off for at least one day a scheduled debate on legislation to legalize same-sex marriage, leading some to speculate that supporters lack the votes to pass the legislation.
And in a surprise development, supporters of the Civil Marriage Protection Act agreed to accept an amendment they helped to defeat in committee earlier this week that would put off the date same-sex marriages would become legal from October of this year to January 2013 if the bill should pass.
During a brief joint-committee meeting that adjourned in less than five minutes Friday morning, the delegates opted to save debate on the amendments proposed to the bill for the Friday afternoon floor debate.
In the committee debate Thursday, supporters of the amendment, nearly all of whom opposed the bill, said it was needed to prevent same-sex marriages from being performed in Maryland before a referendum could be held to overturn the legislation should the legislature pass it.
The amendment's backers said they did not want a situation similar to California, where same-sex marriages were performed before voters approved Proposition 8, which overturned the state's same-sex marriage law.
During a brief debate early Thursday evening in the full House, Del. Kathleen Dumais (D-Montgomery County), the floor leader for the marriage bill, startled some supporters when she told House Speaker Michael Busch (D-Anne Arundel County) that the bill's supporters would accept the proposal as a friendly amendment.
It then passed by voice vote.
Minutes later, Busch agreed to requests by delegates who support the marriage bill to send a flurry of proposed floor amendments to the bill to the joint Judiciary Committee and Health and Government Operations Committee so the two panels could conduct a last-minute review to begin at 11 a.m. Friday.
Busch announced that the full House would resume debate over the amendments after it goes back into session at 12:30 p.m. Friday.
It could not be immediately determined whether a vote would take place Friday on the bill itself.
Dumais and spokespersons for Marylanders for Marriage Equality and one of its coalition partners, Equality Maryland, couldn't be immediately reached for comment Thursday night.
News of the delay in debate on the bill and the approval of the amendment to put off the effective date of legalizing same-sex marriages came several hours after Del. Wade Kach (R-Baltimore County) announced he would vote for the bill.
His announcement boosted the hopes of the bill's supporters that other Republicans would follow Kach, enabling backers to attain the 71 delegates needed to pass the bill.
Shortly after midnight, Marylanders for Marriage Equality issued a statement announcing that two more delegates whose position on the bill was uncertain had declared their support for the bill – Pamela Beidle (D-Anne Arundel County) and John Olszewski (D-Baltimore County).
Additional reporting by Phil Reese
Anti-transgender heckler interrupts Danica Roem during debate
Trans lawmaker is running for the Va. state Senate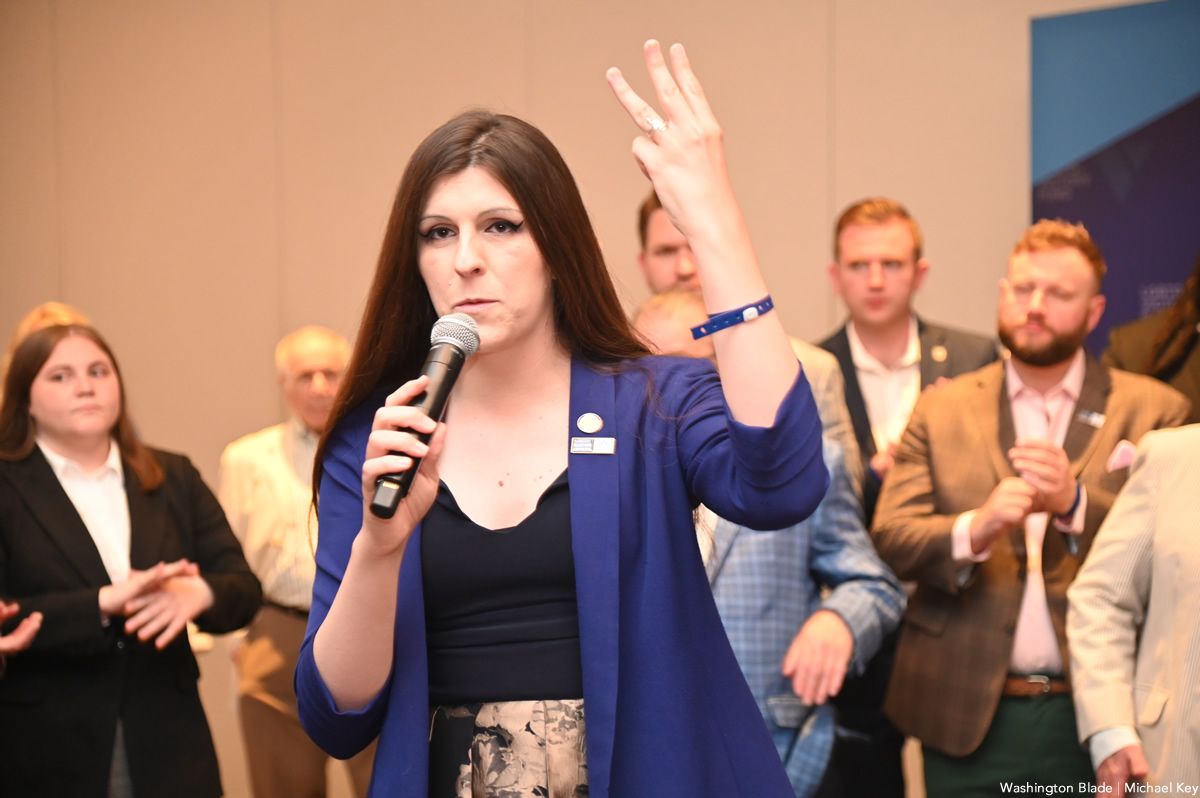 An anti-transgender heckler interrupted Virginia state Del. Danica Roem (D-Manassas) on Sept. 28 during a debate with her Republican opponent for the state Senate.
The woman heckled Roem during the Prince William Committee of 100-organized debate between her and Bill Woolf that took place at Metz Middle School in Manassas. 
"Thank you for reminding me why I won three elections in this district in Prince William County, which is the most diverse county in all of Virginia and the 10th most nationally where we welcome everyone because of who they are, not despite it, no matter what you look like, where you come from how you worship, if you do, or who you love because you should be able to thrive here because of who you are, never despite it," said Roem.
Audience members applauded Roem after she responded to the heckler who was eventually removed from the auditorium.
Roem in 2017 defeated then-state Del. Bob Marshall, a vocal LGBTQ rights opponent who co-wrote Virginia's constitutional amendment defining marriage as between a man and a woman that voters approved 11 years earlier. Roem subsequently became the first openly transgender person seated in a state legislature in the U.S.
Roem in 2019 became the first out trans state legislator to win re-election. Roem in May 2022 announced she is running to represent the newly redistricted Senate District 30, which includes western Prince William County and the cities of Manassas and Manassas Park.
Woolf during the Sept. 28 debate did not say whether he would support the repeal of the marriage amendment. Woolf also reiterated his support of a bill that would require school personnel to out trans students to their parents.
Virginia Beach high school students stage walkouts to support transgender rights
City's school board approved policy to out trans students to parents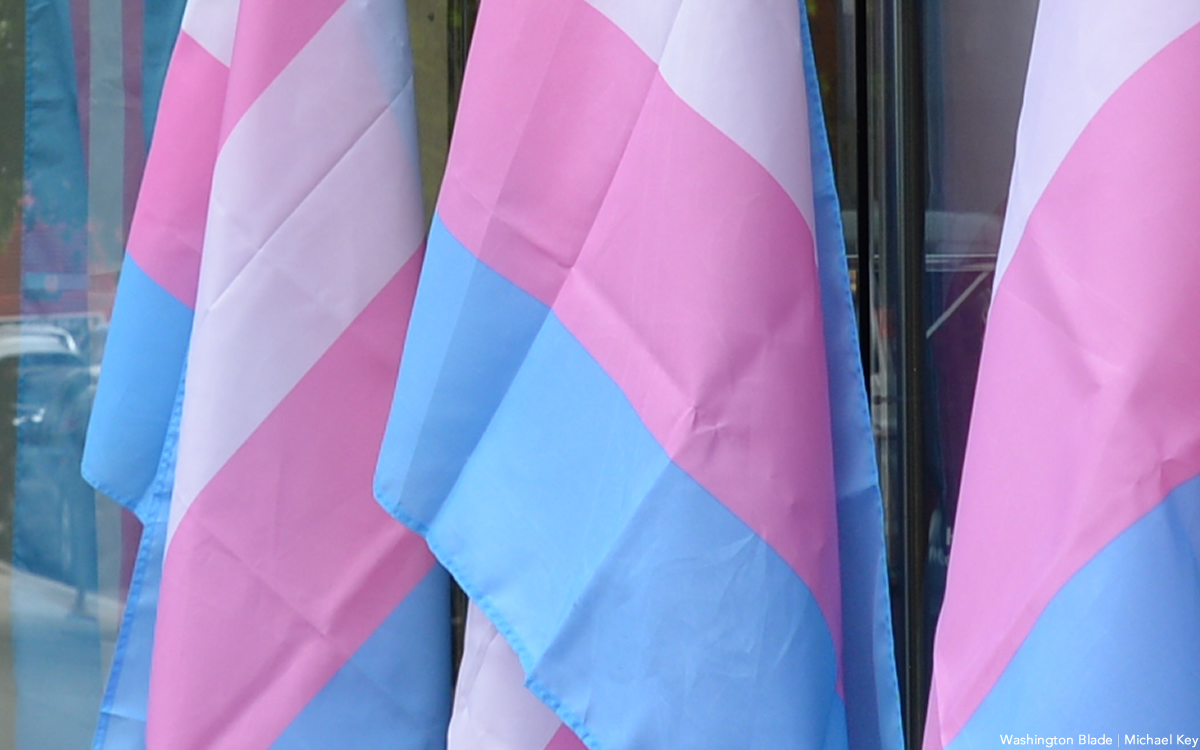 Students at five Virginia Beach high schools on Friday staged walkouts in support of transgender rights.
The walkout is in response to the Virginia Beach School Board potentially approving policy 5-31, which the Pride Liberation Project says will require schools to out trans students to their parents.
Students have been organizing walkouts across the state since Republican Gov. Glenn Youngkin earlier this year announced new guidelines for trans and nonbinary students.
"Students like me aren't going to be able to talk to our teachers if we're constantly worried about our school officials calling home to forcibly out us," AJ, a trans Kellam High School Student, told the Pride Liberation Project.
Pepco, Exelon announce $2.7 million in funding for four minority-owned businesses
'It's good business sense to bring more people to the table'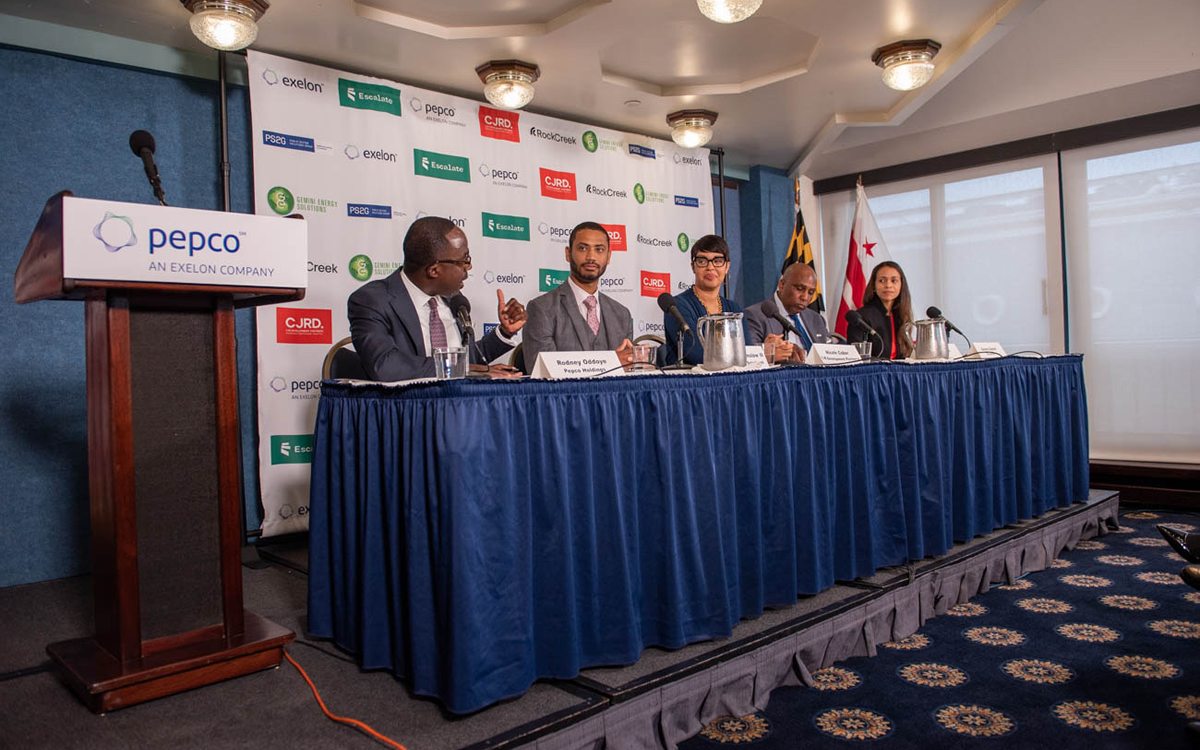 Pepco and Exelon announced a $2.7 million investment in four minority-owned businesses on Friday.
"Today's been a long time coming," said Pepco Vice President of Governmental and External Affairs Valencia McClure.
Pepco's parent company, Exelon, launched the Racial Equity Capital Fund (RECF) in 2022 to expand capital access to diverse businesses. This latest $2.7 million investment is just a portion of RECF's $36 million in funding.
At the announcement, D.C. Mayor Muriel E. Bowser spoke about the other ways Pepco and Exelon have "put their money where their mouth is" through their partnership with the D.C. Infrastructure Academy. She reported that all 22 of the residents that graduated from the program last week have a job offer from Pepco.
"We know that is not just a job, but a career," she said to the crowd's applause. "We know that working together, we can invest in D.C. residents, provide opportunity, and ensure that our D.C. businesses are a part of D.C.'s growing prosperity."
The four minority businesses that received funding were Gemini Energy Solutions, Public Sector Solutions Group, CJR Development Partners, and Escalate.
"It's good business sense to bring more people to the table," said fund recipient Nicole Cober, CJR Development's Principle Managing Partner.
Gemini Energy Solutions, which is Black owned, received $1 million, the most of the four companies. Its mission is to equitably scale energy efficiency to marginalized communities. For the founder and CEO Anthony Kinslow II, this investment means that he is able to get paid and advance the work of his organization.
"We are now able to accelerate the work in our software and technology development," he said. "What we were going to do in two years, we are now going to do in six months."
For Escalate, a workforce development platform focused on frontline worker retention, the funding means that it will be able to double the pay for frontline workers.
Public Sector Solutions Group CEO Darryl Wiggins emphasized that this investment was not just 'charity' work, but mission-driven work.
"The principle and the intent is greater than the money we receive," he said. Public Sector Solutions is Black owned.
Public Sector Solutions Group received a $600,000 debt investment; CJR Development, a minority and woman-owned small business, received a $600,000 debt investment; and Escalate, a majority Black and woman-owned company, received a $500,000 equity investment.
Exelon launched the RECF in partnership with RockCreek, one of the world's largest diverse-owned global investment firms, in 2022. The RECF expands capital access to diverse businesses so they can create more jobs, grow their companies and reinvest in their neighborhoods and communities, according to a statement from Exelon.
New RECF applications are accepted on a rolling basis. Interested businesses may apply online or contact RockCreek at [email protected] for more information.