February 23, 2012 at 5:03 pm EST | by Lou Chibbaro Jr.
Md. Senate begins final debate on marriage bill; hostile amendments defeated
The Maryland Senate resumed debate late Thursday afternoon on amendments to a bill calling for legalizing same-sex marriage, with a final vote on the legislation expected later in the evening.
In a Thursday morning session, the Senate voted down six hostile amendments aimed at weakening or killing the marriage equality bill, indicating supporters have the votes to pass the bill.
The six amendments were introduced by three senators, each of whom oppose the bill and introduced the amendments with the intent to derail the bill, according to senators backing the Civil Marriage Protection Act.
"It's time for us to move on with this bill," said Sen. Jamie Raskin (D-Montgomery County), one of the bill's lead sponsors who served as floor leader on behalf of the bill.
Raskin said the amendments were unnecessary and called on his Senate colleagues to vote against them. Each lost by a lopsided vote.
One amendment introduced by Sen. Bryan Simonaire (R-Anne Arundel County) called for allowing parents to withdraw their children from any public school classes or instruction "that addresses same-sex relationships on written request by the parent or guardian." The amendment lost by a vote of 30-17.
Simonaire cited claims that school children in Massachusetts were required to read literature about same-sex couples marrying. He read aloud a passage from a book called King and King, which he said was among the materials touching on same-sex marriage that elementary school children have been taught in Massachusetts.
An amendment offered by Sen. C. Anthony Muse (D-Prince George's County) called for changing the name of the bill from the Civil Marriage Protection Act to the Marriage Redefinition Act. The amendment lost by a similar vote of 30-17.
Sen. Edward Reilly (R-Anne Arundel County) introduced separate amendments calling for barring same-sex couples from marrying if one of the partners is under the age of 18 and allowing religious institutions and organizations to refuse to rent or sell housing units to same-sex couples.
Another amendment offered by Simonaire called for the Maryland State Department of Education to "continue the annual and separate acknowledgement of Mother's Day and Father's Day in public elementary and secondary schools in the state independent of any provisions of this act."
Simonaire said he understood that some D.C. public schools changed the name of Mother's Day and Father's Day to "Family Day" so that same-sex couples could be included in the recognition.
Raskin said he was unaware of and did not believe D.C. had undertaken such a change.
"Obviously, nothing in this bill would repeal Mother's Day or Father's Day," he said. "Mother's Day and Father's Day are perfectly safe in Maryland."
The amendment lost by a vote of 34-11.
Lou Chibbaro Jr. has reported on the LGBT civil rights movement and the LGBT community for more than 30 years, beginning as a freelance writer and later as a staff reporter and currently as Senior News Reporter for the Washington Blade. He has chronicled LGBT-related developments as they have touched on a wide range of social, religious, and governmental institutions, including the White House, Congress, the U.S. Supreme Court, the military, local and national law enforcement agencies and the Catholic Church. Chibbaro has reported on LGBT issues and LGBT participation in local and national elections since 1976. He has covered the AIDS epidemic since it first surfaced in the early 1980s. Follow Lou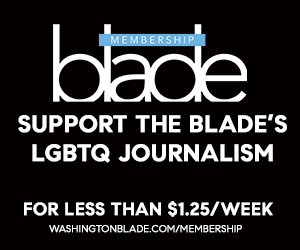 Sign Up for Blade eBlasts