Santorum wins in Alabama, Mississippi
Gingrich fades; Romney takes Hawaii

Republican presidential hopeful Rick Santorum scored two wins in the GOP primaries on Tuesday by adding Alabama and Mississippi to his column after prevailing in Kansas over the weekend.
The former U.S. senator, who's known for his strong opposition to same-sex marriage and other anti-gay views, edged out his competitors in the most recent contests — former Massachusetts Gov. Mitt Romney,  former U.S. House Speaker Newt Gingrich and libertarian Rep. Ron Paul (R-Texas).
In Alabama, Santorum won 35 percent of the vote with 98 percent of precincts reporting. Gingrich and Romney were tied with 29 percent of the vote.
In Mississippi, with 99 percent of precincts reporting, Santorum captured 33 percent of the vote, while Gingrich had 31 percent and Romney had 30 percent. Hawaii also held a contest on Tuesday; Romney won there with 45 percent of the vote to Santorum's 25 percent and Gingrich's 11.
Speaking at his campaign headquarters at Lafayette, La., Tuesday night, Santorum told supporters, "We did it again."
"The most common thing I heard from people — and I know I'm not alone — is people come up and say, 'I'm praying for you,'" Santorum said. "I just want to thank you for that. I want to thank God for giving us the strength everyday to go out there and to be clear in our message and our vision for this country."
Santorum said the "best chance" for Republicans to win the November election is to nominate a conservative — likely a reference to Romney, who's viewed as a more moderate candidate — and said he expects to have "a huge win" in the Louisiana primary, which will have its contest on March 24.
Hastings Wyman, who's gay and editor of the Southern Political Report, said the results on Tuesday give Santorum "a big boost" — mostly because they show Santorum's competitor as the anti-Romney alternative, Gingrich, has run out of steam.
"It sends a strong message to Gingrich that it's time he got out," Wyman said. "I don't know whether he will or not, but if he can't win those two states, there's nowhere else he can win really."
Although Romney has amassed more delegates leading up to the convention than either Santorum or Gingrich, Wyman said Santorum's wins show he continues to have strength and could give Romney a run for his money for the Republican presidential nomination.
"I think Santorum is going to give Romney a strong race," Wyman said. "He's more youthful. The polls show he does very well with women, and think that's because they find him personally attractive. I don't mean some sort of sexually way, or anything like that. It's just he's young and handsome and they kind of like him. Romney's too aloof, Gingrich is too cerebral, Paul is kind of the class nerd. I think Santorum comes across as somebody they really like."
The candidate's wins on Tuesday build off of his win on Saturday in the Kansas caucuses. Santorum won a majority of the vote in the state, while Romney came in a distant second with 20.9 percent of the vote.
But Thomas Witt, chair of the Kansas Equality Coalition, said he doesn't think Santorum's win in the state amounted to much because of the low turnout in the primary.
"I think there's some perspective we can put Santorum's victory in here," Witt said. "There's about 725,000 registered Republicans in the State of Kansas. Fewer than 30,000 participated in the caucuses. Of those, 15,000 voted for Santorum. That's 2 percent of the Republicans in Kansas voting for Santorum. Polls have margins of error bigger than the number of Republicans that voted for him."
Witt said he's unaware of any anti-gay rhetoric that Santorum may have employed while campaigning in Kansas, which is known for being a socially conservative state. The activist said he followed news coverage carefully and talked to people at one of Santorum's events in Topeka, but nothing related to LGBT issues came up.
Santorum is known for his opposition to LGBT rights. He's signed a pledge from the National Organization for Marriage committing himself to back a U.S. constitutional amendment banning same-sex marriage throughout the country, defend the Defense of Marriage Act in court and establish a commission of "religious liberty" to investigate the alleged harassment of those opposed to same-sex marriage. He has also said he would restore "Don't Ask, Don't Tell" if elected president.
Other contests on Saturday took place in U.S. protectorates: Guam, the Northern Mariana Islands and the U.S. Virgin Islands. Romney won in the first two places. Paul won the Virgin Islands, but Romney took more delegates because of the system there.
The next contest is set to be the Missouri caucuses on Thursday. Santorum won the primary in the state on Feb. 7, but his win was symbolic because delegates weren't awarded then. Missouri has 52 delegates up for grabs during its caucuses. Following Missouri, the next contest will be Puerto Rico on Friday, Illinois on Sunday and Louisiana on March 24.
Survey shows 72% of Utah residents back same-sex marriage
Troy Williams, executive director of Equality Utah said he's not surprised to see that a majority of Utahns now support marriage equality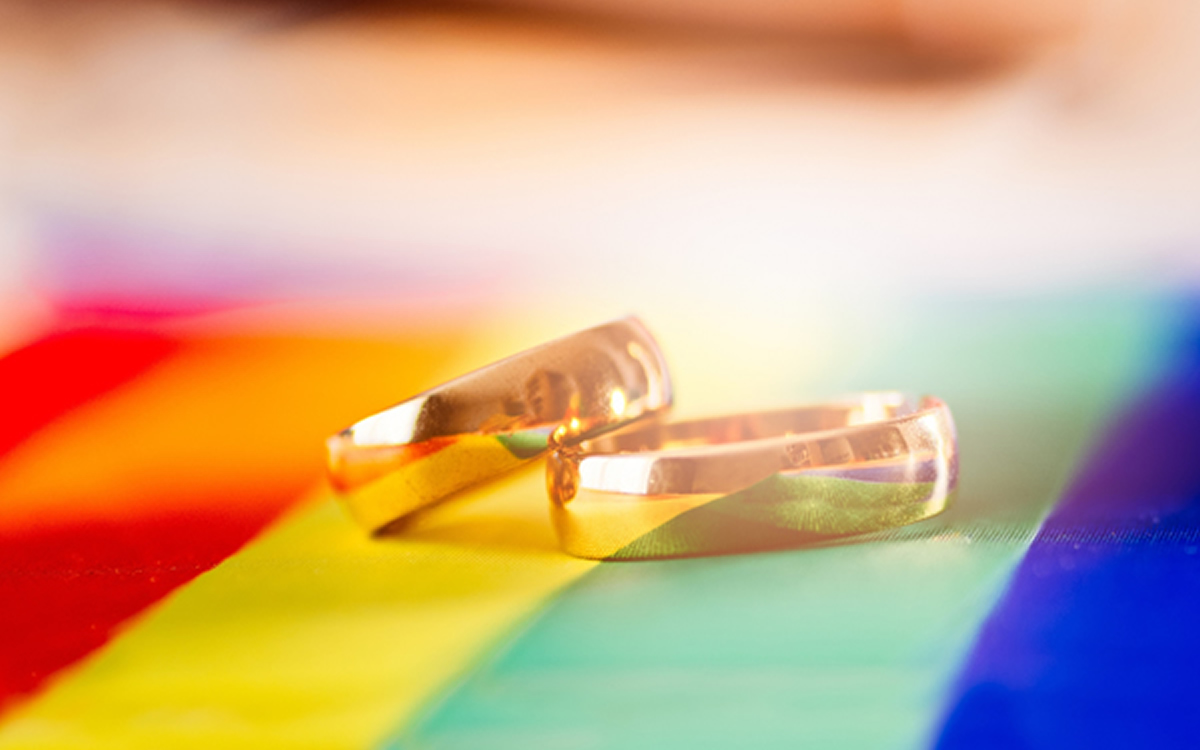 The results of a poll run by the Hinckley Institute of Politics and the Desert News found 72% of Utah's residents agree that marriages between same-sex couples should be recognized by law as valid, with the same rights as cis-gender marriages.
"For a state that less than 20 years ago passed laws and a constitutional amendment prohibiting same-sex marriage, there has been a seismic shift in opinion," said Jason Perry, director of the Hinckley Institute of Politics at the University of Utah.
The Deseret News/Hinckley Institute of Politics survey also found that 23% of those surveyed disagreed, while 5% expressed that they don't know.
The poll shows Utahns are aligned with the nation as a whole on the issue. A Gallup poll in May found 71% of Americans say they support legal same-sex marriage, a new high.
Troy Williams, executive director of Equality Utah, told the Desert News that he's not surprised to see that a majority of Utahns now support marriage equality.
"Utah is a pro-family state, and we recognize that families come in all shapes and sizes. When we see loving, committed couples joining in matrimony, our natural impulse is to support and encourage that love. This gives me great hope for the future," he said.
A new poll shows nearly three-fourths of Utahns support legal same-sex marriage. | By @dennisromboy #utpolhttps://t.co/DBJHHNgmnJ

— Deseret News (@Deseret) September 30, 2022
Art used to spotlight people of color lost to AIDS in the South
National AIDS Memorial, Southern AIDS Coalition created Change the Pattern exhibit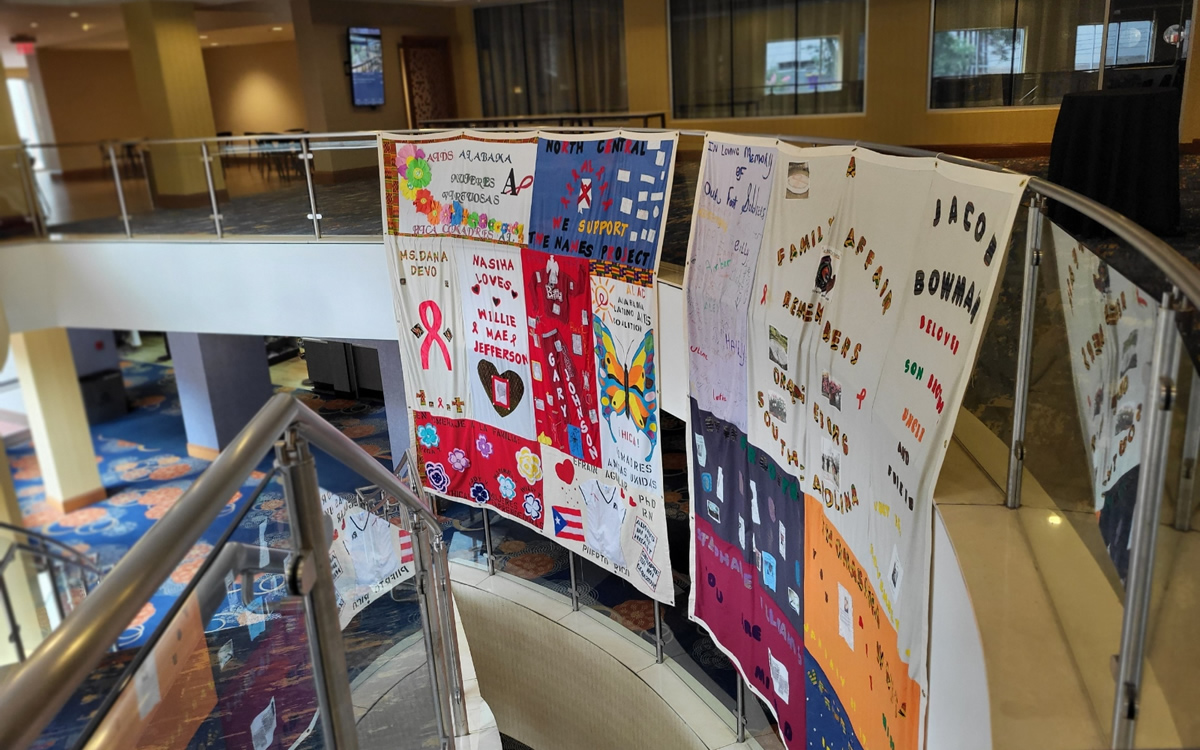 The National AIDS Memorial has joined forces with the Southern AIDS Coalition to stage a series of art exhibitions and educational forums to honor Black and Brown people in the South who have been lost to HIV/AIDS.
The initiative, titled Change the Pattern, began in Jackson, Miss., on Wednesday with curated quilt exhibitions, displays, educational forums, advocacy, storytelling and quilt-making, according to a press release from the National AIDS Memorial. A $2.4 million grant from the biopharmaceutical company Gilead Sciences, Inc., funded Change the Pattern.
More than 500 hand-stitched quilt panels from the area were featured in what the National AIDS Memorial says is "the largest display of the AIDS Memorial Quilt ever" in Mississippi.
"By creating an empowering message and safe spaces for conversation, we can uplift, inspire and make progress toward ending the HIV epidemic, challenge cultural stigmas and continue the legacy of advocacy that the quilt represents," said National AIDS Memorial CEO John Cunningham in the release. 
Change the Pattern was announced in honor of Southern HIV/AIDS Awareness Day during the Southern AIDS Coalition's annual Saving Ourselves Symposium that took place in August.
The conference, which was heavily attended by LGBTQ activists from the South, featured 100 quilt panels, and attendees participated in quilt-making workshops to make new quilt panels representing their loved ones.
Interested LGBTQ advocacy organizations in the South were invited to apply for funding to support local quilt-making workshops in their communities so as to ensure that the legacies of Black and Brown people are captured through newly-sewn panels on the quilt through the Memorial's Call My Name program, according to the National AIDS Memorial press release. 
The application process opened on Sept. 15 with up to 35 eligible organizations receiving as much as $5,000 to support hosting local workshops.
The first major Change the Pattern Quilt was founded 35 years ago as a visual representation of the need to end stigma and provide equitable resources to communities most impacted by HIV/AIDS, according to Southern AIDS Coalition Executive Director Dafina Ward.
"Change the Pattern is a call to action and change in the South," said Ward. "Quilt-making has such a deep cultural connection in the Black community and in the South. The sharing and telling of these powerful stories through the quilt, coupled with advocacy and open dialogue, can help end HIV-related stigma and bring the stories of those we've lost to light."
As the Change the Pattern initiative occurs, conversations about how to handle health epidemics within LGBTQ communities of color have become national topics, especially with the prevalence of monkeypox cases amongst Black gay men.
Despite earlier panic about the disease, the Centers for Diseases Control and Prevention in a report released on Wednesday said that individuals who were vaccinated against the disease were less likely to be affected over the summer compared to those who weren't.
The effectiveness and duration of immunity after a single dose, however, is not known, and few individuals in the current outbreak have completed the recommended two-dose series, according to the report.
The most recent CDC data reports that 25,509 monkeypox cases have thus far been confirmed in the U.S. Only one death has been reported.
Doctor, transgender spouse indicted for passing information to Russia
Jamie Lee Henry first active-duty Army officer to come out as trans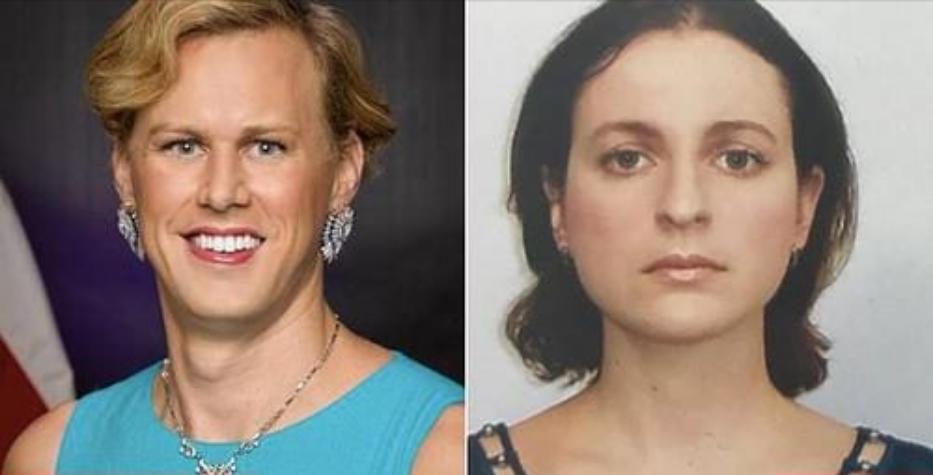 A federal grand jury on Wednesday handed down an indictment of a Johns Hopkins anesthesiologist and her spouse, a doctor and major in the U.S. Army, with conspiracy and for the disclosure of individually identifiable health information related to their efforts to assist Russia in connection with the conflict in Ukraine.
The office of the U.S. Attorney for the District of Maryland in a press release stated Anna Gabrielian, 36, and her spouse, Jamie Lee Henry, 39, both of Rockville, Md., both of whom had secret clearances, were attempting to provide medical information about members of the military to the Russian government.
Gabrielian and Henry met with an individual they believed to be associated with the Russian government, but who was, in fact, an Federal Bureau of Investigation Undercover Agent.
Court documents indicate Gabrielian told the FBI agent posing as a Russian operative that she had previously reached out to the Russian Embassy by email and phone, offering Russia her and her spouses' assistance.
According to the U.S. Attorney's office, Gabrielian told the FBI agent that, although Henry knew of Gabrielian's interaction with the Russian Embassy, she never mentioned Henry's name to the Russian Embassy.
In the narrative released by the U.S. Attorney's office, on Aug. 17, 2022, Gabrielian met with the FBI at a hotel in Baltimore. During that meeting, Gabrielian told the FBI she was motivated by patriotism toward Russia to provide any assistance she could to Russia, even if it meant being fired or going to jail.
She proposed potential cover stories for her meeting with the "Russians" and stressed the need for "plausible deniability" in the event she was confronted by American authorities. Gabrielian also told the FBI that, as a military officer, Henry was currently a more important source for Russia than she was, because they had more helpful information, including how the U.S. military establishes an army hospital in war conditions and information about previous training provided by the U.S. military to Ukrainian military personnel. 
Henry identifies as a "transgender military physician" on their Twitter account.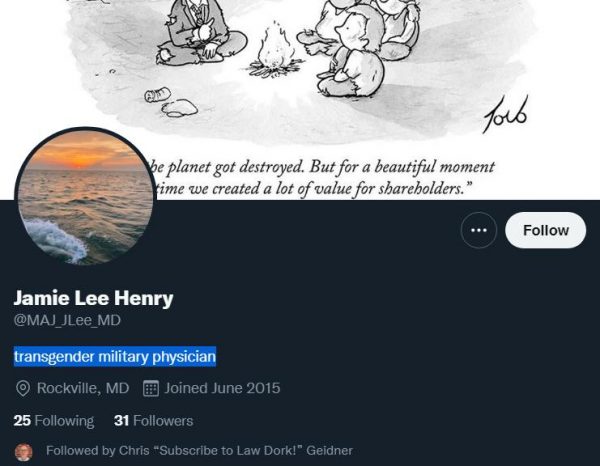 Henry received public attention in 2015 after becoming the first known active-duty Army officer to come out as trans.
Henry was at one point a member of SPARTA, the nation's largest nonprofit representing actively-serving trans U.S. servicemembers. A spokesperson for SPARTA, in an emailed statement commenting on the announcement of the arrest and indictment of Henry and their spouse told the Washington Blade:
"Transgender people are as diverse as the societies to which they belong. One's gender identity neither increases nor decreases a propensity towards alleged criminal activity."
As stated in the indictment, Gabrielian is an anesthesiologist and worked at Medical Institution 1 in Baltimore.
Henry, a major in the U.S. Army who held a secret-level security clearance, is Gabrielian's spouse and a doctor. During the time of the alleged conspiracy, Henry worked as a staff internist stationed at Fort Bragg, the home of the Army's XVIII Airborne Corps, headquarters of the U.S. Army Special Operations Command and the Womack Army Medical Center.
Gabrielian was scheduled to have initial appearance at 11:30 a.m. on Thursday in U.S. District Court in Baltimore before U.S. Magistrate Judge Brendan A. Hurson. Henry is also expected to have an initial appearance today, although a time has not yet been set.
Full statement from SPARTA:
"SPARTA, a non-profit advocacy organization representing transgender Service members in the United States, is saddened to learn of the arrest and indictment of Jamie Lee Henry, an officer in the U.S. Army and a medical doctor.
SPARTA has long advocated for the inclusion and total equity for transgender persons throughout the United States uniformed services. Today, thousands are serving honorably and authentically at home stations worldwide.
The actions alleged in the indictment do not reflect Henry's identity as transgender. Their alleged actions are those of an individual and should not be taken as a representation of transgender people broadly or transgender members of the military specifically.
All people in the United States are entitled to the same rights, including due process and the presumption of innocence in this case. SPARTA does not condone any actions alleged in the indictment and expects the process to play out fairly and equitably as it would for anyone accused of a crime."