Senate confirms gay nominee to Calif. federal court
Fitzgerald approved by vote of 91-6

The Senate on Thursday confirmed to the bench a gay judicial nominee whom Republicans had held up for four months from receiving a floor vote along with other appointees.
Michael Fitzgerald, whom President Obama nominated for a seat on the U.S. District Court for the Central District of California in July, was approved by a vote of 91-6. A simple majority was required for confirmation.
The six senators who voted "no" were Roy Blunt (R-Mo.), Jim DeMint (R-S.C.), James Inhofe (R-Okla.), Mike Lee (R-Utah), Rand Paul (R-Ky.) and David Vitter (R-La.). Not voting were Sens. Lamar Alexander (R-Tenn.) and Orrin Hatch (R-Utah) as well as Mark Kirk (R-Ill.), who's been recovering from a stroke.
"I am honored by the Senate's confirmation vote today," Fitzgerald said in a statement. "I am grateful to the President for my nomination. I am grateful to Senator Boxer for her recommendation of me to the President. I am grateful to Senator Feinstein for her support in the Senate Judiciary Committee. I look forward to serving the people of the Central District of California."
The Senate Judiciary Committee reported out his nomination in November unanimously by voice vote to the Senate floor, but his confirmation has been held up along with other nominees.
Barbara Boxer (D-Calif.), who recommended the Fitzgerald nomination, spoke highly of him on the Senate floor prior to the vote as she chided Republicans for holding up his confirmation.
"He is an historic choice, and a vote of Mr. Fitzgerald's nomination is long overdue, because he was voted out of the Senate Judiciary Committee unanimously 133 days ago, on Nov. 3, 2011," Boxer said. "It really shouldn't take this long to confirm such a highly-qualified nominee like Mr. Fitzgerald, especially because this seat has been designated a judicial emergency."
According to Boxer's office, former President George W. Bush's district court nominees waited an average of 22 days as of March 2004 for confirmation after being reported out by the Judiciary Committee. Comparatively, President Obama's district court nominees have waited an average of 93 days. Fitzgerald has waited 132 days for a vote on his nomination.
Fitzgerald was among 17 nominees pending before the Senate on which Senate Majority Leader Harry Reid (D-Nev.) filed cloture Monday as a result of Republicans objecting to floor votes on their confirmation. But as a result of a deal that was reached on Wednesday, Democrats and Republicans will move 12 district court judges and two circuit court judges through the confirmation process by May 7. Fitzgerald's vote was locked in Thursday under the agreement.
LGBT advocates praised the confirmation of Fitzgerald and said his previous work over the years as an attorney makes him qualified for the position on the bench. Fitzgerald has had experience in private practice in addition to working as a U.S. attorney.
Chuck Wolfe, CEO of the Gay & Lesbian Victory Fund, said Fitzgerald's legal experience "makes him an excellent choice for the federal bench."
"He joins a still very small but growing group of openly LGBT federal judges, and we commend the Obama administration for making sure these esteemed positions are open to all qualified Americans, regardless of sexual orientation or gender identity," Wolfe said.
Joe Solmonese, president of the Human Rights Campaign, said he applauds for the Senate for the confirming Fitzgerald — calling him "eminently qualified nominee" — as he took a jab at Republicans for holding up the nomination for so long.
"We are disappointed that it took months for the Senate to consider his nomination because Republican leadership has been refusing to give President Obama's judicial nominees a timely up or down vote," Solmonese said.
Michael Fleming, executive director of the David Bohnett Foundation and longtime friend of Fitzgerald's, also had good things to say about the new judge upon his confirmation.
"I've known Michael for years and no one better embodies the qualities we seek to find in all of our judges — wisdom, honesty and integrity," Fleming said. "There's a reason why he was nominated by the president and why he has sailed through this process with such ease — because he has the skills and strengths to be a great judge."
Lorri Jean, CEO of L.A. Gay & Lesbian Center, also said she's known Fitzgerald for many years and believes he'll serve the country with honor.
"I'm grateful to the President and the Senate for appointing a judge who brings to the bench not only a keen intellect, a wealth of legal experience and strong ethics, but life experience as a gay man," Jean said. "It's essential to have sexual orientation and gender identity diversity on the bench for the same reason it's important to have racial and gender diversity in the judiciary; the life experience of judges provides valuable insight, and influences, their interpretation of the law. As Supreme Court Justice Sonia Sotomayor once said, 'Personal experiences affect the facts that judges choose to see.'"
Congratulations also came from the White House.
"The president welcomes the confirmation of Michael Fitzgerald," said White House spokesperson Shin Inouye. "He will serve the American people well on the U.S. District Court for the Central District of California."
Fitzgerald was given a review by the American Bar Association, which gave him a rating of "unanimously well-qualified."
Most recently, Fitzgerald worked at Corbin, Fitzgerald & Athey LLP in 1998, but prior to that experience, he worked at the Law Offices of Robert L. Corbin PC and at the law firm of Heller, Ehrman, White & McAuliffe.
The new judge also served as an assistant U.S. Attorney in Los Angeles, where he handled criminal cases, such as a drug and money laundering case involving what at that time was the second-largest cocaine seizure in California.
In his questionnaire response to the Senate Judiciary Committee, Fitzgerald wrote that he has participated in some LGNT activism, including the 2008 campaign against Proposition 8 as a door-knocker. Fitzgerald is also a member of the Harvard-Radcliffe Gay & Lesbian Caucus. From 2007 to 2008, he served on the leadership task force for the L.A. Gay & Lesbian Center. In the 1990s, he was a member of the Stonewall Democratic Club.
Fitzgerald isn't a stranger to represent client in cases related to LGBT rights. He was involved in the settlement of Buttino v. FBI, the 1993 class-action lawsuit involving Frank Buttino, a gay FBI specialist who was anonymously outed to his superior, resulting in the removal of his security clearance and subsequent firing. Fitzgerald asked his law firm at the time to represent Buttino on a pro bono basis.
As a result of the settlement, the FBI renounced its prior policy of viewing homosexuality as a negative factor in regard to security clearances, the FBI agreed to hire an openly lesbian special agent and Buttino's pension was restored.
Fitzgerald is the fourth out federal judicial nominee chosen by the White House, but third one to receive confirmation from the Senate. Fitzgerald's confirmation makes him the first openly gay federal judge to serve in California.
In July, the Senate confirmed J. Paul Oetken to the U.S. District Court of Southern District of New York, making him the first openly gay male to sit on the federal judiciary. In October, the Senate confirmed lesbian Alison Nathan to the same court.
Another one of Obama's gay judicial nominees, Edmund DuMont, was withdrawn after he asked the White House to remove him from consideration. DuMont was first nominated on April 14, 2010, but his nomination languished for more than 18 months without the taking Senate taking action. He was nominated the U S. Court of Appeals for the Federal Circuit and would have been the first openly gay federal appellate judge.
Protests, revelry mark NYC Pride
Tens of thousands protested Roe ruling on Friday night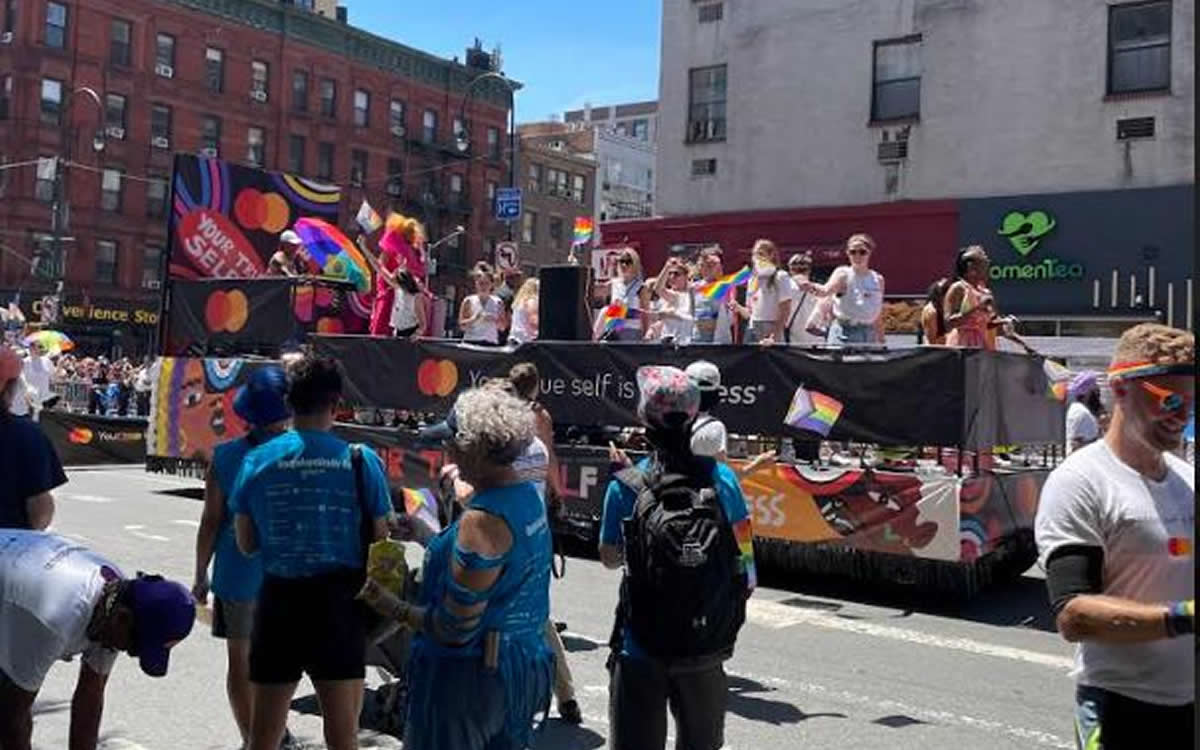 New York City Pride, one of the largest Pride celebrations in the world, rang in the weekend with equal parts celebration and protest.
Although the annual Pride march was on Sunday, the entire weekend was filled with an outpouring of public anger in the wake of the U.S. Supreme Court's decision to overturn Roe v. Wade. 
Protesters took to the streets of Manhattan on Friday with an estimated 17,000 people gathering to protest the ruling, which made abortion imminently illegal in roughly half of states. At least 25 people were arrested at the Friday night protests, which spread from Washington Square Park through Midtown to Bryant Park. 
In light of the Supreme Court's landmark decision — which advocates say will harm members of the LGBTQ community — NYC Pride announced that Planned Parenthood would kick off Sunday's Pride march as the first group to walk. In their statement, NYC Pride said that "[The Supreme Court's] dangerous decision puts millions in harm's way, gives government control over our individual freedom to choose, and sets a disturbing precedent that puts many other constitutional rights and freedoms in jeopardy." 
"As millions gather for LGBTQIA+ Pride this weekend in New York City and cities across the country, our voices will be heard — for the LGBTQ people impacted and the millions with whom we stand in solidarity," read the statement. "Pride was born of protest and will always be a space to fight injustice and discrimination. Join us as we advocate for bodily autonomy at this year's NYC Pride March."
In addition to the march; NYC Pride had a full slate of Pride programming during the week leading up to it, including Pride Island at Governor's Island, Youth Pride and a human rights conference. Queer clubs and bars throughout the city hosted various Pride-themed events throughout the weekend.
NYC Pride was not the only organization mobilizing this weekend.
Reclaim Pride NYC hosted a "Queer Liberation March for Trans and BIPOC Freedom, Reproductive Justice, and Bodily Autonomy," in partnership with pro-choice groups and community organizations.
"The [Queer Liberation March] is the annual people's protest march without corporate funding; corporate floats; politicians' grandstanding; or police control or involvement," said the Reclaim Pride Coalition.
Although Pride originated from a moment of violent tension between police and LGBTQ people at the Stonewall Inn, officers on Sunday carefully patrolled the entire NYC Pride march route. When the apparent sound of gunshots nearly sparked a stampede in Washington Square Park during the parade, the New York Police Department said there were "no shots fired," later confirming that the sounds were due to fireworks being set off at the park. 
The Washington Post noted fears of violence against the queer community circulated at Pride celebrations across the country.
Police also responded to reports of a shooting at San Francisco Pride, although no suspects or witnesses were found. In light of the epidemic of gun violence — from last month's elementary school shooting in Uvalde, Texas, to the massacre at the Pulse nightclub in Orlando, Fla., in 2016 that left 49 people dead — a fear of active shooters and widespread public anger at the prospect of less rights characterized Pride's usually jubilant atmosphere.
'Gay marriage, gay sex are going to fall like fucking dominoes'
Anger, fear as protesters decry Supreme Court ruling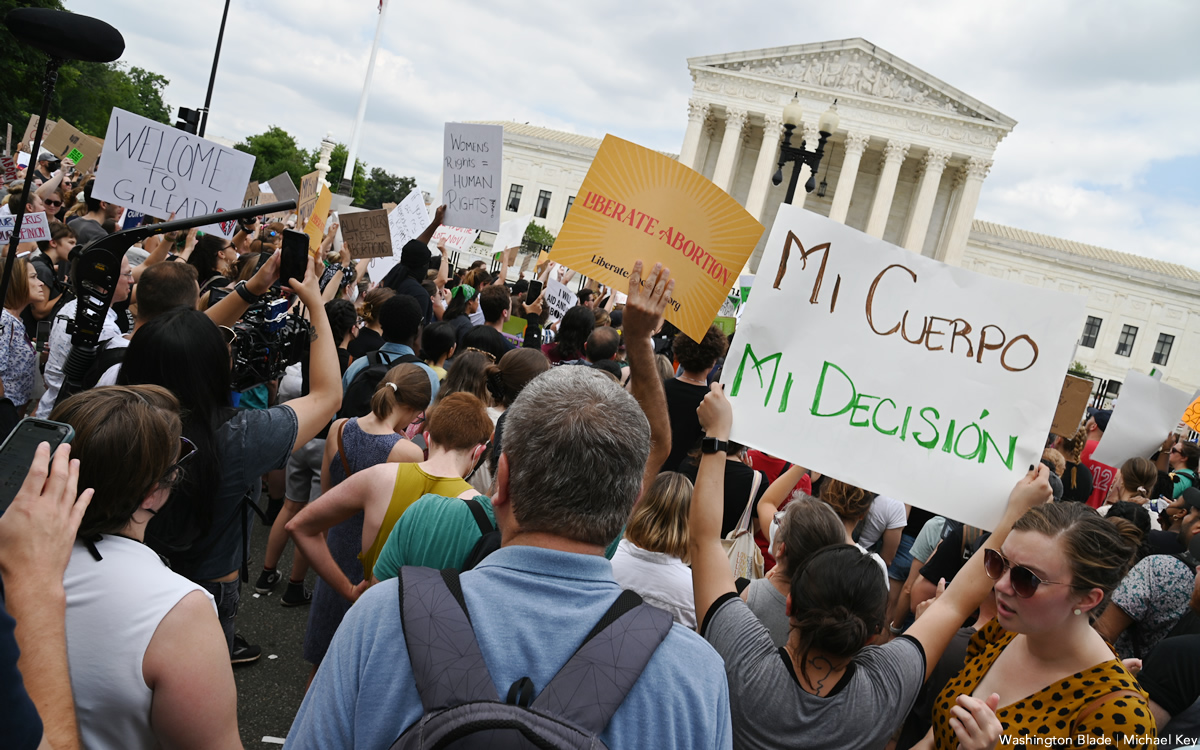 Just moments after the U.S. Supreme Court delivered its decision on Friday overturning its landmark ruling in Roe v. Wade that had legalized abortion nationwide for 49 years, hundreds gathered outside the court to both protest and celebrate the ruling.
In a 6-3 decision in Dobbs v. Jackson Women's Health Organization, the court found that access to abortion was not a right guaranteed under the language of the Constitution. The ruling effectively reversed the court's 1973 decision that mandated states to allow the procedure in most instances throughout the first two trimesters of pregnancy.
Immediately following the decision, a group of those welcoming the decision quickly gathered in front of the court.
Anna Lulis, a member of Students for Life of America, welcomed the decision as long overdue.
"I think it is a huge victory for human rights," Lulis said. "For far too long, since 1973, human rights have been infringed upon at an egregious level."
Beside Lulis, Olivia Cowin, a member of Survivors LA, shared a similar reason for gathering outside the court.
"This is a celebratory day to show our support of the unborn and of women and support both simultaneously," Cowin said.
But across the way from the court's west side, Virginia resident Alysia Dempsey feared what the verdict in Dobbs could mean for women's rights – including those of her four daughters.
"I believe in women's rights, and I think that our country needs to be able to start listening to each of our stories and to have empathy for them in so many different aspects," Dempsey said. "I feel like we're sort of going back in time with regard to so many rights."
Hailing from Arizona, a state under Republican legislative leadership where Planned Parenthood has already halted all abortion services pending legal clarity from the state, Hannah Waldrip cast doubt on the sincerity of anti-abortion rationale.
"For a country about personal rights and personal freedom, we're doing an awful lot right now to limit women's or people with uterus' ability to do what they want with their body," Waldrip said.
Stark divisions between the groups arose as ideological lines could be seen physically emerging between the crowds.
And as the day progressed, those protesting the ruling quickly began to outnumber its supporters.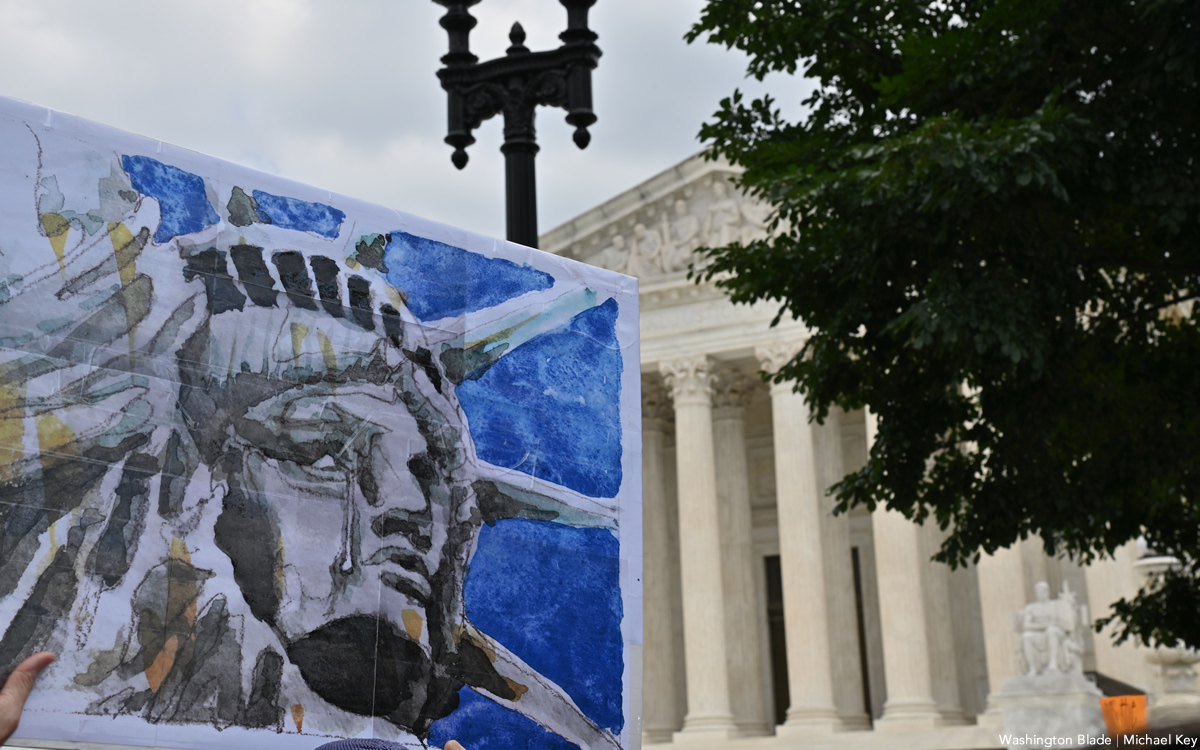 Among the protesters, the color green – a symbol for abortion rights activists borne out of similar movements in Argentina and elsewhere in Latin America – could be seen lining the street on scarves, shirts, stickers, and elsewhere.
As the crowd grew and green began to eclipse the simmering pavement beneath the protesters, several speakers emerged at the center of the crowd.
One of those speakers was Elizabeth Paige White, a civil rights lawyer working under nationally renowned attorney Ben Crump.
In connecting Friday's decision to the United States' history of patriarchal structure, White called into focus the disproportionate effect the repeal of nationwide abortion access is widely expected to have on minorities and communities of color with fewer resources to travel to abortion-friendly states.
"As Black, brown, and all these women out here know, we've been fighting for our rights since the inception of this country," White said. "We have been fighting to have rights over our own bodies since the inception of this country."
With the repeal of Roe, decisions on whether to legalize or outlaw abortion will now be left to each state. As of Friday's ruling, 13 states are set to make almost all abortions illegal, having passed "trigger bans" designed to take effect in the immediate aftermath of Roe's demise or within the next month.
However, many abortion rights supporters, activists, and lawmakers still fear that the curtailing of reproductive rights won't end with the court's decision.
Sen. Catherine Cortez-Masto (D-Nev.) addressed the crowd with a message of urgency and revelation.
"At the end of the day, let me just say, here's what's next," Cortez-Masto said. "I've got some of my Republican colleagues based on this decision who are already drafting legislation to restrict abortion in this country. If they win this election, they will pass that legislation and it will preempt all of the state laws we have protecting women in this country when it comes to our right to choose."
Beyond a nationwide restriction on abortion, some fear even more privacy restrictions are coming.
Such privacy rights have been established in other Supreme Court rulings based on the same Due Process and Equal Protection clauses of the 14th Amendment that justices used to interpret nationwide abortion rights nearly half a century ago. These cases have included those that established access in all states to contraception, same-sex marriage, interracial marriage, and the right to same-sex relations in the privacy of one's home.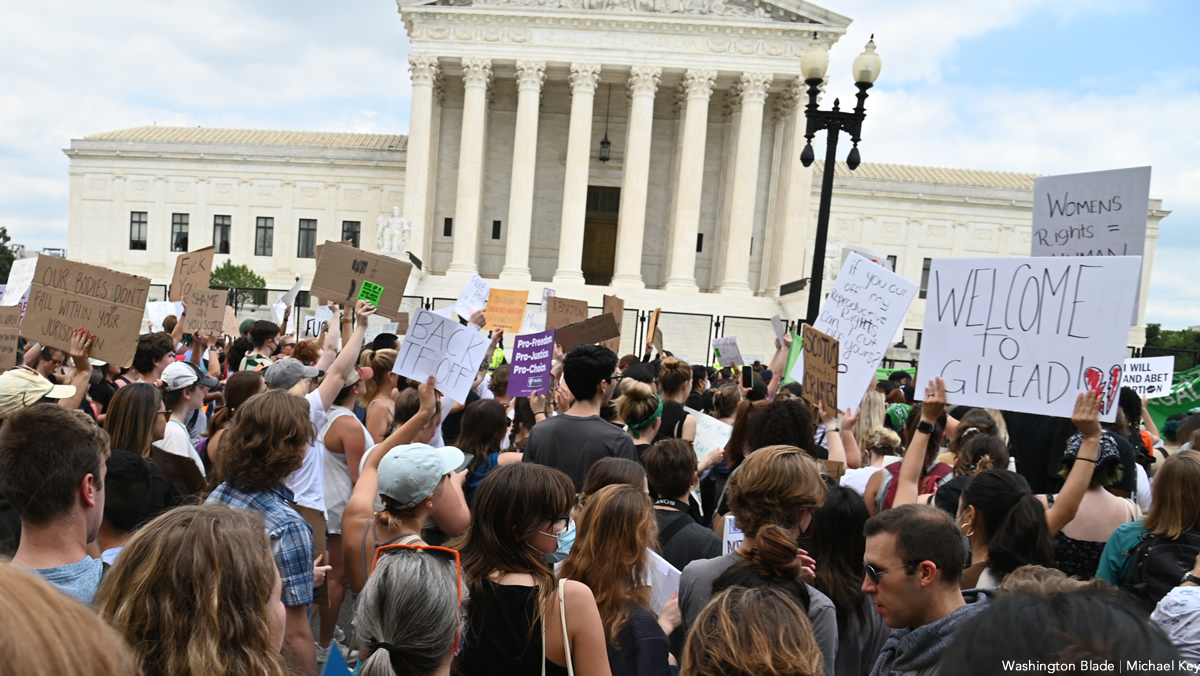 Among the crowd gathered on Friday, such was a sobering outlook for many.
"Gay marriage, interracial marriage, gay sex are going to fall like fucking dominoes if we let them," one speaker outside the court said.
Anger and fear could be felt permeating the crowd. Activists, however, were determined to turn their compatriots' fears into action and change.
"We must get out in the streets," the speaker said. "We need millions of people all around the country because this affects every single living, breathing person in this country whether they realize it yet or not."
Among protesters' trepidation regarding the future of women's rights and privacy rights in America, many clung to a message of hope as speakers and activists pledged to continue fighting.
"They have worked to keep us down, they worked to keep us enslaved, they worked to keep us out of the polls, they worked to keep us out of political offices, they've worked to keep us in the home," White said. "But we know, as we fought for centuries, that this will not stand."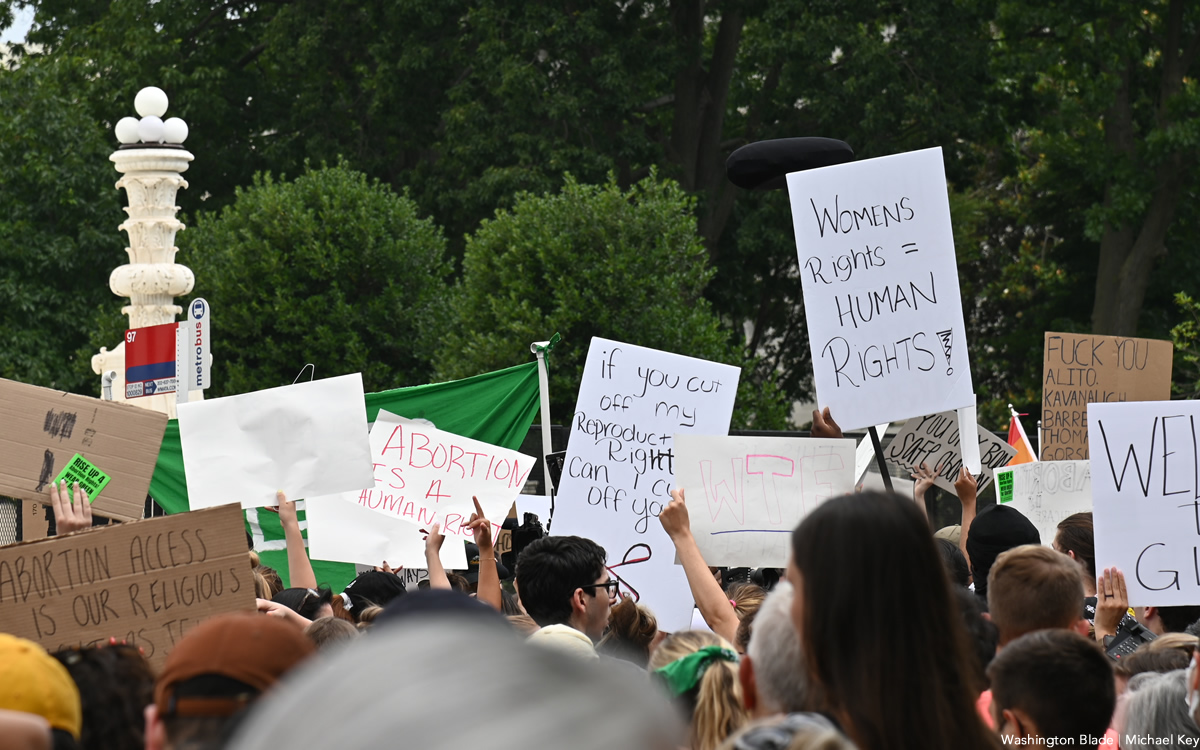 LGBTQ activists alarmed over concurring opinion in abortion ruling
Justice Thomas calls for 'reconsideration' of marriage, sodomy rulings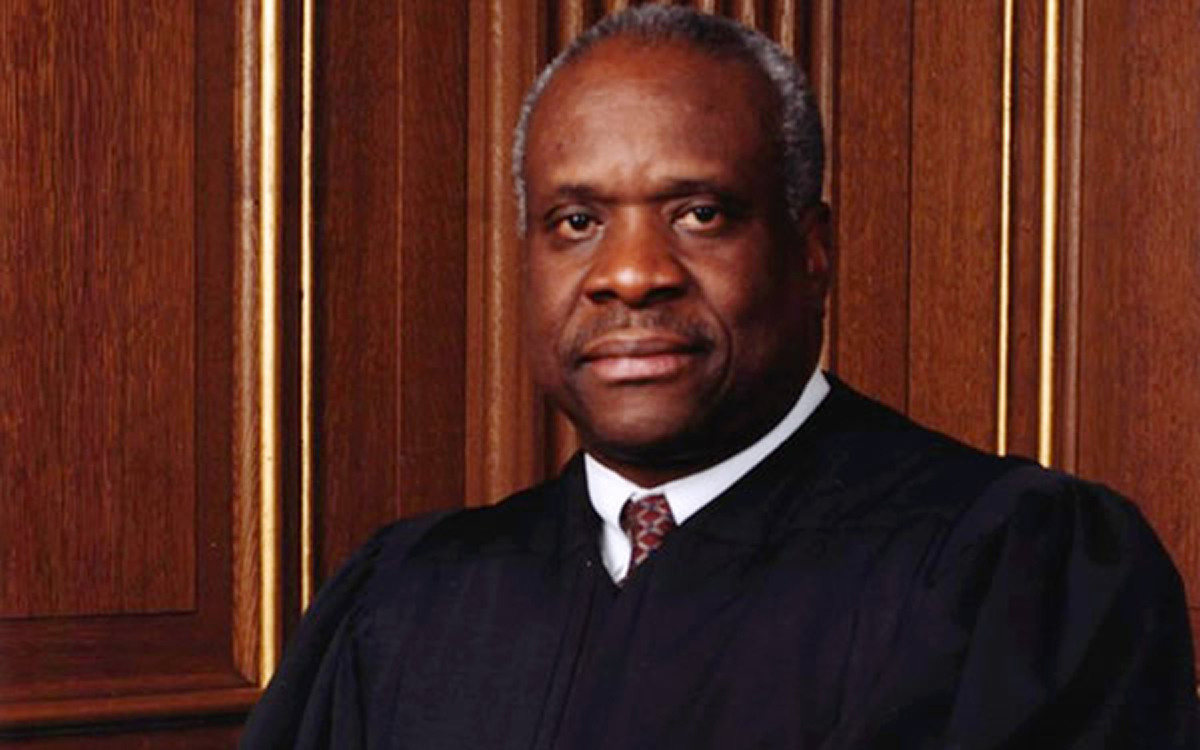 LGBTQ activists have expressed alarm over a concurring opinion issued on Friday by U.S. Supreme Court Justice Clarence Thomas calling for the high court to "reconsider" previous decisions overturning state sodomy laws and legalizing same-sex marriage as a follow-up to the court's controversial ruling on Friday to overturn the Roe v. Wade decision on abortion rights.
In an action that drew expressions of outrage from abortion rights advocates and strong support by right-to-life advocates, the Supreme Court handed down a 6-3 ruling on Friday overturning the fundamental right to an abortion that the court established nearly 50 years ago in its landmark decision known as Roe v. Wade.
In his concurring opinion, Thomas said he supports the high court's majority opinion overturning Roe v. Wade. He states that he agrees with the ruling that nothing in the majority opinion "should be understood to cast doubt on precedents that do not concern abortion."
But he also states that in potential future cases, "we should reconsider all of this Court's substantive due process precedents, including Griswold, Lawrence, and Obergefell."
He was referring to the past Supreme Court Griswold ruling that overturned state laws banning or restricting birth control such as contraceptives; the high court's 2003 Lawrence v. Texas ruling that overturned state laws banning sodomy between consenting adults; and the 2015 Obergefell ruling that legalized same-sex marriage nationwide.
"Justice Thomas's concurring opinion is obviously concerning, but it is important to note that not one other justice agreed with him," said Sarah Warbelow, legal director of the Human Rights Campaign, the nation's largest LGBTQ rights advocacy group. "In fact, the majority took pains to disagree with him and clarify that this opinion relates only to abortion. Justice Thomas stands alone," Warbelow told the Washington Blade in a statement.
"With that said, we know that if the court was willing to overturn 50 years of precedent with this case, that all of our constitutional rights are on the line," Warbelow said. "Lawmakers will be further emboldened to come after our progress. So, we must be vigilant in protecting our hard-won rights — we're ready."
Paul Kawata, executive director of the National Minority AIDS Council (NMAC), said the Supreme Court ruling overturning Roe v. Wade would have a "disastrous effect" on healthcare for women, especially women of color. He said the ruling could also lead to future rulings that adversely impact LGBTQ people and other minorities.
"We have no doubt that the conservative supermajority on the court will not stop with Roe," Kawata said in a statement. "Justice Thomas's chilling concurring opinion makes it very clear that the court could target other rights provided by the court — marriage equality, contraception access, and LGBTQ+ intimacy in private to name a few," he said.
Omar Gonzales-Pagan, who serves as legal counsel for the national LGBTQ litigation group Lambda Legal, said he is especially troubled that Thomas is continuing to push for ending the Supreme Court's longstanding reliance on the so-called doctrine of substantive due process to expand the rights provided under the U.S. Constitution.
"Justice Thomas's concurrence is incredibly troubling," Gonzales-Pagan told the Blade. "Justice Thomas has made it clear that he doesn't believe in the doctrine of substantive due process, and he called for the reconsideration of that entire doctrine," he said.
"No other justices joined him on that opinion," Gonzales-Pagan points out. "But, if the court were to go further than they did today and to reconsider the entire doctrine of substantive due process, it would really call into question all or a large part of the fundamental rights enjoyed by people in the United States."
Gonzales-Pagan said that potential scenario could play out for same-sex marriage rights and the right of adults to engage in consenting sexual practices if a state or local jurisdiction attempts to pass a law to once again make same-sex marriage or sodomy between consenting adults illegal. Should that happen, the laws would be challenged in the courts and those cases would likely come before the Supreme Court just like the abortion cases did, according to Gonzales-Pagan.
He said he was hopeful but not at all certain that the other justices who did not sign on to Thomas's concurring opinion could be taken at their word and they would not support overturning the Supreme Court's Obergefell decision legalizing same-sex marriage or the Lawrence v. Texas decision declaring state sodomy laws pertaining to consenting adults unconstitutional.