Senate confirms lesbian to federal judiciary
Senators approve Nathan by 48-44 vote

The U.S. Senate confirmed on Thursday an out judicial nominee to become the second-ever open lesbian to sit on the federal bench.
Senators confirmed Alison Nathan, whom President Obama nominated in March for a seat on the U.S. District Court of the Southern District of New York, by a vote of 48-44.
Senate Judiciary Committee Chair Patrick Leahy (D-Vt.) said on the Senate floor there was "no question the Senate should confirm Ms. Nathan."
"As her resume shows, she is an accomplished nominee with significant experience in private practice, academia and government service," Leahy said. "Twenty-seven former Supreme Court clerks have written to the Judiciary Committee in support of Ms. Nathan's qualifications, including clerks who worked for the conservative Justices."
Shin Inouye, a White House spokesperson, commended the Senate for confirming Obama's nominee.
"The President welcomes the confirmation of Alison Nathan," Inouye said. "She will serve the American people well from the District Court bench."
Currently special counsel to the Solicitor General of New York, Nathan has also served as a special assistant to President Obama and an associate White House counsel. Before joining government service, she taught law first as a visiting assistant professor at Fordham University Law School, and later as a Fritz Alexander fellow at New York University School of Law.
All Democratic senators who were present voted in favor of the nomination. All Republicans who were present voted against her, including GOP senators known for holding pro-LGBT views, such as Sens. Susan Collins (R-Maine), Olympia Snowe (R-Maine), Mark Kirk (R-Ill.) and Scott Brown (R-Mass.).
Senators who didn't vote were Sens. Tom Coburn (R-Okla.), Joseph Lieberman (I-Conn.), Debbie Stabenow (D-Mich.), Kay Hagan (D-N.C.), Richard Lugar (R-Ind.), David Vitter (R-La.), Tom Harkin (D-Iowa) and Joe Manchin (D-W.V.).
The Senate didn't confirm Nathan without opposition on the floor. Republican senators spoke out against her.
Sen. Charles Grassley (R-Iowa), ranking Republican on the Senate Judiciary Committee, said he voted to report Nathan's nomination to the floor, but couldn't vote for her on Thursday — as well as judicial nominee Judge Susan Hickey — because of their records and American Bar Association ratings.
"Ms. Nathan and Judge Hickey both have had limited experience in the courtroom," Grassley said. "They have failed to meet even the minimum qualifications that the ABA uses in rating process."
Sen. Jeff Sessions (R-Ala.), who's known for opposing pro-LGBT initiatives in Congress, also expressed concerns on the floor about Nathan's legal experience and what he said was her belief that judges can look to foreign law in deciding cases.
"It's very hard for me to believe that I should vote to confirm a judge who's not committed to following our law, who believes they have a right to scrutinize the world, find some law in some other country, bring it home, and use that law to make it achieve a result in the case they wanted," Sessions said.
Leahy defended Nathan's nomination on the Senate floor, saying although her ABA recommendation wasn't unanimous, a majority on the standing committee that evaluated her said she was qualified.
"I note that a majority of the Standing Committee rated Ms. Nathan 'qualified' to serve," Leahy said. "I also note that Ms. Nathan's ABA rating is equal to or better than the rating received by 33 of President Bush's confirmed judicial nominees, who were supported by nearly every Republican senator."
Sen. Chuck Schumer (D-N.Y.) said the claim that Nathan has made any assertion that she'd look to foreign law when deciding cases is "patently false."
In a questionnaire response to written questions from Grassley, Nathan wrote: "If I were confirmed as a United States District Court Judge, foreign law would have no relevance to my interpretation of the United States Constitution. In this area, as in all others, I would follow binding Supreme Court precedent."
LGBT advocates praised the Senate for confirming Nathan and sending the third openly gay person to the federal bench.
Joe Solmonese, president of the Human Rights Campaign, hailed the confirmation and said additional representation of LGBT people in the courts is necessary.
"Alison Nathan's demonstrated intellect and dedication to public service is a model of achievement for LGBT youth and we commend the Senate for their confirmation vote today," he said. "With qualified LGBT attorneys all across the country, we look forward to the federal courts reflecting the diverse composition of our society in districts from coast to coast."
Chuck Wolfe, CEO of the Gay & Lesbian Victory Fund, called the Nathan confirmation "another step toward America's leadership class reflecting the country it serves."
"For too long Washington has ignored the impressive talent and experience found in the LGBT community," Wolfe said. "It's been beholden to the opinion of extremists who wanted to exclude us. We have to continue to fight against that kind of political homophobia, and we will."
The first lesbian — and first openly LGBT person — to sit on the federal bench is Deborah Batts, who was nominated and confirmation for a position on the U.S. District Court for the Southern District of New York during the Clinton Administration.
In July, the Senate confirmed J. Paul Oetken to another seat on the U.S. District Court for the Southern District of New York, making him the first openly gay male to sit on the federal bench.
Two other openly gay nominees are also pending before the Senate: Michael Fitzgerald, who was nominated for a position on the U.S. District Court for the Central District of California; and Edward DuMont, who was nominated for a seat on the U.S. Court of Appeals for the Federal Circuit.
The Senate Judiciary Committee held the confirmation hearing for Fitzgerald last week. The panel hasn't reported out the nomination, but the record for committee members to submit follow up questions closed only this week.
Obama renominated DuMont in January after the 111th Congress took no action on his appointment. DuMont's nomination has yet to be considered by the full Senate — or even the Senate Judiciary Committee.
Far-right site says Satan's overseeing Target's holiday offerings
"When shoppers enter the seasonal aisles, they are greeted by pride flag waving Santa's and transgender-themed nutcrackers"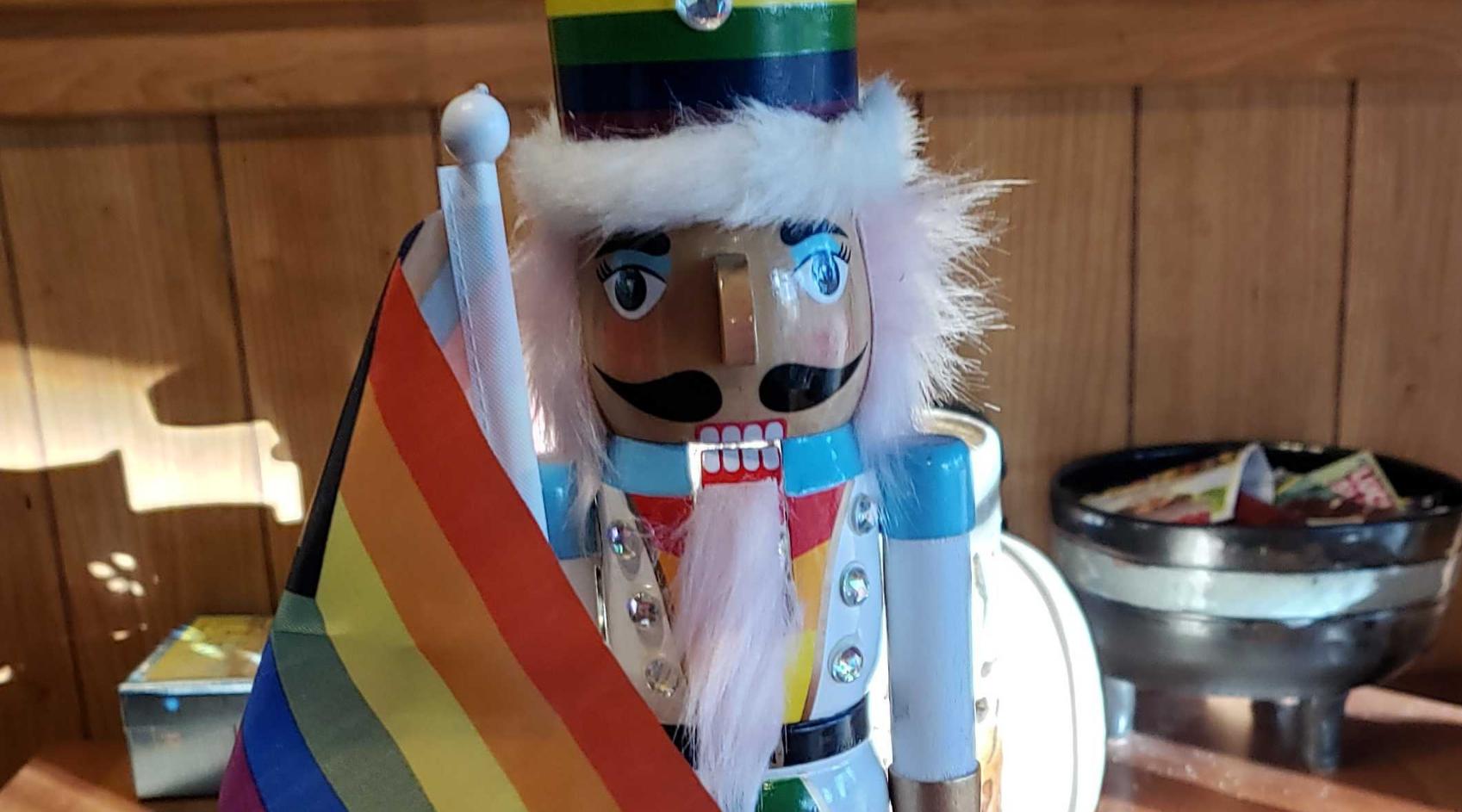 A staff writer for Florida-based far-right anti-LGBTQ+ Charisma Media's blog Charisma News, alleges that Satan aka The Devil, Lucifer, or the Prince of Darkness, Beelzebub, Mephistopheles, Baphomet, Lord of the Flies, the Antichrist, Old Scratch, Father of Lies and Moloch is in charge of Minneapolis-based Target Corporation's Christmas offerings.
According to James Lasher, Satan and Target teamed up to offer shoppers LGBTQ+ themed Christmas decorations. One in particular, an LGBTQ+ affirming nutcracker drew scrutiny. Lasher writes: "The year is not over yet, and the retail giant thought it would be a good idea to ring in the Christmas season with another 'Pride' campaign where they deck the halls in transgender flag colors." He then goes on to note:
"When shoppers enter the seasonal aisles, they are greeted by pride flag waving Santa's and transgender-themed nutcrackers who come in white and black and feature purple bears and a pride flag, the higher tier model costing $63.00 and comes with a staff with a heart on it saying "Love is Love.""
Lasher summarizes the Target Christmas holiday shopping experience as: "The goal of Satan is to move our ever-increasingly secular society away from any references of Jesus Christ. And he has succeeded mightily in accomplishing that goal in America. This entire charade of dedicating the month of June to pride is merely cover for the real goal of saturating American culture in this pagan ideology 24/7, and what more proof do you need than the attempt at making Christmas 'Pride' now?"
The Christian extremist writer then cites biblical references as to why Target is marketing-in-sin and then writes: "The Christian church is battling this takeover itself, with apostate congregations taking down crosses and replacing them with pride flags. No longer do they pray to Jesus and read the Bible, but instead they pray to drag queens and read the works of radical activists."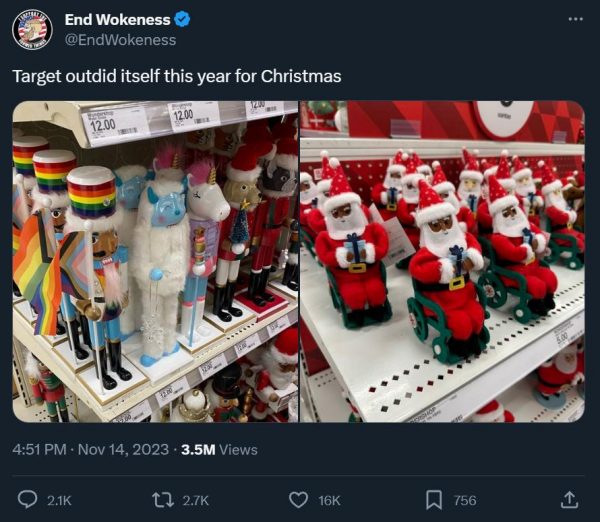 In May of this year, outrage over LGBTQ+ Pride related merchandise being sold, especially in the company's southern regional stores, by far-right activists caused Target Corporation to confirm that in some of its locations in semi-rural areas of rural Georgia, South Carolina, and Arkansas have moved Pride merchandise from the front of the stores to backroom areas or deeper into the stores after confrontations and backlash from shoppers.
Target's Pride Collection, which was displayed for sale starting on May 1, is comprised of more than 2,000 products, including clothing, books, music and home furnishings. Items include "gender fluid" mugs, "queer all year" calendars and books for children aged 2-8 titled "Bye Bye, Binary," "Pride 1,2,3" and "I'm not a girl."
Speaking for the Minneapolis-based retail giant, spokesperson Kayla Castaneda noted: "Since introducing this year's collection, we've experienced threats impacting our team members' sense of safety and wellbeing while at work. Given these volatile circumstances, we are making adjustments to our plans, including removing items that have been at the center of the most significant confrontational behavior."
Castaneda related that the company has been celebrating LGBTQ Pride Month for over ten years, but this year the increased opposition and hostility gave the company pause and led to a decision to pull some of the Pride merchandise.
In an email to the Blade in June, Castaneda said, "Our focus now is on moving forward with our continuing commitment to the LGBTQIA community and standing with them as we celebrate Pride month and throughout the year."
Newly introduced Florida bill could destroy LGBTQ nonprofits
It would establish "biological" pronouns as official state policy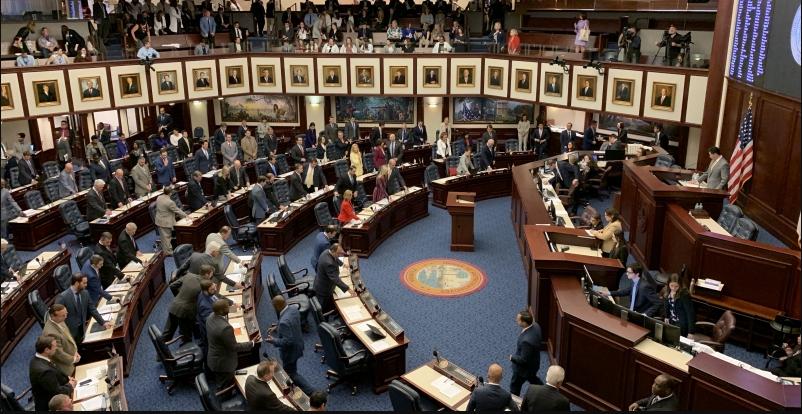 By Erin Reed | A new bill just introduced in Florida aims to expand "Don't Say Gay Or Trans" provisions to a broad range of workplaces. Targeting government employees, contractors, and nonprofits, the bill sets forth restrictions and bans on policies relating to pronouns, gender identity, and sexuality.
Specifically, it would prohibit state and local government employees as well as any contractors engaged with the government from changing their pronouns or honorifics if they do not match their assigned sex at birth. It would also bar them from instructing on gender identity or sexuality, similar to "Don't Say Gay Or Trans" laws already active in the state education system. The legislation would establish "biological" pronouns as official state policy.
The bill also would establish protections for what it calls "deeply held biology-based beliefs." It may even prevent all nonprofits in the state from mandating any "training, instruction, or other activity on sexual orientation, gender identity, or gender expression," a clause that could destroy LGBTQ+ nonprofits across Florida.
The bill, HB599, was introduced by Representative Ryan Chamberlin, a Republican. The bill is split into two sections, with the first section applying to government employees and contractors, which it defines as "an individual, partnership, corporation, or business entity" that "enters or attempts to enter into a contract for services" with any state, county, municipality, or special district of Florida.
These definitions encompass a huge number of businesses, such as stadiums, convention centers, major hospitals, insurance agencies, and more. For these businesses, as well as for all government workers, the bill would declare that it is the state's policy that "a person's sex is an immutable biological trait and that it is false to ascribe to a person a pronoun that does not correspond to such person's sex." It then would bar covered employees from sharing pronouns that "do not correspond to that person's sex," effectively banning social transition at work for these employees.
See the provisions barring pronouns, honorifics, and more here: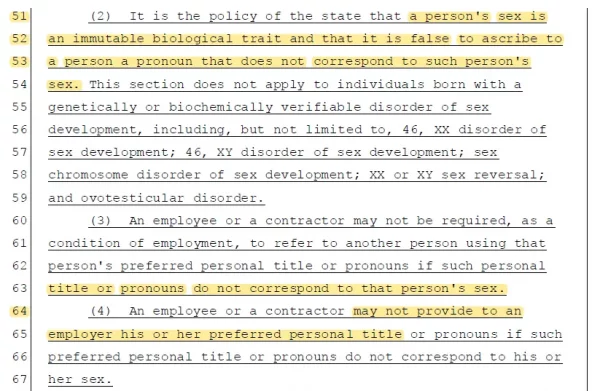 The bill also would enshrine a new phrase into law: protections for employees "deeply held religious or biology-based beliefs." The phrase "deeply held religious beliefs" has longstanding precedent in constitutional law and is used to overturn laws judged to be violating someone's freedom of religion.
Deeply held "biology-based" beliefs, however, are not something that has ever been a part of any law. It would appear that this line is meant to provide religious-based protections to people who assert that their misgendering of transgender people and using transgender people's old names is part of their "biology-based" rights.
The bill is not limited in its application to government employees and contractors, however. A separate section of the bill would apply to "nonprofit organizations or an employer who receives funding from the state." In the most broad reading of this section, separating "nonprofit organizations" from "employers who receive funding from the state," it would bar all such organizations from mandating "training, instruction, or other activity on sexual orientation, gender identity, or gender expression."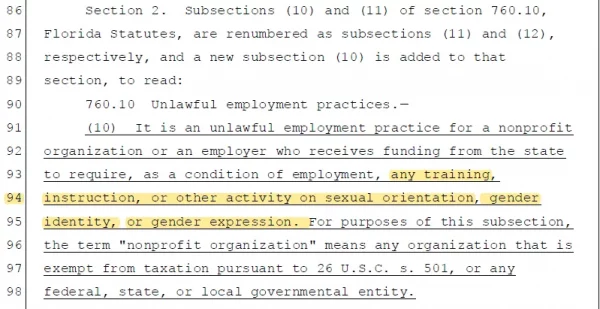 Provisions in HB 599
This provision is severe in its potential impact. Virtually every LGBTQ+ organization would be radically affected by it and would likely have to shut down. It would be nearly impossible for an LGBTQ+ organization to run without providing instruction, training, and "other activity" around gender identity or sexuality. It would be a blatant power grab by the state targeting organizations critical to the government and would further drive LGBTQ+ activism and organizing underground in the state. If enforced broadly, this section could have a similar impact to laws in Russia designed to shut down LGBTQ+ organizations there.
This section would have impacts far beyond LGBTQ+ organizations as well. The provisions would apply to "any organization that is exempt from taxation" including "s. 501" organizations. This would include, for instance, 501c4s, which are crucial during election cycles and could be used to target left-leaning organizations running election ads. Many of these organizations have LGBTQ+ employees and provide instruction and accommodations for their employees, which would be barred by the state if this gets passed into law.
It could also have impacts on medical organizations that do business with state and local governments. Planned Parenthood, a 501c3, heavily provides care for LGBTQ+ people, and such a law could be used to target the organization statewide. Likewise, many state hospital systems that do business with the government often must educate employees and patients on HIV and AIDs, which is impossible to divorce from LGBTQ+ issues. Community health clinics would, similarly, have to contend with these provisions.
'Don't say gay' for nonprofits: @RyanDChamberlin files bill that would restrict LGBTQ nonprofits receiving state funding

Reporting by @JacobOgleshttps://t.co/oaAfC0gTuz#FlaPol

— Florida Politics (@Fla_Pol) November 21, 2023
Brandon J. Wolf, the National Press Secretary for the Human Rights Campaign said to the Blade in a statement Tuesday: "This Florida bill is a hateful, anti-LGBTQ+ monstrosity. It is dangerous, unconstitutional, and we know it's just the start of politicians' attacks on our community this legislative session. We're prepared to fight back."
This legislation represents an early move in what promises to be a challenging year for anti-LGBTQ+ legislation in 2024. Historically, Florida has often been the breeding ground for new laws aimed at the LGBTQ+ community. This bill might well serve as a precursor to the next "model policy" that could be replicated in multiple states, and bears close watching.
****************************************************************************
Erin Reed is a transgender woman (she/her pronouns) and researcher who tracks anti-LGBTQ+ legislation around the world and helps people become better advocates for their queer family, friends, colleagues, and community. Reed also is a social media consultant and public speaker.
Follow her on Twitter (Link)
Website here: https://www.erininthemorning.com/
******************************************************************************************
The preceding article was first published at Erin In The Morning and is republished with permission.
Two men charged with attacking trans Puerto Rican woman sentenced to 33 months in prison
Alexa Negrón Luciano attacked with paintball gun before 2020 murder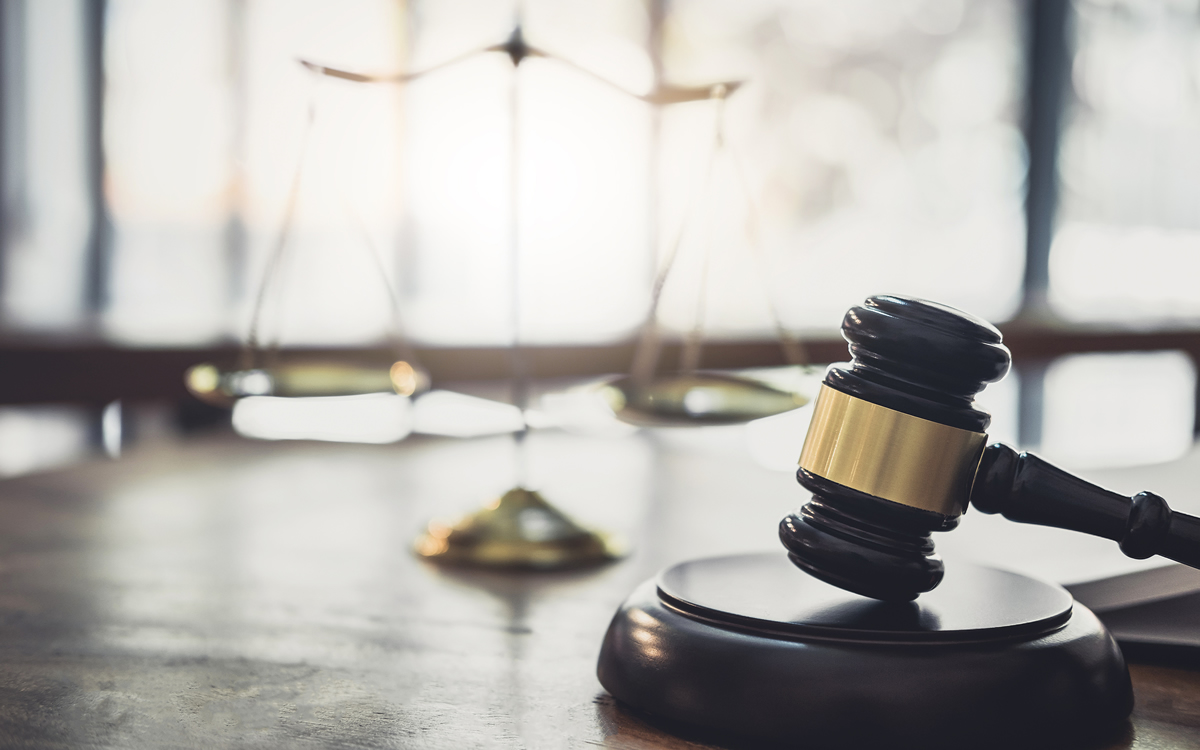 Two men who pleaded guilty to federal hate crimes charges in connection with attacking a transgender woman in Puerto Rico in 2020 have been sentenced to 33 months in prison.
The Justice Department in a Nov. 15 press release notes Jordany Laboy Garcia and Christian Rivera Otero will also have three years of supervised release upon their release from prison. The two men in September pleaded guilty to charges of conspiracy to commit a hate crime and obstruction of justice "out of an assault with a dangerous weapon against a transgender woman because of her gender identity."
The Justice Department in a press release that announced the men's guilty plea notes they, along with Anthony Lobos Ruiz "were out driving together" in Toa Baja, a municipality that is about 15 miles west of San Juan, early on Feb. 24, 2020, "when they saw" Alexa Negrón Luciano "standing under a tent near the side of the road."
"The defendants recognized A.N.L. from social media posts concerning an incident that had occurred the day prior at a McDonald's in Toa Baja," reads the press release. "During that incident, A.N.L. had used a stall in the McDonald's women's restroom."
Lobos, according to the Justice Department, and others used his iPhone to record themselves yelling at Negrón from inside a car. Lobos, Rivera and Laboy then recorded themselves shooting Negrón with a paintball gun and shared the video with other people.
Negrón was later killed in Toa Baja.
A federal judge last November sentenced Lobos to two years and nine months in prison after he pleaded guilty to hate crimes charges. Lobos, Rivera and Laboy have not been charged with Negrón's murder.
"The defendants have been held accountable for assaulting a Latina transgender woman because of her gender identity and then trying to obstruct an investigation into that assault," said Assistant Attorney General Kristen Clarke of the Justice Department's Civil Rights Division in the press release.
U.S. Attorney for the District of Puerto Rico Stephen Muldrow said the "defendants' attack endangered and terrified their victim, and such actions have no place in our community."
"Bias-motivated violence not only runs contrary to our values but violates federal civil rights laws," he said. "We recognize the very real threats and acts of violence faced by the LGBTQI+ community and are determined to use every tool available to preserve the life, safety, and dignity of this community."