Hundreds march against anti-LGBT violence
D.C. police chief, four Council members join demonstration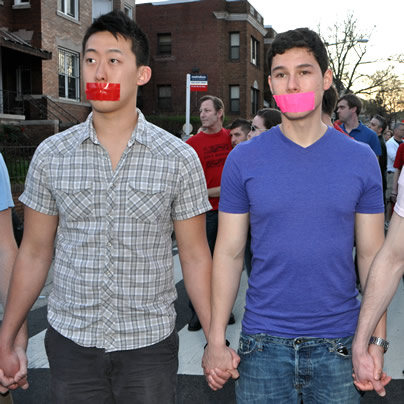 As many as 700 people turned out for a march through the streets of Washington, D.C., Tuesday night to take a stand against anti-LGBT violence following separate attacks against two gay men and a transgender woman during a two-day period earlier this month.
Friends of one of the two gay male victims, who organized the march, said they were astonished over the outpouring of support that emerged from the LGBT community and city officials, including D.C. Police Chief Cathy Lanier and four members of the City Council.
"It was a Facebook event and I expected maybe 15 to 50 people to show up," said Patrick Pressman, one of the lead organizers. "And then from there it just exploded," he said. "It got to where it was today, when it was estimated that about 700 people were going to attend."
Pressman said he is a friend of a 29-year-old gay man who was robbed and badly beaten on March 12 by assailants who called him anti-gay names at Georgia Avenue and Irving Street, N.W.
The march started outside the International House of Pancakes restaurant at 14th and Irving streets, N.W., in Columbia Heights, where a 31-year-old gay man was shot about 6 a.m. Sunday, March 11, in what police say was an altercation with two men who called him anti-gay names.
Lanier, who spoke to the marchers as they gathered outside the IHOP restaurant, said she expects an arrest in the case soon, saying she is "very pleased" with the progress of the investigation.
"We have everybody working on this and I think everybody's committed," she said. "We kind of take it personally when people in our community are targeted."
SEE DOZENS OF PICTURES FROM THE MARCH IN THE WASHINGTON BLADE PHOTO GALLERY HERE.
Police said the victim of the IHOP shooting was fortunate to have received a non-life threatening gunshot wound. His cousin, who was with him at the time of the shooting, said the victim was expected to be released from the hospital this week after being treated for a punctured liver.
Gay D.C. Council member Jim Graham (D-Ward 1), who participated in the march, said he was especially concerned that two of the incidents took place in his ward. He said the large showing of support for the march demonstrates that the community is outraged over anti-LGBT violence.
From the IHOP, the march traveled east on Irving Street to Georgia Avenue, the site where the 29-year-old gay man was attacked and beaten about 9:30 p.m. on March 12.
Police said the transgender woman was attacked and knocked unconscious about 11:45 that same night at the intersection of West Virginia Avenue and Mt. Olivet Road, N.E. People who know the victim said she reported later that she was not robbed and thought the attack was motivated by anti-transgender bias.
But police say, unlike the other two incidents, they have not listed the case as a hate crime because they don't have sufficient evidence for such a classification. Assistant D.C. Police Chief Peter Newsham told a meeting of the Gertrude Stein Democratic Club Monday night that investigators were looking for witnesses who might have heard whether the attackers hurled anti-trans names at the victim.
Newsham said investigators believe the three incidents were unrelated, with the attacks carried out by different groups of perpetrators.
The march paused when it reached the site where the 29-year-old gay man was attacked at Georgia Avenue and Irving Street.
"I want to say that this walk should never have to happen again in our city," said D.C. Council Chair Kwame Brown (D-At-Large). "We have to do more. We must do more," he said. "And for those who know about this horrific situation that took place, I'm begging you to come forth. Give us information … to bring these folks to justice."
Brown was referring to reports by police that many people were on the street in the vicinity of the attack at the time it occurred.
Council members Michael Brown (D-At-large) and Muriel Bowser (D-Ward 4) also participated in the march, saying they were in solidarity with the LGBT community in seeking ways to curtail hate violence against all city residents.
Also participating in the march was Jeffrey Richardson, director of Mayor Vincent Gray's Office of LGBT Affairs, and Gustavo Velasquez, director of the D.C. Office of Human Rights. Richardson spoke at the gathering outside the IHOP restaurant.
Among those speaking at the Georgia Avenue and Irving Street site was A.J. Singletary, president of the D.C. group Gays and Lesbian Opposing Violence (GLOV). Singletary said he learned from the 29-year-old gay victim's partner that the victim had been released from the hospital Tuesday, the day of the march.
"His jaw was shattered in two places," said Singletary. "After two surgeries he now has permanent titanium plates holding his lower jaw together. In addition, his jaw is wired shut for the next four to six weeks."
The march continued south on Georgia Avenue to U Street, where it turned right and traveled to 14th Street. From there, with spectators looking on from the sidewalks, it traveled south on 14th to R Street, where it turned right and continued to its termination at 17th Street next to the gay bar Cobalt. Many of the marchers entered Cobalt, which hosted a fundraiser for the victim attacked at Georgia Avenue and Irving Street.
Gay Democratic activist Cartwright Moore, a member of the staff of D.C. Congressional Del. Eleanor Holmes Norton, said many of the march participants were young LGBT people who don't ordinarily attend meetings of local LGBT organizations.
"It's been great that the community has come together on an issue like this," said D.C. resident Chris Shank, who said he learned about the march through a Facebook invitation.
"I marched the entire way," he said. "I'm really glad it was organized. I think the response has been enormous."
D.C. resident Phillip Pratt said he, too, learned of the event through Facebook. He said he became motivated to get involved after seeing that just a few days after organizers posted the event more than 500 people had committed to joining the march.
"I think it was very important to come out and march for this, to march with them and show our support," he said.
Vic Suter said she wanted to take a stand against violence targeting her own community.
"Whether there be a thousand people marching down the street or five, it says that people are not going to tolerate such behavior and that we need to bring about tolerance and we need to teach the community that people are people regardless of who they love," she said.
Asked if he thought the event would have an impact on the community, Singletary said he was hopeful that it would.
"We have a group of many hundreds walking down the middle of the street down major thoroughfares in D.C. where a lot of hate crimes have occurred," he said while marching. "You're talking about U Street, you're talking about 14th Street. The street we're on now is R. There have been a lot of attacks on this street itself. So the response by the community has been big and rightfully so."
No new mpox cases reported in Md., Va., and D.C.
Federal, local authorities continue to encourage vaccination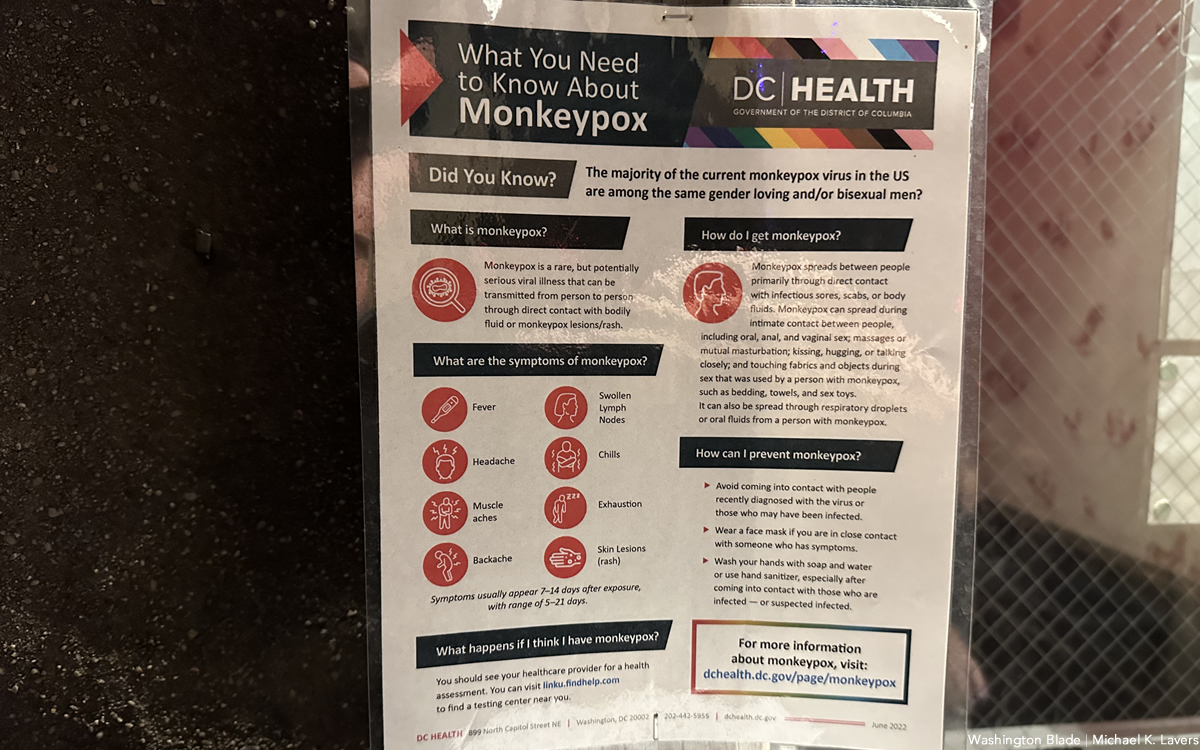 Public health officials in Maryland, Virginia and D.C. have not issued mpox advisories ahead of Pride month.
The Maryland Department of Health notes there were no reported new positive mpox cases reported in the state during the week of May 21. 
There were no reported new reported mpox cases in Virginia between May 21-27. The D.C. Department of Health on its website notes the last new mpox case in the nation's capital was reported during the week of May 11.
"MDH (the Maryland Department of Health) has not issued any advisories for mpox," Maryland Department of Health spokesperson Chase Cook told the Washington Blade on May 25. "We are still monitoring case counts and urging Marylanders at risk to protect themselves."
"The Health Department is launching a statewide Pride-related sexual health campaign and working closely with festival organizers and local health departments to ensure health resources, including but not limited to mpox, are part of Pride events across the state," added Cook.
Brandy Darby, the director of the Virginia Department of Health's Office of Epidemiology's Division of Surveillance and Investigation, largely echoed Cook.
"The Virginia Department of Health continues to promote mpox awareness and share prevention messages with groups at greater risk of exposure," Darby told the Blade. "We are sharing these messages through print materials, social media, media interviews, healthcare provider offices and community-based organizations. Additionally, our local health departments are encouraged to have a presence at Pride events within their communities this summer to offer mpox education and vaccination."
The D.C. Department of Health has yet to respond to the Blade's request for comment. Its website, however, contains information about mpox, transmission, prevention and vaccinations.
CDC issued mpox advisory on May 15
The World Health Organization on May 11 announced it no longer considers mpox a global emergency.
The Centers for Disease Control and Prevention on May 15 issued a mpox advisory after the Chicago Department of Public Health reported 12 new confirmed cases between April 17-May 5. 
"Spring and summer season in 2023 could lead to a resurgence of mpox as people gather for festivals and other events," reads the advisory. "The purpose of this Health Alert Network (HAN) Health Update is to inform clinicians and public health agencies about the potential for new clusters or outbreaks of mpox cases and to provide resources on clinical evaluation, treatment, vaccination and testing."
"To help prevent a renewed outbreak during the spring and summer months, CDC is urging clinicians to be on alert for new cases of mpox and to encourage vaccination for people at risk," it adds. "If mpox is suspected, test even if the patient was previously vaccinated or had mpox. Clinicians should also refamiliarize themselves with mpox symptoms, specimen collection, laboratory testing procedures and treatment options."
The Los Angeles County Department of Public Health earlier this month urged groups at increased risk for mpox to get fully vaccinated ahead of Pride month.
Dr. Demetre Daskalakis, the deputy coordinator for the White House's national mpox response, on told reporters during a May 18 telebriefing that federal health agencies are working with state and local officials to offer vaccinations and implement prevention measures during Pride events.
Washington Blade, Dupont Underground spotlight D.C. LGBTQ Changemakers with new exhibit
'The Ground We Stand On' highlights 25 queer pioneers during Pride month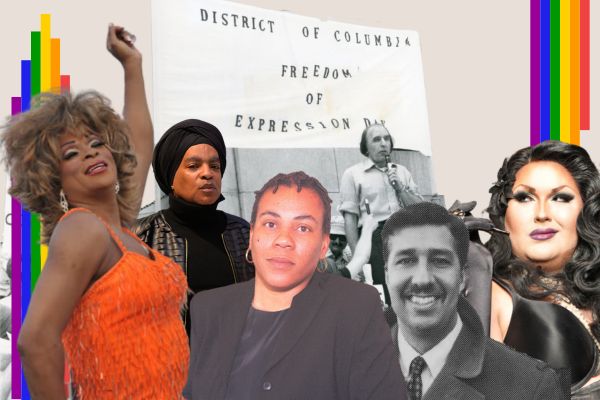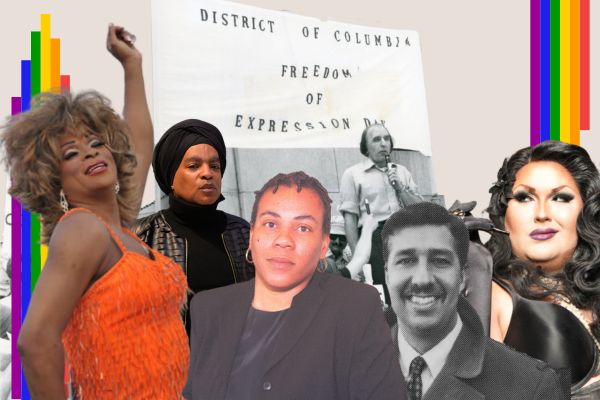 The Washington Blade and Dupont Underground present "The Ground We Stand On: Past and Present DC LGBTQ Changemakers," a new exhibit that highlights D.C. LGBTQ pioneers.
The exhibit, featuring 25 changemakers will be on view beginning Friday, June 2, through Sunday, June 25.
The inspiring exhibition will showcase the remarkable journeys of both past and present changemakers who have left an indelible mark on the tapestry of Washington, D.C. The exhibit underscores the enduring legacy of these remarkable individuals, serving as an inspiration for present and future generations.
The exhibition opens on June 2 at 5 p.m., where all the living honorees will be present for the opening  reception, followed by Drag Underground starting at 8:30 p.m., featuring some of the best Drag Queens in DC such as Shi-Queeta Lee, Cake Pop, Jane Saw, and Destiny B Childs.
"By shining a light on their remarkable contributions, this exhibition aims to empower and encourage the continuous evolution of the D.C. LGBTQ+ community and its influence that transcends boundaries," said Stephen Rutgers, director of Sales and Marketing for the Washington Blade.
"We are thrilled to highlight so many living changemakers who will visit us for opening night, and to honor the memories and work of those changemakers who are no longer with us," said Ana Harvey, Dupont Underground CEO.
For more information about Dupont Underground, visit www.dupontunderground.org.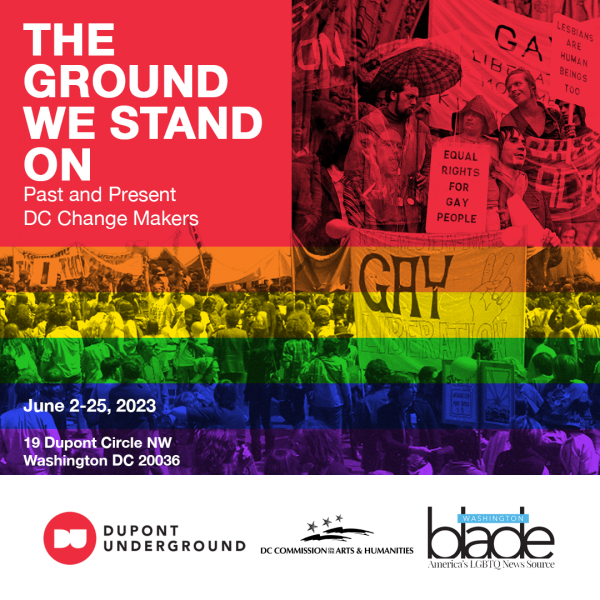 Carper's retirement opens historic possibilities in Delaware
Blunt Rochester likely to run for Senate; McBride could become first out trans member of Congress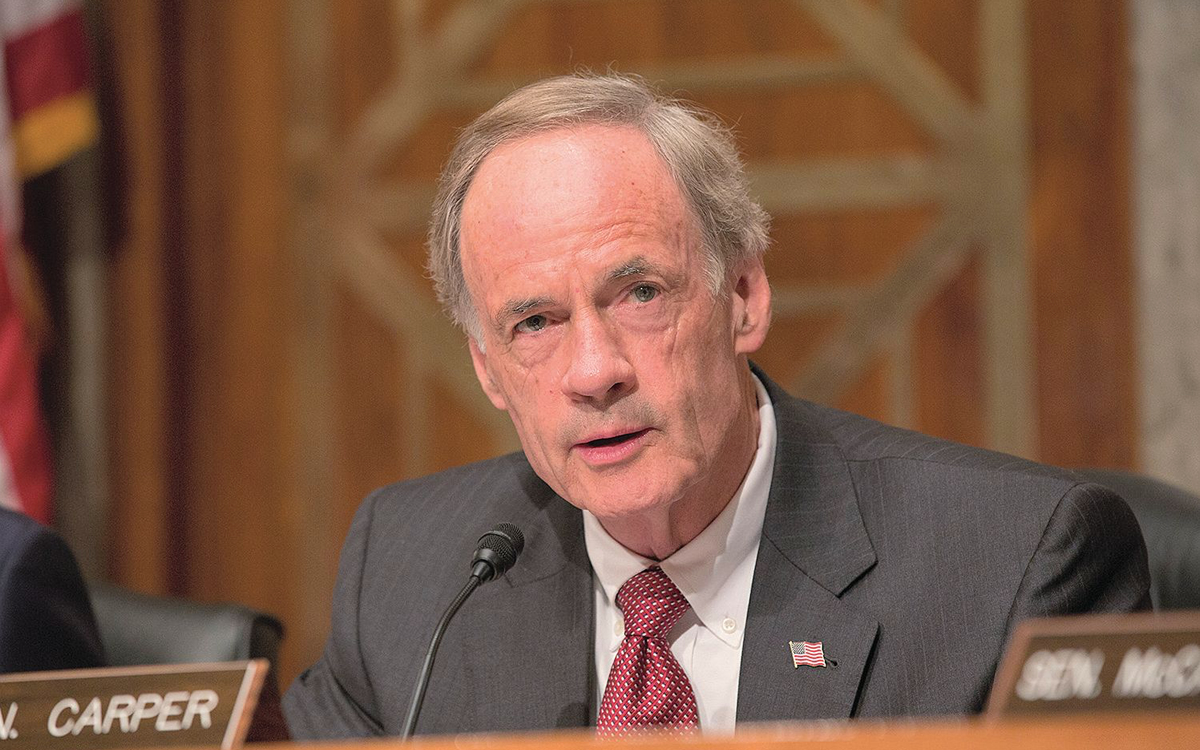 As Delaware governor, he signed a bill that defined marriage as being between a man and a woman in 1996. Now, 27 years later, the Human Rights Campaign gives Sen. Tom Carper a perfect score on LGBTQ issues in Congress.
That man, who turned from opponent of marriage equality to LGBTQ rights supporter, announced his retirement last week. Unlike other Senate races across the country, though, there is little doubt who will succeed him.
He endorsed Delaware's lone representative in the House, Lisa Blunt Rochester, as his successor in a news conference last week.
"I spoke with her this morning, I said, 'You've been patient, waiting for me to get out of the way, and I'm going to get out of the way, and I hope you run, and I hope you'll let me support you in that mission,'" he said with a laugh. "And she said, 'Yes I will let you support me.' And so I'm going to.'"
Carper plans to serve out the remainder of his term, which ends in 2024. He serves as chair of the Senate's Environment and Public Works Committee. Previously, he was chair of the Homeland Security Committee. He served as Delaware's governor from 1993-2001 and represented Delaware in the House. 
The Human Rights Campaign has given Blunt Rochester a perfect score in the last two congresses, and an almost perfect one in the 2017-2018 congress based on her voting record on LGBTQ issues. It did not respond to a phone call and two emails to spokespeople but praised her and Carper in 2018.
"Every time they take the train down to Washington, Senator Carper and Congresswoman Blunt Rochester carry with them the hopes of all Delawareans," the organization wrote in a press release. "With the LGBTQ community under attack by the Trump-Pence administration, Senator Carper and Congresswoman Blunt Rochester have tirelessly fought to defend our progress and advance equality for LGBTQ people both in Delaware and around the nation."
Blunt Rochester would be the first Black person and first woman to represent Delaware in the Senate. She has close ties to Delaware's LGBTQ community and a record as a strong ally. She has served as keynote speaker at the Washington Blade's annual Summer Kickoff Party in Rehoboth Beach three times, thrilling the LGBTQ crowd with her passionate support for equality.
She said she is "interested" in running, but neither she nor her spokesperson reached last week would say any more.
"I don't have a bad thing to say about her," said longtime LGBTQ activist and Delaware lawyer Mark Purpura. It was responsible of Carper to retire, he added.
Assuming she runs as expected, that would leave Blunt Rochester's seat in the House open. Sarah McBride, the first openly transgender state senator in the U.S., could fill that seat. A source familiar with her thinking said she will "100%" run for Rochester's seat.
That would make her the first openly transgender member of Congress. Her run would be a "great opportunity" to showcase the Delaware Democratic Party's diversity," Purpura said.
Peter Schott, secretary of the Delaware Stonewall PAC, agreed, noting that McBride is very popular and can raise a lot of money.
McBride, who did not respond to an email and two calls to her office, is one of five openly LGBTQ lawmakers in the Delaware Legislature, a record number for the state.
"I think Sarah is absolutely wonderful," said colleague Eric Morrison, a gay man who represents parts of Newark and other communities in his 27th district in the Delaware House. "I wish her well."