Gay & Lesbian Chamber honors locals
22nd Annual event will honor six local business leaders on April 20

The Capital Area Gay and Lesbian Chamber of Commerce (CAGLCC) will honor six local business and community leaders on April 20 at its annual awards gala at the Liaison Capitol Hill Hotel, where it will also celebrate its 22nd anniversary, the group said in a statement.
"Each year the Chamber recognizes outstanding individuals and organizations that have contributed to the economic, social and cultural fabric of the LGBT community in the metro D.C. area," the statement says. "Awardees display exemplary business success and have been strong leaders within the LGBT community based on philanthropy, advocacy and awareness."
Recipients of this year's awards include:
Excellence in Business Award — Chef Art Smith: Known as a celebrity chef, Smith served as personal chef to Oprah Winfrey for 10 years. He regularly appears on popular TV shows, authored three award-winning cookbooks, founded a non-profit group that teaches children about tolerance, and oversees the operation of several restaurants, including the D.C. restaurant Art and Soul.
Business Leadership Award — D.C. Allen, owner of the Crew Club, a gay-oriented gym and spa located in D.C.'s Logan Circle area on 14th Street, N.W. In opening the Crew Club in 1995 Allen has been credited with helping to revitalize the 14th Street corridor as a thriving neighborhood and business area. He has made the Crew Club available for on-site testing for HIV and other sexually transmitted diseases; funded a $40,000 advertising campaign in local LGBT media to promote awareness of a resurgence of syphilis, which has been credited with reducing the rate of syphilis infections among gay men in D.C. He has also supported the DC LGBT Community Center's Took Kit safer sex campaign.
Emerging Entrepreneur Award — JD Warford DVM and Jessica Serensits-DC MetroVet: Warford and Serensits are business partners and spouses who operate a veterinary medicine business that specializes in veterinary house calls. They service more than 130 patients in D.C. and Maryland, with a large majority of their clients in the LGBT community. The two serve as volunteers with feral cat organizations, have plans for seminars for dog and cat owners and for helping the local group Pride of Pets.
Volunteer of the Year Award — June Crenshaw: An IT project manager for Coventry Health Care company, Crenshaw has been a volunteer at Whitman-Walker Health since the 1980s. She serves on the Whitman-Walker board and is a former board chair. She has served as board co-chair for Rainbow Response Coalition, a local group that addresses domestic violence in the LGBT community. She has also helped victims and survivors of domestic violence, rape and child abuse as a volunteer for more than six years with the local group Heartly House.
Community Advocacy Award — Joe Solmonese. For the past seven years Solmonese has served as president of the Human Rights Campaign, the nation's largest LGBT civil rights group. CAGLCC says that in addition to overseeing legislative and political efforts to advance LGBT rights on the national and state level, Solmonese played a key role in launching new programs and projects in the faith and business sectors.
Corporate Ally of the Year Award — Signal Financial Federal Credit Union. A long-time member of CAGLCC, Signal Financial has provided "consistent and valuable support" for CAGLCC's programs and events, the group says. It has also "worked hard" to help CAGLCC members expand their businesses through loans, mortgages and merchant services.
Elected officials turn out for annual Equality NoVa Ice Cream Social
Northern Virginia LGBTQ group stresses 'political awareness, education'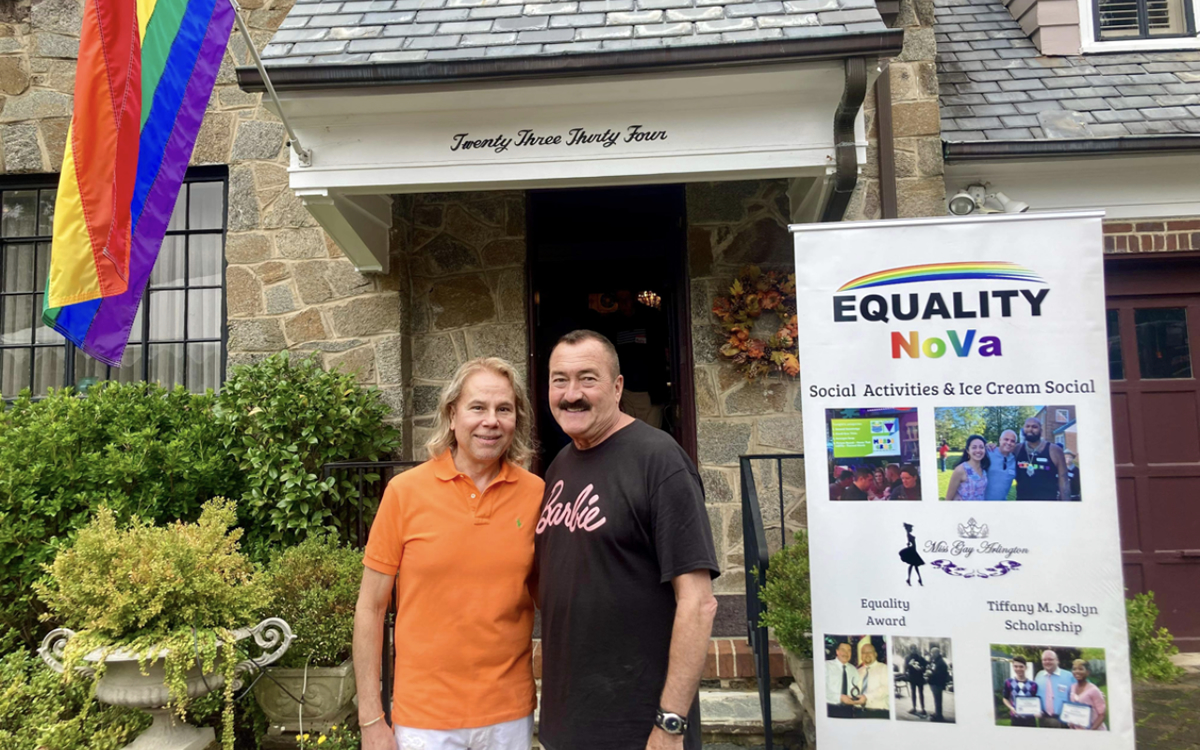 Four LGBTQ supportive members of the Virginia General Assembly and two candidates running for seats on the Arlington County Board were among more than 100 people who turned out on Sunday, Sept. 24, for the LGBTQ organization Equality NoVa's annual Ice Cream Social.
The event was held at the Arlington, Va. home of Freddie Lutz, owner of the Arlington gay bar and restaurant Freddie's Beach Bar, and Lutz's husband, Johnny Cervantes.
Daniel Hays, president of Equality NoVa, told those attending the event in introductory remarks that Equality NoVa, which recently changed its name from the Arlington Gay and Lesbian Alliance (AGLA), was founded in 1981 and is the oldest continuously operating LGBTQ organization in Virginia.
In an announcement in April the group said the name change came after it had taken on for some time the activities and representation of the now-defunct LGBTQ groups in Alexandria and Fairfax counties and had expanded its operations to cover most if not all the regions known as Northern Virginia.
Hays noted that the group is a nonpartisan organization that doesn't endorse candidates for public office but organizes educational and political awareness events and awareness campaigns on issues impacting LGBTQ people related to statewide and local government agencies and officials.
The elected officials attending the event were Virginia House of Delegates members Charniele Herring (D-Alexandria & Fairfax), Elizabeth Bennett-Parker (D-Alexandria & Arlington), and Vivian Watts (D-Fairfax).
Also attending was Virginia State Sen. Barbara Favola, a Democrat whose district includes parts of Arlington, Fairfax, and Loudoun Counties.
Joining the state lawmakers attending the Equality NoVa social were Arlington County Board candidates Maureen Coffey and Susan Cunningham and Arlington County School Board candidate Miranda Turner.
Many of those attending the event said they were rooting for the re-election of Herring, Bennett-Parker, Watts, and Favola in the upcoming Virginia elections in November. All members and candidates for the General Assembly will be on the ballot in an election that political observers say could decide which party controls both houses of the state legislature.
Currently, Democrats control the 40-member Virginia Senate by a margin of 22-18 seats. Republicans currently control the House of Delegates by a margin of 51 to 46 seats, with three vacancies in the 100-member House.
With Virginia Gov. Glenn Youngkin (R) putting in place through executive action public school policies that LGBTQ activists consider hostile and discriminatory for transgender students, LGBTQ activists are hopeful that a Democratic takeover of the House of Delegates would result in a reversal of Youngkin's school policy.
Some of the activists attending the Equality NoVa event said they were fearful that a Republican takeover of the state Senate and if Republicans retain control of the House of Delegates could result in the General Assembly approving the type of anti-LGBTQ legislation passed in Florida and other states.
Anti-transgender heckler interrupts Danica Roem during debate
Trans lawmaker is running for the Va. state Senate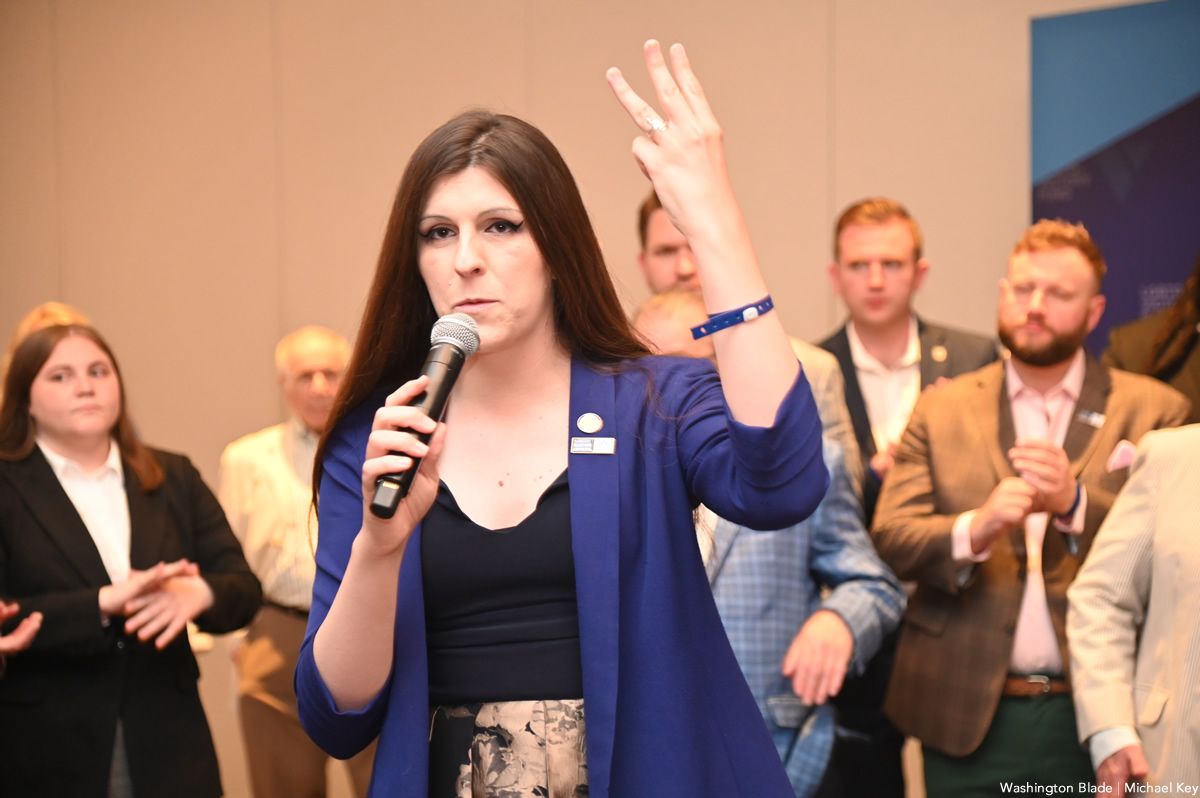 An anti-transgender heckler interrupted Virginia state Del. Danica Roem (D-Manassas) on Sept. 28 during a debate with her Republican opponent for the state Senate.
The woman heckled Roem during the Prince William Committee of 100-organized debate between her and Bill Woolf that took place at Metz Middle School in Manassas. 
"Thank you for reminding me why I won three elections in this district in Prince William County, which is the most diverse county in all of Virginia and the 10th most nationally where we welcome everyone because of who they are, not despite it, no matter what you look like, where you come from how you worship, if you do, or who you love because you should be able to thrive here because of who you are, never despite it," said Roem.
Audience members applauded Roem after she responded to the heckler who was eventually removed from the auditorium.
Roem in 2017 defeated then-state Del. Bob Marshall, a vocal LGBTQ rights opponent who co-wrote Virginia's constitutional amendment defining marriage as between a man and a woman that voters approved 11 years earlier. Roem subsequently became the first openly transgender person seated in a state legislature in the U.S.
Roem in 2019 became the first out trans state legislator to win re-election. Roem in May 2022 announced she is running to represent the newly redistricted Senate District 30, which includes western Prince William County and the cities of Manassas and Manassas Park.
Woolf during the Sept. 28 debate did not say whether he would support the repeal of the marriage amendment. Woolf also reiterated his support of a bill that would require school personnel to out trans students to their parents.
Virginia Beach high school students stage walkouts to support transgender rights
City's school board approved policy to out trans students to parents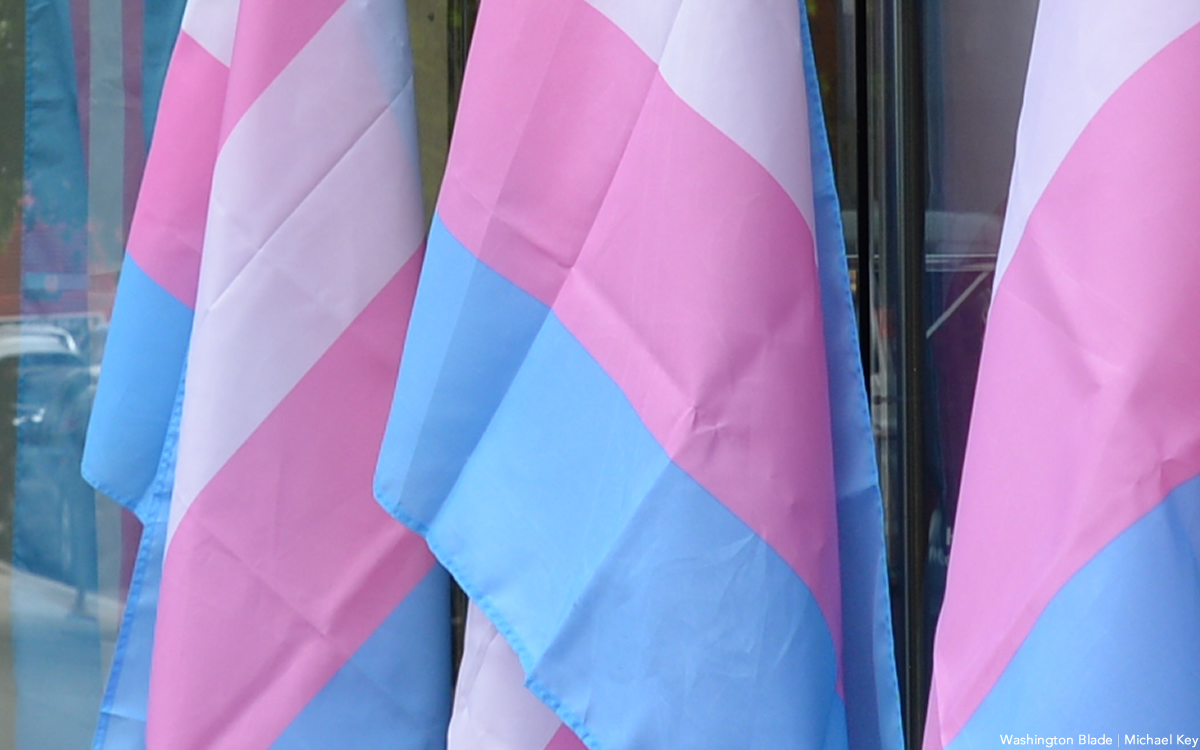 Students at five Virginia Beach high schools on Friday staged walkouts in support of transgender rights.
The walkout is in response to the Virginia Beach School Board potentially approving policy 5-31, which the Pride Liberation Project says will require schools to out trans students to their parents.
Students have been organizing walkouts across the state since Republican Gov. Glenn Youngkin earlier this year announced new guidelines for trans and nonbinary students.
"Students like me aren't going to be able to talk to our teachers if we're constantly worried about our school officials calling home to forcibly out us," AJ, a trans Kellam High School Student, told the Pride Liberation Project.