Obama affirms LGBT support during Barnard address
President joins Freedom to Marry's Wolfson on stage

NEW YORK — President Barack Obama reaffirmed his support of LGBT rights during Barnard College's commencement address on Monday.
"No matter who you love or what God you love, you can still pursue your own happiness," he told the nearly 600 graduates who gathered on Columbia University's South Lawn after referencing the 1969 Stonewall riots. "I will be with you every step of the way."
Obama joined Freedom to Marry President Evan Wolfson on stage less than a week after he announced his support for marriage equality during a White House interview with ABC News' Robin Roberts. Barnard also honored Care USA President Helene D. Gayle and chemistry professor Sally Chapman during the ceremony.
Retired New York Court of Appeals Chief Judge Judith Kaye described Wolfson as a "hero for the charge of marriage equality" and a "champion for the cause of civil rights for all" before she presented Wolfson with Barnard's Medal of Distinction.
"You have turned a once lonely march into a surging national movement," she said to sustained applause. She further noted that the number of Americans who live in jurisdictions that allow nuptials for gays and lesbians more than doubled last June after New York Gov. Andrew Cuomo signed the state's marriage equality bill into law. "The momentum in the direction of your dream Evan is positively undeniable. Today we hail your extraordinary influence and limitless commitment to every loving man and woman."
Wolfson referenced the president's own words after the speech.
"It was a proud moment to share the stage with the president of the United States as he traced the arc of America's civil rights history from Seneca Falls to Selma to Stonewall, encouraging the next generation to get engaged in the great work at hand of building a more perfect union and making a difference in the lives of others," Wolfson told the Blade. "To stand before the women graduates and receive the Barnard Medal of Distinction alongside the president, presented by the great Judge Judith Kaye, in a week that the president embraced the freedom to marry, was the honor of a lifetime."
Obama, whose sister Maya Soetoro-Ng graduated from Barnard, delivered the college's commencement address before he taped an appearance on "The View" that will air on Tuesday. The president attended two re-election campaign fundraisers—including one that gay singer Ricky Martin hosted in Chelsea—before returning to Washington, D.C.
In a related development, presumptive Republican presidential nominee Mitt Romney reaffirmed his opposition to marriage for same-sex couples during a speech to Liberty University graduates on Saturday.
A USA Today/Gallup poll released late on Friday indicated that Obama's support of marriage for gays and lesbians will not influence how the majority of Americans vote in November. Sixty-five percent of Democrats and 46 percent of Republicans who responded to the survey said the president's position does not make them more or less likely to vote for him. The poll further noted that 74 percent of Republicans oppose Obama's endorsement of nuptials for gays and lesbians, compared to only 25 percent of Democrats and 44 percent of independents.
Gay New York State Assemblyman Daniel O'Donnell (D-Manhattan), who attended the Barnard speech, told the Blade after the commencement that the address "is another articulation by this administration that they view me and people like me as full Americans." New York Sen. Kirsten Gillibrand agreed.
"President Obama couldn't have said it better when he encouraged the students to fight for their seat at the head of the table," she told the Blade in a statement. "When we have women at decision making tables in politics and business the outcomes are simply better."
Police describe Wilton Manors Pride incident as 'fatal traffic crash'
Pickup truck driver identified as 77-year-old man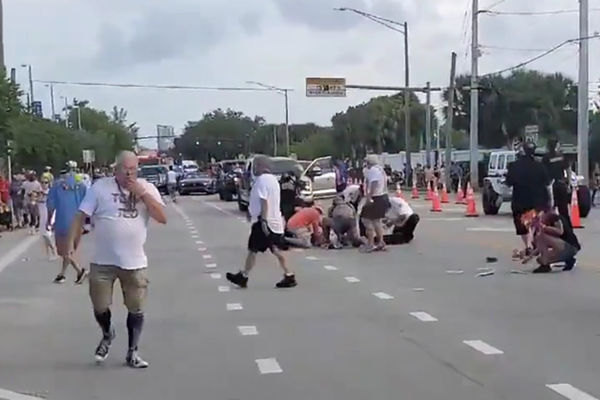 The Fort Lauderdale Police Department on Sunday released additional information about an incident at a Wilton Manors Pride parade that left one person dead and another injured.
A press release notes a 77-year-old man who was "a participant who had ailments preventing him from walking the duration of the parade and was selected to drive as the lead vehicle" was behind the wheel of a 2011 white Dodge Ram pickup truck that struck the two people near the Stonewall Pride Parade's staging area shortly before 7 p.m. on Saturday.
"As the vehicle began to move forward in anticipation for the start of the parade, the vehicle accelerated unexpectedly, striking two pedestrians," reads the press release. "After striking the pedestrians, the driver continued across all lanes of traffic, ultimately crashing into the fence of a business on the west side of the street."
"The driver remained on scene and has been cooperative with investigators for the duration of the investigation," further notes the press release. "A DUI investigation of the driver was conducted on scene and showed no signs of impairment."
The press release confirms the driver and the two people he hit are members of the Fort Lauderdale Gay Men's Chorus.
Fort Lauderdale Fire Rescue transported both victims to Broward Health Medical Center "with serious injuries." The press release notes one of the victims died shortly after he arrived at the hospital.
The Fort Lauderdale Police Department, which is leading the investigation, has not publicly identified the victims and the driver, but the press release describes the incident as a "fatal traffic crash." The press release notes the second victim remains hospitalized at Broward Health Medical Center, but "is expected to survive."
"While no arrests have been made, the Fort Lauderdale Police Department continues to investigate this incident and will not be releasing the names of the involved parties due to the status of the investigation," says the press release. "The Fort Lauderdale Police Department asks anyone who may have witnessed this incident, who has not already spoken to investigators, to contact Traffic Homicide Investigator Paul Williams at (954) 828-5755."
The pickup truck narrowly avoided U.S. Rep. Debbie Wasserman Schultz (D-Fla.), who was in a convertible participating in the parade. Florida Congressman Ted Deutch was also nearby.
"Our thoughts and prayers are with those affected by the tragic accident that occurred when the Stonewall Pride Parade was just getting started," said Fort Lauderdale Gay Men's Chorus President Justin Knight in a statement he issued after the incident. "Our fellow chorus members were those injured and the driver was also part of the chorus family."
"To my knowledge, this was not an attack on the LGBTQ community," added Knight. "We anticipate more details to follow and ask for the community's love and support."
Fort Lauderdale mayor initially described incident as anti-LGBTQ 'terrorist attack'
Fort Lauderdale Mayor Dean Trantalis initially described the incident as "a terrorist attack against the LGBT community," without any official confirmation. Detective Ali Adamson of the Fort Lauderdale Police Department on Saturday confirmed to reporters that investigators are "working with" the Federal Bureau of Investigation, but stressed the "investigation is active and we are considering and evaluating all possibilities."
"Last evening, at the start of what was to be a celebration of pride for the LGBT community and commemoration of our hard-won victories for equality, our community faced the worst of tragedies. The grief of our LGBT community — and greater Fort Lauderdale as a whole — is palpable," said Trantalis on Sunday in a statement he posted to his Facebook page.
"I was an eyewitness to the horrifying events. It terrorized me and all around me. I reported what I saw to law enforcement and had strong concerns about what transpired — concerns for the safety of my community. I feared it could be intentional based on what I saw from mere feet away," he added.
Trantalis added "law enforcement took what appeared obvious to me and others nearby and investigated further — as is their job."
"As the facts continue to be pieced together, a picture is emerging of an accident in which a truck careened out of control," he said. "As a result, one man died, two others were injured and the lives of two members of Congress were at risk. My heart breaks for all impacted by this tragedy."
ACLU and Justice Department to jointly challenge anti-Trans laws
Recently passed anti-transgender laws in West Virginia and Arkansas violate the Equal Protection Clause of the U.S. Constitution.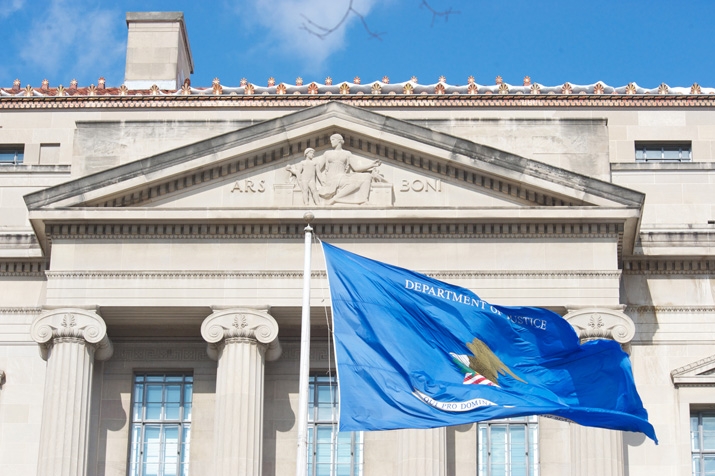 WASHINGTON – In court documents filed Thursday in the U.S. District Court for the Southern District of West Virginia and in U.S. District Court for the Eastern District of Arkansas, the U.S. Department of Justice, in Statement of Interest filings, joined the American Civil Liberties Union, (ACLU), arguing that recently passed anti-transgender laws in West Virginia and Arkansas violate the Equal Protection Clause of the U.S. Constitution.
The suits filed by the ACLU challenges an Arkansas law that bans gender-affirming care for transgender youth and a West Virginia law banning transgender youth from participating in school sports.
Chase Strangio, deputy director for Trans Justice with the American Civil Liberties Union LGBTQ & HIV Project, issued the following statement responding to the Department of Justice submitting a statement of interest in two federal courts supporting transgender youth;
"Today's filings from the Department of Justice send a powerful message that discrimination against transgender youth is not just wrong, it is also plainly unconstitutional. These filings from the Department of Justice confirm what we have been telling legislatures all year: Banning trans youth from sports and denying trans youth health care violates the Constitution and federal law. We hope that state legislatures finally get the message."
Law and Crime reported that in the West Virginia case filing, the Justice Dept. argued that House Bill 3293, which bans transgender athletes at public schools from competing in female sports at the middle school, high school, and collegiate level, violates both the Equal Protection Clause and Title IX of the Education Amendment of 1972.
The case stemmed from a complaint filed by the parents of transgender girl who said their daughter was unlawfully prohibited from trying out for the school's cross-country track team because of the measure.
In Arkansas, the Justice Dept. backed an ACLU-filed lawsuit challenging a state law (Act 626) which bans gender-affirming health care for transgender youths. The DOJ also claims that state ban violates the Equal Protection Clause of the Fourteenth Amendment, Law & Crime reported.
Immigrant rights groups demand ICE release transgender, HIV-positive detainees
Letter notes Roxsana Hernández case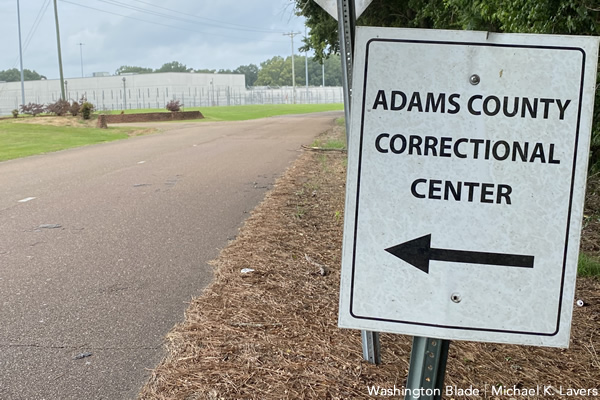 Eight immigrant advocacy groups this week demanded the release of all transgender and HIV-positive people who are in immigrant detention facilities.
Immigration Equality, the National Center for Lesbian Rights, the Transgender Law Center, the Santa Fe Dreamers Project, the Center for Victims of Torture, Familia: Trans Queer Liberation Movement, Mijente and the National Immigrant Justice Center made the request in a letter they sent to Homeland Security Secretary Alejandro Mayorkas and acting U.S. Immigration and Customs Enforcement Director Tae Johnson on June 16.
"As you know, transgender and HIV-positive people are severely suffering in U.S. immigration detention facilities," reads the letter. "Those who do not perish from mortally deficient medical negligence are regularly mistreated, isolated and sexually assaulted."
The letter notes DHS "for years" has "attempted to create conditions of confinement that are safe for these historically disenfranchised minorities."
"This has been a fool's errand," it says. "Under both Democrat and Republican leadership, DHS has wasted millions of taxpayer dollars attempting to overcome a simple and inevitable truth: It is not possible for the U.S. government to house transgender and HIV-positive asylum seekers safely. Every progressive policy, every well-meaning protocol and every specialized facility has utterly failed. This has to stop. It is in your exclusive power to put an end to this ongoing human rights atrocity."
"What makes this situation even more intolerable, is that the vast majority of the transgender and HIV-positive people suffering in immigration detention fled to the U.S. to escape persecution and torture," adds the letter. "To these asylum seekers, the U.S. is more than a symbol of liberty. It is one of the few places in the world where they may hope to build a safer future. And yet, by detaining trans and HIV-positive people in such inhumane and unsafe conditions, the U.S. government is subjecting them to some of the same kinds of mistreatment they sought to escape."
The groups in their letter demand ICE and U.S. Customs and Border Protection "to immediately release all transgender and HIV-positive people in their custody" and "review its system for identifying transgender and HIV-positive individuals, and work with stakeholders to ensure that it is effective and safe." The groups also seek the creation of a policy "that deems all transgender and HIV-positive individuals non-detainable."
The letter notes the case of Roxsana Hernández, a trans asylum seeker from Honduras with HIV who died in a New Mexico hospital on May 25, 2018, while she was in ICE custody.
Hernández's family in a lawsuit it has filed against the federal government and five private companies who were responsible for Hernández's care allege she did not have adequate access to medical care and other basic needs from the time she asked for asylum at the San Ysidro Port of Entry in San Diego on May 9, 2018, to her arrival at the Cibola County Correctional Center, a privately-run facility in Milan, N.M., a week later.
ICE in 2017 opened a unit for trans women at the Cibola County Correctional Center. It closed last year.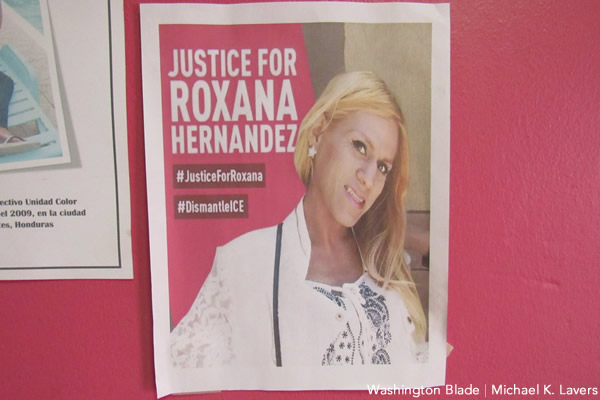 The letter also notes the case of Johana "Joa" Medina León, a trans woman with HIV from El Salvador who asked for asylum in the U.S. in 2019 after she suffered persecution in her home country because of her gender identity.
Medina was in ICE custody at the privately-run Otero County Processing Center in Chaparral, N.M., until her transfer to a hospital in nearby El Paso, Texas, on May 28, 2019. ICE on the same day released Medina from their custody.
"She became worse, worse, worse," Medina's mother, Patricia Medina de Barrientos, told the Washington Blade in an exclusive interview in the Salvadoran capital of San Salvador that took place a few weeks after Medina's death. "She asked for help because she was a nurse, but they refused. She was denied help. There was no medical attention."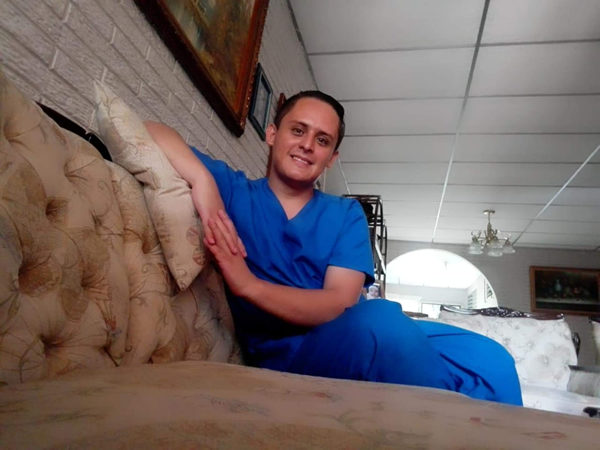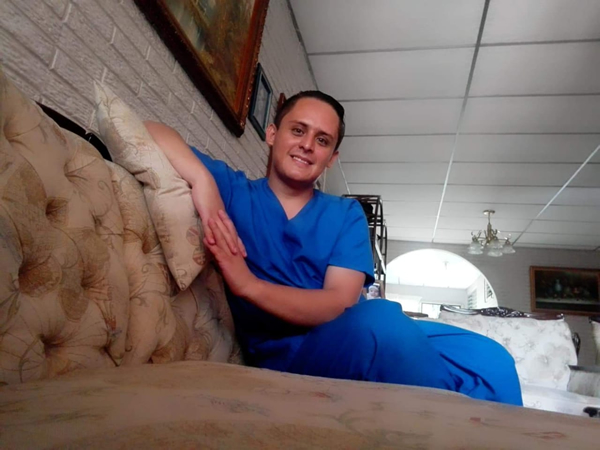 The letter also includes testimonials from dozens of other trans and/or HIV-positive people who say they suffered physical abuse and survived sexual assault while in ICE custody. They also allege they did not receive adequate health care — including access to hormones and antiretroviral drugs — while in detention.
"Throwing LGBTQ and HIV-positive asylum seekers into prison is cruel, expensive and dangerous. For transgender and HIV-positive people, it can even be deadly," said Immigration Equality Policy Director Bridget Crawford in a statement. "In response to years of consistently documented abuses against the community, the government has implemented ineffective half-measures that have utterly failed. That is why we have demanded that DHS release all transgender and HIV-positive people immediately. No one should ever be locked into prison because they fled persecution based on their sexual orientation, gender identity, or HIV status. Doing so during a pandemic is a human rights atrocity."
Immigration Equality is among the groups that have previously demanded ICE release all trans people who are in their custody. Advocacy organizations have also called for the release of people with HIV in ICE custody, especially during the COVID-19 pandemic.
DHS, which oversees ICE, has not responded to the Blade's request for comment on the June 16 letter.