EXCLUSIVE: Rep. Steny Hoyer's daughter comes out as a lesbian
Hemmer seeks role in defending Md. marriage law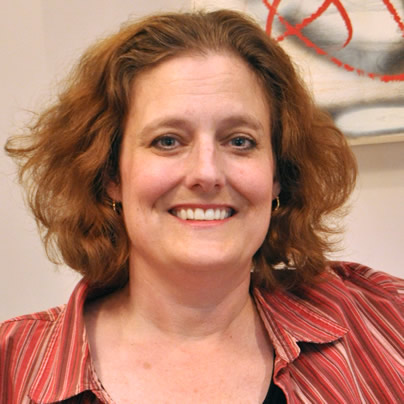 Stefany Hoyer Hemmer has two reasons to come out publicly as a lesbian: her father's recent endorsement of marriage equality and the likely upcoming battle at the ballot in Maryland over same-sex marriage.
"My father, as you know, just came out in support of gay marriage," Hemmer said. "The momentum in Maryland right now for the adoption of the gay marriage law is fast-paced. I'm 43 years of age, and I've been gay my whole life and I just figured this is a good time to lend my name to the cause."
In an exclusive interview with the Washington Blade, Hemmer — one of three daughters of House Democratic Whip Steny Hoyer (D-Md.) — made for the first time a public statement that she's a lesbian. She said a limited number of people — including family and some friends — knew she was gay, but she hadn't yet made a public statement about her sexual orientation.
"This was not his idea at all," Hemmer said. "It was mine completely, but he's very supportive. I talked to him before I did this, and he's on board. Obviously, it's a little nerve-racking for me to do this, but there's something inside of me that's telling me I need to do it."
Hemmer said she consulted her father before making a public statement that she is gay and he was supportive. The decision comes on the heels of Hoyer's announcement in favor of marriage equality. The Maryland lawmaker's statement came just days after President Obama's endorsement of marriage equality.
"Because I believe that equal treatment is a central tenet of our nation, I believe that extending the definition of marriage to committed relationships between two people, irrespective of their sex, is the right thing to do and will not, in any way, undermine the institution of marriage so important to our society nor impose a threat to any individual marriage," Hoyer said. "It will, however, extend the respect due to every one of our fellow citizens that we would want for ourselves and our children."
Hemmer said reading her father's endorsement of same-sex marriage inspired her to come out publicly and do more for the LGBT community — even though she said she's always known her father supported LGBT rights.
"I'm personally an advocate, and I'm certainly not one to hide my sexuality, but I've never out there with it politically," Hemmer said. "So, I think when my dad actually came out with a statement, it triggered a want in me to further the cause, and I think that he's powerful enough, and I'm frankly, smart enough, to do it. So, yeah, that was really the impetus."
Hemmer said she knew her father wrote the statement himself because it was his style of writing and she commended him afterwards, but had no knowledge beforehand that he would adopt that position or issue those words.
"We had a brief [conversation] because we were at a birthday party for my grandson, but I said, 'Good job coming out for marriage equality!'" Hemmer said. "He said, 'Thank you, thank you.' We just kind of had a brief conversation about how it's been a long time coming, and he was happy to have been able to do that."
A registered psychiatric nurse who works as a clinical nurse liaison for Maryland's Department of Health & Mental Hygiene in the mental hygiene administration, Hemmer has been living with her partner of 18 months on the Eastern Shore of Maryland. Although Hemmer declined to offer her partner's name or age, Hemmer said she's a nurse as well and they live together in Queen Anne, Md., with three cats and a chihuahua.
"We're pretty normal, really," Hemmer said. "Nothing is exciting and grand other than the day-to-day stuff. I have a pretty normal kind of existence."
Hemmer was once married to a man about 20 years ago named Tim Hemmer, who's an electrician and works at the Smithsonian. Hemmer said she struggled with her sexual orientation and entered into the marriage as a way to assert she wasn't a lesbian, but the couple divorced when she was 23. Out of that marriage, Hemmer had a daughter, Judith Gray, who's now 25 and has young children of her own.
In the wake of her father's endorsement of same-sex marriage and the possible referendum on the state's recently signed same-sex marriage law, Hemmer said she's "committed" to taking a role to preserve marriage equality in Maryland. Opponents of same-sex marriage in Maryland have already submitted 113,000 signatures to put marriage equality on the ballot, which far exceeds the necesary 55,736 names, so the initiative will likely be on the ballot.
Hemmer said she hasn't previously been involved in LGBT advocacy — and hasn't even made any donations to any LGBT rights groups —but has already reached out to the Human Rights Campaign to get involved with the Maryland effort and expects to work with her father to speak out for marriage equality. Hemmer said she would consider getting married in Maryland if the law survives the referendum, but has no immediate plans to tie the knot.
"I think my father is going to lend himself to the campaign as well," Hemmer said. "However, I think I will initially be an adjunct to him. I will go places with him and maybe speak, but I think that role will evolve. Basically, I'm here and what do you think I can do for you. You guys are the experts, you tell me what I can do. I think this helps. I think talking to them, going out, being visible."
Even though Hoyer delivered the statement in favor of marriage equality just last month, the lawmaker has been known for his support for LGBT rights. During the legislative battle to repeal "Don't Ask, Don't Tell," Hoyer took the lead in the House and submitted standalone legislation to the floor along with former Rep. Patrick Murphy to repeal the military's gay ban during the lame duck session of the 111th Congress.
Hemmer said she's "very proud" of her father's role in repeal of "Don't Ask, Don't Tell" and predicted his support for LGBT rights would continue, but said that effort didn't inspire her as much as her father's support for marriage equality
"Everything he does in terms of gay rights and civil rights really makes me proud," Hemmer said. "So, I think that he will continue to do that, and I think that he will continue to lead in the equality fight in Maryland with the referendum."
Hemmer said her father sometimes consults her about legislative issues — including LGBT issues — but acknowledged he has numerous consultants working for him. She said she had a conversation with him about "Don't Ask, Don't Tell" repeal at the time, but didn't immediately recall how the conversation went other than she gathered her father thought it was an unjust law.
In a statement issued to the Blade, Hoyer said he is proud that his daughter intends to add her voice to the Maryland fight.
"I'm pleased that Stefany is adding her voice to those across Maryland and the country calling for marriage equality," Hoyer said. "This is about ensuring all families receive equal treatment under the law. As more people speak out, the more momentum this effort gains to give every family the dignity and respect they deserve."
Hemmer said she never explicitly told her father that she was gay, although she had spoken with her mother, Judy Pickett Hoyer, about being a lesbian. In 2003, Hemmer had one of her sisters break the news and later showed up at his house with a girlfriend.
"He was very welcoming," Hemmer said. "Of course, my sister had prepped him. He was not the least bit shaken or upset and very pleasantly just a nice guy. He's always been respectful of my privacy, so unless I initiate a conversation with him about pretty much anything that's private, he doesn't get into my personal business, which I respect. But he's been great."
Hoyer isn't the first senior member of Congress to have an openly LGBT member of his family. Dick Gephardt, a former House Democratic leader, has a daughter, Chrissy Gephardt, who came out prior to his 2004 presidential campaign. Hemmer said she has seen Chrissy Gephardt speak in 2005 at Camp Rehoboth, an LGBT community organization based in Rehoboth Beach, Del.
A number of Republican public officials have LGBT family members. Rep. Ileana Ros-Lehtinen (R-Fla.) has a trans son, Rodrigo Lehtinen, who's been involved with the National Gay & Lesbian Task Force and its "Creating Change" conference. Former U.S. House Speaker Newt Gingrich has a half-sister, Candace Gingrich-Jones, who has worked with the Human Rights Campaign and has criticized him for his anti-gay views. Former Vice President Dick Cheney has a lesbian daughter, Mary Cheney.
Even though Hemmer said coming out is "a little scary" for her, she doesn't think there'll be any serious backlash for either her or her father as a result.
"And if there is, it's going to be from people who clearly don't matter," Hemmer said. "The Republican Party might have something to say about it that's not very nice. But what am I going to do? It is what it is."
In fact, Hemmer said she hopes her coming out will be a positive step in helping to preserve to right to marry for gay couples in Maryland that will build upon her father's support for same-sex marriage.
"I'm doing this because I think that the time is now to do it," Hemmer said. "I was not the impetus for him; he was the impetus for me. And I just want to make sure that people understand that. Having said that, he told me the other night, "I'll support whatever you do." He knows that it's important. That's the way I feel. It's an opportunity for me to make a difference, and that's what I hope to do."
Mixed views among U.S. adults on trans issues: Pew
Most back non-discrimination, but divided on other issues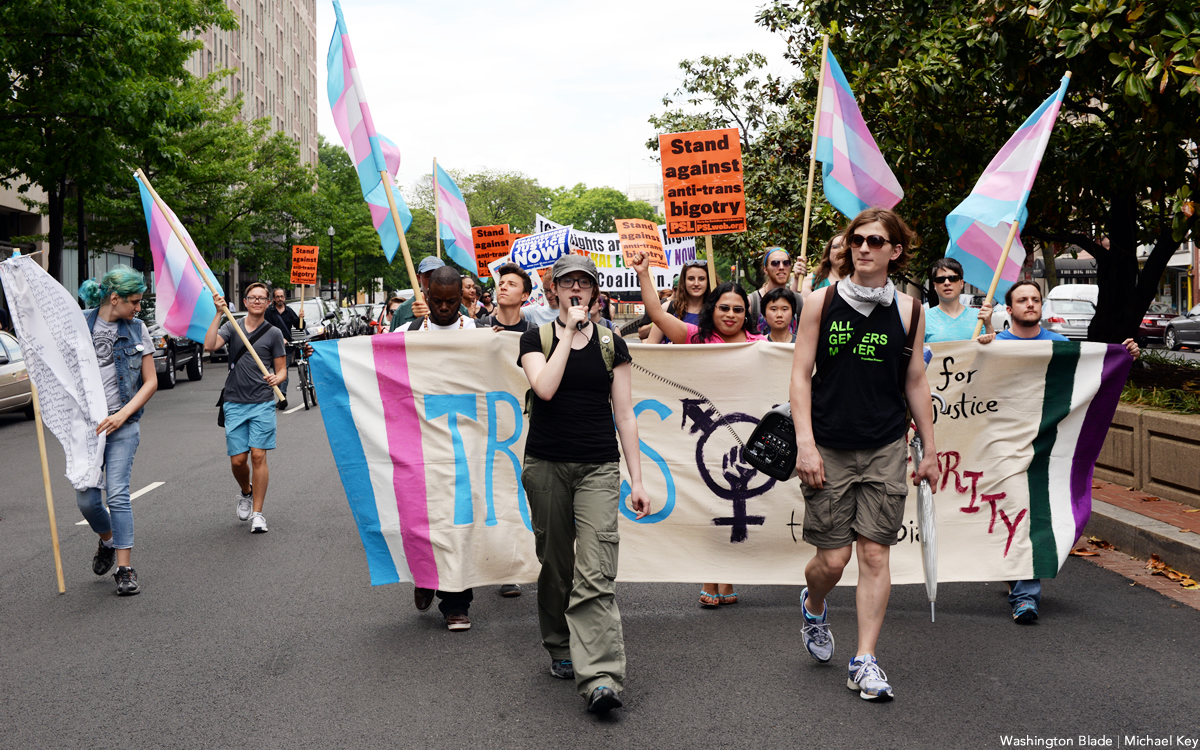 A new survey from a leading non-partisan research center reveals Americans have mixed views on transgender issues at a time when states are moving forward with measures against transgender youth, with strong majorities favoring non-discrimination protections but weaker support for access to transition-related care among minors and participation in school sports.
The Pew Research Center issued the findings on Tuesday as part of the results of its ongoing study to better understand Americans' views about gender identity and people who are transgender or non-binary. The findings are based on a survey of 10,188 U.S. adults from data collected as part of a larger survey conducted May 16-22.
A majority of respondents by wide margins favor non-discrimination protections for transgender people. A full 64 percent back laws or policies that would protect transgender people from discrimination in jobs, housing, and public spaces, while roughly 8-in-10 acknowledge transgender people face at least some discrimination in our society.
Additionally, nearly one half of Americans say it's extremely important to use a transgender person's new name after they undergo a transition, while an additional 22 percent say that is somewhat important. A smaller percentage, 34 percent, say using a transgender person's pronouns is extremely important, and 21 percent say it is somewhat important.
But other findings were less supportive:
60 percent say a person's gender is determined by sex assigned at birth, reflecting an increase from 56 percent in 2021 and 54 percent in 2017, compared to 38 percent who say gender can be different from sex assigned at birth.
54 percent say society has either gone too far or been about right in terms of acceptance, underscoring an ambivalence around transgender issues even among those who see at least some discrimination against transgender people.
About six-in-ten adults, or 58 precent, favor proposals that would require transgender athletes to compete on teams that match the sex they were assigned at birth as opposed to teams consistent with their gender identity, compared to 17 percent who oppose that and 24 percent neither favor nor oppose it.
46 percent favor making it illegal for health care professionals to provide transition-related care, such as hormones or gender reassignment surgery, to someone younger than 18, compared to 31 percent who oppose it.
Americans are more evenly split when it comes to making it illegal for public school districts to teach about gender identity in elementary schools (which is favored by 41 percent, and opposed by 38 percent) and investigating parents for child abuse if they help someone younger than 18 obtain transition-related care (37 percent are in favor and 36 percent oppose it).
Young adults took the lead in terms of supporting change and acceptance. Half of adults ages 18 to 29 say someone can be a man or a woman even if that differs from the sex they were assigned at birth, compared to about four-in-10 of those ages 30 to 49 and about one-third of respondents 50 and older.
Predictably, stark differences could be found along party lines. Democrats by 59 precent say society hasn't gone far enough in accepting people who are transgender, while 15 percent say it has gone too far and 24 percent say it's been about right. For Republicans, 10 percent say society hasn't gone far enough, while 66 percent say it's gone too far and 22 percent say it's been about right.
Read the full report here.
House passes resolution that calls for Brittney Griner's immediate release
Detained WNBA star's trial to begin on July 1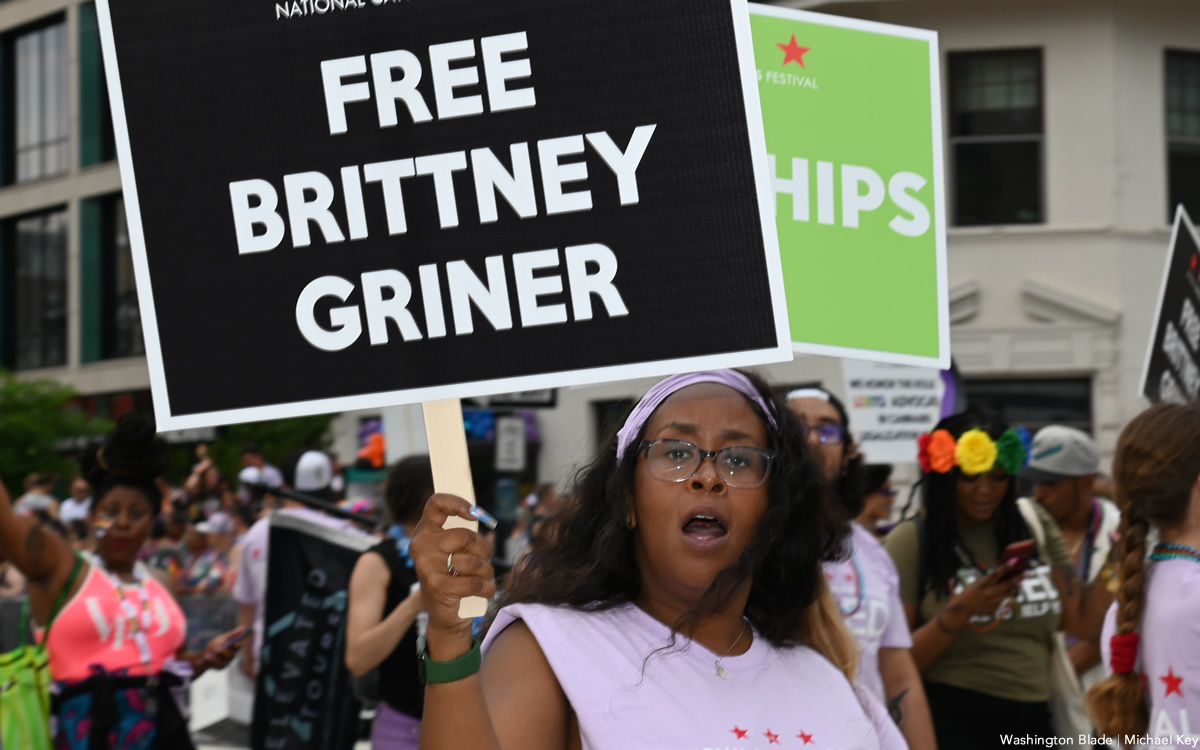 In a resolution passed on June 24 by the U.S. House of Representatives, lawmakers called on Russia to immediately release detained WNBA star Brittney Griner. 
Griner was first arrested in Russia in the days leading up to its invasion in Ukraine. Authorities have charged her with drug trafficking after claiming that she attempted to pass through Moscow's Sheremetyevo Airport while in possession of cannabis oil.
The House's resolution, introduced in May by U.S. Reps. Greg Stanton (D-Ariz.), Sheila Jackson Lee (D-Tex.) and Colin Allred (D-Texas), made multiple demands of Russia, including that the country "immediately release Brittney Griner," provide her with consular access and humane treatment and that the U.S. "raise the case of Brittney Griner and to press for her release" in all its dealings with the Russian government.
"This legislation insists on our embassy personnel having access to Ms. Griner and restates our commitment to freeing her now," Lee said in a statement after introducing the resolution. "We continue to pray for her family and we will continue to work together as three members of Congress, along with others, to spread the message that she is held wrongfully and must be freed now."
The resolution also expressed support for both Griner's family and for "all prisoners unjustly imprisoned in the Russian Federation."
Allred, a member of the House Foreign Affairs Committee, took to Twitter following the passage of the resolution.
"I'm proud the House has spoken in passing our resolution and calling for Brittney Griner's swift release," Allred wrote. "Every day an American is held abroad is a lifetime, and I will keep working with @POTUS to do all we can to bring home every American detained abroad."
Griner's WNBA team, the Phoenix Mercury, welcomed the House's passage of the resolution this past weekend.
"[Rep.] Stanton and many others are continuing to work with the White House, State Department and Brittney's family to secure her safe return home," the team wrote on Twitter.
The resolution comes after reporting revealed missteps on the part of the U.S. government in handling communication related to Griner's detention.
According to past reporting, the U.S. Embassy in Moscow failed to connect Griner with outside phone calls permitted by the Russian government when Griner's wife, Cherelle Griner, attempted to call her. Cherelle Griner reportedly called 11 times on June 18 on the couple's fourth anniversary but was unable to reach her wife due to what the State Department claimed to be a "logistical error."
While the resolution is being heralded by its supporters, it contains no provisions intended to enforce the House's demands for the release and humane treatment of Griner and others held by Russia. With less than one percent of criminal defendants in Russia being acquitted, it is unclear whether the resolution will do anything to persuade the country's courts to permit Griner's release.
Griner appeared in Russian court on Monday for a preliminary hearing prior to her trial that has now been scheduled to begin on July 1. It was also confirmed by Griner's attorney on Monday that her detention had been extended for six months pending her trial. 
If convicted, she could face up to 10 years in prison.
"We must keep Brittney's case on the forefront and make clear to the White House that her release should be one of the highest priorities for our government," Cherelle Griner said in May.
Protests, revelry mark NYC Pride
Tens of thousands protested Roe ruling on Friday night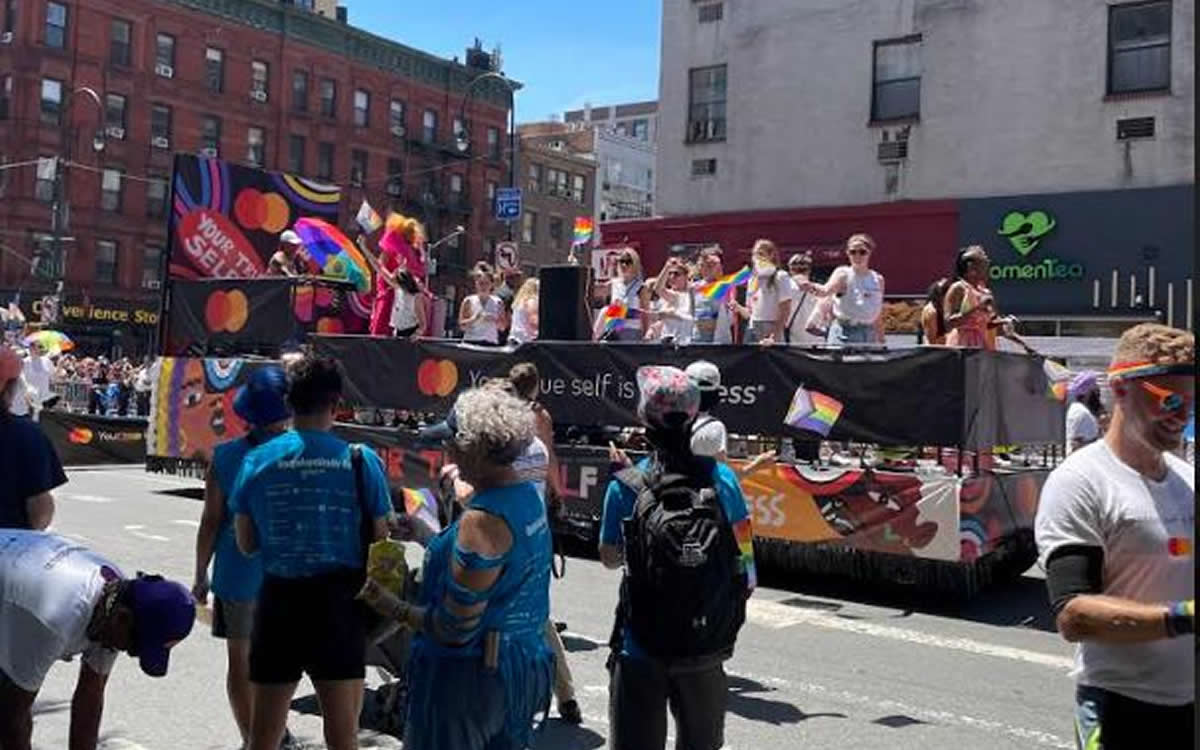 New York City Pride, one of the largest Pride celebrations in the world, rang in the weekend with equal parts celebration and protest.
Although the annual Pride march was on Sunday, the entire weekend was filled with an outpouring of public anger in the wake of the U.S. Supreme Court's decision to overturn Roe v. Wade. 
Protesters took to the streets of Manhattan on Friday with an estimated 17,000 people gathering to protest the ruling, which made abortion imminently illegal in roughly half of states. At least 25 people were arrested at the Friday night protests, which spread from Washington Square Park through Midtown to Bryant Park. 
In light of the Supreme Court's landmark decision — which advocates say will harm members of the LGBTQ community — NYC Pride announced that Planned Parenthood would kick off Sunday's Pride march as the first group to walk. In their statement, NYC Pride said that "[The Supreme Court's] dangerous decision puts millions in harm's way, gives government control over our individual freedom to choose, and sets a disturbing precedent that puts many other constitutional rights and freedoms in jeopardy." 
"As millions gather for LGBTQIA+ Pride this weekend in New York City and cities across the country, our voices will be heard — for the LGBTQ people impacted and the millions with whom we stand in solidarity," read the statement. "Pride was born of protest and will always be a space to fight injustice and discrimination. Join us as we advocate for bodily autonomy at this year's NYC Pride March."
In addition to the march; NYC Pride had a full slate of Pride programming during the week leading up to it, including Pride Island at Governor's Island, Youth Pride and a human rights conference. Queer clubs and bars throughout the city hosted various Pride-themed events throughout the weekend.
NYC Pride was not the only organization mobilizing this weekend.
Reclaim Pride NYC hosted a "Queer Liberation March for Trans and BIPOC Freedom, Reproductive Justice, and Bodily Autonomy," in partnership with pro-choice groups and community organizations.
"The [Queer Liberation March] is the annual people's protest march without corporate funding; corporate floats; politicians' grandstanding; or police control or involvement," said the Reclaim Pride Coalition.
Although Pride originated from a moment of violent tension between police and LGBTQ people at the Stonewall Inn, officers on Sunday carefully patrolled the entire NYC Pride march route. When the apparent sound of gunshots nearly sparked a stampede in Washington Square Park during the parade, the New York Police Department said there were "no shots fired," later confirming that the sounds were due to fireworks being set off at the park. 
The Washington Post noted fears of violence against the queer community circulated at Pride celebrations across the country.
Police also responded to reports of a shooting at San Francisco Pride, although no suspects or witnesses were found. In light of the epidemic of gun violence — from last month's elementary school shooting in Uvalde, Texas, to the massacre at the Pulse nightclub in Orlando, Fla., in 2016 that left 49 people dead — a fear of active shooters and widespread public anger at the prospect of less rights characterized Pride's usually jubilant atmosphere.