Bi-national couple files class-action suit against DOMA
Same-sex couple faces relocation to the Philippines
A bi-national couple in California and their son have filed a lawsuit against the Defense of Marriage Act in court in attempt to avoid separation or relocation to the Philippines.
The lawsuit, Aranas v. Napolitano, was filed Thursday by the Center for Human Rights on Constitutional Law on behalf of a Filipino foreign national along with her 25-year-old son and her U.S. citizen spouse. The class-action suit is pending before the U.S. District Court for the Central District of California.
Jane DeLeon, an immigrant from the Philippines who came to the United States in 1989, has lived with her U.S. citizen partner in California, Irma Rodriguez, for twenty years. They were married in 2008 prior to passage of Proposition 8. DeLeon had her son, Martin Aranas, in a previous marriage with a man and he came to the United States when he was nine years old. His legal status is dependent on his mother's.
DeLeon and Aranas had temporary lawful status for several years while their visa applications were being processed. DeLeon was approved for an immigrant visa based on her employment, but because she entered the country using the name of her then common-law husband, she needed a I-601 waiver from U.S. Citizenship and Immigration Service to retain legal status.
According to the lawsuit, DeLeon tried many avenues to obtain the waiver, but was denied in every attempt. Ultimately, DeLeon made the case the relocation to the Philippines would cause undue hardship for the couple. The complaint says Rodriguez suffers from hypertension and the medication she takes, Ultram, isn't available in country. The lawsuit also cites the State Department annual human rights report and its assertion that the Philippines can be a hostile place for LGBT people.
Nonetheless, on Nov. 9, the federal government denied the application, citing Section 3 of DOMA, which prohibits federal recognition of same-sex marriage. According to a news statement, DeLeon was advised that her temporary lawful status was revoked and if she didn't depart the country within 12 months she would be barred from reentry for a minimum of ten years.
In the statement, DeLeon said she and her family "pray that the administration will change its mind" and grant her relief so that she's able to stay within the country.
"Irma and I have committed to each other for the rest of our lives," DeLeon said. "We now face being forced to move to the Philippines or breaking up our family only because we are legally married women. We would face persecution in the Philippines because we are a same sex couple, not to mention dire poverty, separation from our extended families who live here, and lack of access to medical treatment Irma needs."
Aranas also said he wants to see the administration change its decision so both he and his mother can remain together in the United States.
"I have attended school here and continue to attend school while working part-time," Aranas said. "My legalization depends on my mother's case. After many years of having temporary legal status, I now face being in 'illegal' status only because my mother is in a same sex marriage. I hope and pray that President Obama will allow me and the hundreds or thousands of children of gay married couples to continue living here with some legal protection until the courts decide whether denying our parents immigration benefits is constitutional."
Plaintiffs contend DOMA is unconstitutional because it violates the due process and equal protection guarantees of the Fifth Amendment of the U.S. Constitution. The prayer for relief calls for the court to certify a class of similarly situated same-sex married couples and to rule that applying DOMA in this matter is unlawful. Additionally, the lawsuit asks for a temporary injunction preventing the federal government from removing or detaining plaintiffs or denying them access to employment.
Peter Schey, an attorney with the Center for Human Rights and Constitutional Law, said he hopes the lawsuit prompts the administration to change its policy and offer across the board relief for DeLeon's family and those who are similarly situated.
"To discriminate against this population by requiring that they live underground, work illegally, or worse be deported, while the courts address the constitutionality of DOMA is unconscionable," Schey said. "If President Obama understood that undocumented youth are entitled to temporary protection from deportation while Congress grabbles with their status, he should understand that same sex married couples are entitled to temporary protection from deportation while the courts decide if they agree with his administration that DOMA is unconstitutional."
Lavi Soloway, an immigration attorney and founder of the Stop the Deportations, said the case is the sixth to be filed in federal court in which a married bi-national couple has challenged DOMA. Soloway, who isn't involved in the litigation, said the lawsuit takes its place at the back of line behind nearly 20 other cases challenging DOMA and predicted that the two cases on appeal to the Supreme Court would be resolved by Summer 2013 — much sooner than the resolution of the latest case.
Still, Soloway said the filing of the lawsuit "highlights the urgent need" for the Obama administration to act on its own accord and put marriage-based green card application by gay families on hold in addition to instituting a moratorium on DOMA-based deportations.
"The Obama administration has refused to act to protect LGBT families impacted by DOMA in the immigration context, despite strenuous efforts by members of both the House and Senate to urge implementation of these remedies," Soloway said. "Thousands of gay and lesbian Americans struggle every day with the crisis of expiring visas, separation, exile, and deportation caused solely by DOMA. This can end now if the Obama administration uses the power of the executive branch to implement remedies to protect our families until DOMA is gone."
The Department of Homeland Security has repeatedly said it would continue to enforce to DOMA in the face of calls to hold marriage-based green cards for same-sex couples in abeyance. The administration has said it would examine potential deportations on a case-by-case basis and would consider low priority individuals with ties to the community, including LGBT families.
Federal court blocks part of Ala. trans medical treatment law
Trump-appointed judge issued late Friday ruling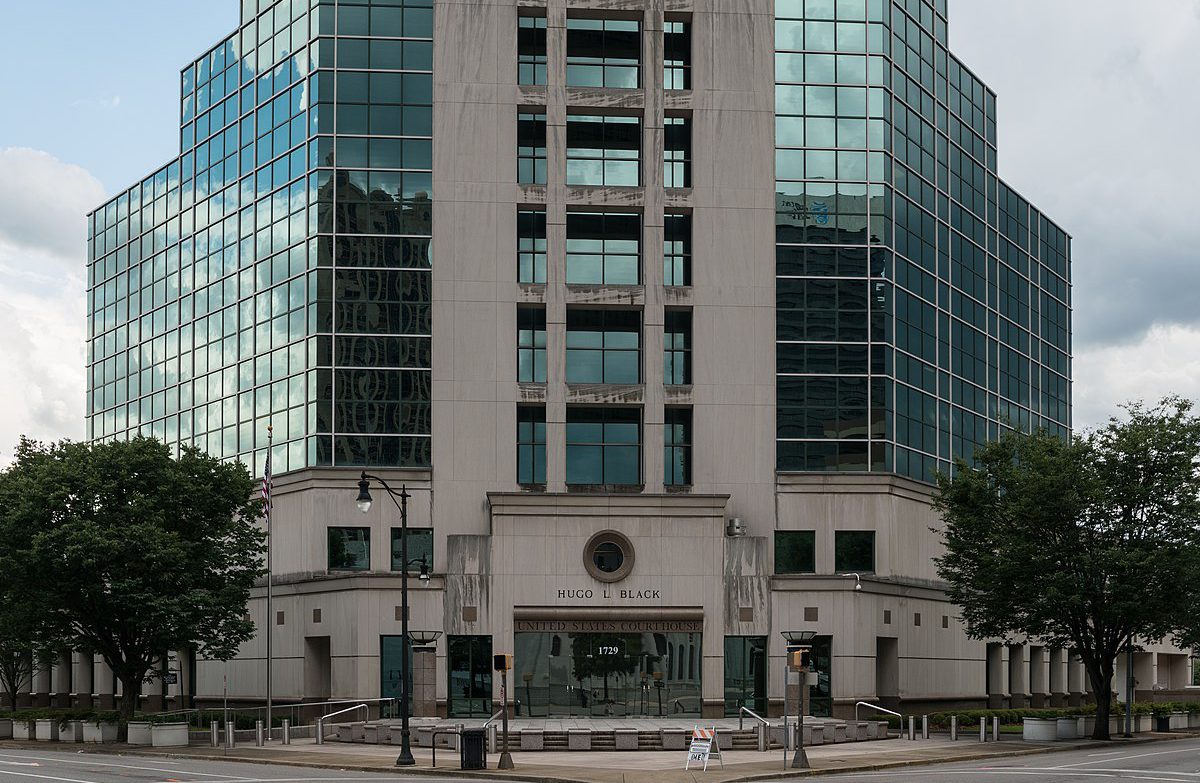 In a 32 page ruling released Friday evening, U.S. District Judge Liles Burke preliminarily enjoined the state from enforcing the law criminalizing medical care for transgender minors in Alabama.
The law made it a felony for doctors and licensed healthcare providers to give gender-affirming puberty blockers and hormones to trans minors.
Burke, who was nominated to the bench by former President Trump to serve on the U.S. District Court for the Northern District of Alabama, wrote that the section of the Alabama Vulnerable Child Compassion and Protection Act that makes treatment of trans minor children a felony; "the court finds that there is a substantial likelihood that Section 4(a)(1)–(3) of the act is unconstitutional and, thus, enjoins defendants from enforcing that portion of the act pending trial."
Burke however ruled that all other provisions of the act remain in effect, specifically: (1) the provision that bans sex-altering surgeries on minors; (2) the provision prohibiting school officials from keeping certain gender-identity information of children secret from their parents; and (3) the provision that prohibits school officials from encouraging or compelling children to keep certain gender-identity information secret from their parents.
The U.S. Justice Department had challenged the state's Senate Bill 184 — a bill that would criminalize doctors for providing best-practice, gender-affirming care to trans and non-binary youth.
In the filing by the Justice Department, the complaint alleges that the new law's felony ban on providing certain medically necessary care to transgender minors violates the Fourteenth Amendment's Equal Protection Clause. The department is also asking the court to issue an immediate order to prevent the law from going into effect.
SB 184 makes it a felony for any person to "engage in or cause" specified types of medical care for transgender minors. SB 184 thus discriminates against trans youth by denying them access to certain forms of medically necessary care.
It further discriminates against trans youth by barring them from accessing particular procedures while allowing non-transgender minors to access the same or similar procedures. The penalties for violating the law include up to 10 years of imprisonment and a fine of up to $15,000. SB 184 would force parents of trans minors, medical professionals, and others to choose between forgoing medically necessary procedures and treatments, or facing criminal prosecution.
The Justice Department's complaint alleges that SB 184 violates the Equal Protection Clause by discriminating on the basis of sex and trans status.
LGBTQ legal rights advocates SPLC, GLAD, NCLR and HRC, joined by co-counsel King and Spalding LLP and Lightfoot, Franklin and White LLC, had previously filed a legal challenge in federal district court against Alabama SB 184.
Shannon Minter, the legal director for the National Center for Lesbian Rights, one of the legal rights advocacy groups who had sued Alabama told the Washington Blade late Friday night:
"We are thrilled by this outcome, which will provide enormous relief to transgender children and their families. As the court recognizes, this is well established medical care that has been endorsed by 22 major medical associations. Thanks to this decision, kids in Alabama can now continue to receive this lifesaving care, and their doctors cannot be prosecuted simply for doing their jobs. This is a huge victory for compassion and common sense and a much needed antidote to the tidal wave of hostile legislation targeting these youth."
In addition to the Justice Department, the doctors challenging SB 184 in Ladinsky v. Ivey are Dr. Morissa J. Ladinsky and Dr. Hussein D. Abdul-Latif, both providers at the Children's Hospital of Alabama and members of the medical staff at the University of Alabama at Birmingham Hospital and the teaching staff at UAB School of Medicine. Ladinsky and Abdul-Latif have long-term expertise in caring for trans children of Alabama families. Under SB 184, they both face criminal penalties including up to 10 years in prison if they continue to provide that support to their patients.
The Alabama family plaintiffs are proceeding anonymously to protect their children. They include Robert Roe, and his 13-year-old trans daughter Mary, of Jefferson County; and Jane Doe and her 17-year-old-trans son John, of Shelby County. These families have deep ties to Alabama. If SB 184 is allowed to go into effect both families will be forced to choose between leaving the state, breaking the law, or facing devastating consequences to their children's health.
********************
Here's why abortion is an LGBTQ rights issue
One-third of lesbians have experienced pregnancy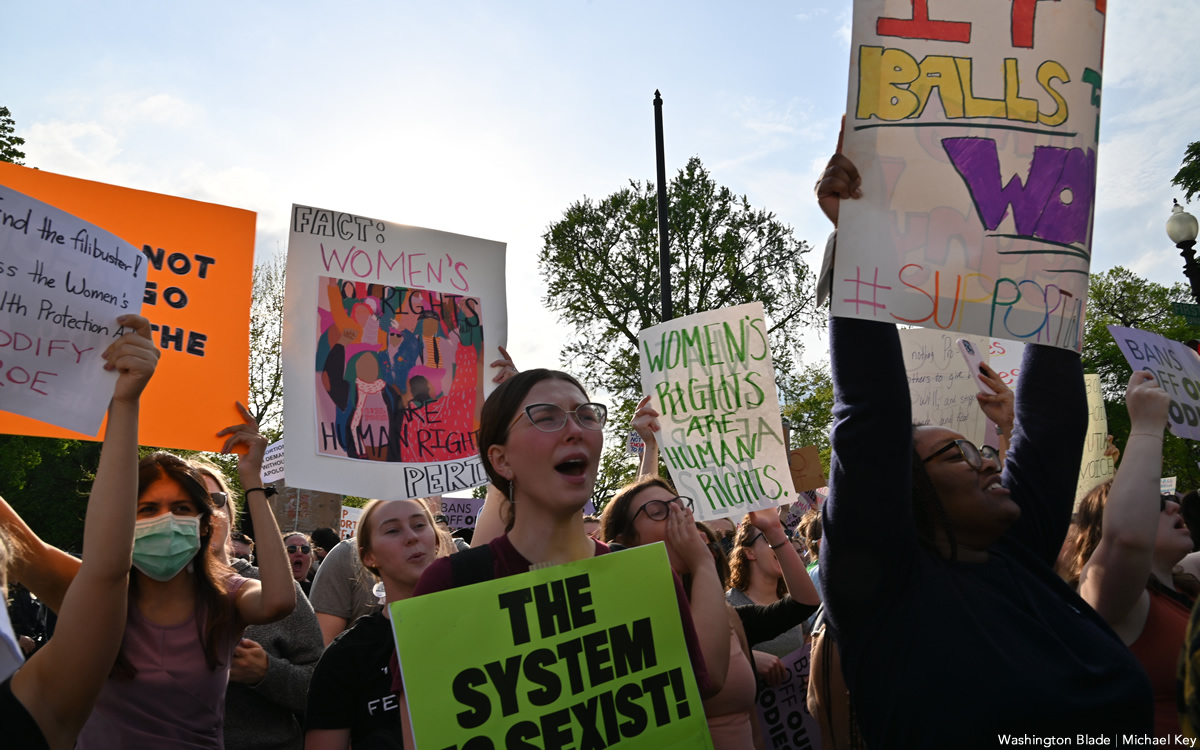 As pro-choice advocates brace for a ruling from the U.S. Supreme Court overturning Roe v. Wade, many LGBTQ people are joining them not just as supporters concerned that a decision overturning marriage equality could be next — but also over fears their own access to abortion could be stripped away.
Those fears peaked after the leak of a draft opinion from Justice Samuel Alito reversing a 50-year precedent that found a constitutional right to abortion. But some observers may wonder why LGBTQ Americans would be worried about abortion access. After all, the risk of unwanted pregnancy is largely non-existent among gay and lesbian couples, right?
Wrong. Studies have found that isn't the case, not just because bisexual people often do have intercourse with a different-sex partner, but also because pregnancies result from sexual violence and efforts to suppress sexual orientation during the coming out process. According to a 2000 study, more than 80 percent of bisexual women have experienced at least one pregnancy, and more than a third of lesbians have done so.
Julie Gonen, federal policy director for the National Center for Lesbian Rights, told the Blade among the many reasons why LGBTQ people care about abortion rights is "a lot of queer folks can and do become pregnant and some will need abortion care if they face an unwanted pregnancy."
"We know from studies that lesbian, bisexual and other non-heterosexual women are at least as likely as other women to experience unintended pregnancy and therefore might require abortion care," Gonen said. "Some of those studies also show that sexual minority women are more likely to have unintended pregnancies that result from sexual violence. For younger people, there are studies that suggest that some of them actually engage in heterosexual sex to prove they're not gay, and so they put themselves at greater risk of unintended pregnancy."
Indeed, the legal brief filed jointly by LGBTQ groups before the Supreme Court in the case of Dobbs v. Jackson Women's Health Organization, which will determine the constitutionality of a Mississippi law prohibiting abortion after 15 weeks of pregnancy, makes the case for preserving Roe on the basis of the need for LGBTQ people to have access to abortion.
Chief among the arguments in the legal brief: Overturning Roe would "have a deeply disruptive effect" on the lives and expectations of millions of women, including members of the LGBTQ community.
"Sexual minority women have the same interest as other women in reproductive autonomy," the brief says. "They are at least as likely to experience unintended pregnancies, in part due to sexual violence and to economic and other barriers to reproductive care. Sexual minority women often face both sexism and homophobia, and many confront racism and poverty as well, which makes their quest for equal citizenship an uphill battle."
Studies cited in the brief, including research finding pregnancy is not uncommon among lesbians and bisexual women, find sexual minority women are more likely than other women to have experienced unwanted pregnancy through sexual violence. One study found sexual minority women are more likely to experience violence and sometimes by a factor of 15 or more. Another study found lesbians were nine times more likely than those identifying as straight to report having been subjected to violence by the man involved in the pregnancy, and bisexual women were more than twice as likely to do so.
Also pointed out in the legal brief is lesbian and bisexual women "are at an especially high risk for pregnancy due to social pressures to hide their sexual orientation and convince others they are heterosexual." One 2017 study found bisexual women were significantly more likely to have been pregnant in the past 12 months than their peers who were women who have sex with men only and the trend often continues for these women until adulthood.
The Williams Institute at the University of California Los Angeles published a study in 2020 finding bisexual women and girls are more sexually active than their straight peers and face odds of an unwanted pregnancy at a rate that is 1.75 times greater. The prevalence of poverty among bisexual women, transgender people, and LGBTQ people of color makes access to contraception more difficult, the study finds. They also have less ability to cross state lines to access abortion.
Transgender men and non-binary people are also counted as among the members of the LGBTQ community who could experience unwanted pregnancies and could require access to abortion.
Megan Caine, family nurse practitioner at the D.C.-based Whitman-Walker Health, told the Blade assumptions LGBTQ people wouldn't need access to abortion "currently excludes many transgender and gender-expansive people with uteruses from accessing the services they need."
"The prohibition of safe and accessible abortion will only add to this health disparity," Caine said. "Transgender and gender-expansive people as a population have an alarmingly high rate of suicide. Coupled with significant barriers to accessing birth control, eliminating the option to safely terminate a pregnancy could absolutely put a pregnant person's life at risk."
Compounding concerns among LGBTQ Americans about access to abortion is the fear that the legal reasoning behind a decision overturning Roe would undermine legal precedent in favor of LGBTQ rights, including the 2015 decision in favor of same-sex marriage nationwide, as well as general access to medical care for LGBTQ people.
Kellan Baker, executive director and chief learning officer at the Whitman-Walker Institute, said his organization is "already hearing questions from clients who are concerned about what steps they need to take to protect their future options to have an abortion if needed, as well as to protect their families and relationships."
"Just as we fought to get the government out of our bedrooms, we need to fight back against a Supreme Court decision that would insert itself in private medical decisions that should be made between patients and their providers," Baker concluded.
Among concerns about a Supreme Court decision jeopardizing health outcomes for LGBTQ people, including access to abortion, many LGBTQ groups are making the fight over abortion a top priority following the leak of the draft opinion overturning Roe. The congressional LGBTQ Equality Caucus, for example, issued a statement this week calling for the expansion of the court in an effort to dilute the conservative majority that would overturn Roe. The Human Rights Campaign, on the other hand, issued a statement endorsing the Women's Health Protection Act, which is Democrats' legislative attempt to codify Roe in law in anticipation the constitutional right will no longer exist.
Gonen said groups representing LGBTQ people "are going to continue to fight for abortion rights right alongside our allies in the reproductive health rights and justice movements."
"I mean, if this happens, and it looks like it's going to, this is a truly alarming moment for anyone who cares about human rights, gender equality, and justice," Gonen said. "Because abortion bans force people to be pregnant against their will, and while not all people who experience pregnancy are women, the vast majority are, which makes abortion bans a particularly invidious form of sex discrimination. And LGBTQ people know what it's like to experience sex discrimination and to have others trying to force us into gender norms that we don't fit."
Tennessee bans collegiate Trans athletes
The law also requires Tennessee colleges to determine a student-athlete's gender using the student's "original" birth certificate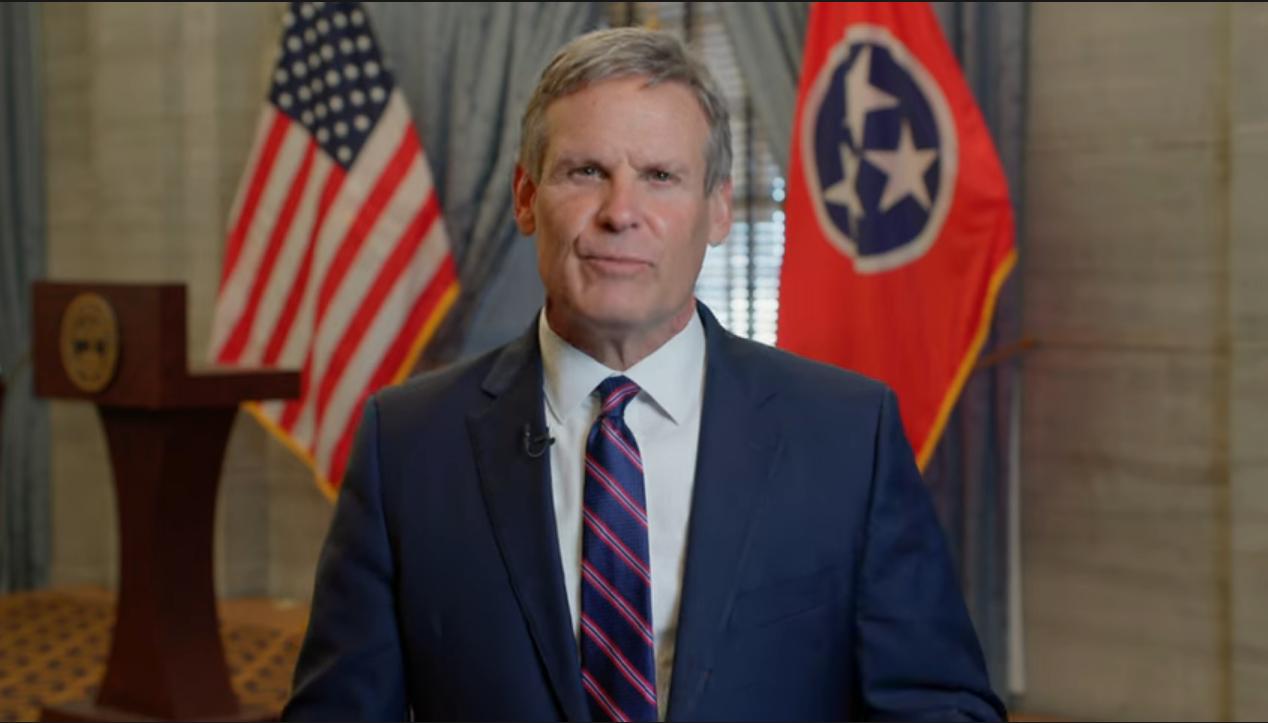 Republican Governor Bill Lee signed a bill last Friday that effectively bans transgender women from competing on college sports teams consistent with their gender identity in Tennessee.
The new law, Senate Bill 2153, "prohibits males from participating in public higher education sports that are designated for females." The law also requires Tennessee colleges to determine a student-athlete's gender using the student's "original" birth certificate.
Every university and college in the state will also be required to adopt and enforce a policy ensuring compliance with the new law. The measure would also prevent any government entity, organization or athletic association from taking "an adverse action" against a school that complies with the law or a student who reports a violation.
"This law sends a horrible message that trans and nonbinary youth can be excluded from the many benefits of participating in sports," Chris Sanders, the executive director of the Tennessee Equality Project, said Friday in a statement issued by the Human Rights Campaign.
"More broadly, it also stains those who are complicit and creates habits of lawmaking that endanger everyone in Tennessee," he said. "Legislation crafted from animus and ignorance protects no one."